given the limited features and restrictive resource allocations for its plans, it's not exactly a deal
. For one, you'll probably be underwhelmed by Germany-based Contabo's lack of essential features such as content delivery networks (CDNs), content management systems (CMSs), e-commerce, and advanced security features.
With an inconsistent performance – even in Germany – and inadequate support, Contabo has become an unreliable web host.
Not to mention that it doesn't offer a money-back guarantee, and contacting customer service for a refund can be downright frustrating. That's why I took the time to look for
high-quality alternatives that offer plans with value-added features, reliable performance and uptime, and helpful customer support.
(They may be one in a million, but they're out there.) I thoroughly tested the top web hosting services and compiled seven of the best alternatives to Contabo.
Some of them even offer cheaper prices.
Short on Time? These Are the Best Alternatives to Contabo in 2023
InterServer – Budget-friendly hosting for Linux and Windows with fixed prices, reliable performance, and lots of features
Hostinger – User-friendly host with cheap long-term plans and fast loading speeds
A2 Hosting – Feature-rich hosting plans at affordable prices, and anytime prorated refund
What We Look For in the Best Alternatives to Contabo
Ease of use. Although it offers cPanel, Contabo's user admin interface is outdated and not easy to work with. In contrast, the hosts on my list have intuitive and more user-friendly control panels.
Value for money. Even though it covers the basics, Contabo doesn't offer value-added features such as CDN, advanced security, or free automatic back-ups, even for its high-tier plans. There's no money-back guarantee either.
Performance. At 95%, Contabo has an uptime guarantee that's below the industry standard. Its page loading speeds are also average, and in most locations – including Germany – Contabo's performance was subpar.
Reliable support. All the hosts on my list offer well-trained and helpful support that's easily accessible.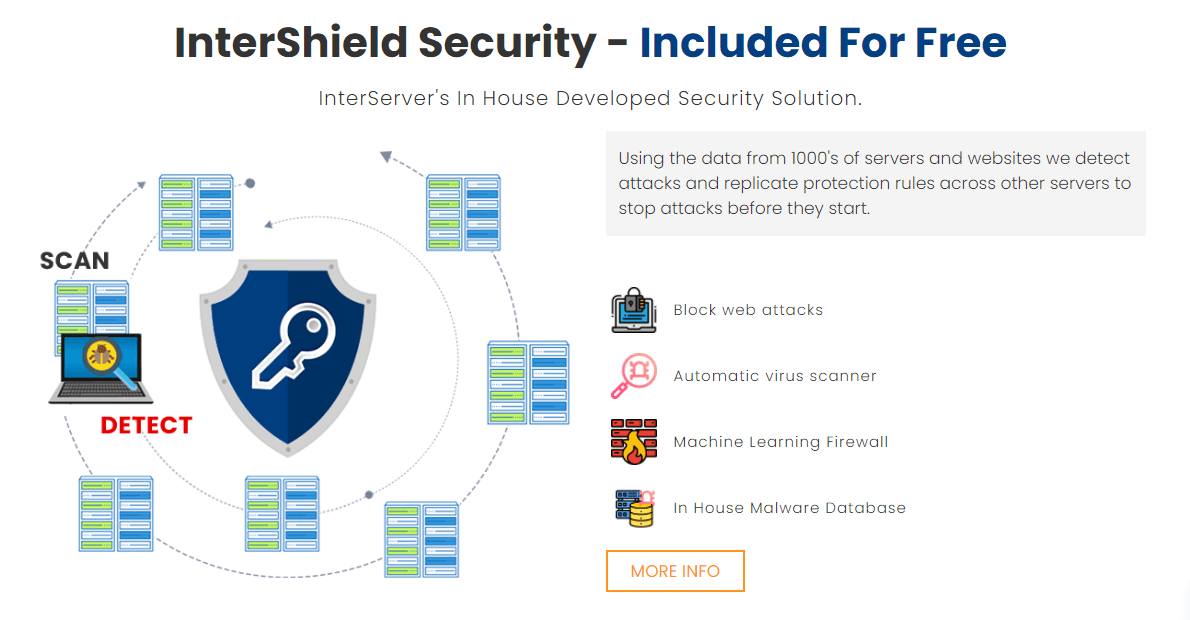 One of InterServer's biggest strengths is its wallet-friendly prices for shared and VPS hosting. As opposed to Contabo's restrictive shared hosting plans,
InterServer offers one feature-rich shared hosting package for Linux (Standard Web Hosting) and another one for Windows (ASP.NET)
, and they're cheaper than Contabo's most expensive plan for shared hosting.
The best thing about the Standard Linux plan is that it comes with unlimited everything
– ultra SSD storage, databases, email accounts, and FTP accounts. It's also packed with more value-added features than Contabo's top-tier WebSpace XXL plan. With InterServer, you'll get free Cloudflare CDN, LiteSpeed, CloudLinux OS, free SSL, free site migration, 450+ cloud apps, and InterShield protection.
Features
Better performance. While Contabo might have more server locations, our tests found that InterServer's US-based servers consistently delivered faster loading speeds in North America and Western Europe. InterServer also maintains higher uptime than Contabo.
Unlimited resources. InterServer's all-in-one web hosting plan is fully loaded with limitless allocated resources and useful features at no extra cost.
Powerhouse security. All plans come with free CDN and SSL. You'll also get further protection with InterShield, which includes virus scanners, firewalls, and account isolation.
Scalable cloud VPS plans. With InterServer's cloud VPS plans, you have the freedom to choose from 16 different configurations and your preferred operating system. It also offers optimized WordPress VPSs that run on servers with Nginx caching and FastCGI.
Read our in-depth InterServer review for more on features
.
Automatic backups

Weekly

Data center locations
US
Customer support

24/7 live chat, email, and support ticket

Starting price

$

2.50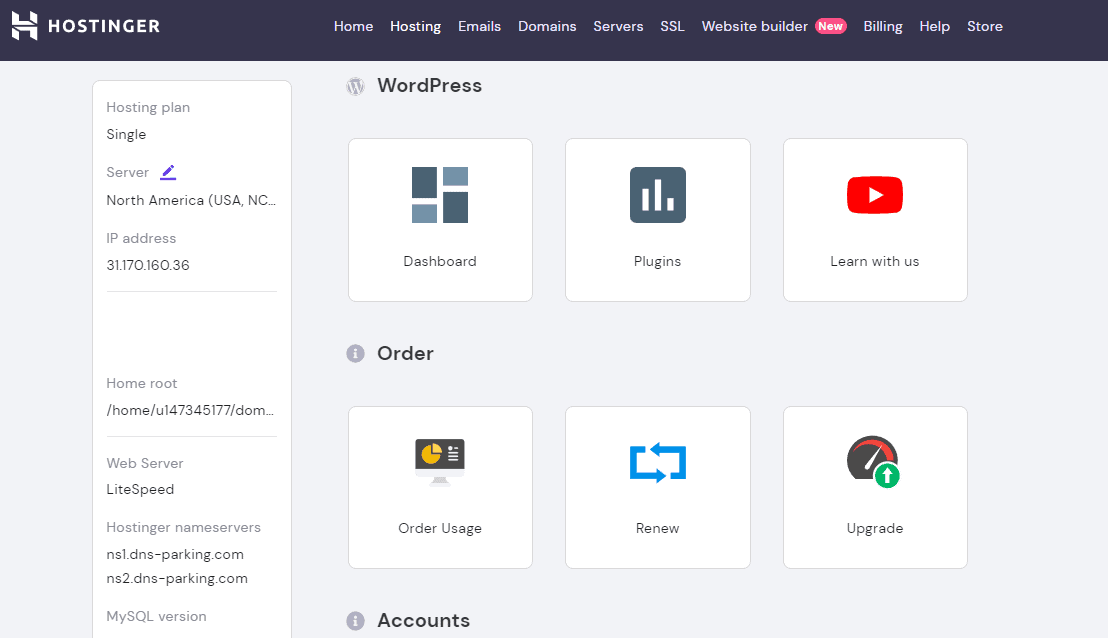 Not only does Hostinger offer
one of the cheapest long-term commitments in the market
– as low as
$
1.99
with the quadrennial plan – but it also offers lightning fast speeds, a widespread server network, and an assortment of plans (shared, WordPress, cloud, VPS, cPanel, Minecraft, and CyberPanel VPS hosting).
Hostinger's Business Shared Hosting plan includes more allocated resources, more premium features, and renews at a lower cost
. For example, you'll get 100 GB SSD storage, a free domain (for the first year), free SSL, free Cloudflare CDN, SSH and GIT access, and daily backups. You can also host 100 websites and create 100 email accounts per domain. Hostinger has another edge over Contabo: It has an intuitive user interface, especially for the sign-up process.
Hostinger also has a user-friendly proprietary control panel (hPanel) that's even simpler to use than cPanel,
and helps you manage all aspects of your website and account.
A free domain name is included with some hosting plans from Hostinger
Features
Value for money. Cheap long-term subscriptions and great discounts for highly functional plans put Hostinger miles ahead of Contanbo. Plus there's no commitment with a 30-day money-back guarantee.
Top-level performance. With powerful infrastructures and servers in Europe, North America, and Asia, Hostinger delivers blazing fast speeds compared to Contabo. Plus, Hostinger lives up its 99.99% uptime guarantee.
Beginner-friendly host. From signing up to setting up your website to adjusting your hosting plan, Hostinger makes it simple through a user-friendly interface and easy-to-use control panel.
Comprehensive help center. You'll be able to find answers to almost every question with Hostinger's comprehensive knowledge base and tutorials. The only caveat is that it may take you some time to get in touch with customer support through live chat or ticket – but once you do, you'll be provided with excellent support.
See our expert Hostinger review for more details
.
Automatic backups

Weekly

Data center locations

UK, Brazil, US, Indonesia, Singapore, Netherlands, Lithuania

Customer support

24/7 live chat, email, and support ticket

Starting price

$

1.99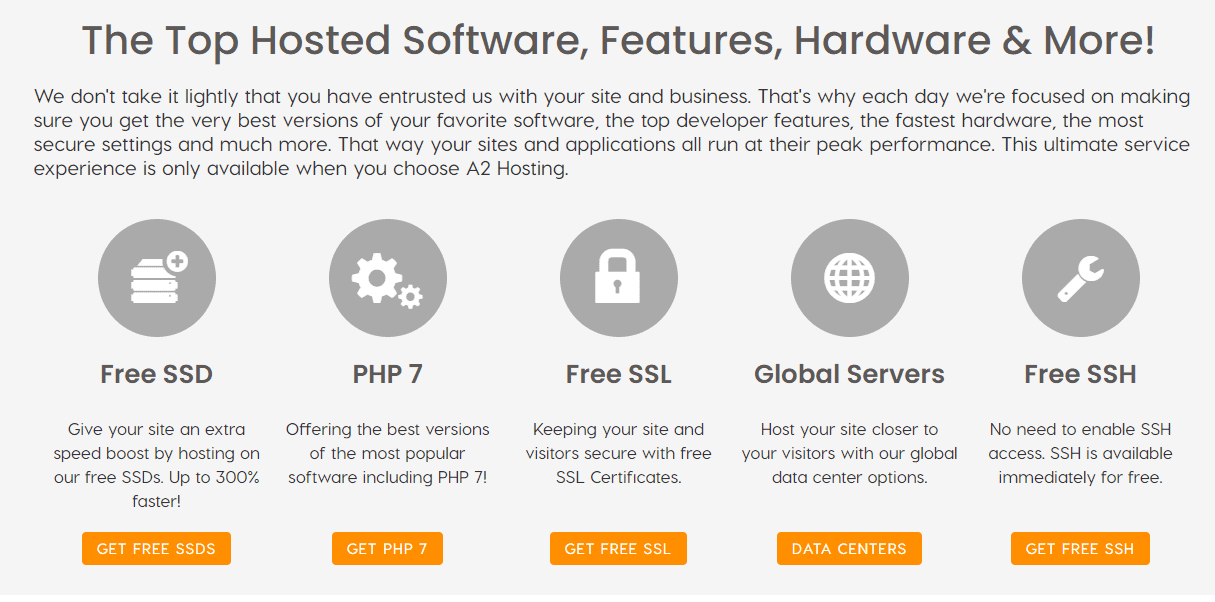 If you're looking for affordable managed or unmanaged VPS hosting, A2 Hosting is another good alternative to Contabo.
A2 Hosting's VPS packages
have RAID-10 SSD storage (NVMe SSD for its high-tier Mach 8 and Supersonic 8 plans) and scalable options for storage size, RAM, and transfer quotas.
The managed plans include features to make your life easier: cPanel, one-click installer, free SSL, daily backups, and free Cloudflare CDN.
The unmanaged plans are bare bones, but much cheaper. Performance-wise,
A2 Hosting's Turbo servers promise exceptional speeds, and they deliver on this front
. And for loading times, A2 Hosting performs well, although you'll have to pick the right data center location to achieve maximum speeds. When we tested A2 Hosting over a long period of time, it provided a perfect 100% server uptime.
Features
Generous refund policy. Not only do you get a 30-day money-back guarantee, but you can also get a prorated refund (anytime money-back guarantee) even after the 30-day grace period.
Above average resource allocations. Except for the basic shared hosting plan, all shared hosting packages offer unlimited resources, including unlimited SSD storage, hosted websites, and bandwidth.
Shared hosting plans packed with features. Even on its introductory shared hosting plans, A2 Hosting offers an abundance of useful freebies such as SSL certificate, website migration, site staging, advanced security, and WordPress optimization features.
Reliability. A2 Hosting exceeds its 99.9% uptime guarantee and makes sure that your website is online and always accessible by your visitors.
Read our full A2 Hosting review for more on plans and features
.
Automatic backups

Daily on some plans

Data center locations
US,

Netherlands, Singapore

Customer support

24/7 live chat and support ticket

Starting price

$

2.99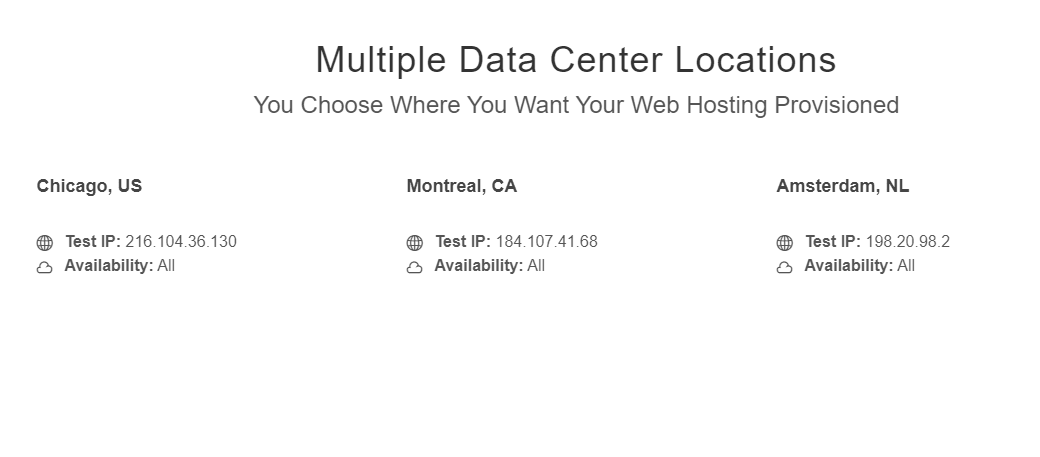 Even though GreenGeeks and Contabo are quite close when it comes to pricing, GreenGeeks' resources are incomparable. For instance,
its smallest web hosting plan, Lite, has unlimited storage, bandwidth, email accounts, and databases
. It also comes with a wide range of inclusive features such as a free SSL certificate, a free domain name (for the first year), free CDN, and free nightly backups. GreenGeeks has data centers located in the US, Canada, and the Netherlands. If your target audience is in North America or Europe, they won't have a problem with page loading speeds. However, if they're located further east, then neither GreenGeeks nor Contabo is the best choice. Then again, you can always activate GreenGeeks' free CDN to boost the loading speeds globally. When it comes to support, GreenGeeks is available 24/7 through live chat and phone only.
Despite the limitations, its support is considered to be reliable
– there's very little waiting time and customer service is knowledgeable.
A free domain name is included with some hosting plans from GreenGeeks
Features
Inclusive features. While GreenGeeks' plans don't exactly break the mold, they do come with unlimited resources and a wide range of inclusive features like free SSL certificate and nightly backups
Intuitive dashboard. GreenGeeks has created its own dashboard for account management. Unlike Contabo's badly designed admin area, this design is clean and extremely easy to navigate.
Impressive uptime. Like A2 Hosting, GreenGeeks' actual performance exceeds its uptime guarantee of 99.9%. In our comprehensive tests, GreenGeeks' site uptime was 99.991%.
Fast speeds in Europe. Despite having limited server locations, GreenGeeks is capable of delivering great connection speeds in Europe. Our tests clocked less than 2 seconds in Germany.
See our comprehensive GreenGeeks review for more details
.
Automatic backups

Daily

Data center locations

US, Canada, Netherlands

Customer support

24/7 live chat and email, phone (9 AM-12 AM EST)

Starting price

$

2.95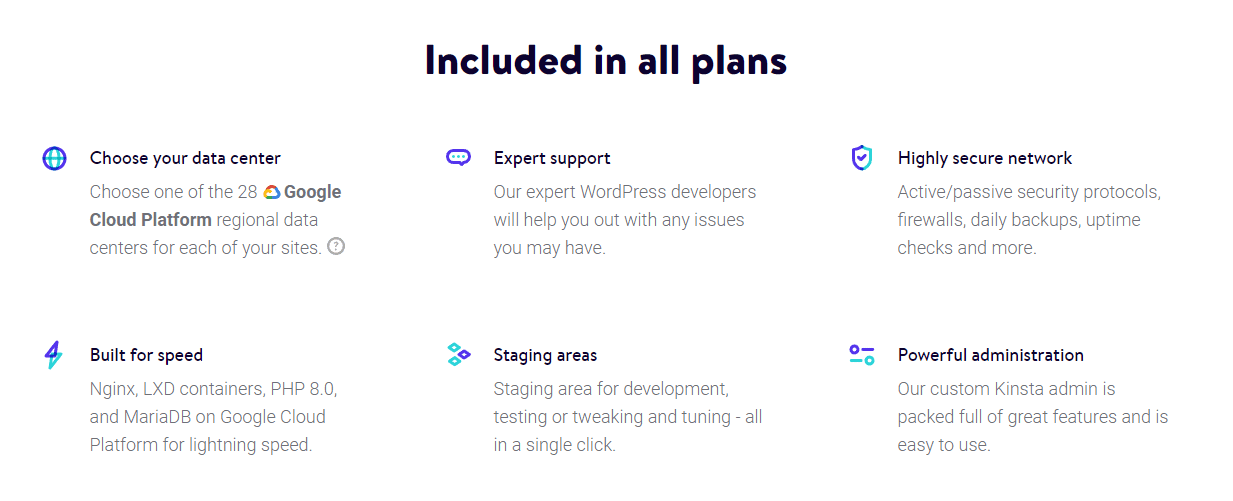 If premium managed WordPress hosting is what you're looking for, then you can't do better than Kinsta. Because it specializes exclusively in
managed WordPress hosting plans
, you can be sure that you're getting the best features and resources for WordPress. Kinsta's data centers are built on the Google Cloud platform (Nginx, LXD containers, PHP 8.0, and MariaDB – basically all the good things that make your site ultra-fast). There are more than 25 data centers spanning across North America, South America, Europe, Asia, and Australia.
The network's infrastructure gives you a clear idea about Kinsta's impressive loading speeds
–
in some instances, pages can load in less than a second
. If that isn't enough, Kinsta includes a free CDN with all its plans. However, it's not the free CloudFlare plan that most hosts offer.
Kinsta has its very own CDN, which means that you don't need to rely on a secondary CDN domain
. To be fair, if budget is an issue for you, then you should consider A2 Hosting or Hostinger. However, if you really want to get what you pay for – from features, resources, or performance – then Kinsta is a no brainer.
Features
Scalable resources. Kinsta offers a very wide range of plans, which gives you plenty of options to choose from depending on your website requirements.
Customer support. Kinsta's support is available 24/7 and is backed by responsive professionals ready to help you. In addition there's a highly comprehensive knowledge base leaving very little room for questions.
Custom features. In addition to the features you'd expect from a premium host (automatic daily backups, round the clock support, DDoS protection, and free migrations), Kinsta also offers WordPress-specific features like PHP monitoring, site cloning, and manual backup points.
A robust control panel. Kinsta's highly user-friendly and powerful control panel, MyKinsta, provides easy-to-read site statistics and metrics, user management, and built-in support.
Read our extensive Kinsta review for more on hosting features
.
Automatic backups

Daily

Data center locations

US, Canada, Brazil, UK, Netherlands, Belgium, Switzerland, Germany, Finland, India, Singapore, Hong Kong, Taiwan, Japan

Customer support

24/7 live chat, email, support ticket, and phone

Starting price

$

24.00

Like Kinsta, InMotion Hosting's prices fall slightly on the expensive side, but the resources and features that come with these prices are well worth it. For instance,
all shared hosting plans come with unlimited monthly bandwidth
 and the storage (all SSD) ranges from 50 GB up to 200 GB
. InMotion Hosting has a variety of plans for every level of user, including WordPress hosting, VPS hosting, dedicated servers, and WooCommerce. All these services are delivered through InMotion Hosting's US-based data centers. While this might limit delivery speeds depending on your audience's location,
InMotion Hosting's Shared Hosting, WordPress Hosting and WordPress VPS Hosting plans do use UltraStack caching
, and uptime is pretty good. Most hosting providers offer a 30-day money-back guarantee, which is considered the norm for this industry.
InMotion Hosting, however, offers a very rare 90-day money-back guarantee
.
InMotion Hosting Web Hosting
Features
Optimized WordPress hosting plans. InMotion Hosting's WordPress plans offer SSD storage, Nginx caching, and PHP 8.0. Free CDN, hack and malware protection, automatic backups, automatic security patches, and automatic updates are also included.
Free website builder with all plans. The BoldGrid Website Builder makes website building easy with its drag-and-drop interface. It also comes with a real-time SEO plugin so you can see your changes immediately.
Money-back guarantee. While a 30-day money-back guarantee is common for most hosts, InMotion provides a more generous offer with a 90-day money-back guarantee.
Web design services. If you're short on time or new to website building, InMotion can put you in touch with a professional who can create and build your website. There's also a hybrid service where you can connect with a web designer who will bring your vision to life.
Read our full review for InMotion's performance results
.
Automatic backups

Daily (add-on)

Data center locations
US
Customer support

24/7 live chat, email, support ticket, and phone

Starting price

$

3.29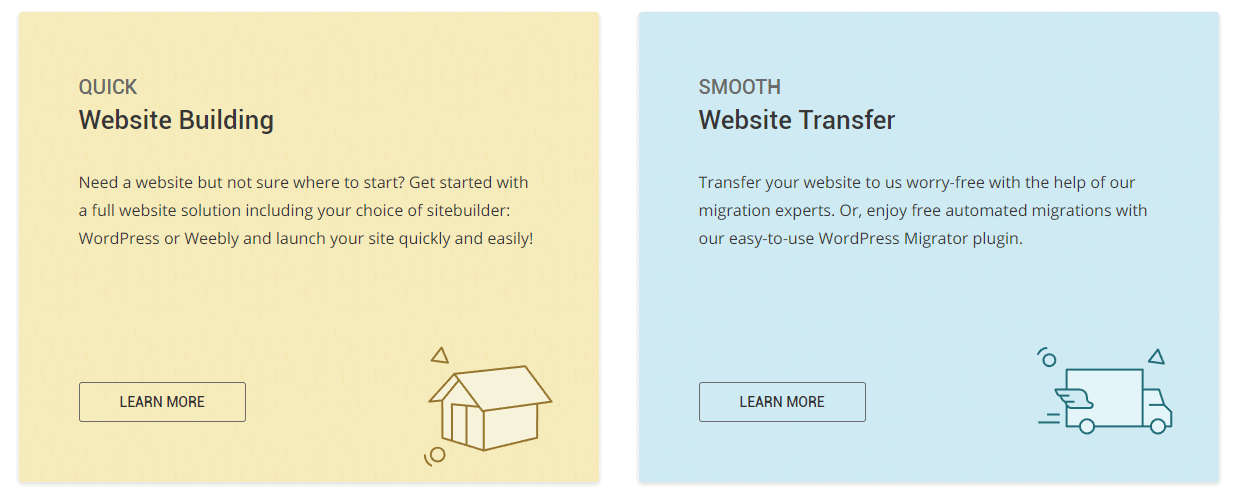 Even though SiteGround doesn't offer VPS hosting or dedicated servers, it offers a decent range of hosting solutions suitable for most websites, including shared, WordPress, WooCommerce, cloud, reseller, and enterprise.
Its shared hosting plans are at the same prices as its managed WordPress hosting plans
, and they offer many of the same premium features. SiteGround's renewal fees aren't the best in the market, but then again, you do get a whole bunch of free features with its plans. These include CloudFlare CDN, SSH access, website migration (either through its free WordPress Automigration or by one of its experts for an additional fee), automatic daily backups, and much more. Like Kinsta,
SiteGround has its own custom control panel, Site Tools, which has a sleek design and is very user-friendly
. Through the control panel, you can easily manage all aspects of your website with no advanced technical skills required.
A free domain name is included with some hosting plans from SiteGround
Features
Site staging. With the GrowBig and GoGeeks plans, you can edit, tweak, and test your changes without having to take your existing site offline.
Security. SiteGround includes a wide range of advanced security features and measures with its plans. This includes advanced IDS/IPS systems (which block malicious attackers and cyber threats), ModSecurity, weekly updates of security rules, and DDoS protection.
Customer support. Our highly responsive customer support team at SiteGround operates around the clock, providing assistance through live chat, phone, and support tickets. You can reach out to our very helpful experts anytime, even in the middle of the night, ensuring that your needs are promptly addressed.
Plenty of server locations. With data centers in the US, UK, Netherlands, and Singapore, chances are that SiteGround will give you an advantage when it comes to website loading speeds for your audience.
For more on performance, read our full SiteGround review
.
Automatic backups

Daily

Data center locations

US, UK, Netherlands, Denmark, Australia, Singapore

Customer support

24/7 live chat, support ticket, and phone

Starting price

$

2.99
Choosing the Right Alternative to Contabo
If affordability is your top priority, then I suggest that you go with either Hostinger or InterServer.
With InterServer, you'll get unlimited allocated resources and ultra SSD storage
, as well as top-level features from one big package. Its low prices are also hard to argue with. On the other hand,
Hostinger offers super cheap long-term commitments
 and better performance in locations including Asia, Australia, and South America. It also gives you a free domain with higher-tier plans, reliable WordPress hosting, and a user-friendly control panel. Prefer an eco-friendly provider that's also affordable and offers excellent customer service? Then you should
consider GreenGeeks, especially if you want a beginner-friendly host
. Or, if you're looking for an affordable VPS solution, you can't go wrong with
A2 Hosting's managed VPS plans
. Use the following table to help you choose the best Contabo alternative for you:
Hosting Provider
Standout Feature
SSD storage space
Money-back guarantee?
Starting price
InterServer

Highly affordable shared hosting and VPS hosting

Unlimited

30 days

$

2.50

Hostinger

Cheap long-term plans with strong performance and reliable support

30GB – 200GB

30 days

$

1.99

A2 Hosting

Affordable managed VPS hosting

100GB – Unlimited

30 days (pro-rated thereafter)

$

2.99

GreenGeeks

Eco-friendly host with fast speeds in North America and Europe

50GB – Unlimited

30 days

$

2.95

Kinsta

Scalable premium WordPress and WooCommerce hosting

10GB – 250GB

30 days

$

24.00

InMotion Hosting

Feature-rich WordPress and WordPress VPS hosting plans

100GB – Unlimited

90 days

 

$

3.29

SiteGround

Beginner-friendly host with easy-to-use control panel and highly responsive customer support

10GB –

40GB

30 days

$

2.99
FAQ
Why should I not choose Contabo's web hosting services?
Contabo's plans may be cheap, but they're lacking in a lot of essential features that you'd need to run a website. If you're looking for affordable and reliable WordPress hosting or cloud hosting, you're out of luck. Its plans, especially with shared hosting, are pretty limited in their resources and features. Contabo's sign-up process is difficult, and its interface is not very user-friendly. It also doesn't offer refunds, or deliver reliable performance – even in Germany. That's why Contabo failed to get a spot in our expert list of the best web hosting services in 2023.
Which host has better performance – Contabo or A2 Hosting?
When it comes to loading speeds and uptime, A2 Hosting offers better overall performance than Contabo. Contabo's loading speeds are quite slow in several locations including the U.S and Germany. Its uptime guarantee is only 95%, which is much lower than the industry standard and could mean an average of 18 days of downtime per year. In contrast, A2 Hosting offers faster loading speeds in Western Europe and the US, and decent speeds in Asia and Australia. It also exceeds its promised 99.9% uptime guarantee, often providing close to 100% server uptime.
Which hosts are more affordable than Contabo?
Of all the seven web hosting services mentioned in the list above, InterServer and Hostinger are not only more affordable, but they've also proven to offer a better value for money. InterServer offers a single plan that comes with everything you need from premium features to unlimited resources. If you're looking for ridiculously cheap long-term subscriptions and feature-loaded plans, then Hostinger may be the host for you. You can also get hot deals and coupons from both services.