In the story of your brand, content is king
– and content management systems (CMS), as the name suggests, are the best way to get your content seen by the world. However, that's not to say that every CMS is going to be the best fit for you. Choosing the wrong CMS for your website isn't the end of the world – after all, most make it easy to export your website – but
constantly switching platforms until you find a CMS you like can be a pain and a poor use of your time.
With dozens of CMS platforms on the market, from ultra-flexible self-hosted applications to all-in-one website solutions, choosing the right one can feel overwhelming.
That's why I've tested dozens of CMS platforms to bring you the absolute best of the best.
These CMS platforms all offer great blogging capabilities, tons of modern templates, more flexibility than a standard website builder, and fantastic SEO tools to help you build your brand.
Short on Time? These Are the Best Content Management Systems in 2023:
WordPress.org – A super-flexible CMS with great blogging features and a ton of plugins.
Joomla! – An advanced CMS that's fantastic for web developers and designers.
Squarespace – An all-in-one, no-code CMS that's perfect for beginners.
What We Look For in the Best Content Management Systems
Regardless of what type of website you want to build, your CMS platform needs to offer certain core features. Here are the ones I focused on that matter most for you and your website:
Great customization options. A good CMS should make it easy to build a unique website with flexible templates that allow you to customize almost every aspect of your website.
Ease of use. Every CMS on my list has easy-to-navigate dashboards and no coding requirement to build a fully functioning, showstopping website – so you can spend more time on your business, and less time figuring out HTML tags.
Applications and extensions. Applications that boost your website's e-commerce capabilities, security, and track your SEO performance can give your website an edge. It's nearly impossible to provide every single feature for every website, so the ability to install extensions is a must-have for any CMS.
Advanced developer features. Every CMS on my list allows you to add custom code – or hire someone to do that for you – so you can build a website that's fully customized to your needs. It should also offer the ability to add in custom code if you need specific functions or design elements.
Available support channels. If something goes wrong outside of standard working hours, you need to know you can find help to get the problem fixed – whether that's via live chat, email, phone, or a comprehensive knowledge base.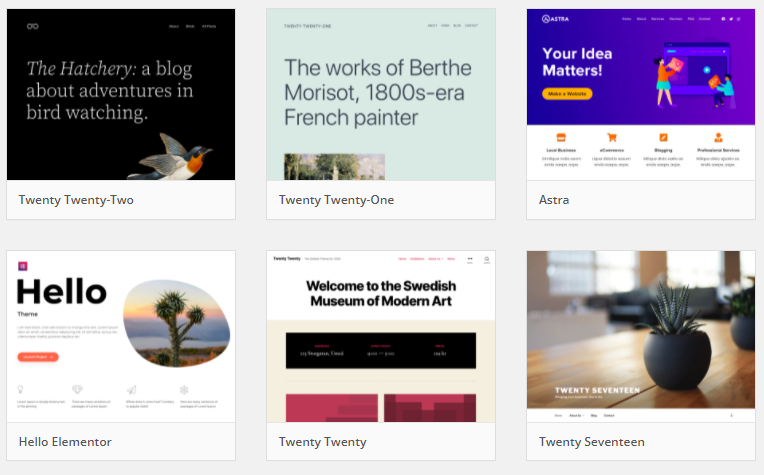 WordPress.org is an open-source CMS that's beloved by hundreds of thousands of users worldwide. Unsurprisingly, it powers over 40% of websites on the Internet because it gives you complete control over your website, even if you don't know how to code.
From simple blogs to complex e-commerce solutions, WordPress.org can do it all.
It offers a ton of flexibility, which means that WordPress.org can feel daunting to complete beginners – particularly because you'll need to set up your domain name, hosting, backups, and security yourself.
But if you're willing to learn, you'll definitely benefit from WordPress.org's near-limitless site-building options.
While the built-in block editor, SEO capabilities, and security features are fantastic,
everything can be extended using one of the thousands of free or paid plugins.
You don't need to know how to code to use these plugins, either, making WordPress.org one of the most comprehensive CMS platforms out there.
When you're looking for a WordPress.org host,
I recommend Hostinger
.
Using its proprietary control panel, you can install WordPress with a couple of clicks. Plus, Hostinger will automatically update your site and plugins and create backups for you. And if you need help, you can count on 24/7 customer support.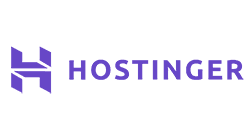 Save up to 75 % on your Hostinger plan!
Limited-time offer - Don't miss it!
7002 users used this coupon!
Features
Free to use. WordPress.org is a free CMS run by a team of volunteers, so all the core features are free. While there are paid themes and plugins, you don't necessarily need these to get the most out of this CMS.
Fantastic blogging features. WordPress.org has a new block-based text editor which is intuitive and mobile-friendly. It also has in-built SEO features for tagging and categorizing your posts and pages to make your content easy for search engines to index.
Hosting and domain flexibility. Because WordPress.org is a self-hosted CMS, you can choose any hosting and/or domain registrar you want. This does add some complexity to setting WordPress.org, but it means you can shop around for the best value for your money.
Advanced developer options. If you want to extend the capabilities of WordPress.org, there are a ton of developer features and tutorials available to help you build your own themes and plugins.
| | |
| --- | --- |
| Hosting | Self-hosted |
| Applications and extensions | 59,000+ free and paid plugins |
| Customer support | Support forum, support documentation, local meetups, workshops |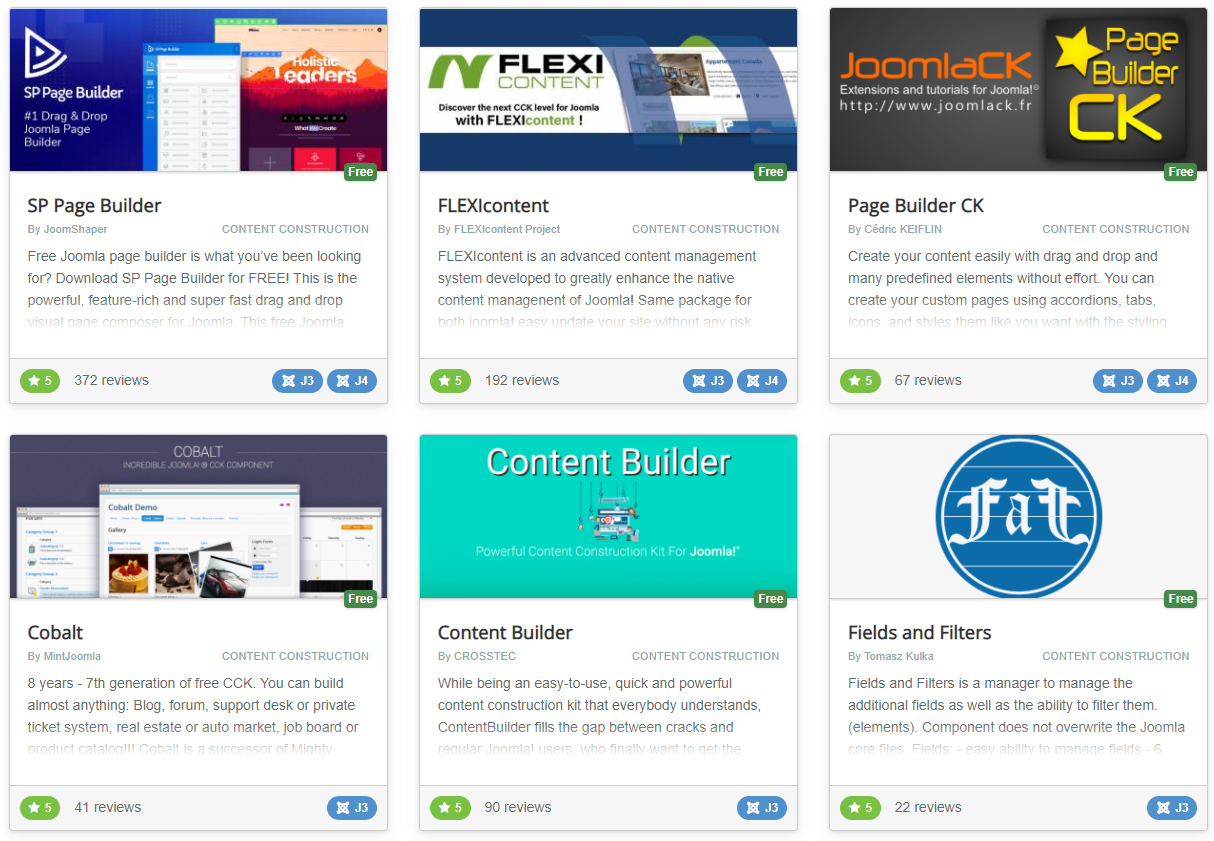 If you've already got experience with building websites under your belt, Joomla! is a great open-source CMS to consider.
This CMS only has two built-in site templates, so you'll need to
purchase templates from a third party
or build your own to get a fully customized website.
Joomla! is free to use,
but because it's self-hosted, you'll need to handle the hosting and domain registration yourself. If you're working with a strict budget, choosing your own host and domain registrar can help you to keep costs down.
Joomla! offers some fantastic advanced development tools
with a comprehensive set of coding guidelines, extended developer documentation, and an independent Joomla! Framework for building PHP applications.
I recommend ScalaHosting if you're looking to build a website using Joomla!
Its powerful VPS hosting plans come with SPanel – a home-grown, more advanced version of cPanel – which allows you to easily manage your hosting resources. You'll also get 24/7 support via live chat, email, ticket, phone, and a knowledge base.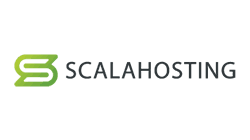 Save up to 53 % on your Scala Hosting plan!
Limited-time offer - Don't miss it!
169 users used this coupon!
Features
Open-source CMS software. With Joomla!'s developer documentation, coding standards, and framework, developers can easily contribute to Joomla! and build the extensions they need.
Great content tools. Joomla! offers full support for metadata, keywords, and URL optimization, plus content versioning to ensure you don't lose your hard work if you make any changes you later need to roll back or need to update your website.
70+ language and translation packs. Create a fully multilingual website that will automatically switch to the language detected on a user's browser. This will help you to make your website as accessible as possible.
Content editing and publishing tools. Use the built-in text editor to create articles without needing to know any code. You can also schedule articles, manage uploaded media, organize your articles with categories, and help users find content with specific tags.
| | |
| --- | --- |
| Hosting | Self-hosted |
| Applications and extensions | Thousands of free and paid third-party extensions |
| Customer support | Comprehensive documentation, free video tutorials, and huge community support forum |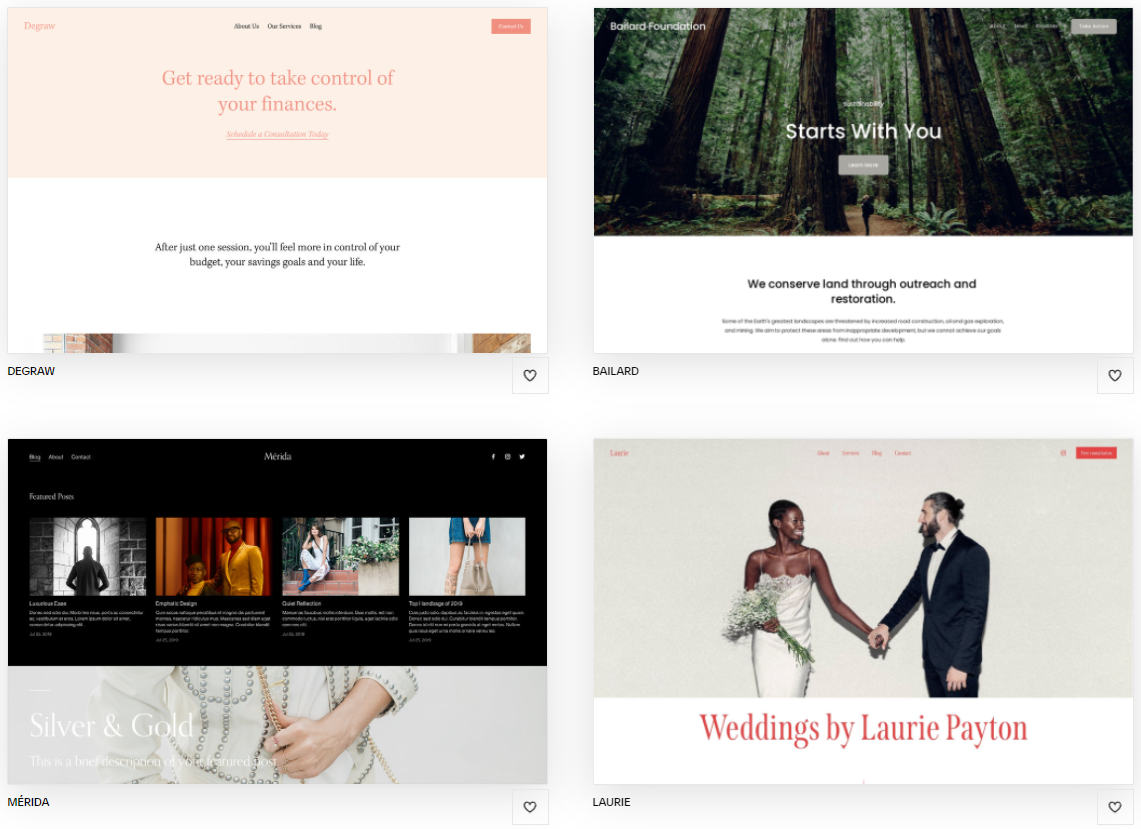 Squarespace isn't just a website builder, it's also a fantastic all-in-one CMS. While it doesn't have a free plan like some other CMS platforms,
its pricing is pretty reasonable given that it takes care of hosting and domain registration for your website
. This makes Squarespace perfect for beginners or anyone looking to set up a website without any hassle.
Squarespace's blogging features are fantastic.
You can change the typeface in each individual post, set posts to be reviewed by other users before they're published, and even send out blog posts to your email list when you publish them.
You also don't need to know how to code to use Squarespace.
You can manage your website entirely through the drag-and-drop block editor, but there's one major downside – design-wise, it's nowhere near as flexible as WordPress or Joomla!. However, there's still plenty of room to make your website your own.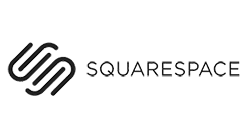 Save up to 30 % on your Squarespace plan today!
Plus get a free domain for one year!
1031 users used this coupon!
Features
Advanced SEO tools. Run keyword research for your website and use the built-in best SEO practices checklist to get your content found online. You can also easily integrate Squarespace with Google Search Console to understand what keywords your visitors are using.
Built-in email marketing. Squarespace Email Campaigns allows you to handle your email marketing without having to constantly switch browser tabs. With automated emails, basic analytics, and easy contact list management, this feature makes it easy to handle your email marketing alongside your website.
Hundreds of built-in integrations. Easily connect Squarespace to your social media accounts, payment processors, and even affiliate marketing platforms. You can also download free and paid extensions that connect to other third-party services.
Members-only content. Monetize your blog, videos, or other content with Squarespace's Member Areas. You can also connect this feature to Squarespace's email marketing feature to automatically update your member lists.
Read our comprehensive Squarespace review for more details
.
| | |
| --- | --- |
| Hosting | Included in your Squarespace plan |
| Applications and extensions | Hundreds of in-built integrations, plus dozens of free and paid extensions |
| Customer support | Live chat, email, support forum, video tutorials, webinars, knowledge base |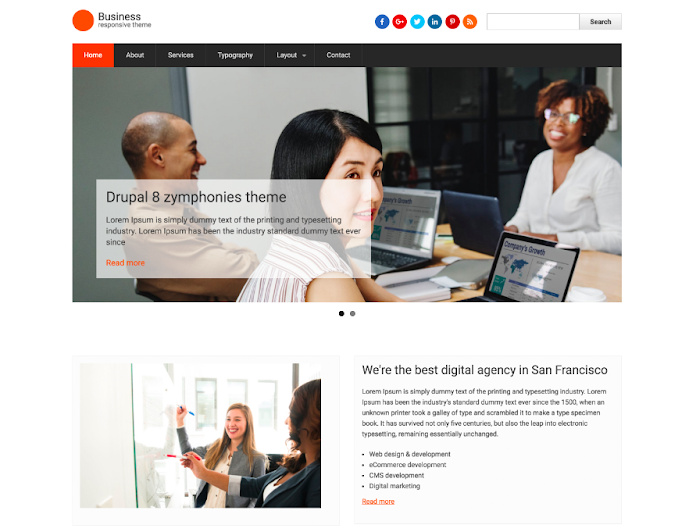 Drupal is perhaps the most advanced CMS on the market, and it's not one that I would recommend if you're completely new to building websites
or don't have the budget for a developer to manage it for you. While it has a super-comprehensive documentation library, it's not for the faint of heart. With that being said,
Drupal is fantastic for data-heavy websites
. This CMS was designed with business in mind, so the underlying framework can process large amounts of data at high speeds. Photographers, film studios, producers, and other visual media artists will benefit from this platform because you won't need to worry about slow loading speeds.
Drupal also offers 48,000+ free extensions (or modules) to expand its functionality.
You can use these to add Google Analytics to your website, manage backups, generate sitemaps, and more. While features like these are typically included with a lot of CMS platforms, having them as optional downloads means you've got a ton more flexibility.
Drupal is a demanding self-hosted CMS, so you'll need to find a powerful host for your website.
I recommend Kamatera
 – it's a cloud-based hosting service with advanced firewalls and the ability to automatically scale your resources up or down depending on how much you need.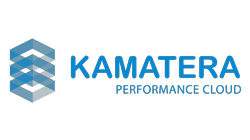 Get 1 month Cloud Hosting FREE!
Get your first month of VPS hosting with Kamatera for FREE!
79 users used this coupon!
Features
Open-source CMS. Drupal has hundreds of volunteer contributors building the core application, extensions, and themes, and fixing bugs. There's an extensive contributor guide if you've developed something for your website that could be useful to the community.
Lightweight and fast. You have to install modules for things that most CMS platforms include as standard, which means the core CMS is quick to load. By adding extensions when you need them, you can avoid the bloat that often comes with all-in-one solutions.
Comprehensive documentation. If you've got some development experience but you've never used Drupal before, this CMS offers a user guide, development guide, and community-curated wiki to help you get started.
Thousands of templates. There's no lack of templates that you can use with this CMS. Drupal itself has a library of 3,000+ free, community-submitted templates, many of which come with installation guides, documentation, and even contact details for the developers in case you encounter any bugs.
| | |
| --- | --- |
| Hosting | Self-hosted |
| Applications and extensions | 48,000+ free modules to extend the functionality of Drupal |
| Customer support | User guide, documentation for development and contributing, support forum, wiki, verified service partner marketplace, community events |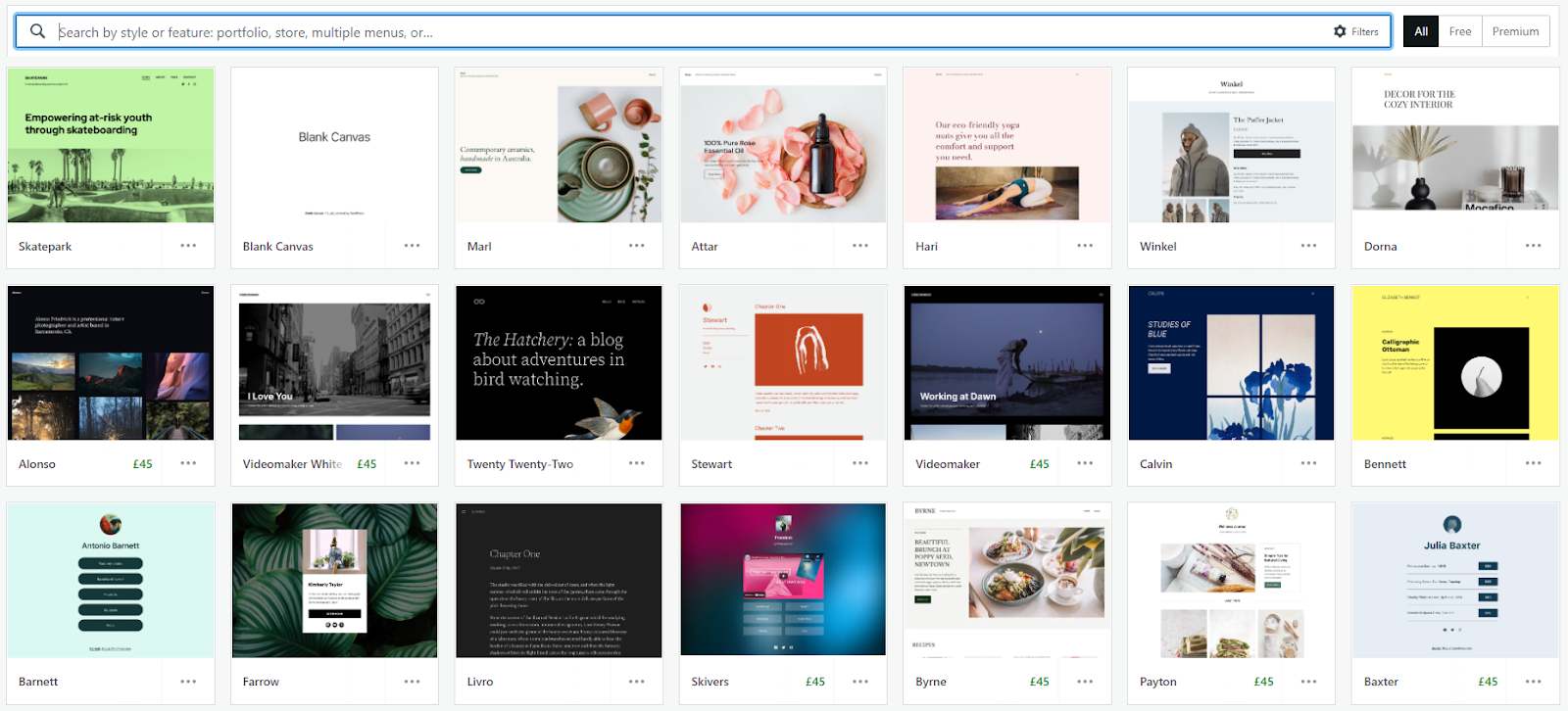 Think of this CMS as WordPress.org's smaller, beginner-friendly cousin.
WordPress.com allows you to pay for hosting, domain names, backups, and security and e-commerce tools in one easy bundle.
You'd have to handle this yourself with the self-hosted version, so
WordPress.com is a lot less hassle
. Sure, this does limit your flexibility a little, but only to the same degree as using any other CMS where your hosting is handled for you. If you're not worried about optimizing your website's performance, you'll find that
WordPress.com makes building a powerful website more accessible.
Plus, as a WordPress.com customer, you can count on 24/7 live chat and email support to take care of any issues along the way.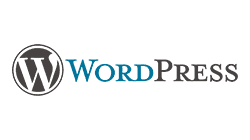 Save up to 43 % on your WordPress plan!
Limited-time offer - Don't miss it!
43 users used this coupon!
Features
All-in-one CMS. WordPress.com manages all the back-end stuff for you, so you'll get the power of the self-hosted version without any of the complexity. It's fantastic if you've got the budget to invest into a solution that works out of the box.
Powerful integrations. With thousands of plugins, you can integrate WordPress.com with almost anything that offers an API. Plugins are only available on the Business plan and above, though.
E-commerce functionality. On the Business plan and above, you can set up an online store with automatic tax calculations, Stripe and PayPal integration, coupons, product reviews, and more. There's also an e-commerce plan that integrates with shipping carriers like UPS to make your life easier.
Ad revenue generation. If you're on the Premium plan or above, you can use the built-in ad integration to earn passive income from your content. This makes WordPress.com fantastic for new bloggers and content creators.
Read our expert WordPress.com review
for more great features.
| | |
| --- | --- |
| Hosting |  Included in your WordPress.com plan |
| Applications and extensions | Thousands of plugins and extensions available on the Business plan and above |
| Customer support | 24/7 live chat and email, knowledge base, free webinars and tutorials |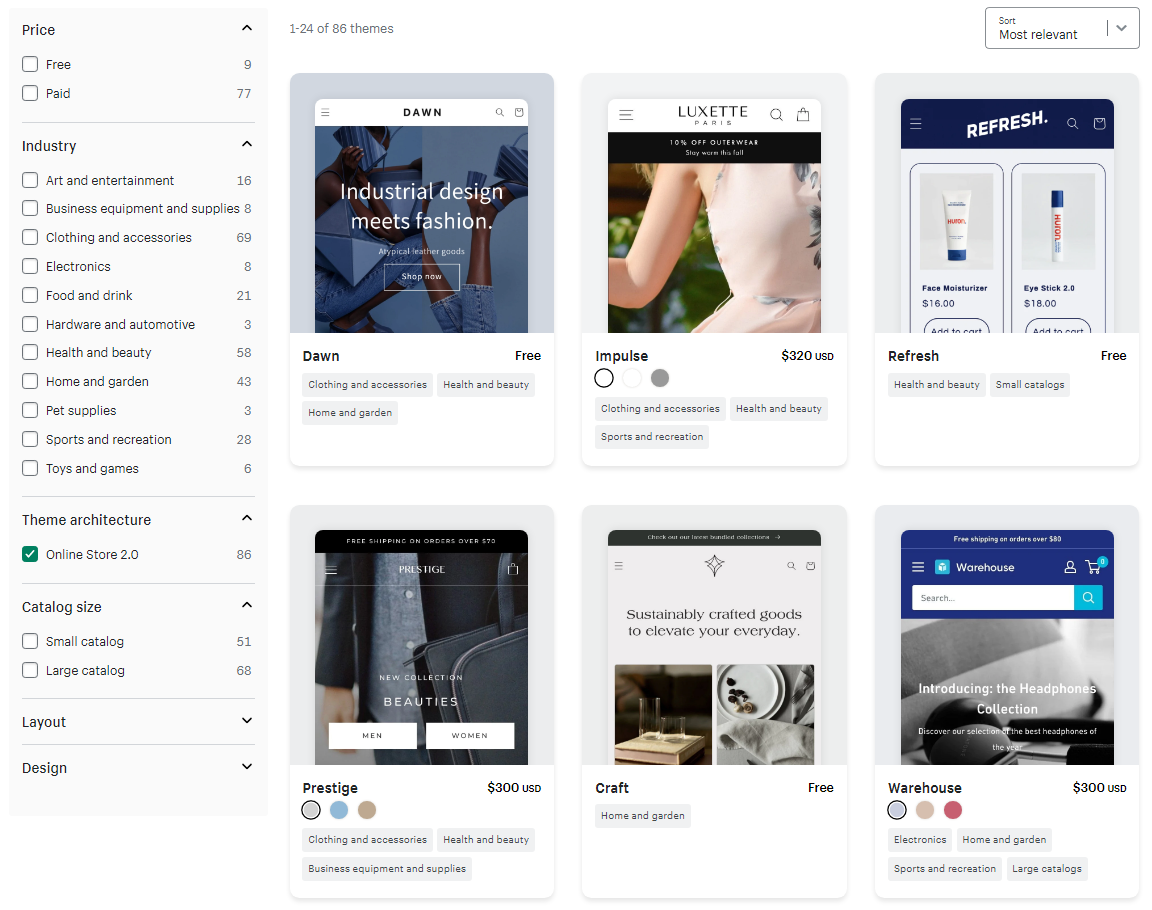 Shopify is the best-known e-commerce CMS, and it's not hard to see why.
With built-in store management features like discount codes, inventory management, and even 100+ payment gateway options,
Shopify makes it easy to build and grow your online store
. You can also sync your Shopify store with other e-commerce marketplaces, allowing you to control all your sales in one place. It's not the cheapest e-commerce CMS out there, particularly if your business is still relatively small and you're only making a handful of sales each month. However,
if you've got a successful e-commerce business and you're looking to take it to the next level, Shopify is well worth the extra cost.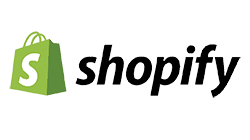 Save up to 25 % on your Shopify plan!
Limited-time offer - Don't miss it!
293 users used this coupon!
Features
Point of sale support. Shopify has its own range of point of sale (POS) devices that you can use to take payments, track your inventory, and see financial reports. You can also use Shopify's POS on your smartphone so you don't have to purchase any extra equipment.
Over 6,000 applications. Connect Shopify to email marketing services, accounting software, or even your social media profiles to supercharge your e-commerce store.
Built-in analytics dashboard. Quickly see your visitor stats, conversion rate, revenue, and real-time store activity on your Shopify dashboard – no additional plugins required.
Learning resources. Shopify offers free business courses, two podcasts, and even local community events to help you to network with and learn from other sellers. You've got plenty of support to help you scale your business.
See how you can build a powerful website in our in-depth Shopify review
.
| | |
| --- | --- |
| Hosting |  Included in your Shopify plan |
| Applications and extensions | Over 6,000 free and paid applications |
| Customer support | 24/7 live chat, email, and phone |
Which Content Management System Is Right for You?
My top recommendation is WordPress.org.
It's free to use, and its flexibility means that it's easy to expand your website as your business – or hobby – grows and changes. Plus, being able to choose your own host and domain registrar is fantastic if you're working with a strict budget. For example,
Hostinger offers super affordable WordPress hosting
 with excellent performance. With that being said, WordPress.org isn't the most beginner-friendly CMS. So,
if you're brand new to building websites, check out Squarespace
. It's an all-in-one solution so you don't have to worry about anything but building a beautiful website. If you've got some development experience and you're looking for something more advanced,
I recommend Joomla!
It's another free, open-source CMS, and it comes with a ton of developer documentation, coding guidelines, and a PHP framework to help you build applications for your website. And if you're looking for the perfect host,
Scala Hosting is a great home for a Joomla! site
, with fully customizable cloud plans that won't break the bank. Here's a quick breakdown of the best 6 content management systems on the market today.
| | | |
| --- | --- | --- |
| CMS/Website builder | Stand-out feature | |
| WordPress.org | Thousands of contributors that continuously update, develop, and build plugins to improve the software | |
| Joomla! | Developer support documentation and frameworks that allow you to extend and customize Joomla! for any type of website | |
| Squarespace | Built-in advanced SEO features like keyword research, site analytics, and automatic sitemap generation. | |
| Drupal | Completely modular, making it lightweight, fast, and a good choice for data-heavy websites | |
| WordPress.com | Beginner-friendly block editor that makes building pages and writing blog posts a breeze | |
| Shopify | Advanced e-commerce features including inventory management, discount codes, and third-party marketplace management | |
FAQ
What is the best (and fastest) CMS?
WordPress.org is the best all-around CMS because you can build pretty much any kind of website you want. The core CMS isn't bloated with a ton of features you'll never use either, so your website won't be overloaded. Speed will also depend on what your hosting provider can handle – I recommend Hostinger.
Which CMS is easiest to learn?
Squarespace is a beginner-friendly CMS with fantastic customer support, an intuitive website editor, and all the features you could ever need to get started. It's one of our top 10 website builders in 2023 for a reason!
What CMS do most companies use?
WordPress (in both its forms) powers nearly half of all websites. While it's not a dedicated e-commerce solution, it has some fantastic plugins for e-commerce that rival website builders like Shopify. It's also got a ton of in-built SEO features to support any business's digital marketing strategy. Take a look at our coupon page to save money on your WordPress.com plan.
Is Wix better than WordPress?
That depends on what you're looking for. WordPress.org offers more capabilities to build a completely custom website, while WordPress.com offers that flexibility without the hassle of setting up your own hosting and domain name. However, there are benefits to using website builders like Wix. Read our step-by-step guide to building websites to see which one will work for you.