not all cloud project management software is up to the task
. Many don't come with the collaboration tools you need to coordinate a remote team, integrations you need to utilize diverse resources, or the high level of security you need to keep your project data secure.
With the right cloud project management software, your team can efficiently achieve its objectives
without compromising on security or spending countless hours learning a complicated user interface. The best tools offer a wide range of features, from pre-built templates to customizable options, ensuring you find the ideal solution for your cloud-based projects without needing to spend significant time and resources. After testing dozens of cloud project management software, I've brought together this list of my top choices for all industries.
monday.com emerged as my top recommendation because it manages to be incredibly easy to use
while still being flexible enough to work for virtually any team and industry
. Plus, it integrates seamlessly with lots of useful applications, providing a unified platform for managing projects in the cloud. You can take monday.com for a spin for free or continue reading to explore other cloud project management tools that impressed me.
Short on Time? These Are the Best Cloud Project Management Tools in 2023
monday.com – Plenty of pre-made templates for diverse projects & easy-to-use shareable boards.
ClickUp – Useful third-party integrations & extensive collaboration and reporting capabilities.
Smartsheet – Strong security & great scalability for big, company-wide projects.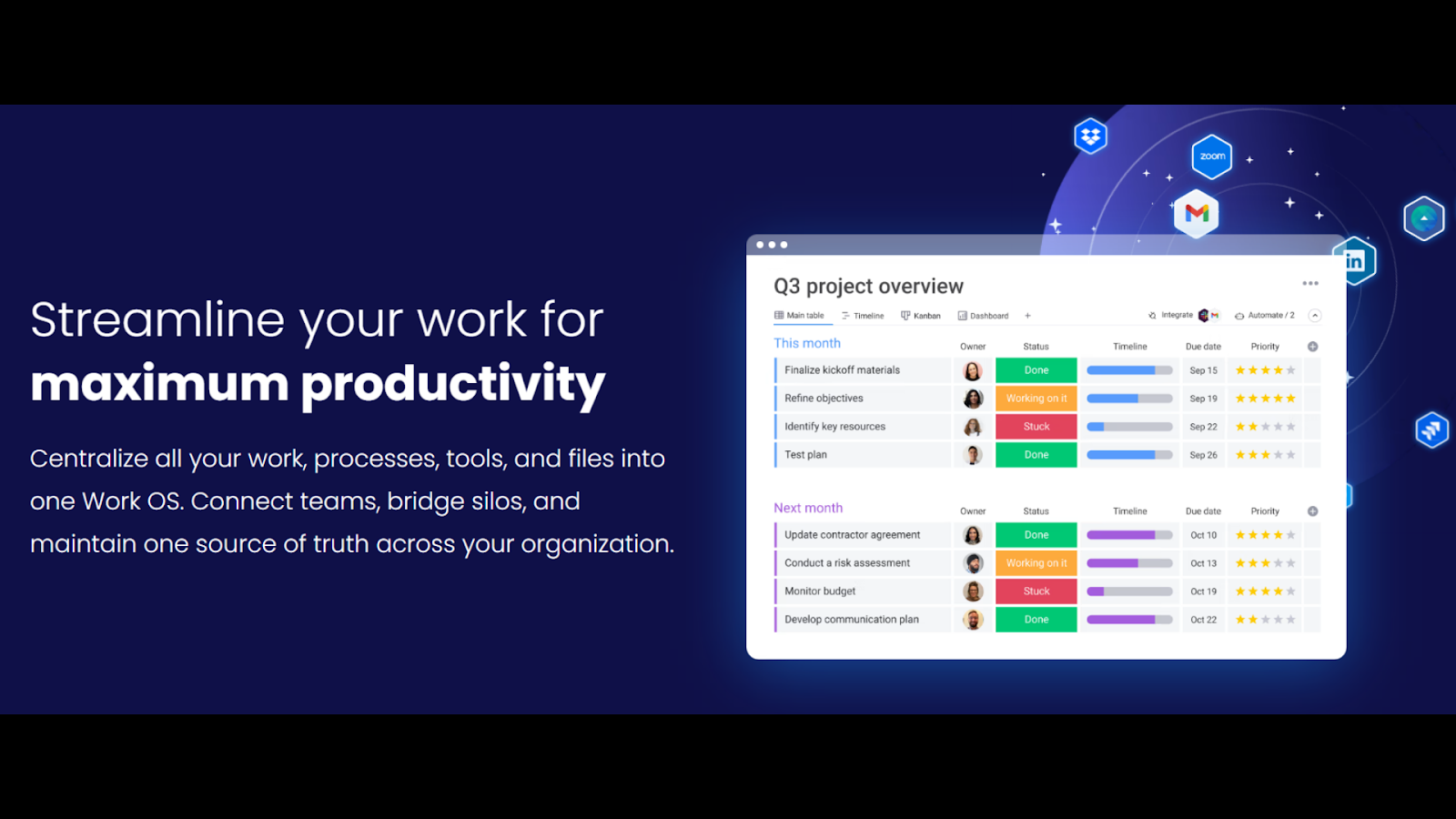 monday.com excels as the
top all-in-one cloud solution for managing projects,
tasks, and team collaboration. Its dynamic visualizations enable tracking of all your projects in a single location, providing vivid and easy-to-understand displays that reveal project status and upcoming actions. Getting started is a breeze with the online demo that guides you through the software's functionality. Plus,
you can instantly create an account and begin using the platform,
thanks to
its user-friendly interface
. No matter the nature of your project – be it software development, marketing, design, or anything else – monday.com has what you need.
The platform boasts an array of templates
designed specifically for various industries, simplifying the management of any project in the cloud. Additionally, you can personalize your workspace and integrate numerous widgets. With monday.com, staying organized becomes effortless, as it allows you to store all your files, cloud resources, and team documents in one centralized place.
The built-in timer feature in monday.com offers a transparent overview of time allocation
for each task, enabling users to streamline their workflow and keep projects on schedule. You can generate new tasks and projects, delegate them to team members, and track progress using the calendar view that showcases project milestones and deadlines. In the cloud environment, collaboration is crucial, and
monday.com's shareable boards ensure constant communication
between team members and clients regarding project updates. You can set real-time notifications to be automatically sent, keeping everyone up-to-date on cloud progress and modifications.
Read our expert monday.com review for more details
.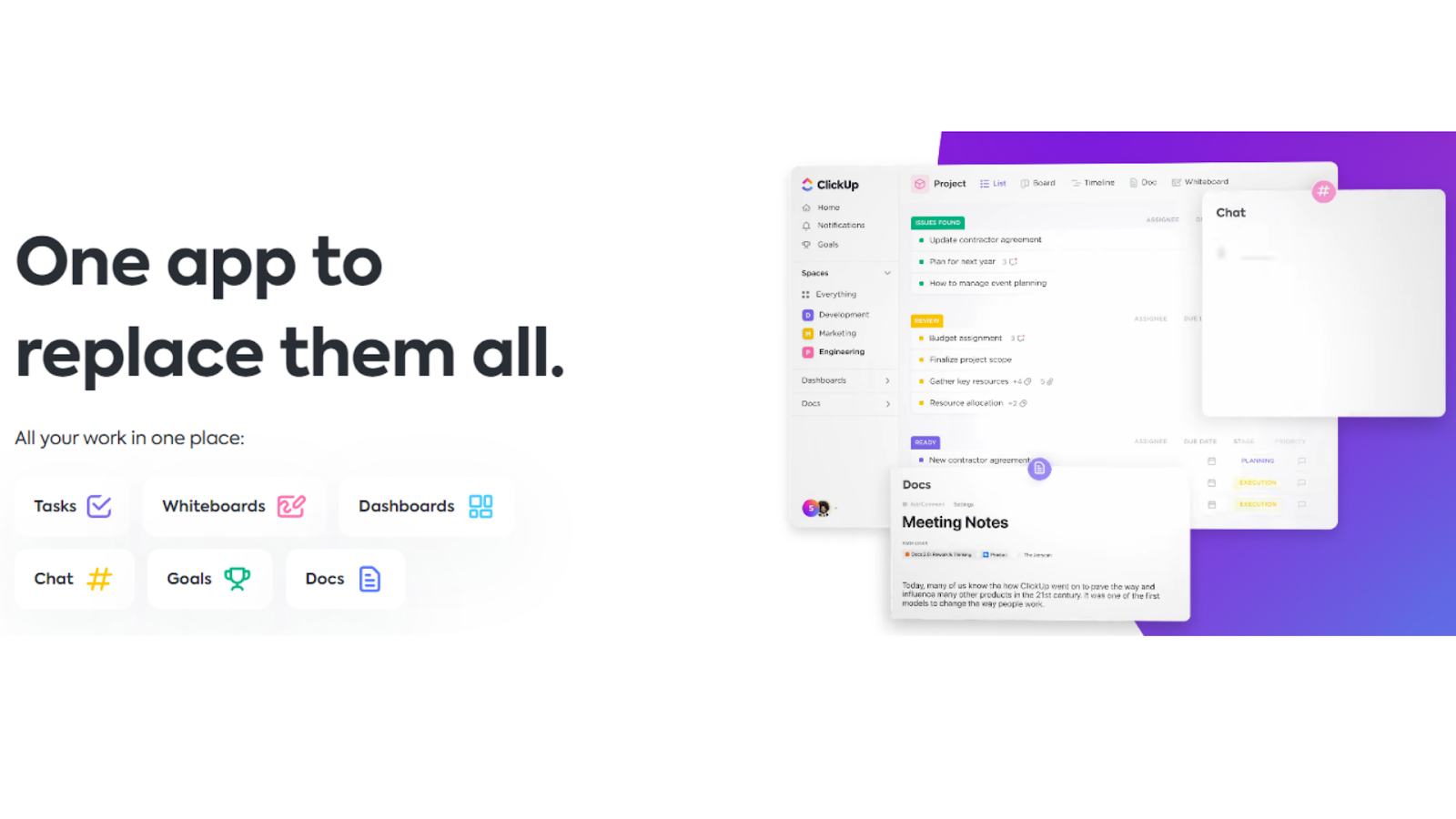 ClickUp distinguishes itself as a top cloud project management solution for various reasons. First and foremost, it enables users to consolidate and organize cloud requests and priorities within a single platform, offering
a holistic view of timelines, progress, and team responsibilities,
to ensure nothing is missed. With ClickUp, you can assess your team's workload, identifying fully engaged members and those with the capacity to take on additional tasks. You can
enhance your team's productivity with time tracking
 and the Workload view feature. The platform also fosters seamless collaboration through
native tools like Whiteboards, Docs, and Chat.
Sharing ideas and feedback, attaching project briefs, and automating updates to maintain transparent communication with stakeholders becomes effortless, resulting in improved comprehension and fewer surprises. Additionally,
the cloud-based nature of the platform allows for quicker and easier updates
compared to traditional whiteboard meetings. There's no need to worry about saving crucial data, as the software preserves everything, including external images and files you may incorporate. ClickUp streamlines collaboration, including approval processes, by
allowing users to proofread and annotate work in progress,
integrate external files, engage external contributors, and assign comments for evaluation. Design custom workflows to depict every stage of a project, from inception to completion, using personalized statuses. Save time and energy by employing templates for similar projects or clients, eliminating redundant work. Finally, you can enhance your team's performance by connecting and automating tasks throughout the cloud lifecycle.
ClickUp offers over 200 integrations, including GitHub and GDrive,
to elevate overall efficiency.
Read our expert ClickUp review for more details
.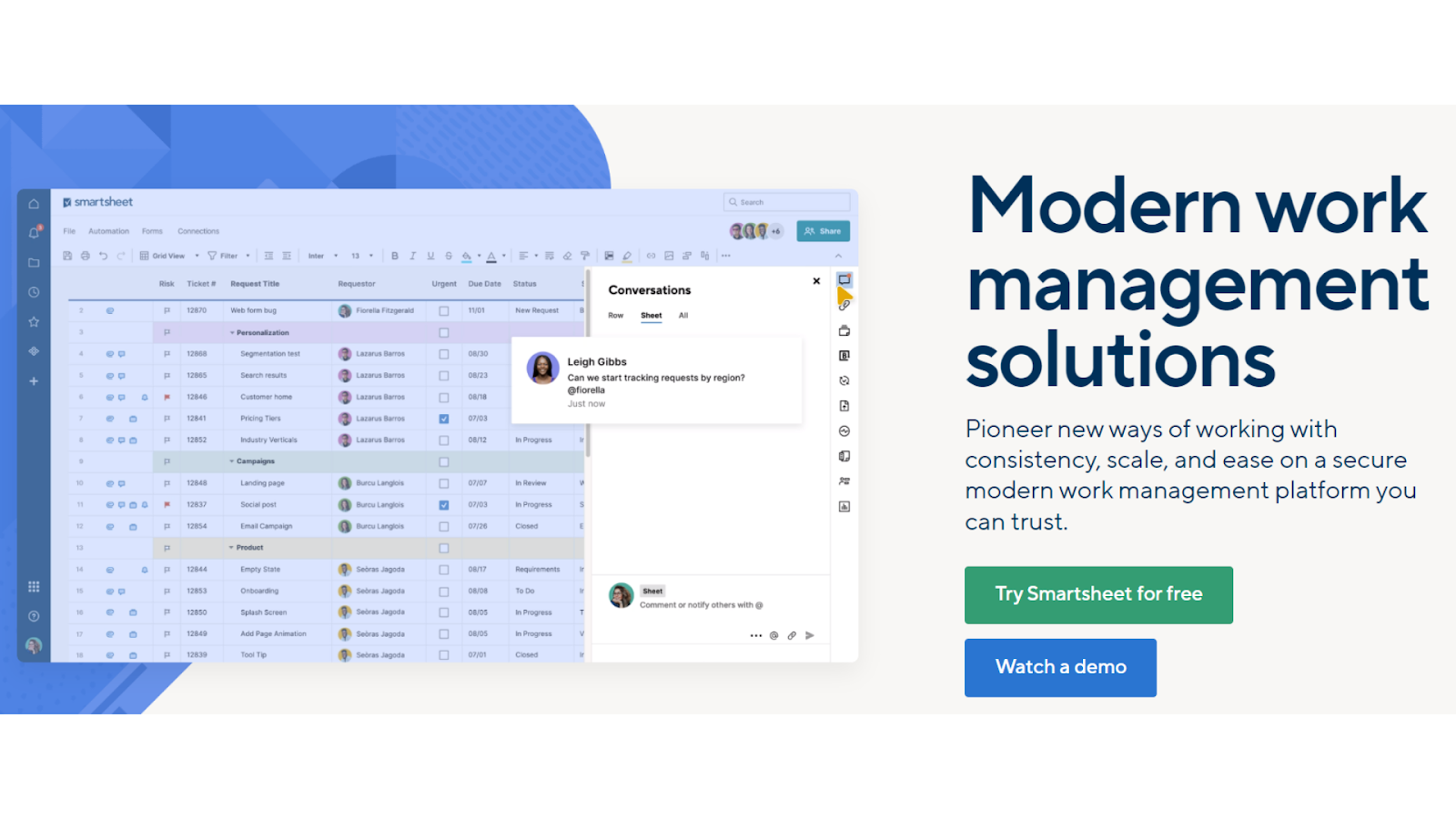 Smartsheet is a project management platform that
excels in handling large-scale projects,
offering an extensive array of features tailored to your requirements. It facilitates
team connectivity and information sharing
, saving precious time by streamlining the entire process from planning to implementation.
Users can easily monitor each phase of their projects with Smartsheet.
The platform allows project information to be shared with team members, both locally and globally, ensuring alignment with the overall strategy and objectives. This minimizes miscommunication and fosters efficient communication within expansive teams. Thanks to its customizable task lists and sorting capabilities, Smartsheet
is the perfect solution for managing multiple projects at the same time
or classifying tasks based on their completion status. For example, you can establish columns for various project stages or iterations, giving your team a straightforward understanding of each task's progress. Smartsheet allows you to attain results swiftly by providing comprehensive reports on numerous project aspects, such as return on investment.
The platform's transparency helps you pinpoint areas for innovation and enhancement,
ultimately increasing productivity and profitability. Not only is Smartsheet cost-effective, but it also integrates seamlessly with your current IT infrastructure,
eliminating hidden expenses.
Additionally, it is compatible with tools you already employ, such as Google Drive, ensuring your team remains in sync and collaborates effectively.
Read our expert Smartsheet review for more details
.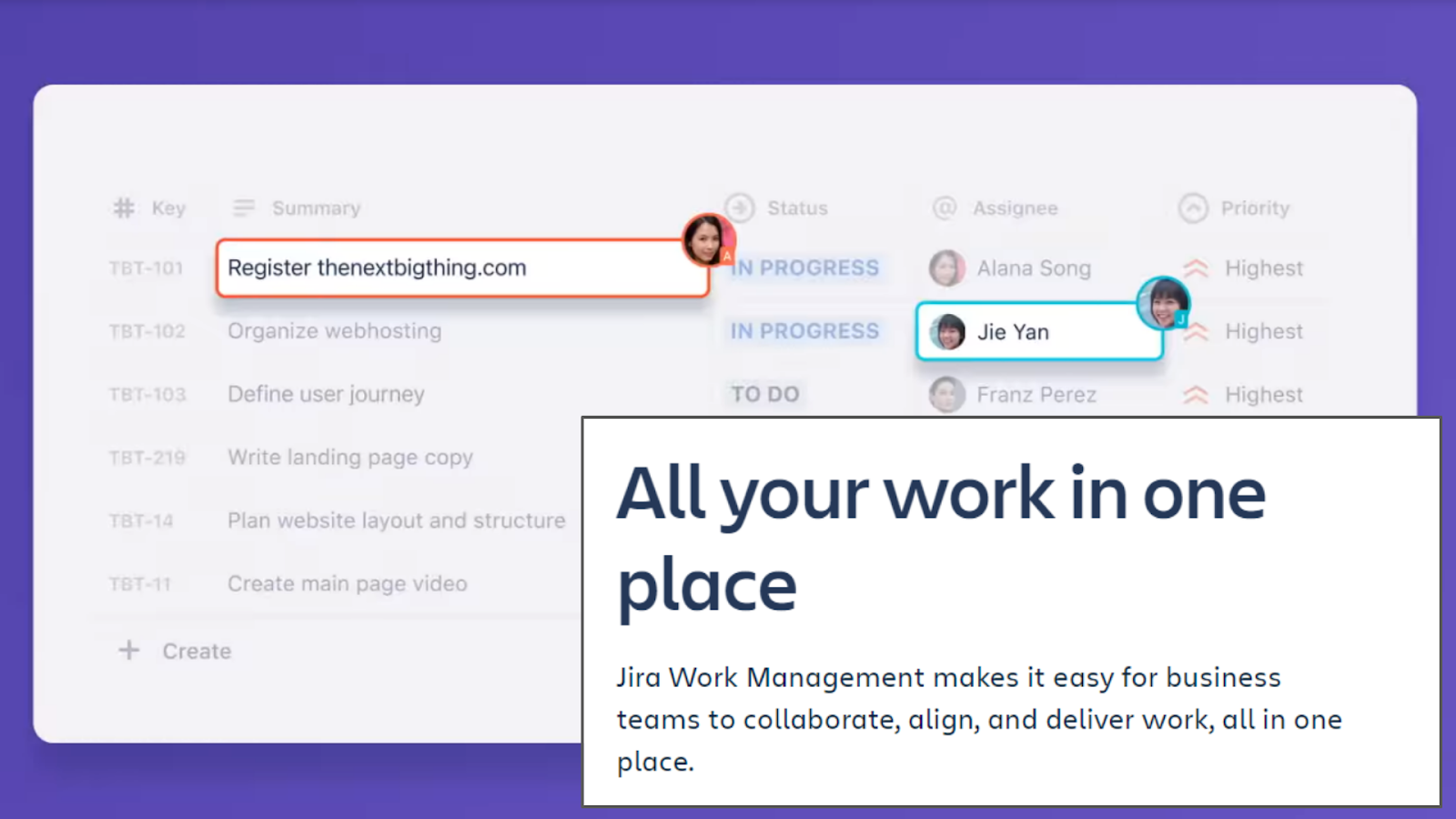 Jira stands out as an excellent cloud project management software, providing a comprehensive and highly collaborative environment.
Effortlessly invite team members and external contractors without requiring administrative authorization.
Just ensure you configure suitable permissions in the Settings to safeguard sensitive data. With Jira, teams can establish various issue types for their projects. Analytics issues document crucial metrics for analyzing usage patterns and optimization objectives. Research issues facilitate tracking user testing, research, and usability studies. Spec issues allow users to primarily work and gain insight into their weekly priorities. Story issues depict the overall flow of an experience, while Other issues monitor non-critical requests.
You also get access to no-code automation that functions across all Jira products for your team.
This lest you automatically assign tasks, send Slack messages, and more. What's more, hundreds of templates are available for quick implementation.
Jira lets you easily enhance your team's productivity with Rules,
a feature that automates simple tasks in next-gen projects. For example, use it to automatically alert content users when a card shifts to the "copy review" column. If you're constantly on the go,
Jira's next-gen template is accessible on mobile devices,
enabling you to remain connected and update tasks while on the move.
Read our expert Jira review for more details
.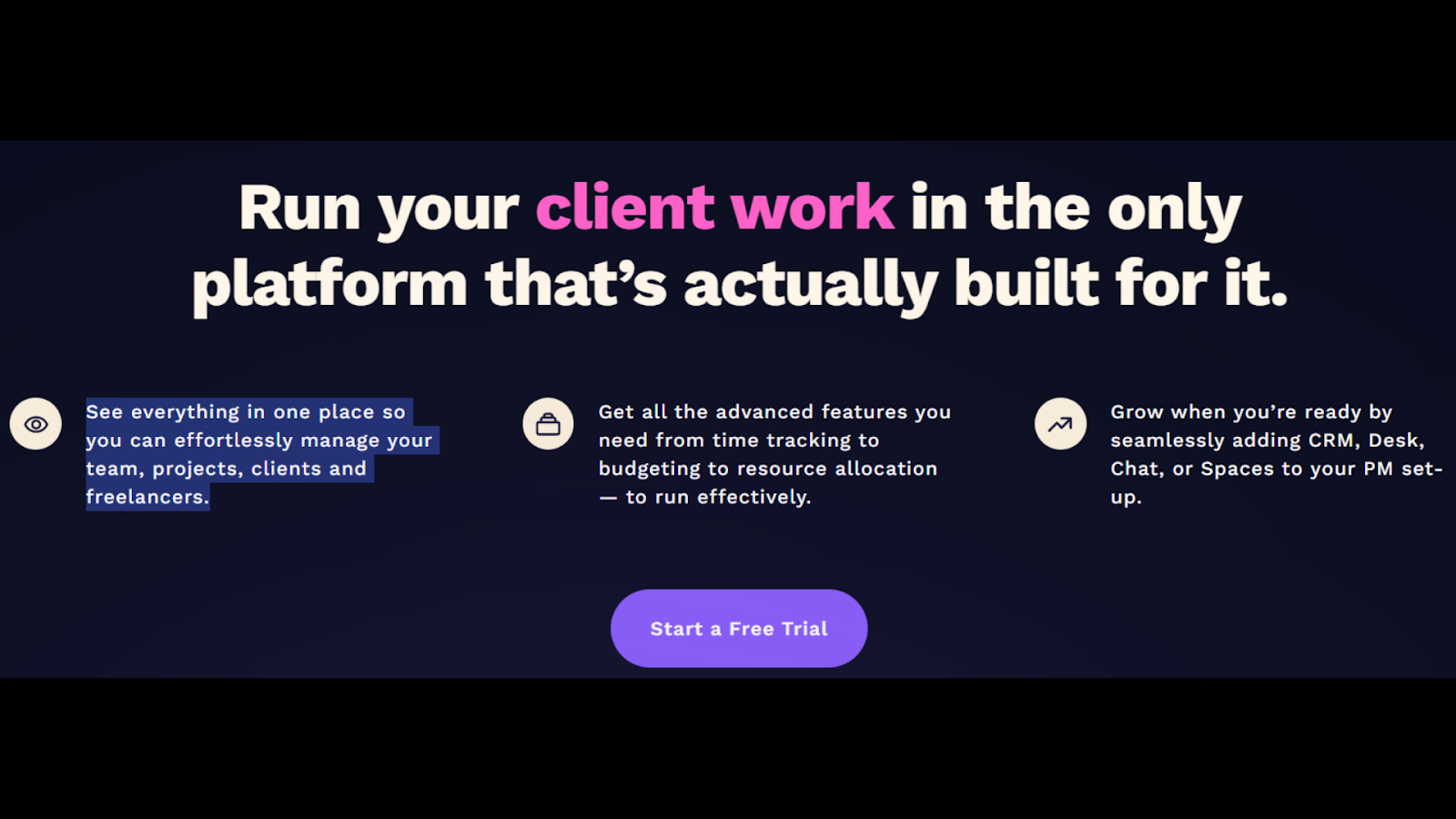 Teamwork is an intuitive, adaptable, and feature-packed project management solution
designed to assist teams in monitoring progress, streamlining their workflow, and eliminating manual labor through automation and personalized templates. The platform is accessible as both a web application and mobile apps for Android and iOS devices, guaranteeing seamless use across various platforms. By minimizing administrative tasks such as email communication regarding drafts or file searches, Teamwork allows teams to concentrate on providing value-added work for clients. This
improved collaboration results in heightened productivity
and expedited project completion. With Teamwork, assigning tasks, establishing due dates, and prioritizing them based on significance is a breeze, whether through email or the web app. This eliminates the need for lengthy status meetings and keeps everyone updated on project advancements. The Tasks & Subtasks section allocates a distinct folder for each component of a project, removing any uncertainty about item organization.
Important project details and insightful notes for retrospective examination can be stored in notebooks.
Additionally, you can attach files to tasks, messages, or comments on items to maintain team cohesion. To further streamline project management, Teamwork provides
an array of pre-built templates, including SEO planning, website creation, and event organization.
Custom templates can also be developed to meet unique project needs, ensuring a tailored and effective approach to managing cloud projects.
Read our expert Teamwork review for more details
.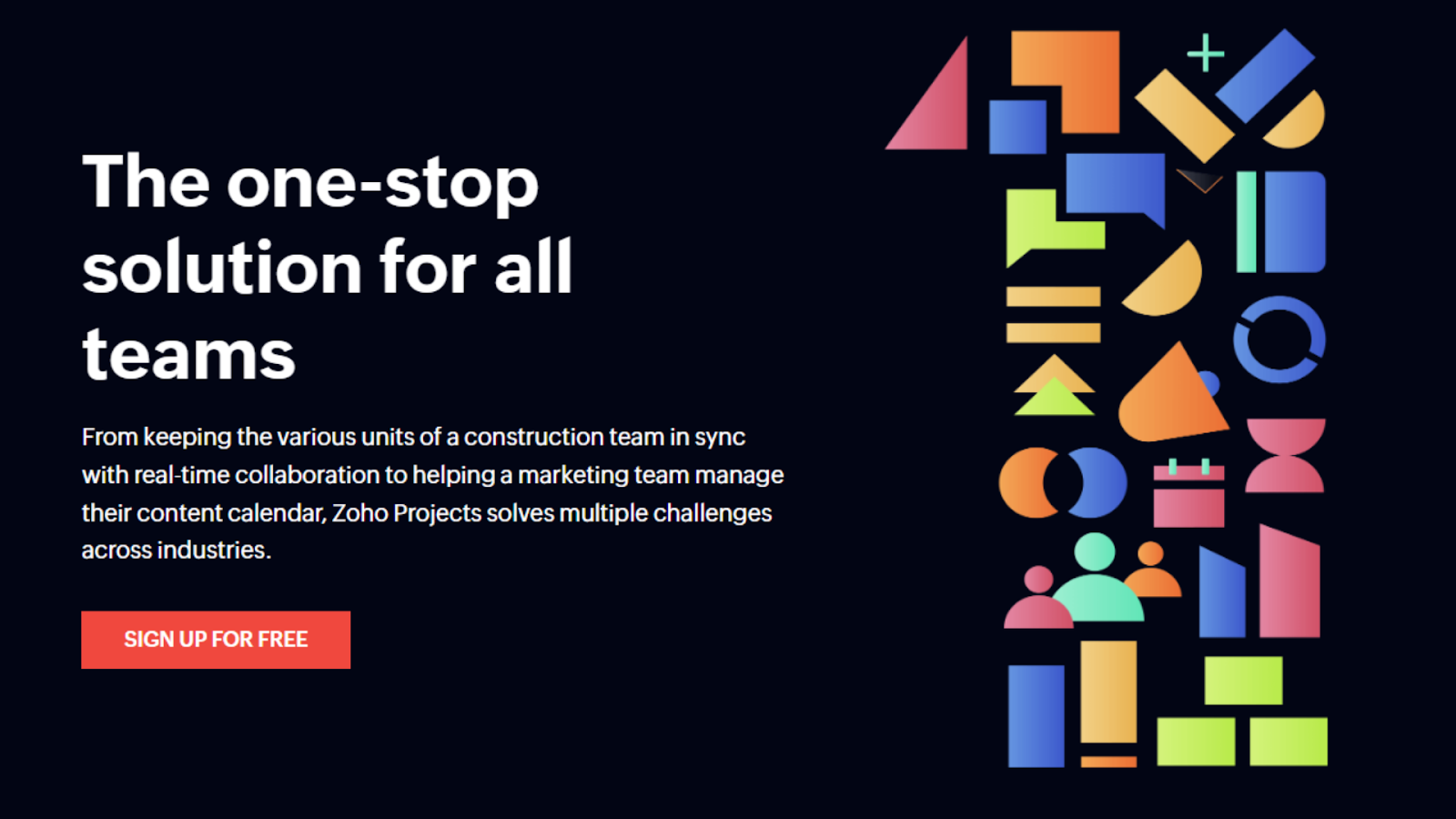 Zoho Projects is a cloud project management platform that enables teams to create well-defined timelines for their projects through efficient planning and execution, significantly enhancing results.
The software integrates smoothly with Zoho Docs,
facilitating effortless creation, review, modification, and finalization of project-related documents. The calendar view provides teams with a visual representation of their workload at any given time, promoting advanced event planning and scheduling for client meetings or team discussions. This feature ensures every team member is aware of upcoming deadlines and can plan their work accordingly. By monitoring resource utilization,
Zoho Projects assists in optimizing productivity and maintaining budget control,
measuring the actual work completed by team members against their expected workload. For an all-encompassing perspective on progress across multiple projects or individual tasks within a single project, you can access
dashboard reports, such as Planned vs Actual Progress Reports
. These reports offer valuable insights into overall team performance and help pinpoint areas for improvement. To conserve time and enhance efficiency,
Zoho Projects allows teams to establish blueprints for recurring tasks,
so you won't need to start from scratch for each new project. Customizable fields and statuses are especially useful for cloud projects, further simplifying the project management process.
Read our expert Zoho Projects review for more details
.
Check Out the Best Cloud Project Management Software
Cloud project management software saturates the market, making it daunting to find the perfect one that suits your requirements. This article intends to help you narrow down your options and identify the ideal tool for your team's needs. If you're looking for a flexible tool suitable for a variety of projects,
monday.com is my top recommendation
. It's perfect for projects that demand collaboration across various departments. For those seeking extensive integrations or prioritizing seamless communication,
consider ClickUp
. It's a fantastic option for  enhancing team collaboration. On the other hand,
if your team is large and spread across the globe, Smartsheet is worth considering
. This software can handle immense amounts of data, making it an ideal choice for sizable corporations with diverse teams.
In conclusion, here's a concise comparison of the top cloud project management tools:
Free Plan
Best Feature
Best For
Starting Price
monday.com

✔

Tons of integrations for various industries
Most teams

$

8.00

ClickUp

✔

Drag-and-drop dashboards & whiteboards
Highly collaborative teams

$

7.00

Smartsheet

✘

Scalability & trackability
International or remote teams

$

7.00

Jira

✔

Robust software capabilities
Big teams handling large amounts of data

$

7.75

Teamwork

✔

Intuitive interface
Beginners

$

5.99

Zoho Projects

✔

Great automations
Recurring projects

$

4.00
FAQ
Which cloud project management software is the best?
Based on my tests, monday.com ranks as the premier choice for cloud project management software. It offers an array of pre-built templates for any project type, allowing you to get started quickly. It also integrates with valuable apps like Slack, Microsoft Teams, and Google's suite of products. Its adaptability enables seamless collaboration across various cloud departments.
Is ClickUp a good cloud project management software?
ClickUp is a fantastic choice for teams looking to optimize their processes with project management software. It's especially effective at improving team communication and centralizing feedback and inquiries in one place. It also boasts numerous integrations.
What is the most user-friendly cloud project management software?
For the optimal onboarding experience, Teamwork emerges as my top suggestion. Its user-friendly nature ensures that your team can begin using it with minimal to no training, and its sleek, intuitive interface makes navigation a pleasure.
Can you use cloud project management software for free?
Yes, many cloud project management tools come with free trials, including monday.com, which I highly recommend. You can try it for 14 days without needing a credit card, or choose the basic free two-user plan for an unlimited duration.