The best way to increase the reach of your content is to add a click-to-tweet (CTT) plugin on your WordPress site
. But you are busy creating exciting and relevant content – really busy. So there is no room on your to-do list to research – not to mention, test out – every available CTT plugin for WordPress to find the right one for your needs. However, you don't want to just toss a coin or randomly pick one with a cool-sounding name. No fear – we've done the grunt work for you, so your readers will be tweeting away in no time. And you'll have more time to go for a jog, play with your dog, or even get more work done.
What We Look For in the Best Click-to-Tweet Plugins for WordPress
Simple setup: Setting up CTTs shouldn't require any special skills. All the directions you need should be included with the tool. Who has time to read a manual or watch videos? You want to copy, click, and go.
Ease of use: Your audience is only going to use the CTT tool if it's super quick and easy. The design needs to be intuitive and straightforward.
Customizable text features: Your tool needs to be simple to use, but at the same time, allow you to make any required changes in order to increase tweets (e.g., hashtags, your username, and trackable links). Yes, it's a hard balance. But the customizations shouldn't require coding or any complex processes.
Design templates: Sometimes the basic template just won't do. You want the option to make your CTT look pretty – yes, that's a technical term. We looked for CTT tools with templates that will make it look like you spent hours designing, when really all you did was click a button or three.
Better Click to Tweet – The best free option
We don't usually pay attention when someone claims that their plugin (or software program, or anything actually) is the best. But in this case, Ben Meredith, the creator of Better Click to Tweet, wasn't just bragging. His plugin really is awesome, and with mostly five-star reviews, it really is
the best free option that we've found
.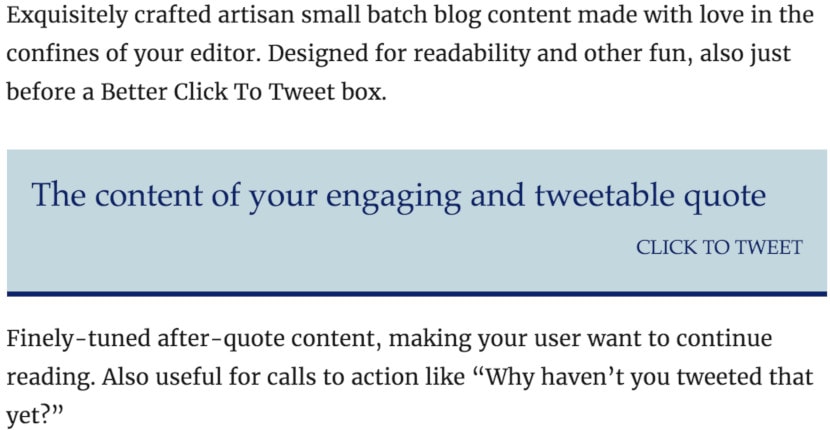 The basic plugin has only three customizable fields – your Twitter username, the ability to shorten the URL, and the option to remove via@username on each tweet. This makes it easy for newbies – so easy, your grandpa could use it. But the plugin also has a bunch of
customization option
s, which have been hidden away in a Power User Guide so your grandpa doesn't get confused.
Automatically compatible with WordPress updates. WordPress has updates, like, every other week – well, not that often, but it can feel like a lot. This plugin automatically updates itself, so it's always compatible with the most recent version – one less thing you need to update on your site.
Ability to change the anchor text. While the plugin defaults to the anchor text of "CLICK TO TWEET," you can easily change it. The Power User Guide gives you the exact code to copy and paste into WordPress. Although it's labeled as "advanced," I think it's straightforward enough that your grandpa and many other grandparents could do it.
Trackable links. By using a WordPress shortlinks plugin combined with http://benlikes.us, you can add trackable links into your tweet. As a content marketer, you want as much info about your readers as you can get, and this gives you one more source of data.
| | |
| --- | --- |
| Customizable templates? | Yes, in the premium version |
| Support | Online forum, creator responds quickly |
| Free? | Yes |
| URL shortener? | Yes, checkbox |
TweetDis – Room for creativity
We aren't too proud to admit it. Originally, we wanted to include TweetDis on the list just because the name made us laugh. But once we started playing around with it, we realized that it was a really handy tool. Yes, it costs money.
But it also lets you be more creative and match your CTT boxes with your brand or website
.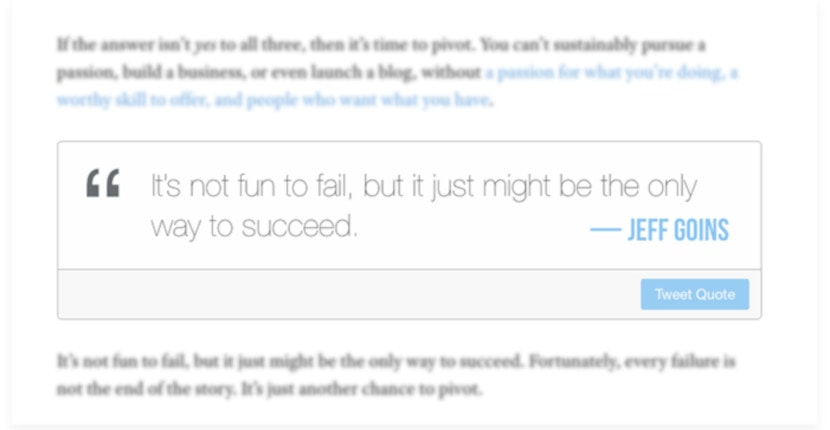 Regardless of whether you use the tool, you should check out the advice on the homepage about how to use CTT to generate more traffic. Not only will you find great tips that you can use with other tools, but it's a fantastic example of content marketing at its finest.
Lots and lots of designs. Even those of us with short attention spans – look, something shiny! – won't get bored. Because the designs are so visually pleasing, website visitors will assume you have a custom design. Technically, it's 25 designs, with 16 tweet boxes, three tweet hints, and three tweet images.
Options. While other plugins pride themselves on simplicity, TweetDis gives you more choices than the rest. You can add custom hashtags and mention your Twitter username each time. The tool also lets you wrap the text around the quote.
No copy and paste required. You don't have to remember to hit control + C – we always forget too. You just highlight the text you want to put in the CTT in the WP editor and click the TweetDis icon. All done.
| | |
| --- | --- |
| Customizable templates? | 25 designs |
| Support? | 24/7 support via web email |
| Free? | No, multiple paid plans |
| URL shortener? | Uses Bit.ly |
Social Warfare – Lots of functionality
Yes, you need to be on Twitter. But you also need to be on a seemingly endless number of other channels.
Social Warfare is more than just a CTT tool – it's a social media sharing tool that also includes Facebook, LinkedIn, Pinterest, and others
. That can reduce the number of plugins you need, which means less time spent maintaining your site – not to mention faster loading speeds.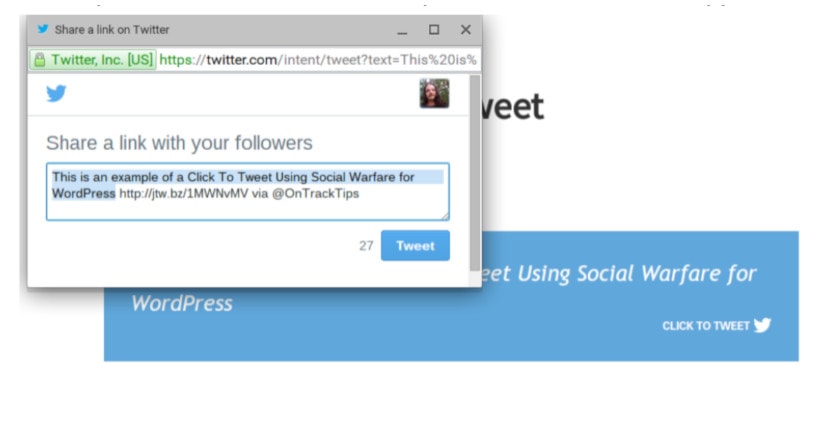 We were skeptical of the claims that its buttons are "lightning fast and beautiful," but after testing, we don't disagree. The buttons are definitely attractive, and more so than some of the others on this list. However, we just can't put a tweet button in the same category as sunsets, art, mountain ranges, and ice cream – yes, ice cream is beautiful. While we like its blend of accessibility and customizations, we would be remiss if we didn't bring up the S word – security. There have been enough recent reports of hacking that
you may want to take extra precautions if you use this plugin
.
Lightning-Fast. Okay, so we didn't compare it against actual lightning. But using the plugin definitely did not slow down our website.
Floating share buttons. While not as magical as they sound, they are pretty cool. These buttons move down the screen as your reader scrolls. This way, the reader always has a button in view – making them more likely to share.
Social proof. With the "pro" plan, you can show the number of times a tweet has been shared. The tool says this makes people share your tweets more – and we can definitely see the logic in that.
| | |
| --- | --- |
| Customizable templates? | Yes, with pro plan |
| Support? | Detailed online knowledge base; email support Mon-Fri 8am-4pm EST |
| Free? | Yes, plus a premium plan with social share button for other platforms |
| URL shortener? | Yes |
TweetShare – The simplest choice
We challenge you to say the name of this plugin five times fast without stumbling. Now that we've had our fun for the afternoon – yes, we are that easily amused – let's talk about the different options it offers.
You can set up both tweet boxes, which are separate from the text, and inline tweets, which are highlighted for click-to-share in the regular text
.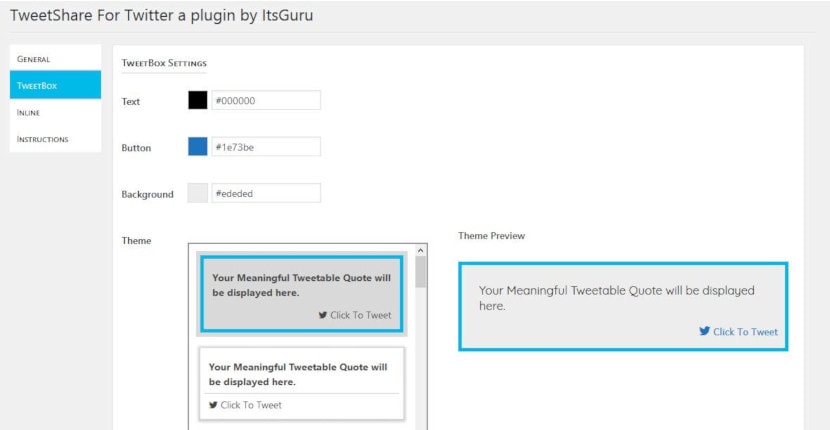 It's more basic than some of the other plugins, but it's a good middle-of-the-road option – enough, but not too much. You can add your username, shorten the links, and even get analytics, including impressions, shares, and clicks. The things you need, but not all the bells and whistles that can complicate matters. However, many users have reported that they were unable to successfully install the plug-in on multiple websites.
Color coordination. The last thing you want is to be either boring or mismatched. With the ability to change both the button and the background color of your CTT boxes, the tool makes sure your website is stylishly dressed.
No coding required. Just copying and pasting in code can be intimidating. With an easy-to-use interface, you don't even have to pretend you're a programmer.
Visually pleasing designs. After a while, all the templates and designs start to blur together – but these stood out among the rest. And while beautiful would be a stretch, we are more than comfortable declaring them visually pleasing.
| | |
| --- | --- |
| Customizable templates? |  Yes |
| Support? |  No |
| Free? |  Yes |
| URL shortener? |  Yes |
TweetMe! Pro – Tons of customization
You may not have heard of this one. And that's why we included it. It's not as well-known as some of the others, but we think it should be. If you want
more customization than the free tools give you
, but don't want to pay more than you would on a takeout pizza, then check out TweetMe Pro.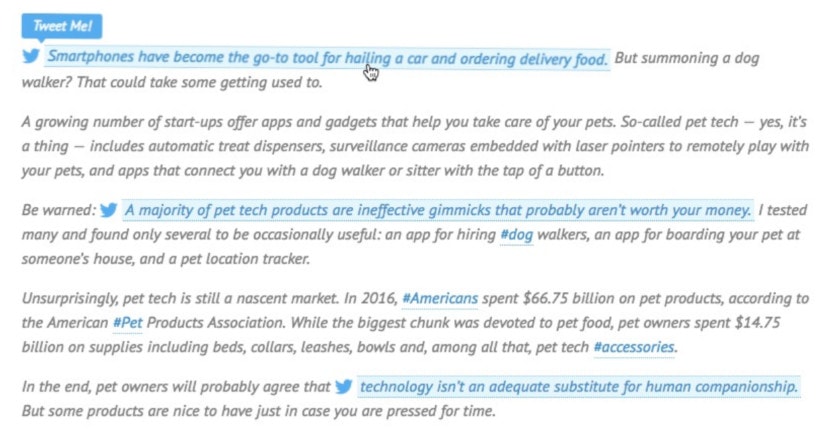 We especially like that, while they offer templates, you have other options for the look and feel. You can change individual elements of the design, such as font type, size, border, background, and capitalization – plus even more goodies that we will get into in a minute.
Sound and animation. This made us smile. Sure, it's nothing fancy. But it is a step up from the other tools that just offer plain-old text.
Default hashtags. You probably use the same hashtags most of the time. By setting up default hashtags, you can make it easier to include the right hashtags and get your content in front of more eyes.
Hashtag Twitter links. This is one of our favorite features of all the tools. Embed the hashtags in the text, and the tool automatically uses the hashtags in the tweet. Simple and brilliant.
| | |
| --- | --- |
| Customizable templates? | No, but font and colors are customizable |
| Support? | Yes, email support |
| Free? | No |
| URL shortener? | Yes |
Bonus Tool – Click To Tweet
We couldn't put it in our official list since it's not technically a plugin. But it works with WordPress or really any site. So we are breaking the rules and adding a bonus tool.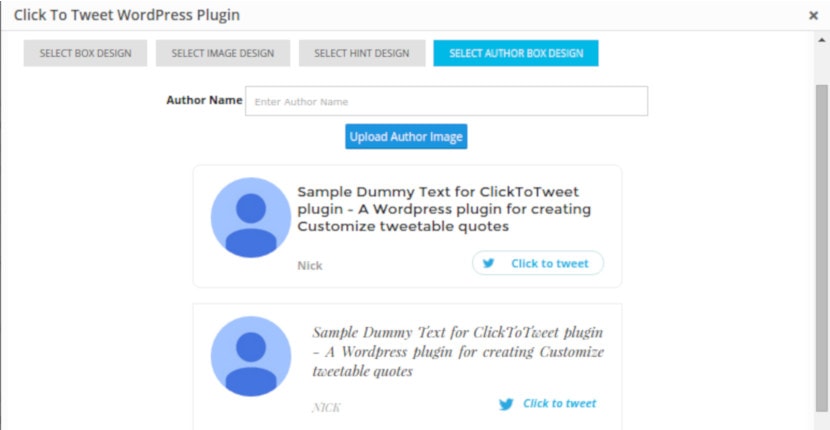 The advantage is that you can oversee all your CTT plugins on multiple websites or pages in one central location since it's a distinct website. However, the drawback is that you need to visit a separate website every time you wish to manage it.
Automatically trackable links. While other tools offer tracking, this one embeds it without you having to copy and paste any code. Click a box, and you are set to go.
Follow requests. Of course, you want more followers. With this feature, each time someone tweets from your link, the tool suggests the user follow your account.
Embedded themes. No more boring same old, same old. You can select from one of the designs included in the tool, which – while they aren't fancy by any means – are more visually pleasing than the stock design of the plugins.
Conclusion
Now that we've gone through all the tools, check out our handy chart to see a quick comparison:
| | | | | | | |
| --- | --- | --- | --- | --- | --- | --- |
| | Better Click to Tweet | TweetDis | Social Warfare | TweetShare | TweetMePro | Click to Tweet |
| Templates | ✔️ | ✔️ | ❌ | ✔️ | ❌ | ✔️ |
| Customizable Buttons | ✔️ | ✔️ | ❌ | ✔️ | ✔️ | ❌ |
| Customizable Text | ✔️ | ✔️ | ✔️ | ✔️ | ✔️ | ✔️ |
| Custom Colors | ✔️ | ✔️ | ❌ | ✔️ | ❌ | ✔️ |
| Analytics | ❌ | ❌ | ❌ | ✔️ | ❌ | ✔️ |
Reading through our recommendations won't get more readers for your content. You have to actually take the next step and add a CTT tool to your website. It doesn't take long and it's not complicated.
But each day your site goes without a CTT tool you are losing potential customers.
And there's no excuse when this could be solved with ten minutes and just a few clicks.