Even though 000webhost is a decent free hosting service, it does have many restrictions – especially with storage and bandwidth
– that doesn't make it suitable for everyone. If you're running a professional website and need more stable uptime and a place to grow your site, you might be better off with another host.
The thing with free hosting is that it rarely offers enough resources to run a successful website, and it typically has low-grade infrastructure, poor security, and intrusive advertising.
It also won't offer any speed-boosting features, which can really have an impact on your traffic and SEO ranking. Take 000webhost in this case – on the free plan, you won't get LiteSpeed Cache, a tool that can significantly accelerate the loading speed of your website.
That said, there are a few good free web hosts that might be a better fit for your site than 000webhost.
These services will be able to provide you with enough resources to host a business landing page, hobby website, blog, portfolio, or testing site. I've included one paid service that's not only dirt cheap, but also offers plans packed with features.
If you're serious about launching a website or small business online but have a small budget, this host is worth considering.
Short on Time? Here Are the Best Alternatives to 000webhost in 2023:
Hostinger

– Dirt-cheap plans packed with features and resources to get your website noticed.

GoogieHost – Cloud-based free hosting with SSD storage and free SSL.
AwardSpace – Host up to 4 websites for free.
What We Look For in the Best Alternatives to 000webhost
Before hunkering down to find the best 000webhost alternatives, I made a list of must-have features:
More resources. One of 000webhost's biggest disadvantages is its restrictive resources. I picked alternatives that offer more resources, such as more storage and higher bandwidth.
More features. There are many limitations with 000webhost's free service. These alternatives offer the features that 000webhost lacks, such as free email accounts, SSL certificate, and Softaculous installer.
Reliable performance. When it comes to network uptime, 000webhost doesn't do very well, often falling under its network uptime guarantee. I looked for web hosts that are as stable as they are fast.
Customer support. Like most free hosts, 000webhost doesn't provide customer support with its free web hosting service. Instead, it offers a community forum, which probably isn't enough to get the help you need. The alternatives on my list offer customer support for free plans.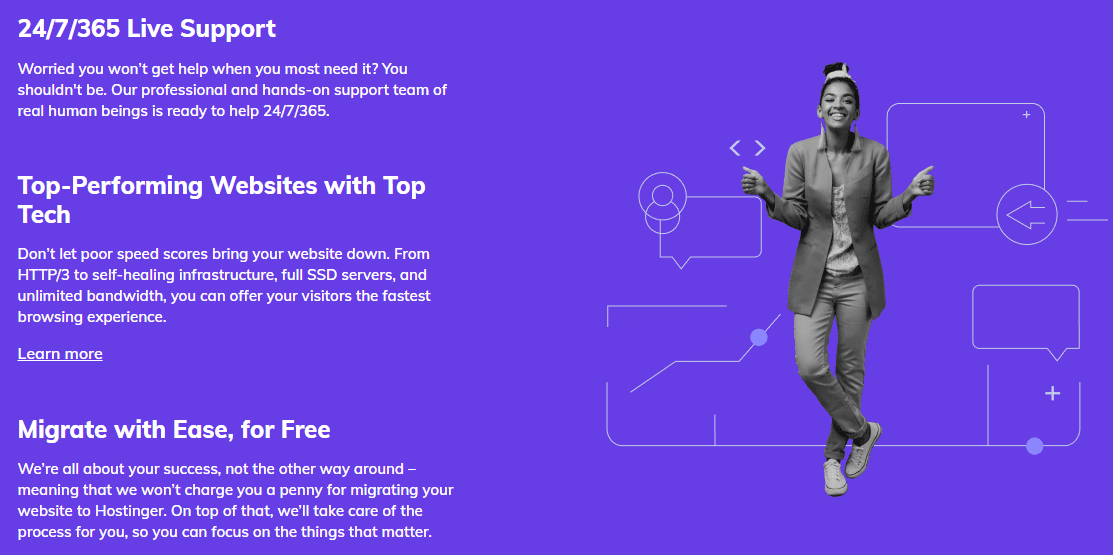 I know what you're thinking: Hostinger isn't a free host, so what's it doing here? I'll explain. Hostinger is the parent company of 000webhost and while it doesn't offer free hosting, it does have
dirt-cheap shared hosting plans with premium features, 24/7 support, and great loading speeds and uptime
. Plus, if you have an existing 000webhost site and want to upgrade to a paid plan, moving your site to Hostinger will be very quick and easy.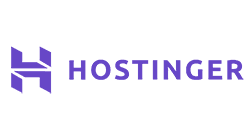 Save up to 75 % on your Hostinger plan!
Limited-time offer - Don't miss it!
7002 users used this coupon!
If you're looking for cheap hosting for a small to medium-sized website, Hostinger will give you all the resources you need.
All shared hosting plans come with free SSL, SSD storage, Git access, FTP access, Cron Jobs, weekly backups, an app installer, and more. On the basic plan, you can host one website with up to two subdomains. If you want to up your game,
Hostinger's Business plan is only a few dollars more and has more than double the available features
. You'll get a free domain name (for the first year), Cloudflare CDN, unlimited bandwidth, WordPress staging tool, daily backups, and up to 100 hosted websites.
A free domain name is included with some hosting plans from Hostinger
Features
Excellent speeds. Even on shared servers, Hostinger delivers fast page loading speeds. During our tests, the average loading speed was a very impressive 1.56 seconds. Over a 3-month period, it also surpassed its uptime guarantee of 99.9%.
Servers worldwide. Hostinger boasts a large server network spread across North and South America, Europe, and Asia. When you sign up for a plan, you'll get your pick of data center location.
Managed WordPress. All shared plans offer WordPress-optimized hosting. From the initial setup to managing core updates and installing speed-enhancing plugins, Hostinger will provide you with a great foundation for your WordPress site.
Money-back guarantee. All of Hostinger's plans are covered by a 30-day money-back guarantee. You'll be able to fully test any plan you want before making a commitment.
See our review to learn more about Hostinger's performance tests
.
Shared plan resources

1 website, 2 subdomains, 30GB storage, 100GB bandwidth

Ad-free
Yes
Customer support

24/7 live chat, email, and support ticket

Starting price

$

1.99
Like 000webhost, FreeHosting offers both paid and free hosting. However, unlike 000webhost,
FreeHosting's free plan isn't stingy with its resources
.
You'll get 10GB of storage, unlimited bandwidth, and unlimited FTP accounts.
You can host a single website and one email account. Even though the free package doesn't include a free domain, you can transfer your existing domain or register a new one.
The free plan also comes with several useful features such as the cPanel control panel, a one-click app installer (Softaculous), and a free drag-and-drop website builder.
With many scripting languages supported, you'll be able to install platforms like WordPress, Drupal, Joomla, and Magento.
FreeHosting also offers a handful of add-on features that you'll get for free on its paid plan.
If you want to add more email addresses, an SSL certificate, SSH access, and subdomain hosting to your free plan, you'll have to pay a one-time fee.
Features
Free website builder. With FreeHosting's drag-and-drop site builder, you can launch a website in little to no time. This extremely beginner-friendly builder has over 190+ templates and responsive design.
Free email address. You'll get a free email address that you can access online or through your preferred email client. Spam control, autoresponders, and guaranteed delivery are also included.
Softaculous installer. Softaculous is an extremely easy-to-use app installer. Choose from 400+ apps that include CMSs, ecommerce platforms, and forums. All apps are already configured, so you won't have to bother with any post-installation tweaking.
Upgradable plan. Once you upgrade to the paid plan, your account is placed on a more optimized server to deliver higher overall performance. You'll be able to host multiple sites with unlimited storage, bandwidth, email addresses, and MySQL databases.
Read our expert FreeHosting review for more details
.
Shared plan resources

1 website, 10GB storage, unlimited bandwidth

Ad-free
Yes
Customer support

24/7 support ticket and knowledge base

Starting price

$

0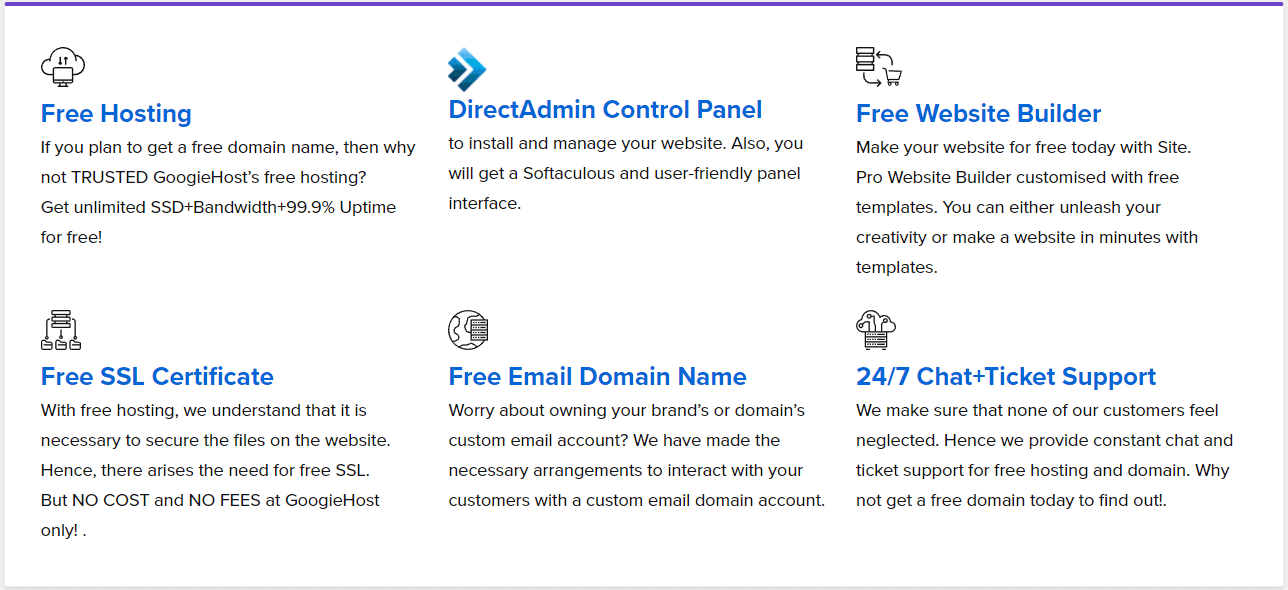 While it's still more than 000webhost's 300MB, GoogieHost's 1GB of storage space plan isn't exactly generous.
However, it does use NVMe SSD storage, which is much faster than regular HDD storage.
In other words, what GoogieHost may compromise on storage, it makes up for in performance. The free plan also comes with 100GB of bandwidth, 2 MySQL databases, 2 FTP accounts, 2 business emails, SSH access, and SSL certificate.
With the use of cPanel and Softaculous, this is another beginner-friendly host that makes website management easy.
And speaking of making things easy,
GoogieHost also throws in a free website builder with its free plan
. Site.pro Builder is a drag-and-drop builder with responsive galleries that are perfect for portfolio sites.
Features
Data center locations. GoogieHost has three data center locations (US, UK, and New Zealand) that are geographically spread out. If your site visitors are near these regions, they'll experience pretty fast loading speeds.
Cloud-based servers for better performance. In addition to using SSD storage, GoogieHost's Cloud Linux servers also use LiteSpeed Web Server technology to boost loading speeds. You typically won't find this with free hosting services.
Bandwidth protection. GoogieHost protects your bandwidth by preventing third-party sites from linking (and downloading) images and files from your site.
Free subdomain. When you sign up for a free website, GoogieHost will let you create a subdomain as your URL. There are 4 options to choose from: www.yoursite.cu.ma, www.yoursite.1gh.in, www.yoursite.thats.im, or www.yoursite.hostero.com. If you prefer, you can purchase a domain name and link it to your site.
For more features, take a look at our full GoogieHost review
.
Shared plan resources

1 website, 1GB storage, 100GB bandwidth

Ad-free
Yes
Customer support

24/7 forum support and knowledge base

Starting price

$

0

AwardSpace is another host that offers
free hosting without ads
. Not only that, but its free plan comes with a few impressive features. AwardSpace's own CMS installer, called Zacky Installer, supports a number of useful apps and scripts (although on the free plan, you'll only be able to install CMSs). If that's not enough,
AwardSpace also includes a free website builder
with the same name (Zacky Website Builder) that requires no prior coding knowledge
. If you're new to website building, you'll appreciate how easy it is to customize your own template.
The free plan comes with 1GB of SSD storage, 5GB of monthly bandwidth and 1 email address.
You can host up to 4 websites, but three will be subdomains. AwardSpace's free plan is also developer-friendly, with available support for Perl, CGI, and GD.
A free domain name is included with some hosting plans from AwardSpace
Features
Strong security. Free plans are secured with spam and virus protection, plus a firewall to monitor traffic.
Extensive support documentation. AwardSpace has a number of online resources, including a comprehensive knowledge base, video how-tos, WordPress tutorials, and a free ebook on how to build a website and generate traffic.
Premium plans. Once you've outgrown your free plan, AwardSpace offers three premium paid plans – Basic, Web Pro Plus, and Max Pack Plus. All three come with unlimited storage and monthly bandwidth, but you'll only get a free domain with the Web Pro Plus and Max Pack Plus plans.
Quick CMS installation. AwardSpace's app installer allows you to effortlessly integrate a CMS into your website within minutes. On the free plan, you have a choice between WordPress, Joomla, or Grav.
For more information, see our expert AwardSpace review
.
Shared plan resources

1 domain, 3 subdomains, 1GB storage, 5GB bandwidth

Ad-free
Yes
Customer support

24/7 ticket support and knowledge base

Starting price

$

0
Which 000webhost Alternative Should You Choose?
If you're completely new to website building and don't want to invest in a paid hosting service yet, you'll be better off signing up with a hosting provider that offers free web hosting that you can actually use.
If you have a media-heavy site and need the storage space and bandwidth to host it, you'll want to go with FreeHosting.
With 10GB, FreeHosting offers the most storage space on my list, along with unlimited bandwidth.
GoogieHost is a beginner-friendly free host with an easy-to-use drag-and-drop website builder
that includes predesigned templates you can customize. You'll also get some nice security perks like a free SSL certificate and hotlink protection. On the other hand,
if you want to launch a professional website or online store, Hostinger will give you premium hosting that costs less than a cup of coffee
. Not only does Hostinger deliver fast loading speeds, but its web hosting packages are loaded with useful features that other hosts charge a lot of money for. Still not sure which web host should you go for? The following comparison table will help you decide.
Standout Feature
Free Email Address
Free SSL Certificate
Starting Price
Hostinger

Cheap long-term plans with free SSL, SSD storage, weekly backups, and high-performance servers

✔

✔

$

1.99

FreeHosting

Beginner-friendly host with plenty of free resources, including cPanel, Softaculous, and drag-and-drop site builder

✔

✘

$

0

GoogieHost

Cloud-based free hosting with SSD storage and LiteSpeed Web Server technology

✔

✔

$

0

AwardSpace

Host up to 4 websites (one domain and three subdomains) on your free account

✔

✘

$

0
FAQ
Which is the best 000webhost alternative?
This depends on what you need in a web host. If you're creating your first website or want to experiment with coding and design, then FreeHosting is a good option. GoogieHost is also another user-friendly option. Your website management is handled through cPanel, and you can take advantage of its free drag-and-drop website builder. There are over 100 designs to choose from, including templates for blogs, landing pages, and online stores.
Are there free alternatives to 000webhost?
Yes. With the exception of Hostinger, the hosts on my list offer free web hosting as well as paid hosting. If you want free hosting with a decent amount of space, FreeHosting is a good choice. If you want to try cloud-based hosting, then you should check out GoogieHost.
How do I cancel 000webhost?
To cancel your 000webhost account, you'll have to log in to your control panel and navigate to the Manage Website section. On the left-hand menu, click on General. If you scroll to the bottom of the page, you'll find the option to delete your website. (Don't worry about doing this accidentally – you'll be asked to confirm the cancellation before proceeding.) If you want to delete your account, you can do this through your Account Settings. If you're in the market for a new host, take a look at our list of the best free web hosting services in 2023.
Which is the cheapest and most reliable 000webhost alternative?
Hostinger is the cheapest in the shared hosting market and offers a lot of features you won't find at these prices – weekly backups, SSL certificate, managed WordPress, and above-average page loading speeds are all part of the basic plan. If you're looking for an alternative to 000webhost that isn't strictly free hosting, then Hostinger is my top recommendation – and there are some great discounts on our coupons and deals page.