There are times in life when it's a great idea to help the little guy – you know, help get them on their feet and get established. But when it comes to your website hosting and choosing between internet giant GoDaddy and the much smaller Arvixe, now is not one of those times. On paper, Arvixe might seem like a good option with its "unlimited everything" plans, but after extensive research into Arvixe vs GoDaddy, I can tell you that its uptime and performance leave a lot to be desired. Obviously,
my personal recommendation is GoDaddy.
Make sure you start with
the cheapest plan
.

I tested both hosts and compared them in five crucial areas:
Performance
Arvixe's Performance Is so Poor, It Makes GoDaddy Seem Blazing Fast
If your web pages don't load quickly, your visitors are much more likely to click away – just a three-second page loading time can cause over 50% of people to abandon your website. That's a good way to lose business. Arvixe's recent performance has improved considerably, but its past issues with both speed and uptime make me cautious about the reliability of its servers.
First, its uptime record in the past has been the absolute worst I've seen – and I've reviewed a lot of web hosts.
In one recent month, uptime was only 57.98%, which equates to 302
hours
of downtime over the course of a month. Sure, uptime is better now, but it's still a concern. Arvixe does have a 99.9% uptime guarantee, which gives you an account credit if downtime is more than 45 minutes in a month. But its terms of service document has a long list of exclusions, including:
Scheduled maintenance
DDoS (distributed denial of service) or similar attacks
Hardware failure
Third-party software failure
Customer maxing its resource container
Issues resulting from errors or omissions by the customer
Issues relating to the customer's ISP, firewall blocks/bans
Any other circumstances beyond Arvixe's reasonable control
You have to submit a support ticket to request a credit to your account if you think you've been affected by excessive downtime – and Arvixe has the right to refuse your claim after investigating the matter. The maximum credit per month is one month of service – and it isn't issued as a refund, but rather as a future credit.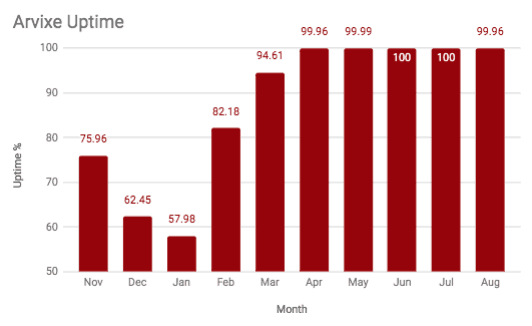 Arvixe's page loading speeds are also an issue – and even with the recent improvements, you're still looking at a page loading speed of over five seconds
– nearly double the amount of patience time a typical visitor has.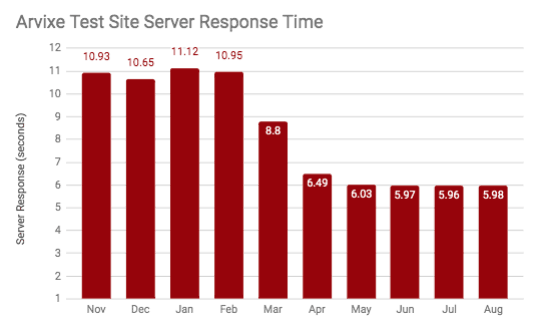 GoDaddy is both more reliable and faster – in fact, Arvixe's page loading speeds make GoDaddy seem like a superpower.
Even in its worst month, GoDaddy's speeds are under a second – that's up to 23x faster than Arvixe if you look at its worst speed compared to GoDaddy's best!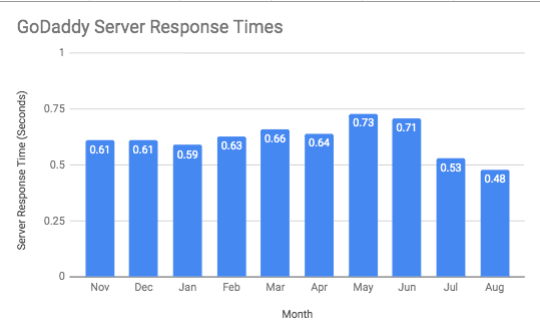 In reliability, GoDaddy consistently meets its 99.9% uptime guarantee, with its poorest uptime record at just 99.95% – which is around 22 minutes of downtime in a month. In context, that means
GoDaddy's worst uptime is about 820x better than Arvixe's worst uptime!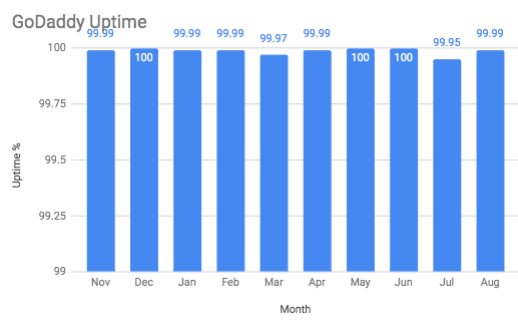 And the winner is:
GoDaddy. It's fair to say that GoDaddy is so far in the lead in this round that Arvixe doesn't stand a chance. Admittedly, Arvixe is improving, but are you willing to take that risk?
Features
GoDaddy Gives You More – Arvixe Has Restrictions
What you get with your hosting package can really sway your final decision,
and while you'll get unlimited storage on all of Arvixe's plans, as well as free migrations of up to 5 GB,
GoDaddy throws in more features overall. For example,
you get unlimited websites on all GoDaddy plans except Economy
, offers a free SSL Certificate on the Ultimate plan and above, and gives you extras such as ImageMagick for easy image resizing to improve website performance.
| | | |
| --- | --- | --- |
| Feature | Arvixe | GoDaddy |
| Bandwidth | Unlimited on all plans | Unlimited on all plans |
| Data Storage | Unlimited on all plans | 100 GB on Economy, unlimited on all other plans |
| Number of Websites | Six on Personal plan, unlimited on Pro plan | One on Economy, unlimited on all other plans |
| Free Domain Name | Yes, for one year | Yes, for one year with an annual plan |
| Migrations | Free during the first 45 days, but limited to 5 GB and with no guarantee if something goes wrong | No |
| Backups | Daily, but they are R1 snapshots rather than full backups, and there's no automatic restore feature | Yes, there's database backup and restore included in all plans |
| Free SSL | No | Yes, on the Ultimate plan and above |
| Hosting OS | Linux and Windows | Linux and Windows |
| PHP Version | 5.6 – with support for up to 7.0 on some servers | 7.2, 7.1, 7.0, 5.4-5.6 |
| Fraud, Virus, and Spam Protection | Spam protection on email accounts only | Yes, on all plans |
| Free Business Email (Office 365) | No, only basic email accounts – though these are unmetered | Yes, for the first year |
And the winner is:
GoDaddy. Arvixe has lots of great features (which we discuss in our
in-depth Arvixe review
), but migrations are limited in size and time frame, and you have to pay extra for an SSL certificate no matter which plan you choose. GoDaddy takes the lead with its included extras and unlimited websites on most plans.
Security
GoDaddy Makes Protecting Your Website Simple – Arvixe Leaves You to Make Your Own Arrangements
You might expect your web host to provide all the protection you need for your website – but
it's a growing trend for hosts to expect you to pay extra for security.
When I questioned GoDaddy about this, the support agent gave me a really helpful metaphor that explains web security really well. If you move into a house, you can expect there to be doors and windows that you can lock – but the responsibility for locking them is up to you.
If you have high-value items in your house, you might pay for insurance or an additional security system, and this is comparable to purchasing additional security for your website.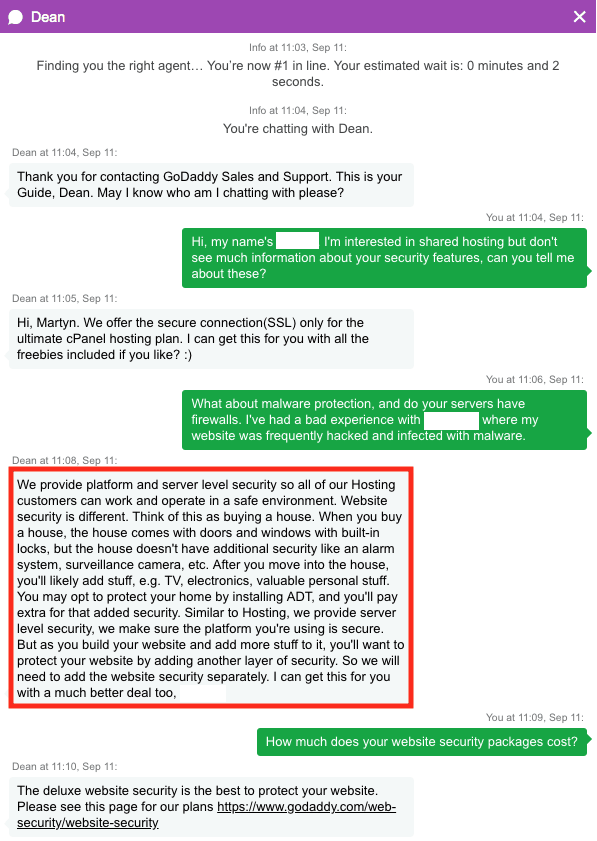 Both Arvixe and GoDaddy's servers have a WAF (web application firewall) and DDoS protection,
which is like the doors and windows on your house. Your website is protected by the server security, but for things like malware removal, you need to pay for more advanced security features.
With GoDaddy, you can purchase extra website security, giving you full protection against all risks.
GoDaddy's website security add-on covers script injection, malware (including malware removal automatically), brute force attacks, cross-site scripting (XSS), and zero-day attacks (where attacks are launched the moment a vulnerability is discovered).
Arvixe, however, doesn't offer security add-ons and advises that you contact SiteLock for additional website security.
So much for simplicity. And to get a level of security comparable to GoDaddy's security add-on, you'd have to pay almost twice as much each month!
And the winner is:
GoDaddy. It's easy to purchase the extra security. Having to purchase your security from a third party with Arvixe is not only inconvenient, it's more expensive, too.
Value for Money
GoDaddy Offers Extra Features, but Beware the Checkout Add-Ons
Does cheap hosting equal good value? Sometimes, yes, but when you're making your decision, you need to be on the lookout for hidden costs and (sometimes) deceptive sales-page pricing. For example, both Arvixe and GoDaddy seem to have low prices – but
when you get to checkout and want to pay monthly rather than annually (or for two or three years), you'll see the prices go up.
You only get the lowest prices when you pay up front for the long term
– with Arvixe, it's two years, and with GoDaddy, it's three years. Then there are the renewal prices. Arvixe doesn't increase prices when you renew, but GoDaddy does — and you can expect to pay up to 33% more when you renew. Both Arvixe and GoDaddy have money-back guarantees – with
Arvixe you can get a refund within the first 45 days, while GoDaddy offers a 30-day money-back guarantee period
. GoDaddy does throw in some valuable extras, such as CloudLinux (to improve the speed/performance of your website) and ImageMagick. Great! But then GoDaddy automatically selects add-ons during the checkout process.
If you don't thoroughly review your cart, you could end up paying for things you weren't expecting.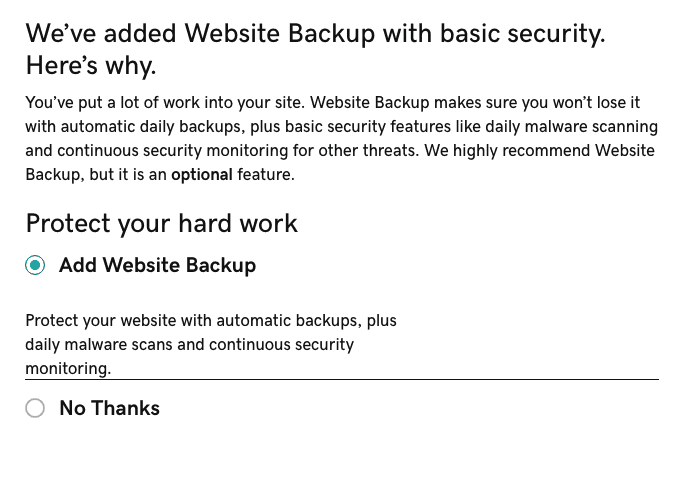 And the winner is:
Arvixe. In this round, Arvixe is cheaper overall when you consider the renewal costs with GoDaddy. But even though Arvixe wins for value, GoDaddy's website security packages are cheaper.
Customer Support
24/7 Help from Both Arvixe and GoDaddy, but GoDaddy Responds Faster
Will your host help you in the middle of the night if something catastrophic goes wrong with your website? The short answer is "yes" for Arvixe and "yes, but…" with GoDaddy.
Arvixe's support is 24/7 via live chat and a ticketing system
. There's no phone support. By contrast, GoDaddy offers phone support 24/7 in many countries (with local or toll-free numbers to call) and live chat support Monday through Friday. As far as support response times, I've faced some long waits with GoDaddy in the past, but its support is definitely improving, and
in recent months I've been connected via live chat almost instantly, and my issues were resolved quickly.
Arvixe, on the other hand, seems to be experiencing more issues with response times. For example,
I contacted the support team via live chat and waited an astonishing 48 minutes to be connected
. That's despite a promise to connect me within five minutes! I also struggled to get the answers I needed from Arvixe, due to the support agents having a seemingly poor grasp of English.
And the winner is:
GoDaddy. Its support is not only faster than Arvixe's, it's more efficient, too.
GoDaddy Outperforms Arvixe in Almost All Areas
Choosing between budget hosts can be difficult when they seem to offer the same things, but GoDaddy is a clear winner. Arvixe doesn't even come close to matching GoDaddy's performance, and GoDaddy shines in other areas, too.
Our Recommendations
Quite simply, GoDaddy is the better choice.
You can depend on GoDaddy for uptime and speed, and its features give you everything you need, whether you're building a business website or a personal website. Learn more in our
GoDaddy review
, where we put the company to the test. With Arvixe's issues around uptime and speed, I wouldn't risk choosing it for hosting. Sure, it's cheaper overall, but if you're running a business website, the cost of lost revenue during downtime is much higher than the small savings you'd make on hosting. This comparison is part of a big project here at Website Planet, where we tested major web hosts from all over the world. Don't miss our list of the
best web hosting services
.
Performance
Uptime has recently improved, but it has had some serious issues with long periods of downtime
Compared to Arvixe, GoDaddy is incredibly fast – and much more reliable, too
Features
Unlimited storage on all plans, plus free website migrations in the first 45 days
A free SSL certificate on certain plans, and extras such as ImageMagick
Security
Server security is good, but you have to arrange your own additional security through SiteLock
GoDaddy offers extra security (in addition to server-side security) at a lower price than through the Arvixe third-party add-on
Value for the Money
No price increases on renewal
Advertised prices require a three-year up-front commitment, and prices increase on renewal
Customer Support
24/7 support via ticket and live chat, but response times are slow and there can be communication issues with support agents
24/7 phone support in some countries, but no ticket support, and live chat only available Monday through Friday