DigitalOcean built its reputation as the go-to developer cloud, but did you know that AWS (Amazon Web Services) has dozens of products you can leverage to grow your business?
If you're looking for a cloud host that can support a complex, fast-growing organization, AWS is definitely the way to go.
I'm not usually a fan of multinational companies, but I know a good cloud hosting service when I see one. AWS fits the bill, and DigitalOcean isn't far behind.
The reason AWS comes out on top has more to do with performance and add-on services, such as machine learning and mobile app development.
 If you don't need to integrate additional features and want to keep costs down, DigitalOcean is a better choice.
Neither company caters to web hosting beginners.
 You'll have to configure your VM (virtual machine) on your own, which can be difficult if you have no previous experience, or have a specialist to do it for you. Fortunately, you have other options, like Cloudways, which has partnered with DigitalOcean, AWS, and others to offer beginner-friendly managed cloud plans with impressive performance. Click here to
see Cloudways' latest deals
,
 or read on to see if AWS or DigitalOcean could be right for you.
1. Plans and Pricing
DigitalOcean Has Better Prices, but AWS Has More Products
Both AWS and DigitalOcean use a pay-as-you-go model. With AWS, you can choose to pay by the second, hour, month, or year, while DigitalOcean only has hourly and monthly options.
Overall, AWS is more expensive. However, you do get significant discounts if you pay for a year or more up-front.
If you're looking to provision an affordable virtual machine in the cloud, a DigitalOcean Droplet with 1 vCPU, 1GB RAM, 1TB transfer, and 25GB SSD storage is about 40% to 50% cheaper than a similar EC2 (Elastic Compute Cloud) instance on AWS. The variation depends on how many extras you add on AWS. I should note that DigitalOcean's Droplets are easier to resize based on your needs.
If you need more storage, you can get it at a bargain with either AWS or DigitalOcean.
AWS's EBS (Elastic Block Storage) features both SSD and HDD volumes. Unlike DigitalOcean, which only has S3-compatible SSD, you can save a lot of money by going with the st1 or sc1 (HDD) options if you don't run latency-sensitive applications.
Even with just one backup per week, AWS's EBS will be more expensive than DigitalOcean's block storage.
 DigitalOcean's policy is to charge only 20% of the cost of the VM for backups, which is a simple and low-cost solution. Overall, AWS is not only more expensive but has a lot of hidden costs. Why would you consider AWS then? More about that in the Features section below.
2. Support
With Both DigitalOcean and AWS, You Have to Pay More for Better Support
DigitalOcean was the clear winner in the pricing game, but when it comes to support, both companies are roughly on par.
On the basic plan, AWS and DigitalOcean offer 24/7 support through tickets and support forums.
 Each host has a three-tier support system – Developer, Business, and Enterprise (or Premier  with DigitalOcean) – with higher tiers offering additional resources, from phone and chat access to architectural guidance and/or key account managers.
In addition, both platforms have extensive documentation and how-to articles on everything you need to know to set up your own VM.
I got in touch with a support agent from each company to help you better compare them. Since DigitalOcean has no live chat option for potential clients, I emailed support to ask for some clarifications. The response came within several days and the interaction was overall informative.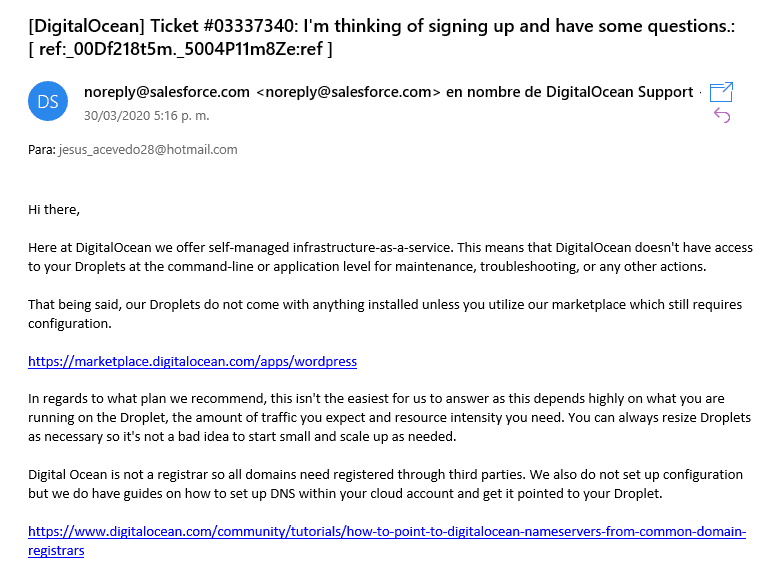 The support agent pointed me toward several companies that offer a managed version of their infrastructure, like Cloudways
(
read our full Cloudways review here
)
.
 In terms of performance, the agent promised that my website would load optimally, especially if I host my website in a data center that's closest to my visitor base.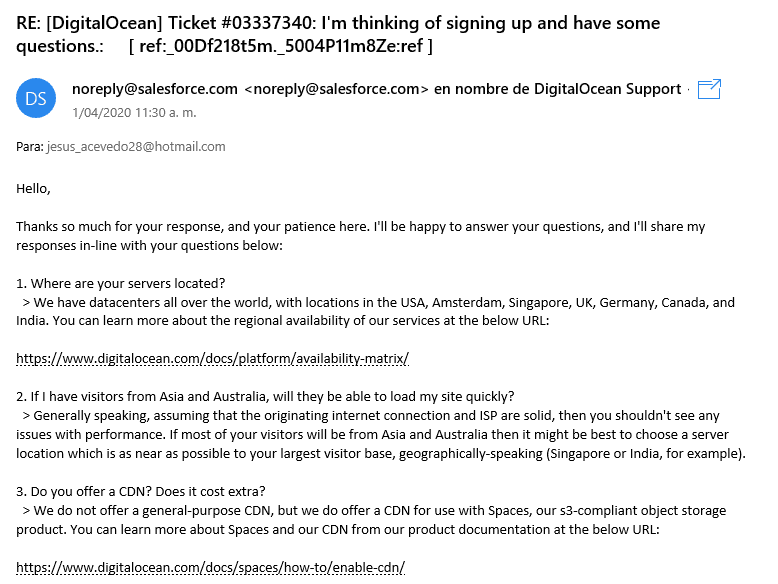 When I tried to get in touch with AWS by email, the support agent offered to call me back
, but after I refused this option, that was it. If you prefer phone interactions, you're in great hands, but not so much if you're more of a chat/email person like I am.

After I activated the free trial, I got a written response to my AWS ticket in less than 24 hours. You will need a credit card for the process, but it's only used to verify your identity. They won't bill your card unless you make a purchase.
Keep in mind that both companies work on a fundamental IaaS model, which means you're mostly on your own when it comes to support.
You'll be responsible for software installation, maintenance or troubleshooting, and updates.
Features
Both Hosts Have Excellent Features, but AWS Has More Complementary Services
DigitalOcean and AWS are not managed services like
Hostinger
or
InterServer
. What does this mean?
 No automatic backups, no free migrations, no website builders, no email accounts, no money-back guarantees.
 While you can DIY most of these things without being a systems administrator, it might take a long time to learn the ropes. DigitalOcean is strictly IaaS (Infrastructure as a Service). In addition to IaaS, AWS also includes PaaS (Platform as a Service) and SaaS (Software as a Service) solutions. In other words, if you're looking for a ready-to-go program like workload protection software or privacy compliance, you'll find it on the AWS Marketplace. Whether you want to add another layer of protection to your website, host multi-tier applications, or create a network of isolated resources, you can easily do so with both DigitalOcean's VPC and AWS's VPC.
The difference is that traffic within the VPC network is free of charge with DigitalOcean but paid for with AWS.
That said, if you plan on working with machine learning or AI development, AWS is the only viable choice, since
DigitalOcean does not offer VMs with GPUs
.
AWS has a variety of services and tools you can integrate into your workflow or rely on to grow.
 Do you want to build and run augmented reality (AR) and/or virtual reality (VR) apps? Amazon Sumerian will get you started. Do you want to create scalable blockchain networks? Amazon Quantum Ledger Database is there to help. Need a robotics application?  AWS has that too. Odds are, if you can think of it, AWS has at least one implementation for it. Another disadvantage of DigitalOcean is that you will not be able to install your preferred distributed operating system using ISO images. Although there are plans for ISO support in the future, operating systems are limited to the Unix family. Some customers were under the impression that AWS does not support the Docker virtualization system, but this is not true – both EC2 and Droplets are compatible with it.
When it comes to WordPress, installing the popular CMS on either host is not going to be a simple task.
 But with the right tutorials, it shouldn't take more than 15 minutes. Neither AWS nor DigitalOcean offer a money-back guarantee. Although you can save a lot of money in the long run with the pay-as-you-go model, the drawback is that
you cannot ask for a refund once you've used their services
. And if you do not completely shut down your resources, either host will keep billing your credit card. I've summarized the most important features of AWS and DigitalOcean in a table below:
| | | |
| --- | --- | --- |
| | AWS | DigitalOcean |
| Hosting Type | Shared/dedicated cloud | Shared/dedicated cloud |
| Free Domain | No | No |
| Free SSL Certificate | Yes | Yes |
| Disk Space | 1GB to 17TB (more persistent block storage can be purchased separately) | 25GB to 3.75TB (more can be purchased as storage blocks) |
| Bandwidth | Unlimited, but paid | 1TB to 12TB (going over the limit will incur fees) |
| Automatic Backups | No, and backup storage is paid | No, and backup storage is paid |
| Control Panel | You can use any control panel, including cPanel and custom AWS Marketplace solutions | You can use cPanel, Plesk, CyberPanel, and more |
| Email Accounts | No | No |
| Free CDN | Limited trial available, paid otherwise | Yes, integrated in S3 storage |
| Free Site Migration | No | No |
| Money-Back Guarantee | No | No |
Performance
Both AWS and DigitalOcean Offer Top-Notch Performance
It used to be that DigitalOcean was the only high-performance developer cloud out there. Now, competition in the cloud market has increased, and other contenders, AWS included, have quickly caught up.
Alongside Google Cloud and Azure, AWS has one of the biggest cloud networks in the world – 77 availability zones and counting.
 DigitalOcean's 13 data centers pale in comparison, especially since AWS keeps expanding at an aggressive pace. AWS's superior coverage allows you to select a data center that's closer to your client base. If you think latency might affect your services, as with streaming content, AWS is clearly the better choice.
DigitalOcean only offers SSD storage, while AWS gives you the option of SSD or HDD.
 Why would you want more traditional HDDs? Well, magnetic storage is not only less expensive but also more suitable for long-term archiving.
Both hosts have a stellar 99.99% uptime guarantee backed by an SLA.
 With AWS, if you experience more than 0.01% downtime during a month, you are eligible for a refund of up to 100% of your monthly expenses. DigitalOcean credits your account at your current hourly rate for any lost time beyond the 99.99% threshold.
AWS achieved an impressive performance score in our benchmarks. If you'd like to know more, you can read our
expert AWS review
. DigitalOcean also did well, but it has had hiccups in the past. To learn more about them, you can read our
in-depth DigitalOcean review
.
Security
Do-It-Yourself Security with Both AWS and DigitalOcean
You can access some of the most secure cloud networks by utilizing AWS and DigitalOcean. Both services offer a plethora of information to guide you in configuring security measures for your VMs. This includes aspects such as SSL certificates, SSH keys, firewalls, and more. It's important to note that you will need to undertake most of these tasks independently.
DigitalOcean's Cloud Firewall is free to use indefinitely.
 It also scales with your Droplets, and you never have to worry about unwanted visitors if you configure it properly.
On the other hand,
AWS's ready-to-use firewall will incur some costs, and so will its VPC and AWS Shield Advanced solutions.
DigitalOcean is no match for the latter, since it does not offer managed DDoS protection.
This is why many high-profile customers look to AWS for security compliance, including Dow Jones, Nasdaq, Netflix, and more. You don't get automated backups with either host, but you can set them up yourself. Both DigitalOcean and AWS have tutorials to help you along the way, and you don't need any specialized knowledge for the process.
Keep in mind, though, that backup storage is not included in the baseline price.
If you want security features you don't have to manage yourself, Cloudways offers excellent security tools including dedicated firewalls and regular security patching – and you can use both DigitalOcean and AWS on Cloudways.
AWS Is Bigger and More Reliable, but DigitalOcean Isn't Far Behind
AWS is the overall winner of this comparison, since it offers superior performance, more features, and high-end security solutions.
 However, DigitalOcean's attractive pricing is a big plus. If you're a developer looking for a no-frills, high-performance, low-cost cloud host, DigitalOcean might be a better fit.
Bear in mind that neither DigitalOcean nor AWS is suitable for web hosting beginners.
 Both services are aimed at developers, SMEs, and big businesses. In fact, this is one of the main reasons neither AWS nor DigitalOcean made it onto our list of the
best web hosting services
.
If you're not a developer but want the advantages of DigitalOcean's infrastructure, Cloudways provides an easy solution with its managed cloud hosting plans.
Plans and Pricing
Affordable baseline prices, but every good add-on feature is pricey
Good value, high-performance virtual machines for both private and public cloud
Key Features
A multitude of services you can integrate with your cloud hosting – mobile development, AR/VR, blockchain, machine learning, and more; an immense marketplace where you can purchase SaaS solutions
Free VPC bandwidth, at least 1TB  included (more in higher plans); easily scalable virtual machines (droplets)
Performance
SSD & HDD storage, paid-for CDN, 77 availability zones and counting, 99.99% uptime guarantee, load balancers available for purchase
SSD storage, integrated CDN, 13 locations, 99.99% uptime guarantee, load balancers available for purchase
Security
Possibility to install free SSL certificates, backups available for a fee, firewall available for a fee, premium security solutions available, end-to-end encryption can be activated
Possibility to install free SSL certificates, backups available for a fee, free firewall, end-to-end encryption
Support
24/7 support via email and tickets; live chat and advanced account management available on higher-tier plans; extensive knowledge base
24/7 support via email and tickets; live chat and advanced account management available on higher-tier plans; knowledge base
FAQ
Is DigitalOcean better than AWS?
Overall, AWS is better than DigitalOcean. Amazon's cloud hosting platform has better performance, many more features, and a similar level of support. DigitalOcean is a more suitable choice if you don't need all the features that AWS offers but still want a high-performance, low-cost cloud VM. Neither host is good for hosting beginners, though. If you don't know how to configure and maintain a VM, you won't get any help with software troubleshooting at either DigitalOcean or AWS. In such cases, you're better off seeing if Cloudways might be the right choice for you.
Is AWS good for WordPress hosting?
Not really. While you can install WordPress on AWS (following a pretty lengthy tutorial), AWS wouldn't be my first recommendation for a WordPress website. There are much easier options for hosting WordPress, such as Hostinger and FastComet. If you're a developer and know the ins and outs of website hosting, AWS can be a good choice for WordPress – as long as you don't mind the price. However, there are managed WordPress services out there that offer great deals in addition to a support crew ready to help out with software debugging.
Does AWS offer good performance?
AWS offers excellent worldwide performance. If you host a website or web application on Amazon, your visitors are likely to experience little to no latency. Unfortunately, enabling a CDN, adding more resources, and/or using a lot of bandwidth can be quite pricey. You can find other hosts with excellent performance that include features that AWS charges extra for in our list of the best web hosting services.
Does DigitalOcean offer a free domain?
DigitalOcean does not offer a free domain and neither does AWS. In fact, DigitalOcean does not offer domain registration, which means that you have to buy one from a third-party provider. AWS does register domains, but you won't get one for free.