I found the key to hiring an expert to manage Amazon ads without overspending.
Jump down
to find out how to hire a specialist to manage your Amazon advertising strategy for a great price.
Top 5 Amazon Ads Experts
Whether you can afford to spend $5 or over $100, using Fiverr means you can
find the right Amazon ads specialist
to manage your campaign within your budget. When we put Fiverr to the test in our
Fiverr review
, it scored a pretty impressive
4.9
out of 5  for its ease of use, variety of freelancers, and, importantly, its price. These five top experts work with a wide range of price points and have skills like:
Creating pay-per-click (PPC) campaigns for Amazon
Handling Amazon search engine optimization (SEO)
Using keyword research tools
Writing persuasive ad copy
Designing compelling creative
Shooting and editing videos
Monitoring and reporting on campaign results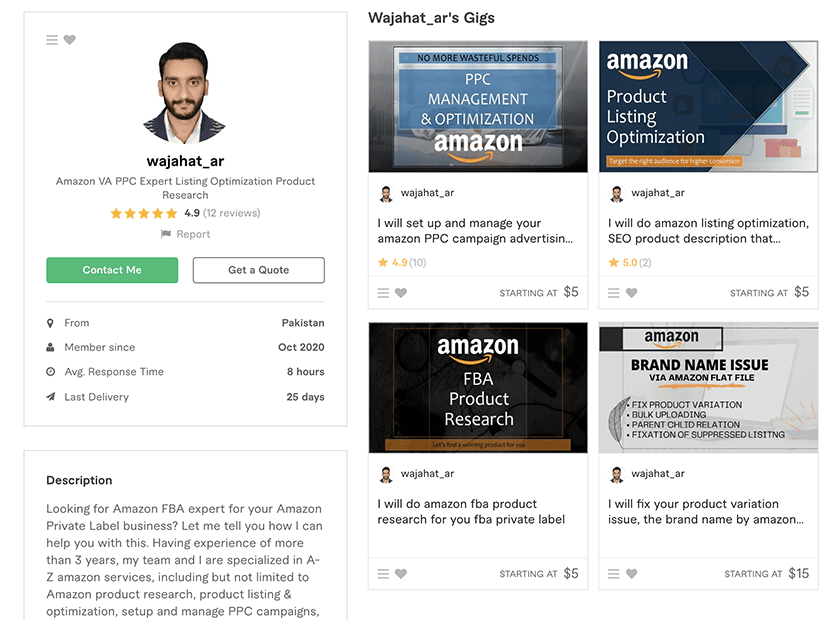 Although Wajahat_AR is a relatively new Fiverr seller, this team has more than three years of experience managing and advertising Amazon listings. They can handle everything from managing PPC campaigns to optimizing product listing. The team has a 4.9-star rating, demonstrating their history of excellent work.
For just $5, Wajahat_AR can manage PPC setup and campaign optimization.
For $75, you can get a full month of Amazon PPC management.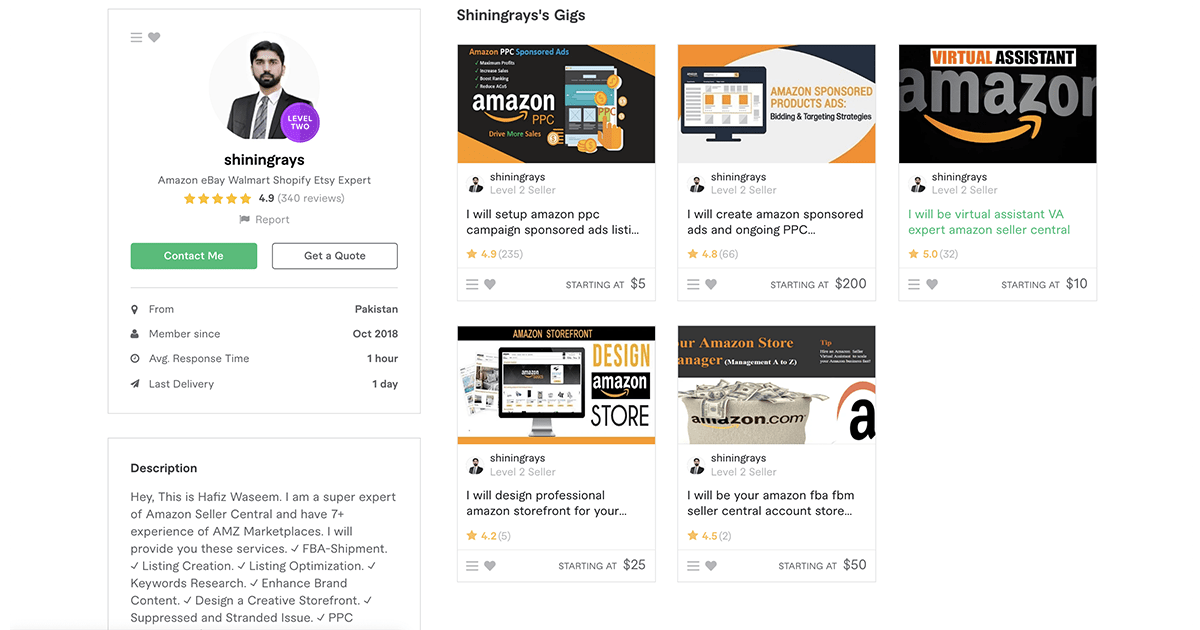 With more than 300 reviews and a 4.9-star rating, Hafiz Muhammed Wasim, the man behind ShiningRays, easily stands out from other Amazon ads consultants. They also boast Fiverr's Level Two Seller status, which indicates they've maintained at least a 4.7-star rating and delivered a minimum of 50 orders.
ShiningRays offers PPC ad campaign management gigs for as little as $5
. If you need to advertise a hundred products or more, they also offer ongoing campaign management starting at $200.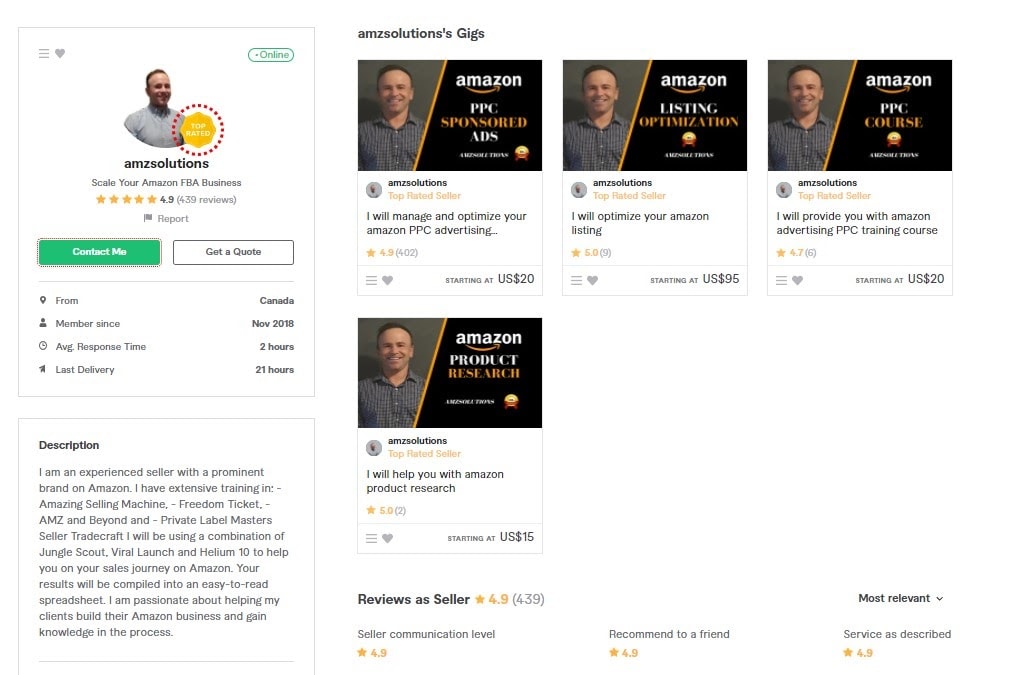 When you want to drive more sales on Amazon, Amzsolutions can help. This seller can help you with everything from amazon product research to managing and optimizing your PPC. As a Top Rated Seller, they've achieved Fiverr's highest status which recognizes continuous hard work and service for at least 60 days. Given that Amzsolutions has over 400 positive reviews, I think we can assume they've been providing a high-quality service for much longer than that. What I like about this seller is that they offer an
Amazon advertising PPC training course for just $20
which teaches you how to research, set up, and manage your own campaigns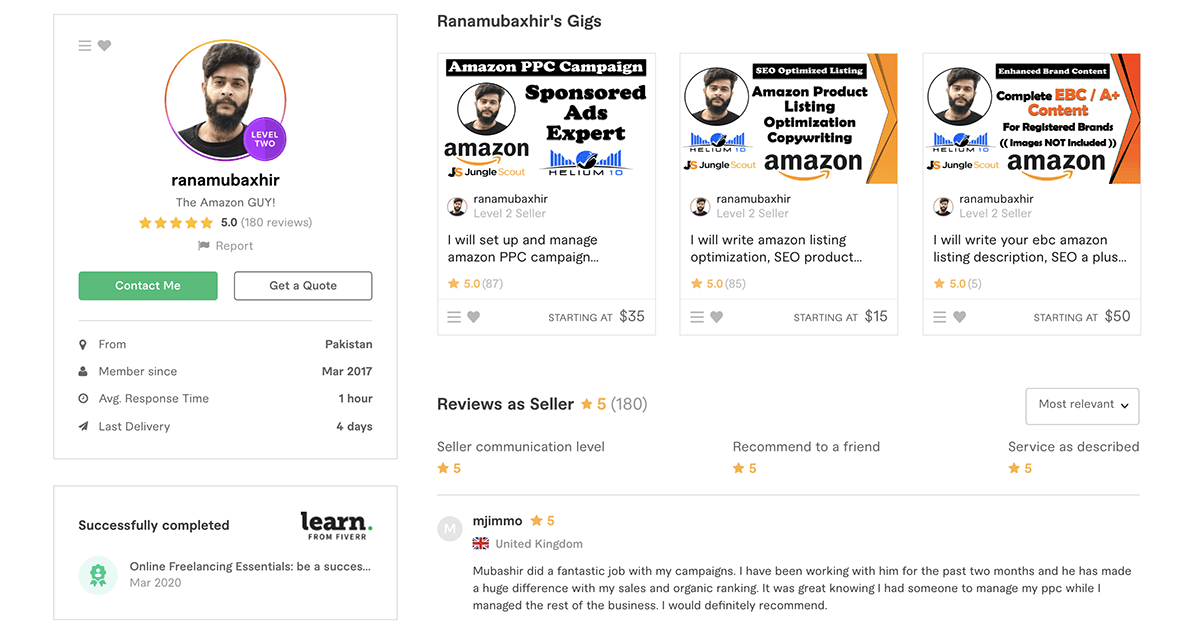 With more than 250 customer reviews and a 5-star rating, RanaMubaxhir, or Mubashir, is easily one of the top Amazon ads creators on Fiverr – plus, he's the self-proclaimed 'Amazon guy!'. A Level Two Seller, this freelancer has extensive experience with SEO, copywriting, and keyword research. RanaMubaxhir's Amazon ads gigs start at $55, which includes campaign setup for one product. For $120, you can get 30 days of PPC campaign management, including analytics and insights.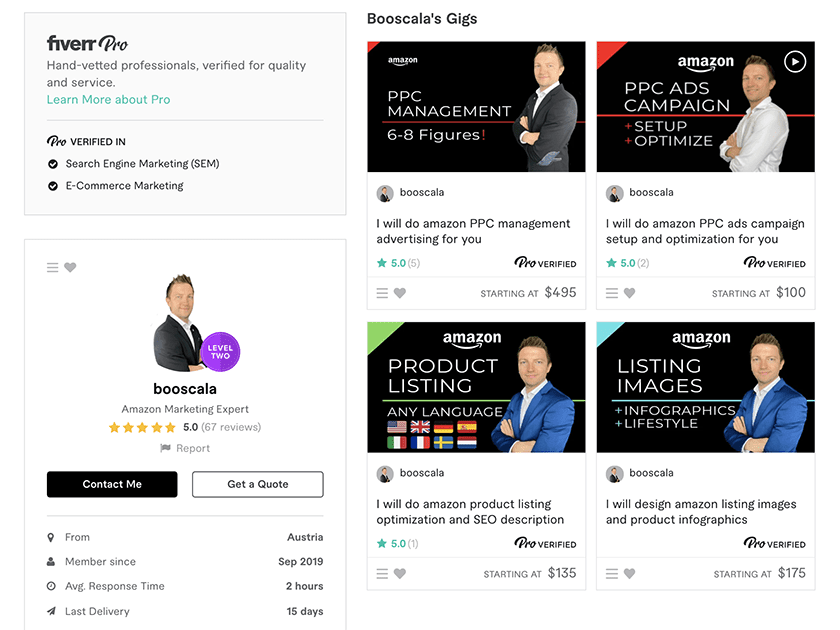 An elite Fiverr Pro, Booscala is a vetted professional in e-commerce marketing and search engine marketing (SEM). This seller is also a Level Two Seller with a 5-star rating. Booscala's Amazon ads gigs start at $135, which includes account optimization and an e-commerce SEO audit.
For $595, you can get 30 days of PPC management, including multiple campaigns and up to $30,000 of advertising spend
.
How to Hire a Great Amazon Ads Expert for a Great Price
When you search the Fiverr marketplace, it's easy to find the best Amazon ads expert for your brand.
The marketplace now has over 2,000 Amazon ads gigs on offer
.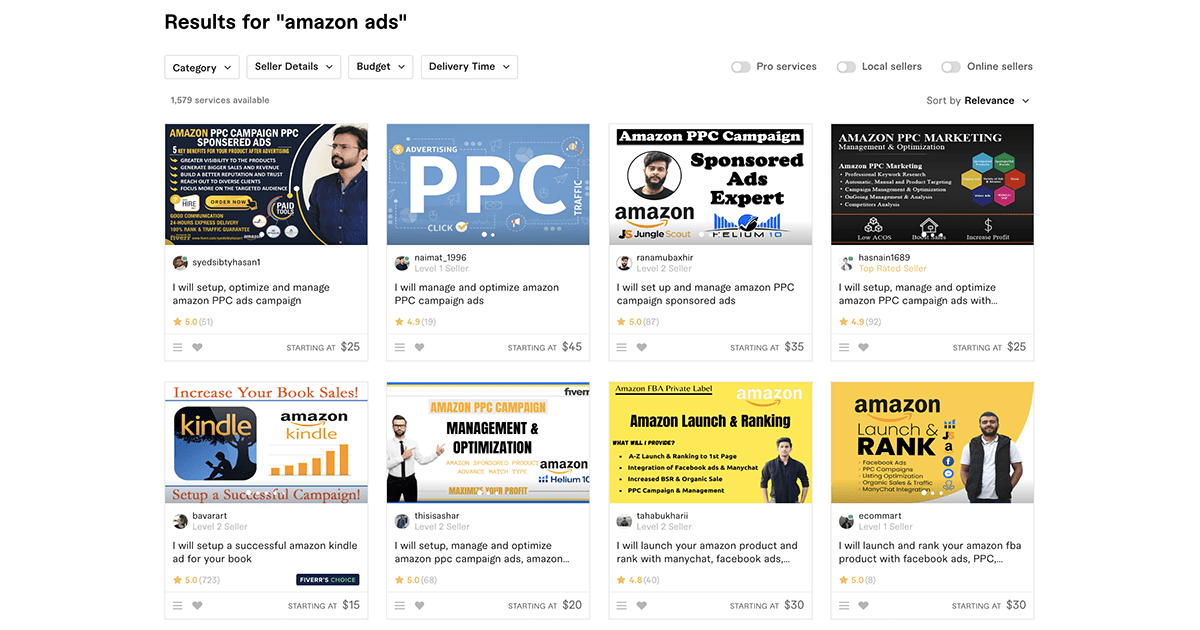 If you have a certain skill set or style in mind, you can scroll through the options until you find a gig that catches your eye. You can also use the dropdown menus to narrow your search by turnaround time, seller status, or budget, starting as low as $5.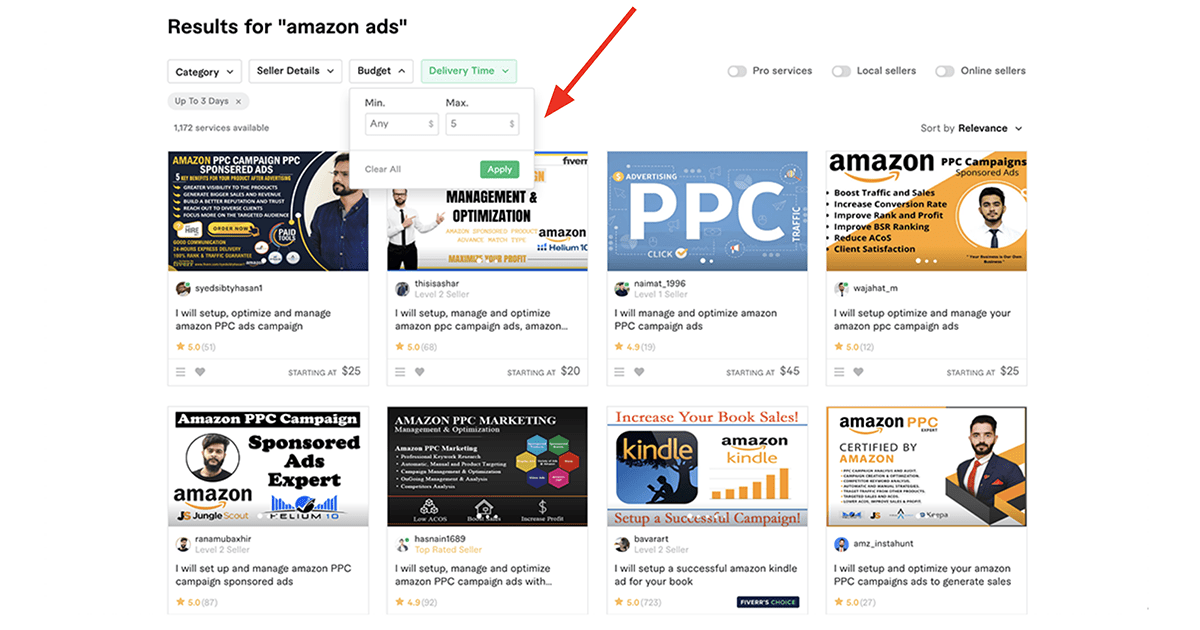 When you find a gig that might meet your needs,
click to view the seller's portfolio, read their reviews, and confirm what they offer
. Most sellers offer tiered gigs, with basic being the simplest and least expensive – such as setting up a single Amazon ad. Premium gigs tend to be more expensive and complex, such as managing multiple Amazon ads campaigns for 30 days.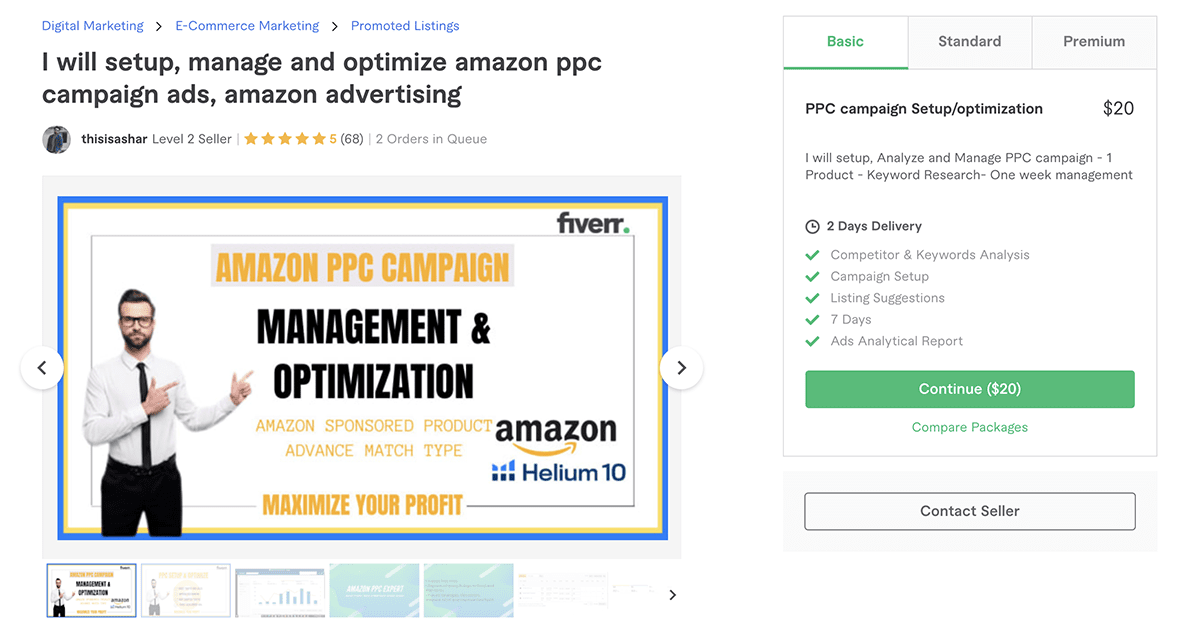 Then you can contact the seller or purchase the gig directly. When you're ready to move forward, submit your payment through Fiverr and provide any requirements the seller needs to get started. When the seller completes your order, you can approve the delivery or request edits. The Fiverr marketplace also offers these perks:
Customer reviews: Reading about other customers' experiences can help you determine if a seller is the right match for your needs. You can check ratings and reviews for any Fiverr gig before purchasing. That way, you can confirm you're hiring the right expert to run ads on Amazon.
Vetted professionals: Although Fiverr doesn't verify every freelancer, the platform does vet those with special credentials. Top Sellers and Level Two Sellers have extensive experience, while Verified Pros belong to Fiverr's top-tier professional level. You can learn more about these in our Fiverr review.
Wide range of price points: Fiverr can accommodate just about any budget. Many sellers offer gigs for just $5, while others charge hundreds for their expertise. Whether you need help with keyword research or you want complete campaign management, you can find gigs with the right price point.
Custom offers: If you don't find a gig offering exactly what you need, you may have another option. You can always message sellers you want to work with and request a custom offer. Many sellers are happy to personalize their offers to provide the exact services your business needs.
5 Tips For Creating a Successful Amazon Ad
Although Amazon's advertising options are far simpler than other digital platforms like Facebook or Google, using the online marketplace's advertising platform can lead to impressive results. With the right tactics, you can get your product on the first page of search results, even if you're a relatively new seller. Use these Amazon sponsored ads tips to improve results and get more for your money.
1. Use the Most Effective Ad Type
To get maximum value from your Amazon ads campaign, choose the right ad type. The platform offers three types of PPC ads:
Sponsored Brands
Ideal for increasing brand awareness, these Amazon-sponsored ads showcase your business and products. Also known as Amazon banner ads, they include custom headlines to position your brand perfectly.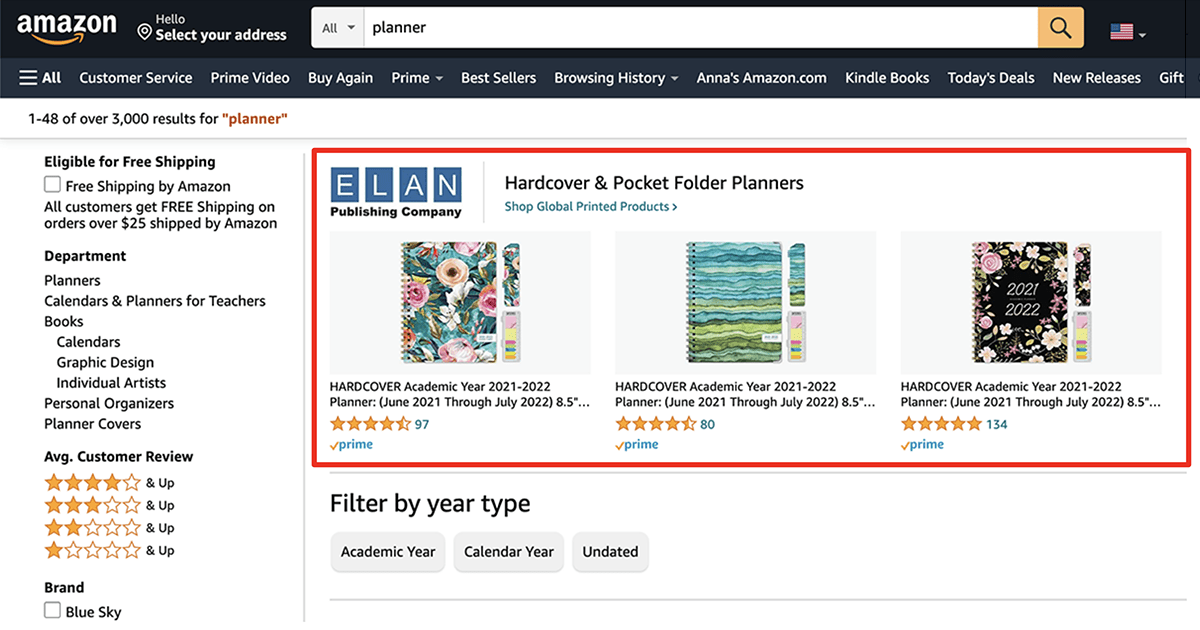 Sponsored Products
These Amazon text ads promote your product listings alongside relevant search results. They're considered the easiest to launch, as they allow automated targeting.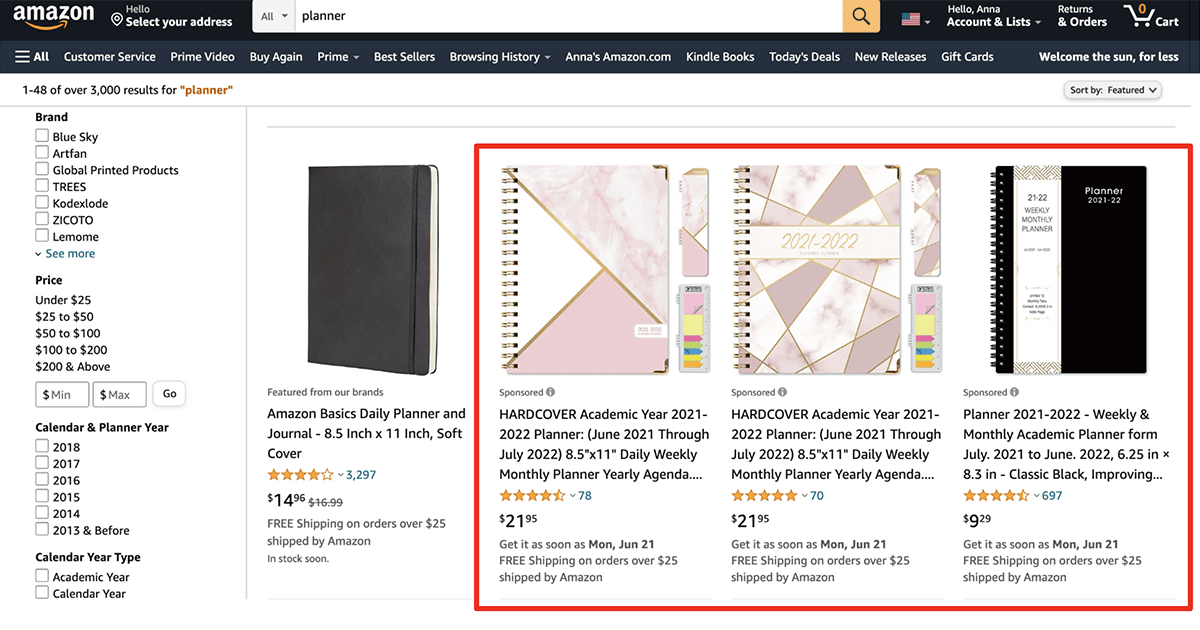 Sponsored Display
Amazon display ads appear on the online marketplace and third-party websites. They can drive sales or increase brand awareness.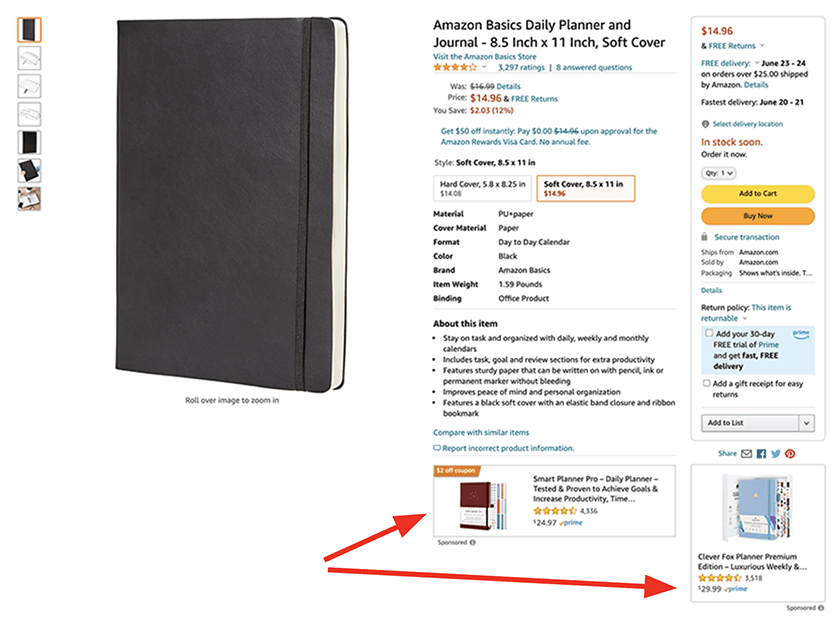 2. Start by Advertising a Top Product
If you're not sure how to advertise on Amazon or how to begin building a successful campaign, start small.
Sponsored Products are generally the easiest to set
up since you can automatically target related searches. Start by promoting a product that already demonstrates strong sales on Amazon. As you observe outcomes, apply comparable strategies to market different products or experiment with Sponsored Brands ads or Sponsored Display ads.
3. Leverage Keyword Research
Since Sponsored Brands ads and Sponsored Products ads both allow you to target specific search terms, you need excellent keyword research skills.
Many experienced Amazon ads experts use specialized tools to find the optimal keywords
. For example, Sonar provides keyword ideas based on your Amazon product ID (ASIN), while Jungle Scout handles keyword and competitive research. To avoid wasting ad spend,
it's also important to know your negative keywords
. With negative keywords, you can remove Amazon ads search terms that are irrelevant and prevent your ad from appearing in an unrelated search.
4. Retarget Prospective Customers
Customers may not always convert the first time they see your ads. But that doesn't mean they'll never make a purchase.
Amazon shoppers often need to get to know your brand and see your products a few times before making a decision
. With Sponsored Display ads, you can set up Amazon retargeting ads that put your ads in front of interested customers again and again. These remarketing ads also let you place ads on third-party websites so you can target prospective customers outside of Amazon.
5. Place Amazon Ads on Your Website
If you've been pondering the question, "How can I place Amazon ads on my website?" consider utilizing retargeting ads. Sponsored Display ads offer a fantastic solution, allowing you to effortlessly integrate Amazon advertisements onto your site while also suggesting products based on either page content or user shopping history. Adding Amazon ads to WordPress is as simple as inputting code and choosing the type of shopping ads you want to feature.
6. Adjust Your Bids to Avoid Overspending
All Amazon ads use a cost per click (CPC) pricing model, which means
you pay each time someone clicks on your ad
. At first, you might bid the same CPC for each keyword you target. But as you gather data, it's important to modify your bids to avoid overspending. In some cases, you can leverage Amazon's machine-learning technology to automate your bids. Alternatively, you can
hire an expert to monitor your conversion rates closely
 and optimize your bids manually.
Hiring an Amazon Ads Expert Is a Smart Business Move
Even if you have experience with PPC ads or SEO, creating effective Amazon ads comes with a significant learning curve.
If you don't have the time to learn the platform or the money to spend on failed experiments, hiring a specialist who knows how to run Amazon ads is a smart move.
If you hire an Amazon ads expert on Fiverr, you can improve campaign outcomes and increase ROI.
Because Fiverr has so many affordable yet experienced advertisers, hiring a professional can easily fit into your budget.
FAQs
Does Amazon advertising work?
Advertising on Amazon can certainly increase sales and drive more revenue. However, it's important to make sure you've set the right bid and optimized your ads. Hiring an Amazon ads specialist to run your ads for you can be a good way of ensuring you're getting the best return on investment (ROI) from your ad spend.
How much do Amazon ads cost?
Amazon Advertising uses an auction-based system, so you can decide how much you want to bid for each click. The product you're selling and the audience you're targeting affects how competitive the auction is and how much you ultimately pay. The CPC for many Amazon ads is less than $1.
What types of Amazon ads are there?
Amazon offers three types of ads: –  Sponsored Brands, which introduce your brand to customers –  Sponsored Products, which help customers find your products –  Sponsored Display ads, which place your products on the Amazon homepage and on third-party websites