Comparing ActiveCampaign vs Drip makes sense.
They're both popular email marketing platforms that fulfill a similar purpose
– even if they market themselves slightly differently. I took the time to thoroughly test both platforms, and, honestly, I could see myself using either. Both are great at what they do.
What this comparison will do is help you figure out which one best suits
your
needs
.
Overall, ActiveCampaign scored a few extra points
– it's a powerful beast of an email marketing platform. Still, although Drips lacks an important feature that's available with most Email Marketing Services (EMS), it's a decent choice if you want to focus on sales and e-commerce. Neither platform offers a free plan, but if you want to test things out yourself, you can take advantage of the free 14-day free trials offered by both. Or you can save yourself a few bucks by checking out
ActiveCampaign's latest deals
. But first, read on to find out why it came out on top in my comparison.
Features
ActiveCampaign Is a Bit More Versatile Than Drip
The first thing I usually look for in an EMS is a decent template selection. ActiveCampaign kept me happy with its
125+ vibrant yet minimalistic designs.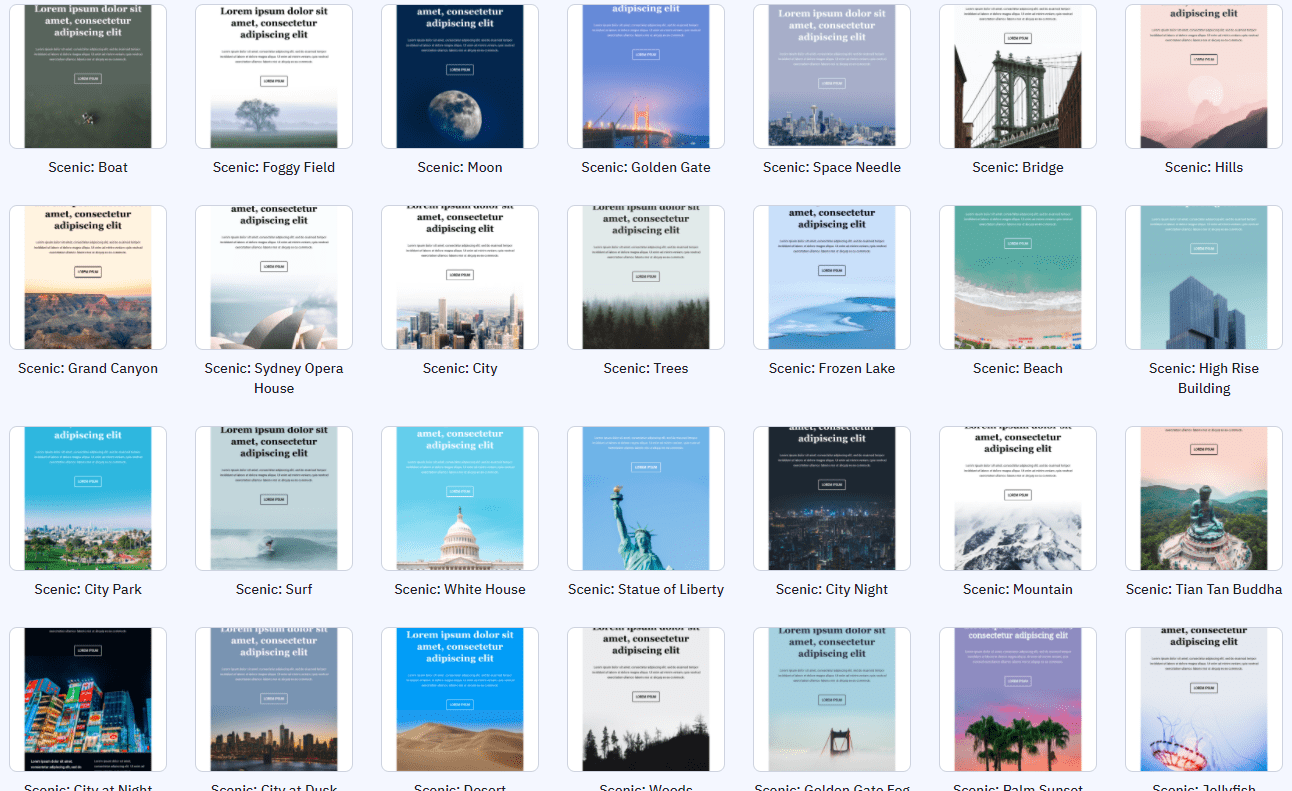 Drip, on the other hand, let me down.
I could only choose from 23 premade templates, which is a shame. Sure, those 23 templates were well-designed, but variety is important when you're sending out thousands of emails every month. Both platforms do get many things right. For example,
ActiveCampaign and Drip go head to head when it comes to personalization.
You can personalize everything from subject lines to email content, so you can add that crucial human element and deliver the right message. Next up, I compared their A/B testing tools.
Drip allows you to test two (or more) subject lines against each other – same with your email content.
Unfortunately, with ActiveCampaign, you can only test your subject lines and preview text.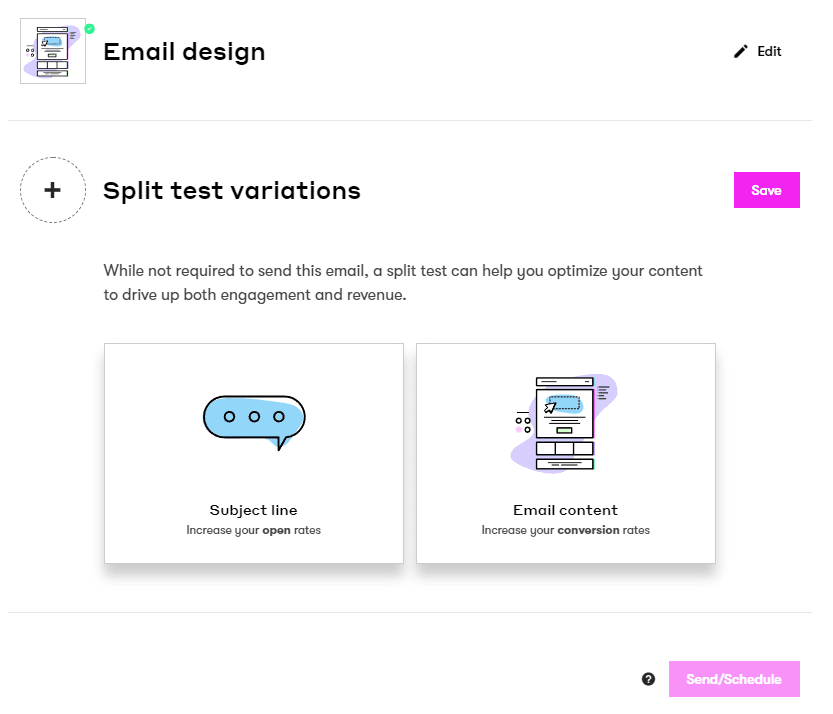 Both platforms also do justice to email marketing automation. Both feature drag-and-drop, if/then statements visualized like mind-mapping software. Still, with 250+ automation templates (compared to Drip's 29+) and a streamlined interface,
ActiveCampaign's automation tool felt a bit more robust.
If you're a Plus plan user, you can also
take advantage of ActiveCampaign's landing page feature
.
There are 50+ templates to choose from, and the editor gives you plenty of customization options. By comparison,
Drip doesn't offer a landing page builder on any of its plans.
This might prove problematic, as it means you'll have to rely on third-party services. Drip is powerful, but it lacks template variety and a landing page builder, which means that ActiveCampaign wins this round.
Ease of Use
Both Services Provide an Excellent User Experience
I had a tough time picking a winner in this round – which doesn't happen often. On the one hand,
Drip comes with a clean, beautiful interface that makes navigation a breeze.
It also features an intuitive drag-and-drop builder that loads fast, looks modern, and gets the job done.
ActiveCampaign's user interface feels a bit more cluttered
, but that's to be expected, considering
it comes with added CRM and sales features
. Its drag-and-drop builder is easy to use, and you can easily have your first automated email campaign up and running in less than thirty minutes.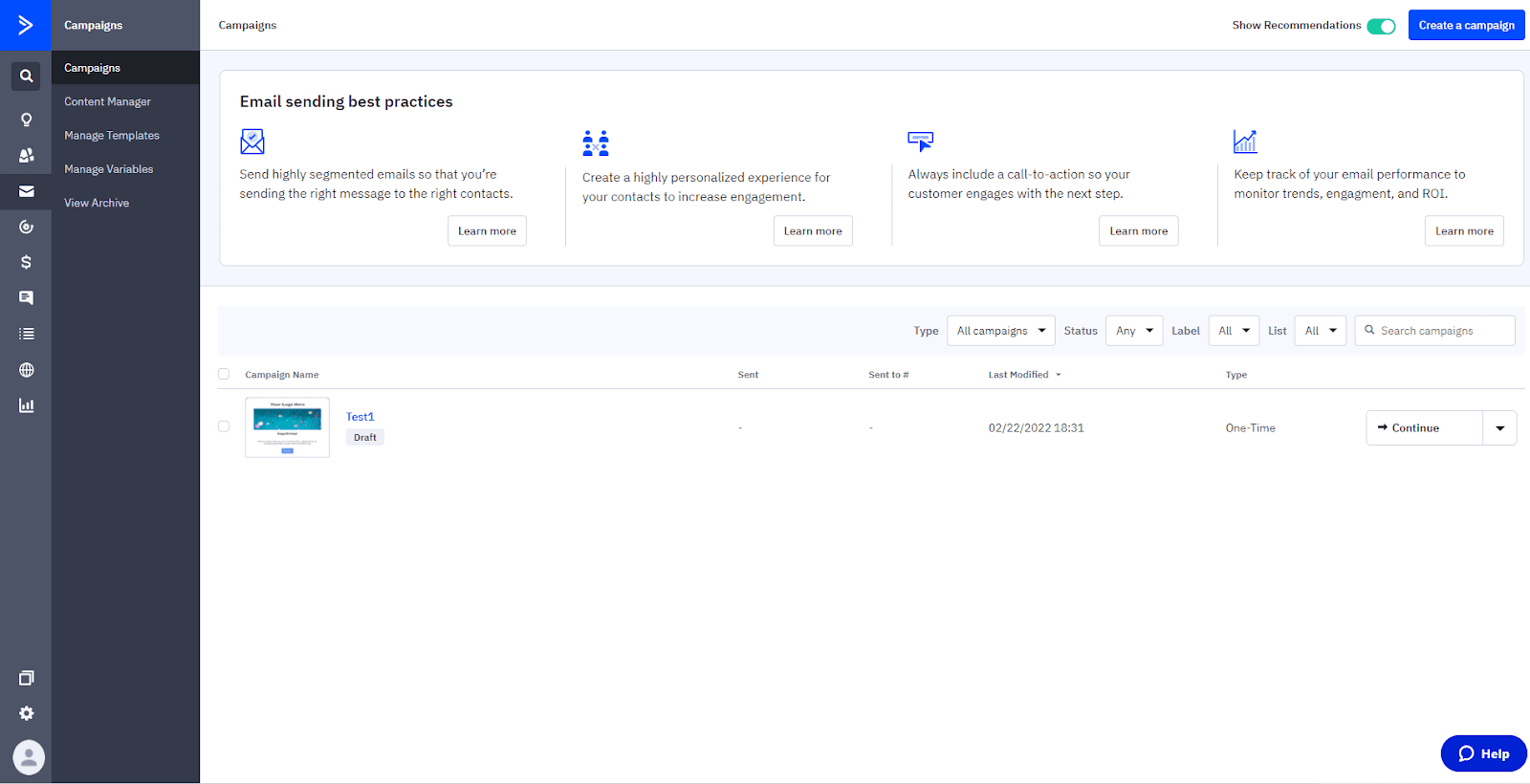 When it comes to importing contacts,
a minor issue for both platforms is that they only support CSV files.
So if you have lists in XLS, TXT, or TSV formats, you'll have to convert them first.
Tagging and segmentation are super easy on both platforms, provided you've collected and organized your data correctly.
Integrated search functions simplify this process even further.
Overall, this one's a draw.
Drip's interface is quite pretty. And while ActiveCampaign might seem intimidating if you're an absolute beginner, that's not because its interface is lacking – it's because
ActiveCampaign comes with so many different features
.
Deliverability
ActiveCampaign Has Slightly Better Deliverability Rates Than Drip
After spending an unhealthy amount of time designing my emails, I want to know whether my messages will reach my subscribers.
A high deliverability rate is always a good sign, but percentages don't always tell the whole truth.
Why? Let's say I use ActiveCampaign to send 1,000 emails, and 910 of those reach my subscribers' inboxes – that seems like a deliverability rate of 91%. Unfortunately, that number says more about me as a marketer than it does about ActiveCampaign as a platform. There are too many variables to know whether I'd see the same result with a different email. Here at Website Planet, we do things a bit differently. Instead of calculating arbitrary numbers, we look at features we know can improve deliverability. My colleague even put together
a guide that explains what you can actually do to improve your deliverability
– you're welcome. The first thing to check for is DKIM authentication. DKIM is how email service providers (such as Gmail and Hotmail) can tell that it's really you sending your emails.
ActiveCampaign has DKIM, and Drip has DMARC, which is based on DKIM.
If all this sounds too technical, you don't need to worry – you'll find helpful setup guides on both platforms' websites.

Next, I checked each platform's anti-spam policy. Because you'll be sharing an IP with other users, you need to make sure the service's reputation isn't exploitable by questionable practices.
Both ActiveCampaign and Drip claim to have strict anti-spam policies, but they failed the junk email test.*
Loose affiliate marketing rules can also attract spammers to an EMS.
ActiveCampaign wins a crucial point here, as its affiliate marketing guidelines are more detailed than Drip's.
Finally, the best way to ensure a high deliverability rate is to have your own private (or dedicated) IP.
The good news is that both ActiveCampaign and Drip offer private IPs.
The bad news is that you need to have hundreds of thousands of active subscribers to unlock this feature. ActiveCampaign has been around longer than Drip, so it makes sense that its spam policy and affiliate marketing guidelines are a bit more fleshed out.
ActiveCampaign will likely deliver your emails at a slightly better rate than Drip
– provided you run the same campaign on both platforms. *In our junk/spam email test, we import many spam contacts and check whether the service will block/filter them out.
Reporting and Analytics
ActiveCampaign's Analytics Suite Is a Bit More Advanced
Data and statistics can't be missing from any serious email marketing platform.
Fortunately, both ActiveCampaign and Drip can quickly tell you all you need to know.
Let's take a look at ActiveCampaign first. All you need to do is look at my colleague's
ActiveCampaign review
and see that it gets a near-perfect score for its reporting tools.
You can generate reports on all email campaigns, automation workflows, and contacts with a click of a button.
You can even set personal goals in the admin interface and track them through the Reports tab.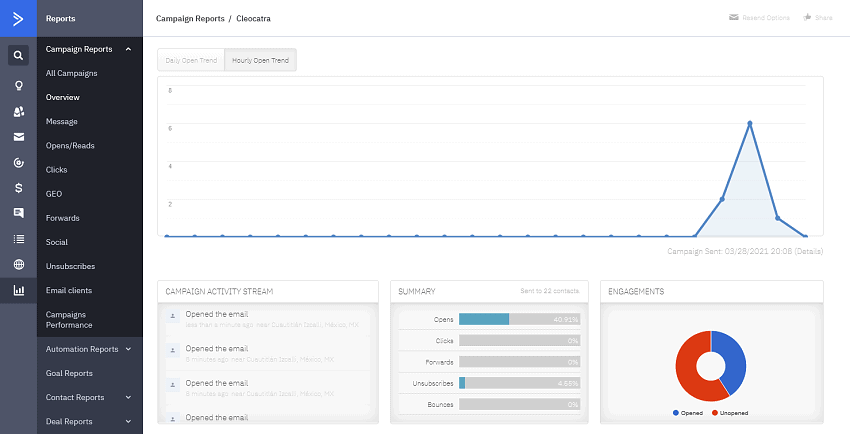 If you've collected enough data, you'll also be able to track your subscribers' status and activity (such as who opened your emails, when, and where from, who clicked, and who bounced). ActiveCampaign can also show daily and hourly engagement trends.
Drip's reporting suite isn't quite as versatile, but it's still useful, especially if your main goal is to track store purchases.
Drip's beautifully designed overview page shows both email and e-commerce statistics. Click on either to access detailed stats about specific campaigns or products.
If your main goal is to know as much about your subscribers as possible, I'd recommend going with ActiveCampaign's advanced reporting tool.
That said, if you're looking for an easy-to-use store and customer tracking tool (that also generates useful email reports), Drip's sales-focused analytics suite might be the way to go.
Pricing
Activecampaign Offers Plenty of Value … Drip's Pricing Structure Is a Bit Confusing
ActiveCampaign isn't the cheapest EMS around, but it's competitively priced for what it offers. Drip charges more than top competitors but doesn't necessarily deliver more.
Here's What You Get for Free
Unfortunately, neither platform offers a free plan.
ActiveCampaign's 14-day trial
 will let you test most of its premium features, but it's pretty restrictive
– you're only allowed to send a maximum of 100 emails to 100 contacts.
With Drip's 14-day trial, you can test all of the platform's features, but you'll be limited to 500 email sends.
Here's What You Get If You Pay
ActiveCampaign offers four paid plans, with each tier unlocking more features.
The Lite plan starts at
$
29.00
/month for 500 contacts. This starter plan comes with everything you need to get started with email marketing, including email templates, marketing automation, and reporting. You can unlock most of ActiveCampaign's more advanced features with the Plus plan, starting at
$
49.00
/month for 500 contacts. Features include landing pages, contact scoring, SMS marketing, and conditional content. The professional plan throws predictive sending, marketing automation, and split automations into the mix and starts at
$
149.00
/month for 500 contacts. If you're a large business owner and want a custom domain, custom reporting, phone support, and other premium perks, take a look at the Enterprise plan.
Drip offers one premium plan that scales based on the number of subscribers you have and the number of SMS messages you want to send each month.
It starts at
$
19.00
/month for 500 contacts and includes all features. At first glance, you'll notice that Drip's premium plan is comparable to ActiveCampaign's Lite plan – they share similar features. However,
once you exceed 5,000 contacts, Drip begins charging quite a bit more than ActiveCampaign.
But that's not the most bizarre thing about Drip's pricing structure.
For some reason, Drip limits email sends once you exceed 30,000 contacts.
What's that about? Drip's premium plan offers great value for money if you have an online store and are big on SMS marketing. In all other cases,
ActiveCampaign's Lite plan will end up costing you less.
Check out this comparison table:
ActiveCampaign Lite
Drip

$

29.00

/

month for 500 contacts

$

19.00

/month for 500 contacts
Templates

125+

23
Segmentation

✔

✔

Advanced Automation

✔

✔

SMS Marketing

✘

✔

Advanced Reporting

✔

✔

Sign-up Forms

✔

✔

Subscriber Scoring

✘

✔

Support

Live chat, email

Email
Support
Drip's Representative Was Helpful … ActiveCampaign Ghosted Me
Navigating a new piece of software isn't always smooth sailing. Knowledge bases and other online resources are good to have, but I always like to know Ican communicate with an actual human if I get stuck.
ActiveCampaign and Drip offer email support on all their plans,
so I contacted both teams with the same question:
Does ActiveCampaign/Drip support languages written from right to left (RTL), such as Hebrew and Arabic?
Drip got back to me within a few hours
.
And as you can see in our
Drip review
, my colleague previously found Drip support to be helpful, too. Their representative informed me that RTL is not available as an out-of-the-box feature, but they provided a solution to enable it through some HTML customization. In this context, Alleli shared a valuable resource link and thoughtfully included a template email demonstrating the practical application of the "source" code.

I want to be fair with all platforms when running these tests.
Although ActiveCampaign has provided excellent support in the past, they never replied to this particular query.
Maybe all of ActiveCampaign's representatives were busy, and my email got lost in the shuffle. Whatever the excuse, this round goes to Drip.
ActiveCampaign Wins in This Comparison With Relative Ease
ActiveCampaign is an established EMS that works exceptionally well as an all-in-one email marketing tool.
Drip is a promising EMS with a clear focus.
It's ideal for small online business owners looking for a well-designed, easy-to-use email marketing tool to track sales, set up email campaigns, and send SMS text messages to their customers.
If we're strictly comparing Drip vs ActiveCampaign on their features and capabilities, ActiveCampaign will always come out ahead with ease.
It has more email templates and importing options, better deliverability, and a landing page builder that Drip lacks altogether. Here's a table with everything we've covered so far:
SMS Marketing on the Cheapest Plan
Native RTL Language Support
No
FAQ
Which Is Better – Activecampaign vs Drip?
If you're looking for a robust EMS that does it all, you really can't go wrong with ActiveCampaign – it comes with plenty more features than Drip. However, Drip is still a decent choice for new marketers with small online stores.
Is ActiveCampaign the Best?
ActiveCampaign ranks first in our list of the best email marketing services. With unlimited sends on all plans, a large array of tools, extensive automation, and CRM options, it offers excellent value for money.
Is Drip Better Than Mailchimp?
Mailchimp has been around much longer than Drip, but it's not an EMS I often recommend to marketers. Its plans are grossly overpriced, and its customer support is all but non-existent. Drip is an easy-to-use, well-designed email marketing platform that does many things right.