It's hard to decide between two reputable hosts like A2 Hosting and Liquid Web. They both offer an enticing set of features at competitive prices, but there are a few key differences that will help you choose the right one for your needs. Nexcess' least expensive plans consist of premium managed hosting for WordPress and various other content management systems (CMSs). And while A2 Hosting is primarily known as a budget hosting provider, it has managed to put together some managed WordPress plans that, on the surface, are comparable to those in Nexcess' range.
Can A2 Hosting really compete with Nexcess in this realm – or perhaps even beat it?
To find out, I evaluated both providers in categories such as pricing, features, performance, and more. The results?
Nexcess managed a fairly decisive victory,
though A2 Hosting does have many features that make it worth considering.
Click here to get Nexcess' latest deals,
or keep reading to find out how each host performed.
Plans and Pricing
A2 Hosting Offers More Resources at Lower Prices, but Nexcess Offers Better Infrastructure
A2 Hosting offers shared hosting, managed WordPress plans, VPSs, reseller hosting, and dedicated servers. As mentioned earlier, Nexcess specializes in managed e-commerce hosting driven by WordPress as well as many other CMSs. It does this with scalable shared, cloud, reseller, and enterprise hosting. In the interest of fairness, I primarily compared these two hosts' managed WordPress plans.
A2 Hosting includes NVMe SSDs with all managed WordPress plans.
This is an enhanced storage solution that offers even better performance than regular SSD, and it's something that Nexcess lacks. However,
Nexcess offers a superior hosting infrastructure overall,
and this is reflected in its performance – as well as its prices. A2 Hosting's cheapest managed WordPress plan provides 50GB of NVMe SSD storage and allows for a single website, but
higher-tier plans offer unlimited storage and websites.
You'll also benefit from unmetered bandwidth and unlimited email accounts. On the other hand,
Nexcess offers seven managed WordPress hosting plans that give you from 15 GB to 800 GB storage,
up to 250 hosted websites, from 2 TB to 10 TB bandwidth, and unlimited email accounts. Your storage solution is regular (not NVMe) SSD, even with the most expensive plans, but these are still very fast drives. It offers generally lower resource limits than A2 Hosting.
A2 Hosting WordPress Hosting
Nexcess WordPress Hosting
Both hosts offer 30-day money-back guarantees.
However, A2 Hosting goes a step further with its "anytime" refund policy.
If you cancel with A2 Hosting outside the money-back guarantee period, you'll still receive a prorated refund
for the unused portion of your contract. Nexcess isn't so kind – unless you cancel within the first 30 days, don't expect a refund. So, who's the winner of this round? Based on the lower prices, the extra resources, the NVMe SSD, and the more flexible refunds, A2 Hosting comes out slightly ahead. However, Nexcess still offers excellent value for money on a wider range of plan options.
Features
A2 Hosting Is Good, but Liquid Web Offers More Quality Features
A2 Hosting delivers the bulk of its WordPress features through the third-party Jetpack plugin.
In the basic plan, this is just the free version – but higher-tier plans include premium versions for additional features. The free Jetpack plugin includes a suite of basic WordPress features, such as a variety of high-quality themes, design elements like contact forms, site analytics, uptime monitoring, simple plugin management, and more. By upgrading to a better plan, you'll get Jetpack Premium, which includes malware scanning, marketing tools, and fast video hosting. While none of this is bad, it isn't particularly unique. Nexcess puts more effort into its WordPress management features. For starters,
Nexcess offers AI-driven plugin management, where each plugin update is automatically tested for issues before being applied to your live site.
A2 Hosting doesn't check for issues whatsoever – it allows the default WordPress updates to run as usual. Moreover,
Nexcess comes with plenty of useful plugins.
iThemes Sync, for example, automatically solves many of the headaches that come with merging changes from a staged site with your live site. The Beaver Builder site builder also allows you to create a professional-quality site without touching a single line of code.
Both A2 Hosting and Nexcess also offer various developer-friendly features,
such as site staging, SSH access, pre-installed WP-CLI (if you prefer to work with the command line), and Git integration. Your work will also be protected by daily automatic backups, regardless of your chosen plan from either host. I've compiled all the important features into this table so you can see, at a glance, how A2 Hosting and Liquid Web compare for
WordPress hosting
.
| | | |
| --- | --- | --- |
| | A2 Hosting | Liquid Web |
| Hosting Types | Shared, managed WordPress, VPS, reseller, and dedicated hosting | Managed WordPress, WooCommerce, Magento, and other CMSs; managed cloud and enterprise hosting |
| Free Domain | ✘ | ✘ |
| Free SSL Certificate | ✔ | ✔ |
| Disk Space | 50GB – unlimited NVMe SSD | 15GB – 800GB SSD |
| Bandwidth | Unmetered | 2TB – 10TB |
| Automatic Backups | ✔ | ✔ |
| Control Panel | cPanel | Nexcess Client Portal |
| Email Accounts | Unlimited | Unlimited |
| Free CDN | ✘ | ✔ |
| Free Site Migration | ✔ | ✔ |
| Money-Back Guarantee | 30 days, with prorated refund after 30-day period | 30 days |
The winner here is Nexcess – its premium features and smart plugin updates make developing and maintaining a WordPress site much easier.
While A2 Hosting's WordPress perks are very good, it doesn't quite match Nexcess' level.
See Nexcess' Latest Deals
Performance
Nexcess Delivers Better Speeds Than A2 Hosting
A2 Hosting uses LiteSpeed web servers, which – along with the LSCache plugin – gives you an all-in-one optimization suite for WordPress sites.
In addition, A2 Hosting's proprietary A2 Optimized plugin and the included Jetpack plugin deliver further performance enhancements. Nexcess also takes performance seriously. While it doesn't use LiteSpeed, it uses Apache with an NGINX reverse proxy to offer thorough server-level caching.
Nexcess also offers the premium Redis caching solution to ease the load on your databases and server hardware,
along with Edge CDN, a proprietary content delivery network (CDN) to help improve site loading speeds for faraway visitors. In addition,
Nexcess offers more data center options, with six in the US, three in Europe, and one in Australia.
A2 Hosting offers two in the US, one in Europe, and one in Asia. When we tested A2 Hosting, its page loading speeds were poor around the globe on Sucuri Load Time Tester, although the GTmetrix test results were good.
You can find the full details in our expert review
.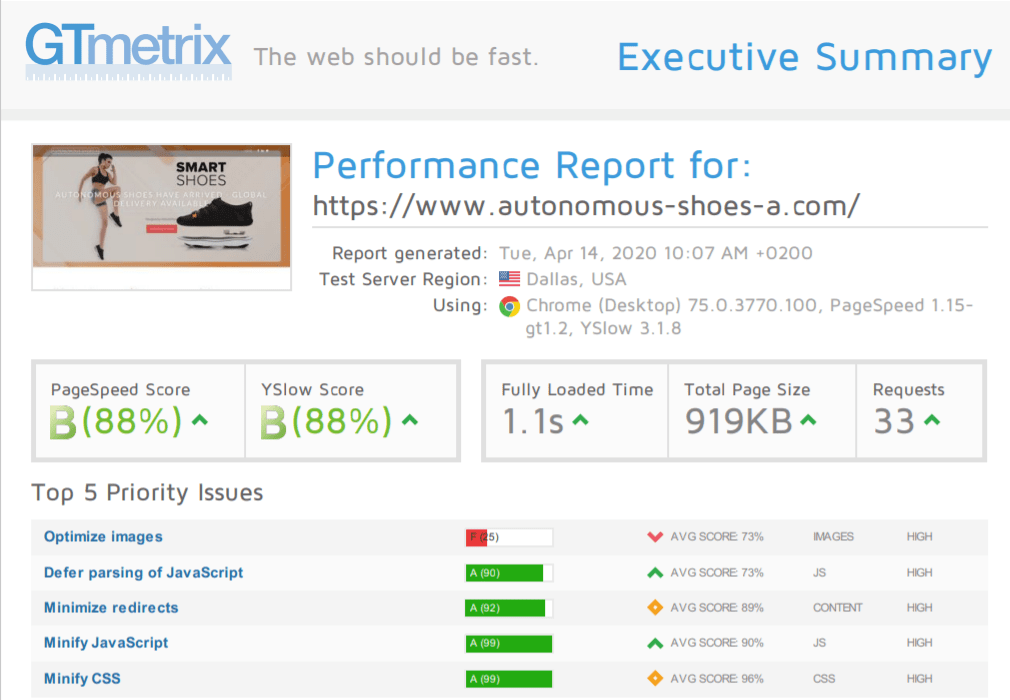 Nexcess showed very good page loading speeds from almost any location around the world, and
its GTmetrix results were slightly better than those of A2 Hosting.
Find out the full details in
our expert's in-depth review of Nexcess
.

In terms of reliability, both hosts are dependable. A2 Hosting guarantees 99.9% uptime, while Nexcess goes a step further and guarantees a perfect 100%. While Nexcess may hold itself to a higher standard,
we didn't detect a single instance of downtime with either host during our tests.
So, what's the verdict? Both providers will give you decent loading times, but
Nexcess' infrastructure gives you slightly better results.
Security
Nexcess Offers More Advanced Security Features Than A2 Hosting
With Nexcess and A2 Hosting, you can enjoy
a safe and secure hosting environment
as both services provide a variety of useful security features and plugins with their plans. However, it all comes down to which host goes the extra mile to decide who wins this round.
Both Nexcess and A2 Hosting offer a web application firewall and DDoS protection to protect you from various threats online.
You also get free SSL certificates with both hosts to help protect your customer's data if they sign into your site. A2 Hosting also allows you to scan all of your websites for vulnerabilities, and to patch them automatically with a single click in some cases. The bundled Jetpack plugin also offers brute force attack protection, spam protection, and automatic malware scans. The high-tier A2 Hosting plans also upgrade Jetpack to include real-time malware scanning, a 30-day activity log, and more.
All Nexcess plans come with 24/7 server monitoring and the comprehensive iThemes Security Pro plugin.
This usually costs extra, but you get it free with all managed WordPress plans. It regularly scans your sites for vulnerabilities and fixes them automatically, monitors your core WordPress files for unauthorized changes, and bans malicious IP addresses.
I'm going to have to give Nexcess the win – its iThemes Security Pro plugin offers robust security features that are lacking with A2 Hosting.
While A2 Hosting certainly doesn't make your sites vulnerable, Nexcess will detect and prevent more threats.
Support
It's Easier to Get Help from Liquid Web
An extensive knowledge base is available on both of the hosts' websites with numerous articles and tutorials covering most major topics. In addition, each host has its own blog with articles covering new topics. A2 Hosting's customer support is available 24/7 via live chat, phone, support ticket, and email. Unfortunately, getting in touch with the live chat wasn't a thrilling experience.
I had to wait for sometime to get connected to an agent followed by a few time gaps between questions and answers, and some of the information provided was inaccurate.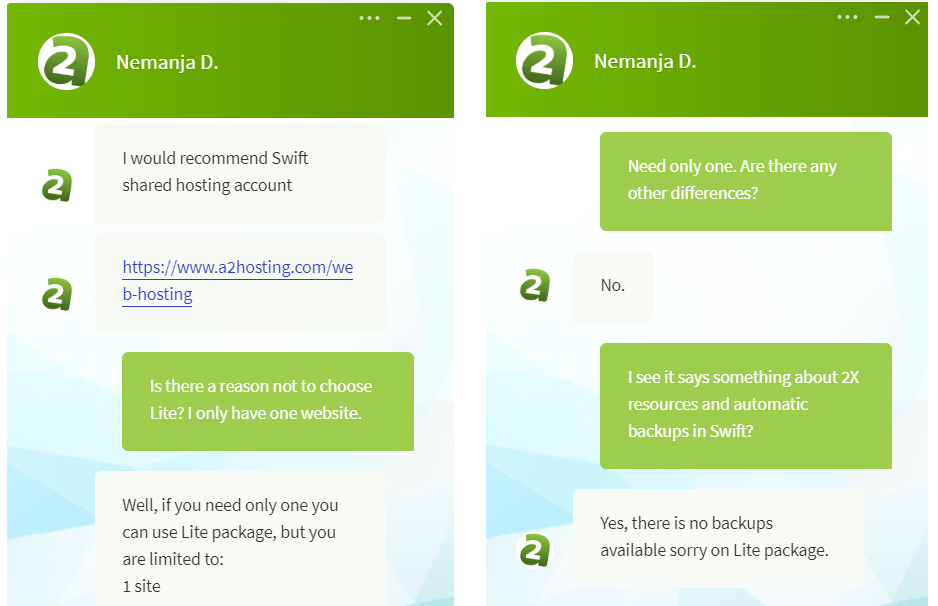 Nexcess' support is also available 24/7 through live chat, phone, and support ticket. When we tried the live chat, we were instantly connected to an agent who was very helpful, and provided us with all the information we needed.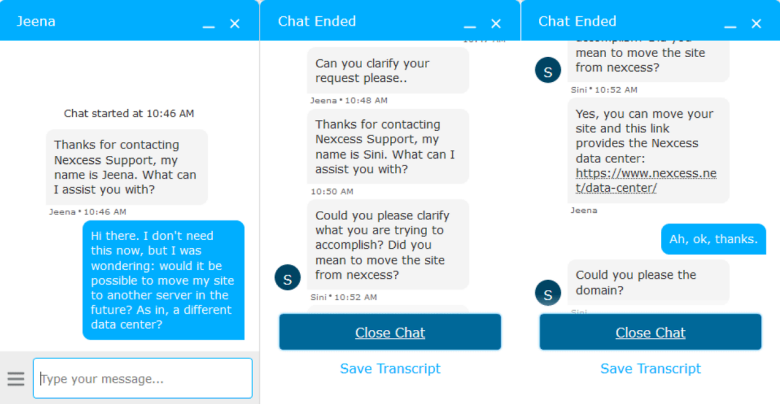 Nexcess' support was more attentive and reliable than that of A2 Hosting, which makes it the winner of this round.
Nexcess Offers Better Value for Money Than A2 Hosting
All in all, I'd recommend Nexcess over A2 Hosting.
Nexcess delivers better performance and more impressive WordPress features.
While A2 Hosting offers a generous amount of resources and a flexible "anytime" refund policy, it wasn't enough to match Nexcess' overall value. That being said, A2 Hosting may still be an option if you're looking for basic shared hosting – and in fact, both Nexcess and A2 Hosting made
our list of the top web hosting services for 2023.
If you wish to compare "the best of the best," I'd recommend starting there.
Plans and Pricing
Less expensive, and offers generous NVMe SSD storage and an "anytime" refund policy
More expensive, but tighter on resources, especially with the basic plan; a wider range of plan options on better hosting infrastructure overall
Key Features
Jetpack plugin with basic WordPress design tools, site analytics, and plugin management
Advanced AI-driven plugin updates, premium Beaver Builder site builder that's perfect for beginners, and efficient site staging with WP Merge
Performance
Weaker performance worldwide, fewer data centers, 99.9% uptime guarantee
Better performance worldwide, more data centers to choose from, 100% uptime guarantee
Security
Manual scan for vulnerabilities with automatic fixes, Jetpack plugin offers basic malware scans and brute force attack protection
Automatic scans and fixes for vulnerabilities, iThemes Security Pro plugin monitors core WordPress files 24/7 and automatically bans malicious users and IP addresses
Support
Slow response and support agents often provide incorrect information
Much faster response, more knowledgeable and helpful
FAQs
Which is better, A2 Hosting or Nexcess?
I'd recommend Nexcess for most purposes – while it is more expensive, it offers better performance. It also offers a stronger set of WordPress features, more comprehensive security, and better support. However, Nexcess is a little limited on storage space in the basic plan. If you're looking for more, A2 Hosting's managed WordPress plans offer lots of NVMe SSD storage and unmetered bandwidth for a lower price.
Is Nexcess beginner-friendly?
Yes. The included Beaver Builder site builder allows you to create a professional-quality website by using a simple visual editor. You'll never need to touch a single line of code. In addition, Nexcess takes care of software and plugin updates, backups, and site optimization for you – you just need to focus on building your site and adding content.
Does A2 Hosting use cPanel?
It does – all of A2 Hosting's managed WordPress plans include cPanel for free. You'll be able to manage your domains, websites, emails, and more, all from its easy-to-navigate user interface.
Does Liquid Web offer a free domain name?
No, Nexcess doesn't offer a free domain name. You'll have to make sure you consider the cost of your domain name in addition to the price of Nexcess' web hosting plans.