We've tested all the top hosts to find the ones that balance price and user-friendliness while providing solid security measures.
As you may have guessed by now, because you probably read the title, we found six providers that we like a lot. Read on to see which they are. A couple of quick notes:
We will be discussing shared hosting only, not VPS hosting. VPS hosting is a whole different ballgame, as you are usually expected to handle your own security measures.
Some security stuff, even on shared hosting, is still up to you. For example, installing a badly-coded WordPress plugin or theme can bypass even the strictest security measures.
Short on Time? These Are the Best Secure Web Hosts in 2023:
Hostinger – Has all the security features you'd want, plus extra PHP-focused defenses.
Nexcess – Has managed hosting plans where experts will handle security for you.
InterServer – Provides solid security, up to DDoS protection, at affordable rates.
Features We Look For From Secure Web Hosts
Here's the quick rundown on every security feature we like to see in a hosting provider's plans, with a beginner-friendly explanation of each. If you don't spend your whole life doing web stuff, these are the very basics of what you need to know about hosting security features, and why they're important:
SSL Certificates
SSL (AKA Secure Sockets Layer) is a method of encrypting any data that is sent from your visitors to your site so that it can't be easily intercepted, and every website with this feature is associated with an "SSL Certificate."
SSL doesn't prevent your website itself from being hacked, but it helps protect your users,
and in turn, your bottom line.
Firewall
A firewall prevents people from connecting to your website's server in ways that are not authorized
– in other words, they can look at your website or purchase your products, but they can't make changes to the files on the site or upload files to the server. It's also one of the most reliable tools used to stop brute force attacks. If your host sees repeated attacks coming from one IP address, they can have the firewall block it.
Antivirus Protection
Most web hosts run their servers on some variation of the Linux operating system, so they scan for Linux-targeted malware, of course. But they
also
need to scan for Windows and Mac malware, because sometimes hackers will try to upload viruses targeted at Windows and Mac users.
Having a good antivirus on hand protects your site and everyone who visits it.
DDoS Protection
Distributed denial-of-service (DDoS) attacks occur when someone directs a bunch of already-infected computers to access a website all at once and repeatedly. Depending on various factors, these attacks can take websites down for days at a time, and sometimes longer.
DDoS protection is designed to give your website more (temporary) resources to handle the increased traffic
so regular users aren't affected,
and
to identify the source of the attack and block it.
Good Customer Support
Sometimes you just need to get a human involved.
Having a lot of automated security features is a good thing, of course, but no solution is 100% perfect. There may be times when you need tech support to go in and remove malware for you, or help you deal with an active attack.
Bonus Points for the Hosts With the Following Features:
Two-factor authentication. Making it harder for anyone but you to log into your hosting account is always a plus.
Automated website monitoring features. When someone tries to attack your site, you want to know about it, and you want at least some protective measures to be taken automatically.
Web application firewall (WAF). Basically, this is a fancier version of a standard firewall, designed to prevent attacks on interactive web apps, more so than content-focused sites.
Custom-developed security solutions. Third-party security solutions are good and all, but I like to see proprietary security features from the hosts themselves. It means they have something built specifically for their server setup.
And now, on to the list: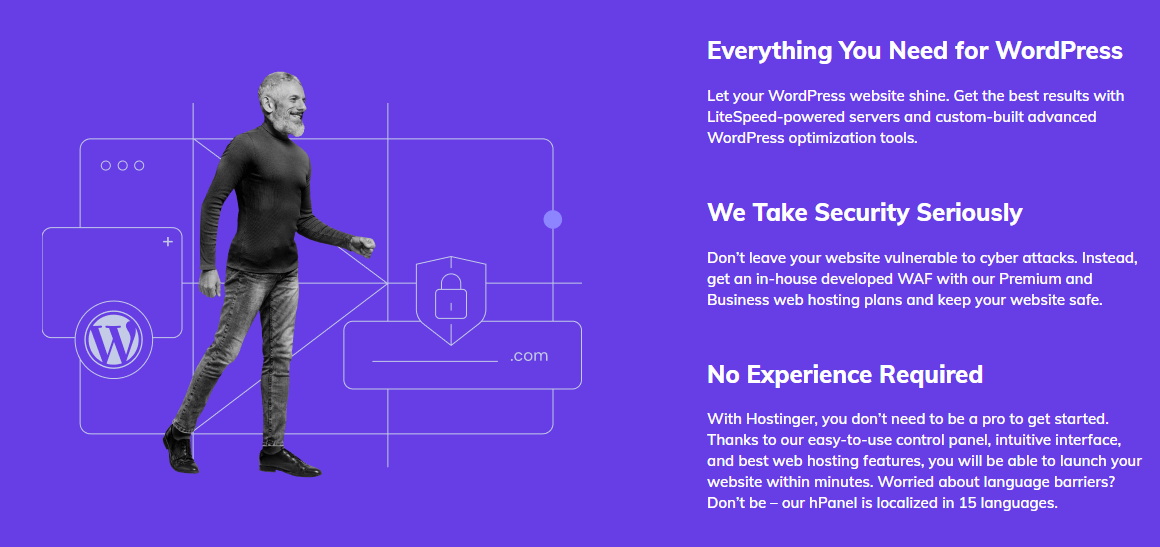 Hostinger is currently our top-rated budget hosting provider
here at Website Planet, and for good reason: the starting prices are low enough that almost anyone can afford to make their first website and (hopefully) start making money off it, if that is the goal. It's also quite beginner-friendly, it provides good support, and it delivers some of the best server performance available from shared hosting. But all the low starting prices and easy-to-use features in the world won't stop a hacker. Fortunately, Hostinger has kitted its servers out with a wide range of effective security tools, outlined below.
A free domain name is included with some hosting plans from Hostinger
Features
A custom-built firewall. Remember how I said custom-built security solutions were good? Hostinger agrees, and it has its own firewall that was built in-house. Gotta love that.
Imunify360 and BitNinja security suites. These are well-respected, third-party security solutions that, when combined, provide the following (and more): antivirus and anti-malware protection, Webshield software that automatically identifies online attackers (bonus points!), and a web application firewall (more bonus points!).
Advanced security modules for PHP. PHP is a programming language that is used to power a lot of websites. And I do mean a lot. Most of the popular content management systems (including WordPress, which accounts for 40% of all websites) run on PHP, so making sure those systems are secured is paramount. Hostinger thought ahead on this one.
Free SSL certificates. Even if you don't need to encrypt form data from your site visitors, you should be using SSL, or browsers like Chrome and Firefox may flag your site as insecure. Luckily, Hostinger includes SSL certificates available for free. As well it should.
Read our expert Hostinger review for more details
.
Free SSL?

✔

Firewall?

✔

Antivirus?

✔

Starting price

$

1.99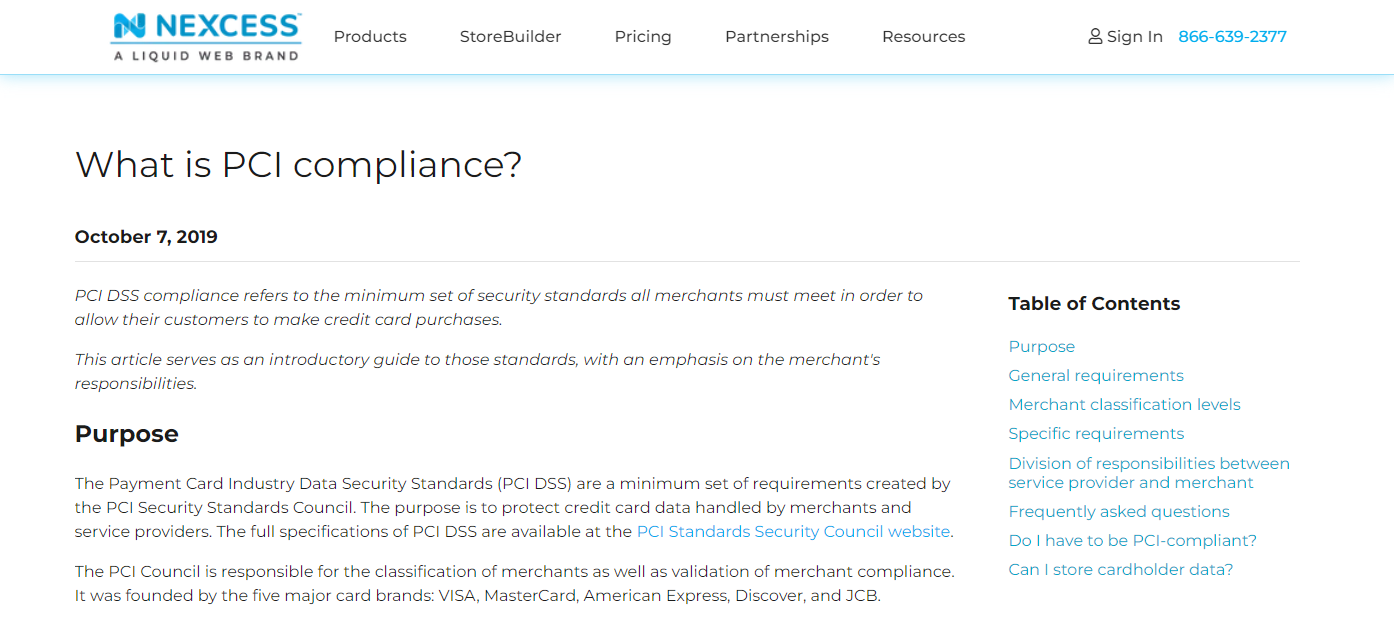 Nexcess is more expensive than Hostinger, but it makes up for this by being even easier to use in general, while also having incredibly reliable servers and advanced security features.
It also has experts on hand to step in whenever you need help
– its support team is one of the best.
Nexcess, on the whole, is the best option for anyone who doesn't want to do all that much
except tweak their website's design and put in the content. Leave the rest to the experts, and enjoy a beverage of your choice.
Features
Web application firewall and antivirus software. That's right, Nexcess comes with one of them fancy firewalls, and the standard but oh-so-necessary antivirus protection. If you want to build the next great web app (we'll pitch it as "Uber for Facebook"), Nexcess' firewall will have you covered, with a side order of DDoS protection.
Managed hosting and real-time monitoring. You can get managed hosting plans for WordPress, Magento, and WooCommerce, which means that a team of experts will manage everything related to your web hosting, including security and software updates. On top of that, Nexcess boasts advanced website monitoring capabilities to spot problems whenever they might show up.
This hosting is PCI DSS compliant. Without going into the incredibly complex details, this means that Nexcess is officially considered secure enough that you can take online credit card payments through their servers. The people who are in charge of that sort of thing have decreed it so.
Free SSL certificates. Nexcess has you covered in this department. Your visitors need never fear the dreaded "unlocked padlock" icon that shows up in the browser's address bar when visiting an unsecured site.
Read our expert Nexcess review for more details
.
Free SSL?

✔

Firewall?

✔

Antivirus?

✔

Starting price

$

49.00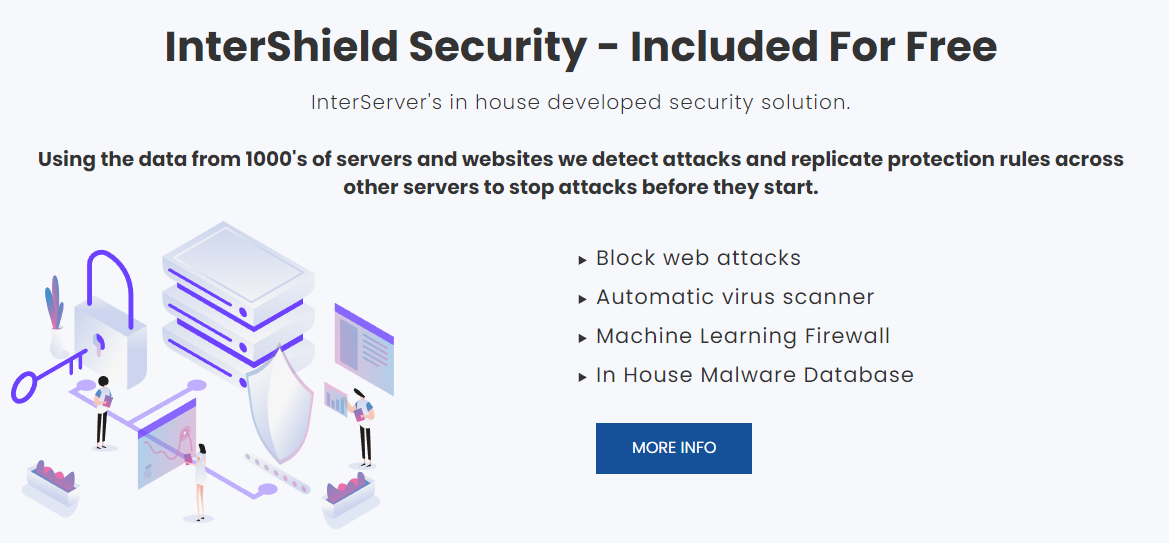 Want cheap, reliable, and secure hosting with all the trimmings? Do you want to have it with a company that's been trusted by Fortune 500 companies since 1999? InterServer offers all of that and so much more, including easy ways to install hundreds of popular web apps on your account. InterServer is
not
third on this list because it's inferior in terms of security, but because its data centers are all in North America. This means
it's a great option for serving customers in Canada, the U.S., and Mexico
– and even some parts of Western Europe – whereas your site may load more slowly in the rest of the world.
Features
Custom-built security suite. InterServer's security suite, developed in-house, includes a virus scanner, a firewall powered by machine learning, a regularly-updated malware database (to help out with those scans), and more.
Includes Imunify360. In addition to its own suite of tools, InterServer uses Imunify 360 to supplement its own security system. Hey, redundancies are important for security. Hey, redundancies are important for security. Hey… you get the idea.
DDoS protection. Once again, there is no need to worry that some script kiddy (an amateur hacker who buys pre-made hacking tools) will be able to knock your website down because they got mad about a site comment. (It happens more often than you might think.)
Free SSL certificates. Being around since '99, InterServer has figured out this SSL thing.
Read our expert InterServer review for more details
.
Free SSL?

✔

Firewall?

✔

Antivirus?

✔

Starting price

$

2.50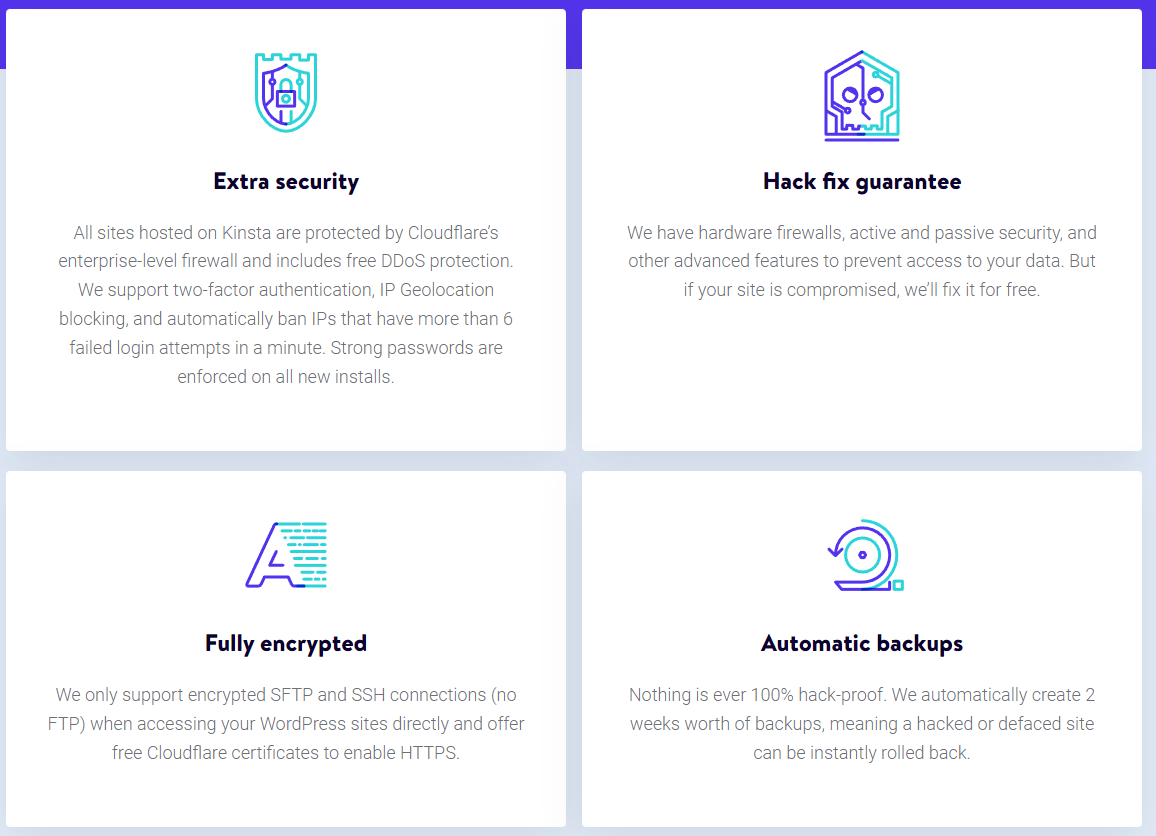 Kinsta is an interesting beast. It's all the way down at number four because, well, it's expensive as heck.
Also, it only hosts WordPress sites.
That's right, nothing else… just WordPress. And it costs more than any other host on this list. But it still made the list in part because it's the fastest, most reliable, most convenient WordPress hosting around. Moreover – because this host specializes in WordPress alone –
the team at Kinsta knows exactly how to secure a WordPress site
, and they'd be more than happy to do it for you when needed. It's the ultimate in paying more so you can do less of the work yourself.
Features
Two-factor authentication. I'd like to reiterate how important it is that your actual hosting account doesn't get hacked, as stolen accounts can be a real pain to get back. Kinsta has two-factor authentication to help you avoid that.
Firewall and DDoS protection. Kinsta comes with everything you need to protect your business, blog, or magazine site when it gets popular. After all, popularity brings the angry people with botnets out of the woodwork.
A full-on security guarantee with expert help. The Kinsta support team will manually remove malware for you if need be. It's a part of Kinsta's security guarantee, which is standard on all plans. The team will make your site secure if they have to go in and do it themselves, but there is a caveat: the security guarantee will not be honored if your site uses pirated WordPress plugins or themes. You should always make sure you have the rights to everything on your site, in any case.
Free SSL certificates. Whether people are signing up for your newsletter, buying your merch, or having yet another Kirk vs. Picard argument in the comments, their data needs to be protected.
Read our expert Kinsta review for more details
.
Free SSL?

✔

Firewall?

✔

Antivirus?

✔

Starting price

$

35.00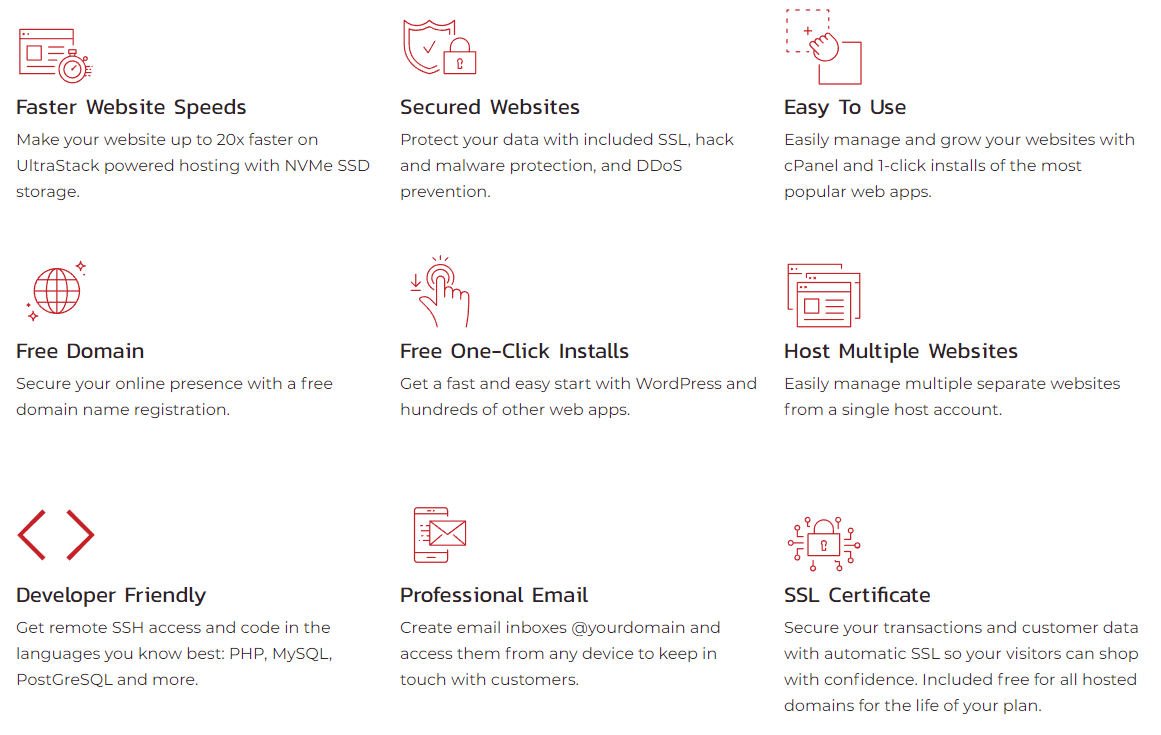 InMotion Hosting will fit the bill for many US-based customers,
having good prices, decent performance (though the servers are a bit slower than InterServer's), and a slightly confusing but still generally usable interface. Besides the requisite solid security, InMotion Hosting's claim to fame is its highly-trained support team and extensive knowledge base. If you don't mind learning to do some things yourself, and your website is aimed at users in North America, InMotion Hosting is a solid choice.
InMotion Hosting Web Hosting
Features
PHP malware protection by Monarx. Okay, remember how I said most of all the websites out there run on PHP? InMotion Hosting has accounted for this by integrating Monarx, a third-party security product that helps to prevent PHP-based malware from being left on your site undiscovered. Third-party attacks and bad WordPress plugins begone!
Firewall, antivirus, and expert help. You get the usual firewall and antivirus software combo, and that will take care of many potential threats on its own. As previously mentioned, the support team is well-trained and ready to help. While the hosting plans aren't managed like those on Nexcess, you can request manual virus scans if something has gone very wrong.
DDoS protection. You know the drill by now. Someone tries to take your site down, but haHA! It stays up! Can't complain about that.
Free SSL certificates. As always, free SSL is good, and should be standard.
Read our expert InMotion Hosting review for more details
.
Free SSL?

✔

Firewall?

✔

Antivirus?

✔

Starting price

$

3.29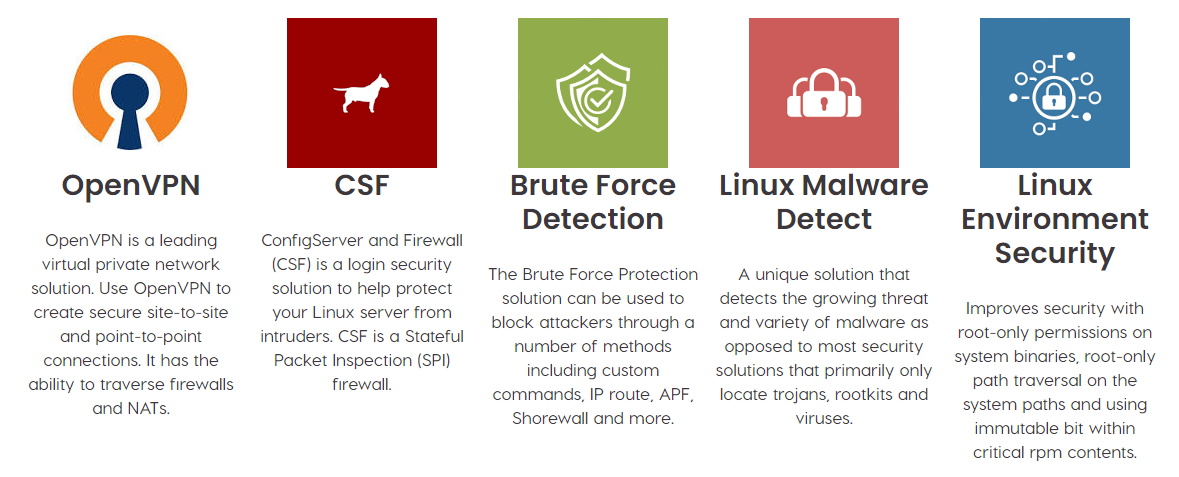 A2 Hosting is reliable, is available globally, and delivers some of the best shared hosting speeds we've recorded.
It also has a great track record of server uptime, which speaks to the security features in play. And there are quite a few extra security features as well. A2 Hosting only got to the bottom of this list because of our experiences with its customer support team. The biggest problem is that it can take a while for you to get help, and in an emergency, that's definitely not ideal. But the technological solutions in play can do a lot to make up for the lack of immediate human response by preventing most problems
before
they become problems.
Features
CSF, brute force detection, and antivirus. A2 Hosting offers a comprehensive suite of security tools including antivirus software, a well-regarded firewall solution called ConfigServer and Firewall (CSF), detection for brute force attacks, DDoS protection, and an additional firewall. Oh, that's not enough? How about the 24/7 use of HackScan, servers that have all non-critical components disabled, and more? It's a lot of protection in one place, and A2 Hosting has decades of experience keeping its servers running.
Two-factor authentication. Again, this feature can help to keep one person's website from magically becoming someone else's website because someone used their pet turtle's birthday year as a password. Look, I'm sure Donatello is a really clever pet, but everyone needs a more secure password. Like your social security number… KIDDING. Kidding. Never do that.
Managed WordPress hosting. If you want to mitigate issues with delayed responses from the support team, you can pay extra for a managed WordPress hosting plan. As with Nexcess and Kinsta, this means that the A2 Hosting team will manage updates, security, and other basic site maintenance for you.
Free SSL certificates. As with all the other hosts on this list, free SSL is included.
Read our expert A2 Hosting review for more details
.
Free SSL?

✔

Firewall?

✔

Antivirus?

✔

Starting price

$

2.99
So Which Host Should You Go With?
That depends on your specific needs, but the fact that this listicle even exists means some options are better than others, and you should start by looking closely at the top three:
Hostinger has all the security features you'll need,
and is very cheap for new website owners.
Nexcess offers managed hosting with built-in security
they will configure for you, which can save you so much time.
InterServer is reliable, and one of the grandaddies of the web hosting industry
… if you want a provider with a pedigree and a deep knowledge of online security.
Okay, that was a lot of information. For your convenience, here's a quick rundown of all the hosts and what makes them special.
Standout Feature
SSL?
Firewall?
Starting Price
Hostinger
Advanced PHP security at low prices
Yes
Yes

$

1.99

Nexcess
Managed, built-in security
Yes
Yes

$

49.00

InterServer
Veteran, proprietary security solution
Yes
Yes

$

2.50

Kinsta
Managed and optimized for WordPress
Yes
Yes

$

35.00

InMotion Hosting
Good overall security and support
Yes
Yes

$

3.29

A2 Hosting
Global host with a solid security track record
Yes
Yes

$

2.99
FAQ
Is shared hosting secure?
The short version: it can be. Many shared hosting providers do only the bare minimum in order to keep costs down. Successful web hosts realize that unless they do extra to make sure their clients' websites are secure, those clients will go elsewhere. If you jumped straight down to this FAQ, go back up to the top of our list to find the best secure hosts that are also reasonably affordable.
Which host is the most secure?
The one that's not actually connected to the internet. Okay, that sounds like a joke (and mostly it is), but no security solution is perfect, and new threats are emerging all the time. The most important aspect of choosing a secure hosting plan is finding a provider that takes it seriously. It must put in the work required to keep its security measures current, and it must respond quickly to problems that arise.
Is Hostinger secure?
Yes. On top of being a generally affordable, feature-filled, and easy-to-use hosting provider, it has a comprehensive suite of security features, and great customer support. Hostinger is at the top of our list of the best web hosts in 2023 for that reason, and many more.
Are secure web hosts expensive?
They certainly don't have to be. We've dedicated a large portion of Website Planet to reviewing the best hosts and the best ways to build your first website. After all that investigative work, we have yet to find any compelling evidence that the most expensive options are automatically the best. You may find yourself paying more for specific features or convenience, but you absolutely can get reliably secure hosting at reasonable prices.