A2 Hosting is a powerful web host that offers a wide range of premium hosting features with its plans. NameCheap, on the other hand, is a popular domain registrar that offers attractive web hosting plans at a cheap cost – but don't be fooled by its promotional prices. When I tested both services,
I was somewhat shocked by NameCheap's expensive renewal rates and limited feature set compared to A2 Hosting.
A2 Hosting has outperformed NameCheap in almost all the areas I've tested them in, making it the winner of this comparison.
Click here to see A2 Hosting's best deals
, or read on to see why it's the clear winner of this comparison.
1. Plans and Pricing
A2 Hosting Offers Better Value for Your Money
At first glance, it seems like NameCheap offers cheaper prices than A2 Hosting. However, not only do NameCheap's packages renew at an expensive cost, but when you examine both hosts' plans carefully, you can see that
you get your money's worth with A2 Hosting.
How? Let's take a closer look.
A free domain name is included with some hosting plans from Namecheap
NameCheap offers a 30-day money-back guarantee for shared, reseller, and VPS hosting only. On the other hand, A2 Hosting offers a 30-day money-back guarantee for all hosting services including WordPress hosting and dedicated servers. Plus,
you can cancel your A2 subscription at any time (even after 30 days) and get a refund for the unused period.
NameCheap only offers .website domain name for free and with annual subscriptions for the first year only. A2 Hosting doesn't offer a free domain, but it sometimes offers free domain registration promotions for .com, .net, and .org. While both services offer a free SSL certificate with most of their hosting plans, NameCheap offers free SSL for free for the first year only, then the renewal rate is 50% off the second year and it renews at a standard rate for the third year.
A2 Hosting gives you the option to choose from several data center locations without paying any additional fees.
 NameCheap will charge you a small fee if you subscribe to a plan on a UK data center. On the other hand, NameCheap will migrate your website for free no matter how big, but A2 Hosting will only migrate cPanel accounts for free, or when you upgrade to higher-value plans. The winner? Even though A2 Hosting is more expensive than NameCheap, it offers more resources and a better billing policy than NameCheap – that's why it wins the pricing challenge.
2. Features
A2 Hosting Offers More Value-Added Features Than NameCheap
In this section, I'll compare A2 Hosting and NameCheap's shared hosting plans, since it's a popular choice among many users and small businesses.
A2 Hosting offers four Linux-based plans
 – StartUp, Drive, Turbo Boost, and Turbo Max. The StartUp package comes with 100 GB SSD storage, 1 hosted website, and unlimited email accounts.
NameCheap offers three plans
 – Stellar, Stellar Plus, and Stellar Business. The Stellar plan includes 20 GB SSD storage, 3 websites, and 30 email accounts. All A2 Hosting's shared hosting plans are powered by free Cloudflare CDN to increase the overall performance of your website, whereas NameCheap Cheap offers a free CDN with its managed WordPress hosting plans only. Unlike NameCheap, A2 Hosting offers free website staging tools to help you make edits on a live copy of your website before uploading. A2 Hosting also offers a powerful security pack against malware and hackers with its shared hosting plans for free (more details in the security section). See more differences between the two hosts in the following comparison table:
| | | |
| --- | --- | --- |
| | A2 Hosting | NameCheap |
| Hosting Types | Shared, WordPress hosting, VPS, reseller, dedicated servers | Shared, VPS, reseller, WordPress hosting, email hosting, dedicated servers |
| Free Domain | x | ✔ |
| Free SSL Certificate | ✔ | ✔ |
| Disk Space | 10 GB – Unlimited | 20 GB – Unlimited |
| Bandwidth | 400 GB – Unlimited | 1000 GB – Unlimited |
| Automatic Backups | Yes, with all WordPress hosting plans, but only with some shared hosting plans | ✔ |
| Control Panel | cPanel, Plesk | cPanel |
| Email Accounts | Unlimited | 30 – Unlimited |
| Free CDN | ✔ | Only with some WordPress hosting plans |
| Free Site Migration | ✔ | ✔ |
| Money-Back Guarantee | 30 days | 30 days |
The winner? A2 Hosting offers more premium hosting features inclusive with its plans as opposed to NameCheap.
3. Performance
NameCheap has Less Downtime and Faster Loading Speeds
Even though both A2 Hosting and NameCheap promise a 99.9% uptime guarantee, there have been some reported downtimes for A2 Hosting, which reached an average minimum uptime of 99.5%. On the other hand, there has been lower to no downtime reports for NameCheap and when tested, scored an average uptime of 99.92%. While NameCheap has data centers in the US and UK only, A2 Hosting delivers its services through its data center located in the US, Netherlands, and Singapore. Clearly, you would expect that A2 Hosting would have the overall faster loading speeds. To my surprise, this wasn't the case. When tested, NameCheap showed slightly faster overall loading speeds than A2 Hosting.
4. Security
A2 Hosting Offers Loads of Free Security Features
Both A2 Hosting and NameCheap offer free SSL certificates, DDoS protection, and Two-factor Authentication (2FA) as standard security features with all their services.
The remaining standard security features provided by NameCheap are Account security, and Domain Lock. Account Security includes custom security notifications, custom password recovery, and dynamic support pin numbers which protects against unauthorized access to your account. Domain Lock protects your website from identity theft and phishing attacks. On the other hand,
A2 Hosting offers a wide range of standard security features that come with all its plans.
 This includes Perpetual Security which consists of the following:
KernelCare – daily, automatic, and rebootless Kernel updates
Free HackScan
Dual Web Hosting Firewall (protection from cyber threats)
Brute-Force defense
Auto-Heal hosting protection (protects against alteration of default network configuration)
Virus scanning
In addition to the above, A2 Hosting includes Patchman Enhanced Security Tool with all its plans which is responsible for:
Out-of-date version detection
Infected file quarantine
WordPress, Joomla, and Drupal software patching
Even though NameCheap has a decent range of standard security features, it's no match for A2 hosting's wide range of free and reliable security measures, which is why A2 Hosting is the more secure option in this round.
5. Support
A2 Hosting has More Support Channels and More Knowledgeable Agents
A2 Hosting and NameCheap both have comprehensive knowledge base sections with articles and tutorials covering most major topics and are both well organized making access to information easy. If you still have any questions, both hosts have 24/7 customer support.
You can contact A2 Hosting's customer support via live chat, phone, or support ticket.
 I went for both the live chat and the support ticket. Even though it took a little time to get through to a live chat agent, once connected, the conversation flowed smoothly with hardly any pauses from the agent's end. This made me feel that the agents are quite knowledgeable. I even got a reply for the support ticket within less than an hour, which is pretty good.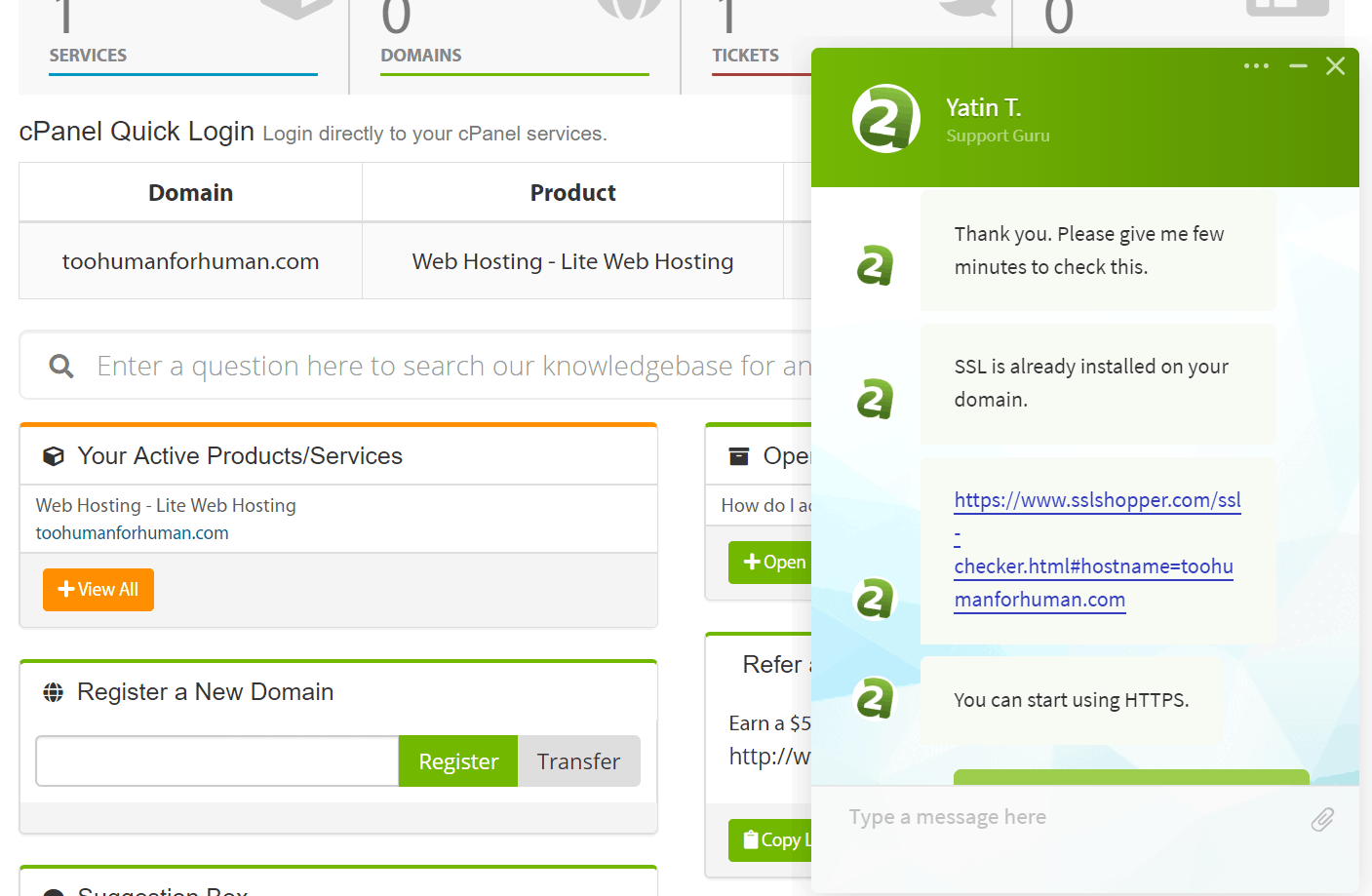 NameCheap's customer support, on the other hand, can only be contacted through live chat and support ticket, with no phone option. When I tried the live chat, I got through to an agent instantly. While answering the basic questions wasn't an issue,
when we got to the more technical questions, a slight knowledge gap appeared and the response times got longer.
 It even took more than an hour to get a reply when I submitted a support ticket.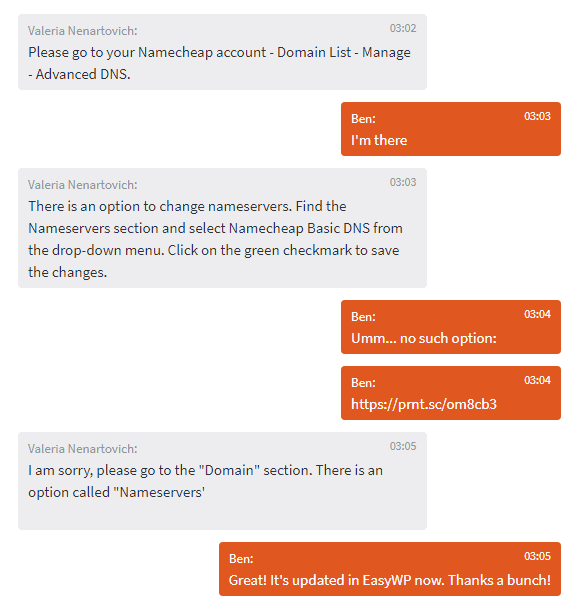 Both vendors offer reliable customer support; however, considering the value of time, I favor A2 Hosting's prompt and knowledgeable agents over NameCheap's slower assistants. This preference positions A2 Hosting as the superior vendor in terms of customer support.
A2 Hosting Scores a Clear-Cut Win
A2 Hosting and NameCheap offer an impressive range of hosting services and NameCheap has the upper hand when it comes to domain registration services. However, when it comes to web hosting, A2 Hosting has crushed NameCheap in four out of five categories. It's no surprise that A2 Hosting is recommended by our experts in
our list of the best web hosting services
.
Plans and Pricing
More expensive plans, 30-day money-back guarantee for all hosting services and get refunded any time.
Offers cheaper prices and a 30-day money-back guarantee for certain hosting services.
Key Features
Free site migration (for cPanel accounts), free website builder, and up to unlimited email accounts.
Free site builder, free (.website) domain, and up to unlimited email accounts.
Performance
99.9% uptime guarantee with some downtimes, slower loading speeds
99.9% uptime guarantee with low to no downtimes, faster loading speeds
Security
Free SSL certificate, DDoS protection, Two-factor Authentication, Perpetual Security package, Patchman Enhanced Security tool
Free SSL certificate, DDoS protection, Two-factor Authentication, Account Security, Domain Lock
Support
Knowledgebase, 24/7 support, live chat, phone, support ticket, responsive, Knowledgeable agents
Knowledgebase, 24/7 support, live chat, support ticket, less responsive, less Knowledgeable agents
FAQ
Does A2 Hosting offer WordPress hosting?
Yes. A2 Hosting offers four shared and three managed WordPress hosting plans. The managed WordPress hosting packages are packed with rich features, user-friendly tools, and powered by Turbo servers. A2 Hosting for WordPress is also featured in our list of the best managed WordPress hosting services.
Does NameCheap offer cloud hosting?
No, NameCheap doesn't offer cloud hosting plans. The closest to cloud hosting that you can choose with NameCheap is VPS hosting, although it won't be as resourceful as cloud hosting. If you need cloud hosting, check out the best cloud hosting services.
Does A2 Hosting use cPanel?
Yes. A2 Hosting uses cPanel with its shared hosting packages. All four plans come with SSD storage, high-performance SwiftServers (and Turbo servers with higher-tier plans), and free site migration.
Is A2 Hosting better than NameCheap?
Yes. While NameCheap may offer slightly better performance than A2 Hosting, A2 Hosting gives you a better value for your money, better features, better customer support, and it's more proactive about securing your website than NameCheap. A2 Hosting even made it to our list of the top web hosting services right now.