Everyone loves a good underdog story, but in this A2 Hosting vs Arvixe matchup, the bigger host is simply better. Don't get me wrong: Arvixe does put up a good fight. However, A2 Hosting has more options and features, and it's cheaper overall.
To fairly compare Arvixe and A2 Hosting, I researched and tested both hosts with an emphasis on five important aspects of their services. A2 Hosting won on almost all counts, which makes it the clear winner here.
Click here to see A2 Hosting's best plans, or read on for more information.
1. Plans and Pricing
A2 Hosting Is Cheaper Than Arvixe Across the Board
Both A2 Hosting and Arvixe offer a wide variety of services, from shared hosting to VPS to dedicated servers. But A2 Hosting is more affordable than Arvixe for most plans, and it gives you extra features for free. Hard to argue with that.
A free domain name is included with some hosting plans from Arvixe
Arvixe's Personal Class shared hosting plan includes six websites; unlimited storage, bandwidth, and email addresses; a free domain for one year; and a free website transfer. Not bad at all.
A2 Hosting has the Drive plan, which includes the same resources but with unlimited websites, instead of Arvixe's six. You get a free website transfer, but no domain registration. But here's the thing: A2 Hosting's Drive plan costs 35% less than Arvixe's Personal Class. It's even cheaper if you opt for a triennial plan.
Arvixe's prices are better only if you pay on a monthly basis. Following renewal, the two hosts' plans cost roughly the same.
If you only need one website, Arvixe doesn't give you a cheaper option. With A2 Hosting, on the other hand, you can go for the Startup plan, which includes just one website, a generous 100GB of storage, and most of the features you get with Drive.
For superior performance, Arvixe's Business Class plan is matched by A2 Hosting's Turbo Boost and Turbo Max plans, both of which are significantly cheaper than Arvixe's top-tier plan, even after renewal.
If you're looking for a managed WordPress hosting service, A2 Hosting is the only real option.
A2 Hosting WordPress Hosting
Arvixe does advertise a WordPress plan, but if you take a closer look, you'll notice that it's actually identical to Personal Class. You get the same resources but no special WordPress features. A2 Hosting's managed WordPress plans are more expensive, but they come with all the amenities you'd expect, like having WordPress preinstalled and preconfigured.
2. Support
Arvixe Won't Win Any Medals for Support, but It's Still Better Than A2 Hosting
Both Arvixe and A2 Hosting offer 24/7 customer support through live chat, email, and tickets. With A2 Hosting, you can even get in touch through phone or Skype. However, this doesn't tell you much about the quality of customer support, so I took the time to test the live chat feature for both hosts.
Unfortunately, I wasn't too impressed with either host, but especially A2 Hosting; I was disappointed to find out that the "Guru Crew" was not nearly as helpful as their name implies.
In fact, many of the answers I got from A2 Hosting's support agent were frustratingly brief. For instance, when I wanted to learn more about the kind of help I could expect from support, I got "yes" as a reply. No further details.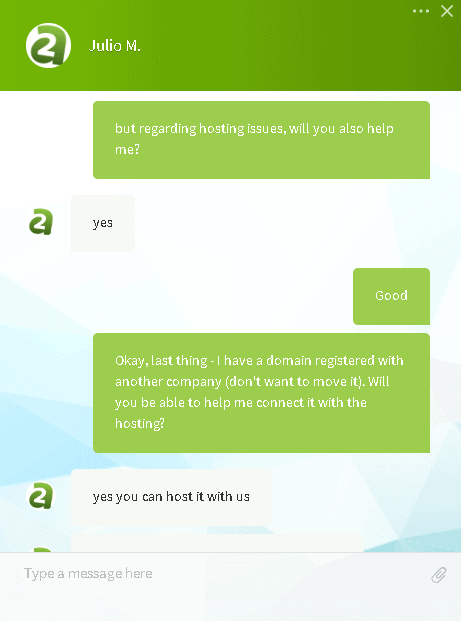 And instead of directly answering some of my questions, the agent pasted links.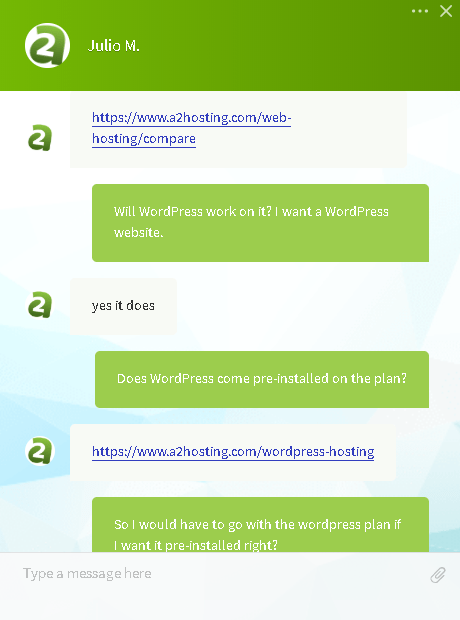 Overall, I didn't get all the information I was looking for, and the entire conversation felt dismissive. I could have accessed those pages on my own.
I didn't have a much better experience with Arvixe, but at least the support agent took the time to write more detailed answers. For instance, I got more information when I asked if customer support would help me set up my website.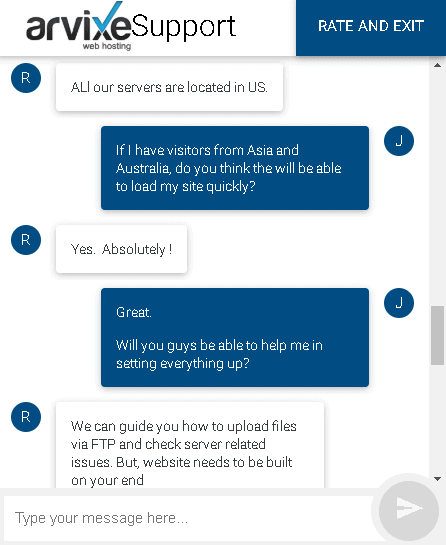 The agent gave me a nice explanation on how to install WordPress on my account using Softaculous. It wasn't perfect, but it was certainly better than what A2 Hosting's agent had to offer.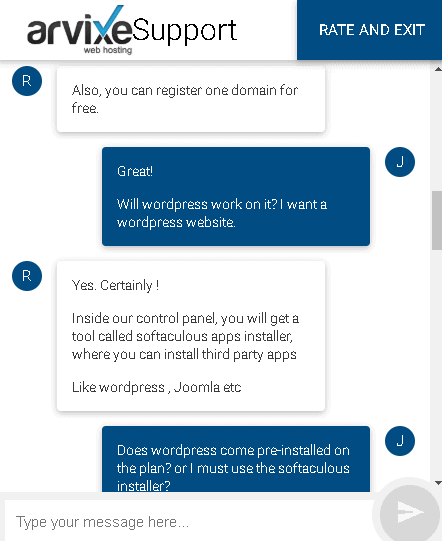 I wasn't too excited about the fact that the agent told me to discuss my domain transfer with my current registrar, rather than walking me through it himself. Still, the conversation was generally pleasant and informative.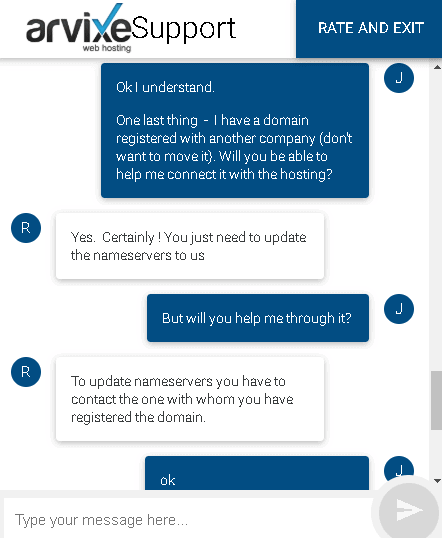 On the upside, both A2 Hosting and Arvixe have massive knowledge bases where you'll be able to find solutions for most hosting issues.
3. Features
A2 Hosting Packs More Free Features into Every Plan
At a glance, A2 Hosting and Arvixe have similar features for equivalent plans. For example, they both give you unlimited email addresses, a basic website builder, and a free website transfer on all shared hosting plans. But that's where the similarities end.
In addition to the impressive performance and security tools that I discuss in the following sections, A2 Hosting comes with WordPress preinstalled and already optimized, and the host takes care of all WordPress updates for you. With Arvixe, you can quickly set up WordPress using the one-click installer Softaculous, but you're on your own for configuration.
It's also worth noting that Arvixe only supports PHP version 5, which is over a decade old. Although it's possible to build your website using this version, you're more likely to encounter bugs and performance issues than if you use PHP 7.0 or and higher. You won't have to worry about that with A2 Hosting, which supports all the latest PHP versions.
A2 Hosting's one-click staging tool will come in handy to make risk-free changes to your website without taking it offline. The staging tool lets you create a copy of your site that you can use to test changes before they go live. Arvixe doesn't give you this option.
Another nice thing about A2 Hosting is that it's been carbon-neutral for over a decade, so if you're looking for a green host to help reduce your carbon footprint, you can't do much better than that.
As for money-back guarantees, Arvixe gives you a generous 45 days to test a plan risk-free. However, you get an even better deal with A2 Hosting, which offers an anytime money-back guarantee. If you ever decide to cancel your plan, you get a prorated refund.
To help you quickly compare the two hosts, I've put some of their features side by side in the table below:
A2 Hosting
Arvixe
Hosting Type
Shared, managed WordPress, VPS, dedicated servers, reseller
Shared, managed WordPress, VPS, dedicated servers, reseller
Free Domain
No
Yes
Free SSL Certificate
Yes
Yes, but only for Business Class
Disk Space
100GB on the Startup plan,

unlimited on all other plans

Unlimited
Bandwidth
Unmetered
Unmetered
Automatic Backups
Yes, except the Startup plan
Yes, but not guaranteed
Control Panel
cPanel
cPanel
Email Accounts
Unlimited
Unlimited
Free CDN
Yes
No
Free Site Migration
Yes
Yes
Money-Back Guarantee
Anytime
45 days
4. Performance
Both Hosts Perform Well, but A2 Hosting Is Faster and More Reliable
Both A2 Hosting and Arvixe offer SSD storage on all shared hosting and WordPress plans, which is a big plus. Solid-state drives are not only significantly faster than more traditional HDDs, but they are also more reliable and use less energy.
Arvixe's servers run on Apache technology, which is slower and less reliable than A2 Hosting's Turbo stack. If you choose the Turbo Boost or the Turbo Max plan, your website will be hosted on a LiteSpeed server with server-side caching for improved performance.
Arvixe has a single data center, and it's in Dallas (US), which can be a problem, depending on where your target audience is based. With A2 Hosting, you can choose from four data centers: two in the US (Michigan and Arizona), one in Europe (Amsterdam), and one in Asia (Singapore).
If your site has visitors from around the world, a CDN can improve your overall performance. A2 Hosting has an integrated version of Cloudflare CDN on all plans, so you can turn it on with a few clicks.
Arvixe doesn't have Cloudflare integrated into the dashboard, but it does provide a guide on how to install it yourself. It's not as convenient, but at least you don't have to configure the CDN on your own.
Both A2 Hosting and Arvixe have solid SLAs (service level agreements) with 99.9% uptime guarantees.
A2 Hosting achieved an excellent score in our performance tests. To find out more, read our expert A2 Hosting review.
Arvixe didn't do quite as well but came very close. Read more about its performance in our in-depth Arvixe review.
5. Security
Arvixe Is Missing Proper Backups and SSL Certificates
Both A2 Hosting and Arvixe offer a decent range of security tools for no extra fees. Even with an entry-level plan, you get a firewall, protection against DDoS attacks, brute force defense, and spam filtering. This is considerably more than what many other hosts offer for free.
In addition, A2 Hosting's proprietary security solution – Perpetual Security – includes a malware scanning and removal tool that can block hacks before they affect your website. If your site does get compromised, HackScan can clean up any malware for you.
Which brings me to my next point: website backups. A2 Hosting offers daily automated site backups on all plans except for the Startup. If anything goes wrong, you can restore an earlier version of your website with a couple of clicks.
Arvixe includes daily R1 soft backups on all plans, but there's a catch. In its SLA, Arvixe clearly states that you are responsible for your own backups and that the company assumes no liability if your data is lost. This is not at all reassuring and it basically means that you have to rely on manual backups to keep your website safe.
The biggest drawback with Arvixe is that SSL certificates are not included in the Personal Class plan. If you want your website to be padlock protected, you have to either buy an SSL certificate or install a free SSL certificate from Let's Encrypt, but you won't get any help from Arvixe to do so.
A2 Hosting also gives you the option to buy premium SSL certificates, but this is in addition to certificates from Let's Encrypt, which are neatly integrated into your dashboard. You just have to navigate to the right tab and activate them.
A2 Hosting Is Better and Cheaper Than Arvixe
With a clear advantage in pricing, features, performance, and security, A2 Hosting is the obvious winner in this A2 Hosting vs Arvixe comparison.
While Arvixe performs reasonably well in the US, A2 Hosting has an important edge thanks to its global servers. And if you can afford either the Turbo Boost or the Turbo Max plan, your account will be hosted on better-optimized servers with fewer neighbors – and you'll be able to tell the difference.
It's no wonder that A2 Hosting managed to snatch a spot on our list of the best web hosting services, while Arvixe didn't make the cut.
Plans and Pricing
Fairly low prices, generous resources on all plans, and plenty of features
More expensive than A2 Hosting, generous resources but fewer features
Key Features
Unlimited storage and bandwidth on most plans, free unlimited email, free website transfer, included website builder and one-click staging environment, anytime money-back guarantee
Unlimited storage and bandwidth on all plans, free domain for the first year, free website transfer, included website builder, 45-day money-back guarantee
Performance
SSD storage; Turbo servers with LiteSpeed technology; integrated CDN, data centers in the US, Europe, and Asia; 99.9% uptime guarantee
SSD storage, Apache web servers, a single US-based data center, 99.9% uptime guarantee on shared hosting
Security
Free SSL certificates, DDoS protection, dual firewall, virus scanner, hack protection, automatic backups on most plans
Paid-for SSL certificates, DDoS protection, firewall, backups are not guaranteed
Support
24/7 support via email, tickets, live chat, phone, and Skype; extensive knowledge base
24/7 support via email, tickets, and live chat; extensive knowledge base
FAQ
1. Is A2 Hosting better than Arvixe?Yes, in almost every category. A2 Hosting's shared hosting plans are overall cheaper than Arvixe and gives you better features to boot. Even on the entry-level plan, you get WordPress preinstalled and optimized, one-click staging, the latest PHP versions, an integrated version of Cloudflare CDN, and a free SSL certificate. These are just some of the reasons why A2 Hosting made it on our list of the best web hosting services, while Arvixe didn't make the cut.2. Is A2 Hosting good for WordPress hosting?A2 Hosting has some of the best managed WordPress plans in the industry. They run on Turbo servers, which host fewer accounts and ensure superior performance. Even on the 1-Site plan, WordPress is preinstalled and optimized, and WordPress updates are automatic. You also get automated website backups, a staging environment to test changes before they go live, and a Jetpack Personal license with additional performance and security features. Check our coupon page to see the best deals on WordPress hosting right now.3. Does A2 Hosting offer good performance?Excellent performance is one of A2 Hosting's biggest selling points. The provider offers SSD storage on all plans, as well as an integrated CDN and a solid 99.9% uptime guarantee. You can also choose from four global locations to host your website to ensure better loading speeds. If you can afford the Turbo Boost or Turbo Max plan, your account will be hosted on one of A2 Hosting's Turbo servers, which uses LiteSpeed technology and is better optimized for performance. We tested A2 Hosting's performance for a period of three months. To see the full results, read our in-depth A2 Hosting review.4. Who owns Arvixe?Arvixe was acquired by EIG (Endurance International Group) in 2014 and has had a rough time since. EIG owns dozens of web hosting services, including some notorious ones like Bluehost and HostGator. Unfortunately, the acquisition had a similar outcome for Arvixe as it did for other hosts. According to reviewers, Arvixe's quality of service saw a drastic decline, most likely due to EIG's overcrowded servers.