A2 Hosting is one of the older hosting companies still operating, and it banks
hard
on that reputation.
Reliability is its watchword. But how reliable is it, really?
I've thoroughly investigated A2 Hosting's VPS service: I've tested the entry-level plan, I've engaged with the support team on more than one occasion, and I've compared its prices and plan details to other top players in the industry.
Honestly – A2 Hosting is decent, but it lacks a few features.
Read on to find out what it does right, what it does wrong, and which of its competitors do things better. And hey, you might discover that A2 Hosting is right for your business. Read on to find out.
GTmetrix performance score
B
Free SSL?

✔

 (managed VPS plans only)
Uptime guarantee

99.9%

Money-back guarantee

30 days; prorated refund after 30 days

Starting price

$

2.99
Features
A2 Hosting Has a Solid Foundation, but Is Missing Some Features
FEATURES SCORE: 4.4 out of 5

A2 Hosting's feature list isn't going to surprise you – although what's missing from it might. Yeah, I'll get into that below. That said, an unsurprising list of features isn't bad, in and of itself.
You get most of the basic things you'd expect and want from a VPS host, including: DDoS protection, root access, and the ability to change your VPS's base operating system on demand.
Your OS options include CentOS 7 and 8, Ubuntu, and Debian. You can also upgrade plans whenever you want.
The cheapest (unmanaged) plan
 will get you 1 CPU core, 1GB of RAM, 150GB of SSD storage, and 2TB of bandwidth.
Pretty solid for something like a basic WordPress site. The most expensive plan will get you 8 CPU cores, 32GB of RAM, 450GB of NVMe SSD storage, and 4TB of bandwidth.
There's a 99.9% Uptime Commitment
A2 Hosting markets itself, first and foremost, on its ability to keep your server or website up and running no matter what,
barring an actual apocalypse. I personally have not tested the apocalypse conditions, but I was duly impressed by the measures being taken. These measures include:
Redundant backup power generators. Enough said.
Redundant connections to the Internet. Each data center has multiple 10GB lines. If something happens to one connection, the others are there to keep your site accessible.
24/7 network monitoring. A2 Hosting (and you) will know immediately if anything has gone really wrong.
All in all, it's an impressive setup, but it's not that much different from that of most reputable providers.
Managed VPS Plans Are Available
If you don't want to configure and maintain your own server, you can go with a managed VPS plan.
With these plans, the support team will install apps for you, keep an eye on the security of your server, update the software – just about everything. These plans aren't cheap – nor are they prohibitively expensive, mind you. And
if you don't have a full-time system administrator at your beck and call, a managed service can save you a lot of trouble.
And just because you
can
set up your own server doesn't mean that you'll want to do it every time.
You Get a Free Dedicated IP Address
This is a minor, but useful feature. Every VPS plan gets its own dedicated IP address, which can make developing an app, hosting an email server, or managing your domains a bit easier and more secure in some cases. Not every VPS host does this, so it's a nice-to-have option.
All Backups Must Be Taken Manually
This isn't so much a feature as it is a warning. There is no company-wide backup solution for A2 Hosting's VPS plans.
At all. Not only is this weird and unusual, it's a potential risk to the safety and continued operation of your online business. The workarounds (as listed in A2 Hosting's knowledge base) include backing up your sites via cPanel or WHM if you paid for that addon, and using command-line level programs like rsync to synchronize your data to another machine. This, honestly, is a bit less than ideal. I mean, most of the less-than-great hosting companies offer a backup service, even if they charge extra for it.
Ease of Use
It's Definitely Better to Know What You're Doing
EASE-OF-USE SCORE: 4.1 out of 5
A2 Hosting's VPS service is intended for professionals,
truth be told. If you're a beginner, you'll receive very little in the way of explanation. Furthermore,
the server management UI doesn't include much in the way of instruction.
It isn't
bad
, but you'll need some background knowledge of VPS hosting to get the most out of it. This is pretty standard for VPS hosting though, as it's mostly a pro-level service.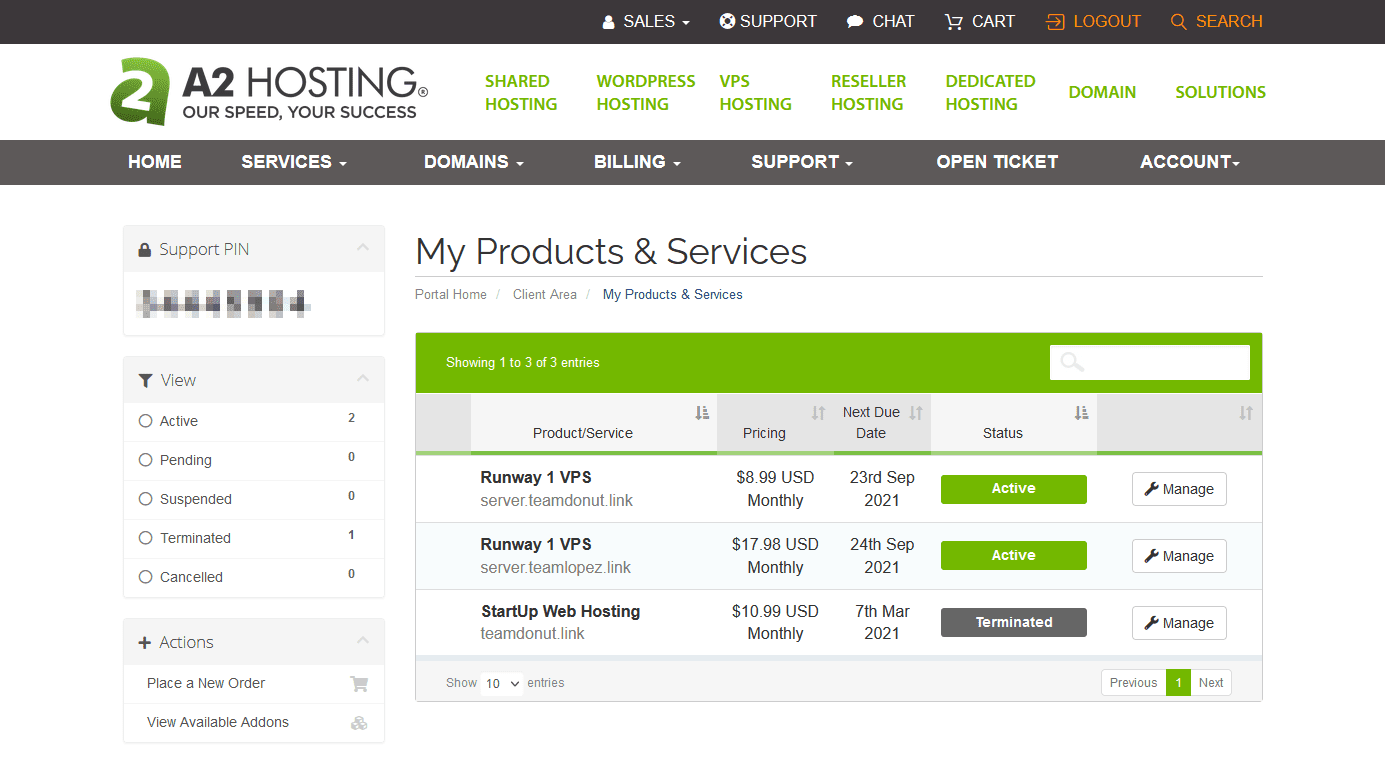 Control Your VPS with cPanel (Maybe Don't Touch Webuzo)
I can build a server from scratch if I have to, but having a control panel certainly makes my life as a reviewer a lot easier. So when I set up my VPS with A2 Hosting I started with the Webuzo control panel, because it's included for free.
But you know what? Webuzo didn't work for me.
It ran into some kind of bug during the setup process, and I had to finish setting it up myself. Then it messed up something with SSL, so I couldn't access the WordPress site I installed, and it was a whole
thing
. In the end, I broke down, canceled my VPS package with the Webuzo panel, and got a clean one with a cPanel license (which costs extra). Even that didn't completely work, as the "Site Software" feature seemed to be bugged. This means that I had to install WordPress manually. But hey, it worked in the end. I'll take it.
So yeah, if you plan to use a control panel on an A2 Hosting VPS plan, just get cPanel.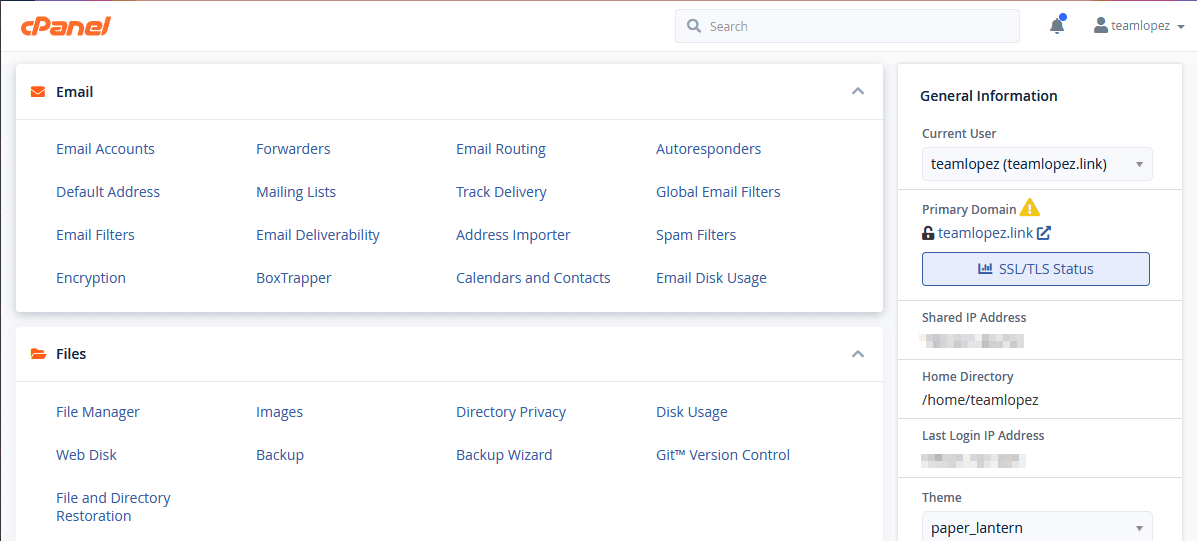 You Can Have a CMS Installed When You Buy Your VPS, Sort Of
Again, your mileage may vary, because this is another feature that didn't actually work for me. See, it's only offered when you're installing a VPS with the Webuzo control panel, and uh, well I just told you about how that didn't work out for me.
That said, when Webuzo does work, you can install any of the following right off the bat with a single click:
WordPress, Drupal, Joomla ConcreteCMS, PrestaShop, OpenCart, and Magento.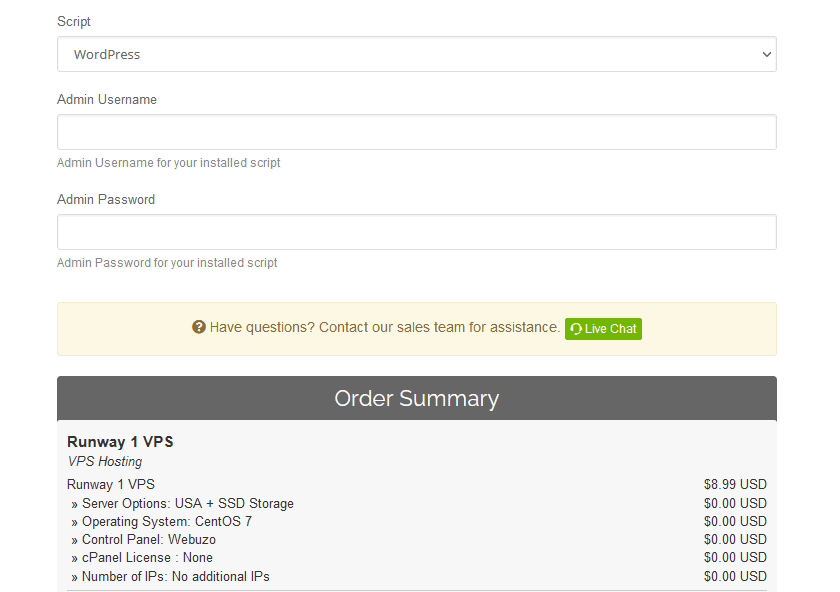 There's a Pretty Decent Knowledge Base
A2 Hosting has put some real effort into compiling a knowledge base that covers almost every aspect of its service.
There are basic guides for just about anything you might want to do. Well, there aren't many in-depth server management tutorials, but if you need to know something specific about A2 Hosting's services, check the knowledge base first. It could honestly save you a lot of time.
Performance
Server Performance Was Pretty Stable
PERFORMANCE SCORE: 4.7 out of 5
A2 Hosting has four data centers to choose from for your VPS: Arizona, Michigan, Amsterdam, or Singapore. So, you know, that covers a pretty big chunk of the world. For my test, I picked the Arizona server, as it's nearest to the testing services I use. You see, I like to try to approximate a real-world site, one that's imperfectly-optimized. So, I installed WordPress, then installed my usual fancy theme with flashy effects and uncompressed images. Then, I ran my tests, and here's what I got:
The average complete page loading time was 1.35 seconds, under the recommended maximum of 2s. Uptime was consistent at 100%.
I'll be going into some more detail on the tests below. Read on if that interests you, or
skip to the support section
if you don't enjoy the nerdy stuff as much as I do.
GTmetrix
GTmetrix is what we use to measure the complete page load time for our test sites. We run it a few times to get the average page load time you saw above.
The best load time was a very good 1.1 seconds, and the slowest was 1.6s.
That's not a huge variance in page loading speed, and while this is a good result, it is a
little
bit longer than I'd like to see on a VPS.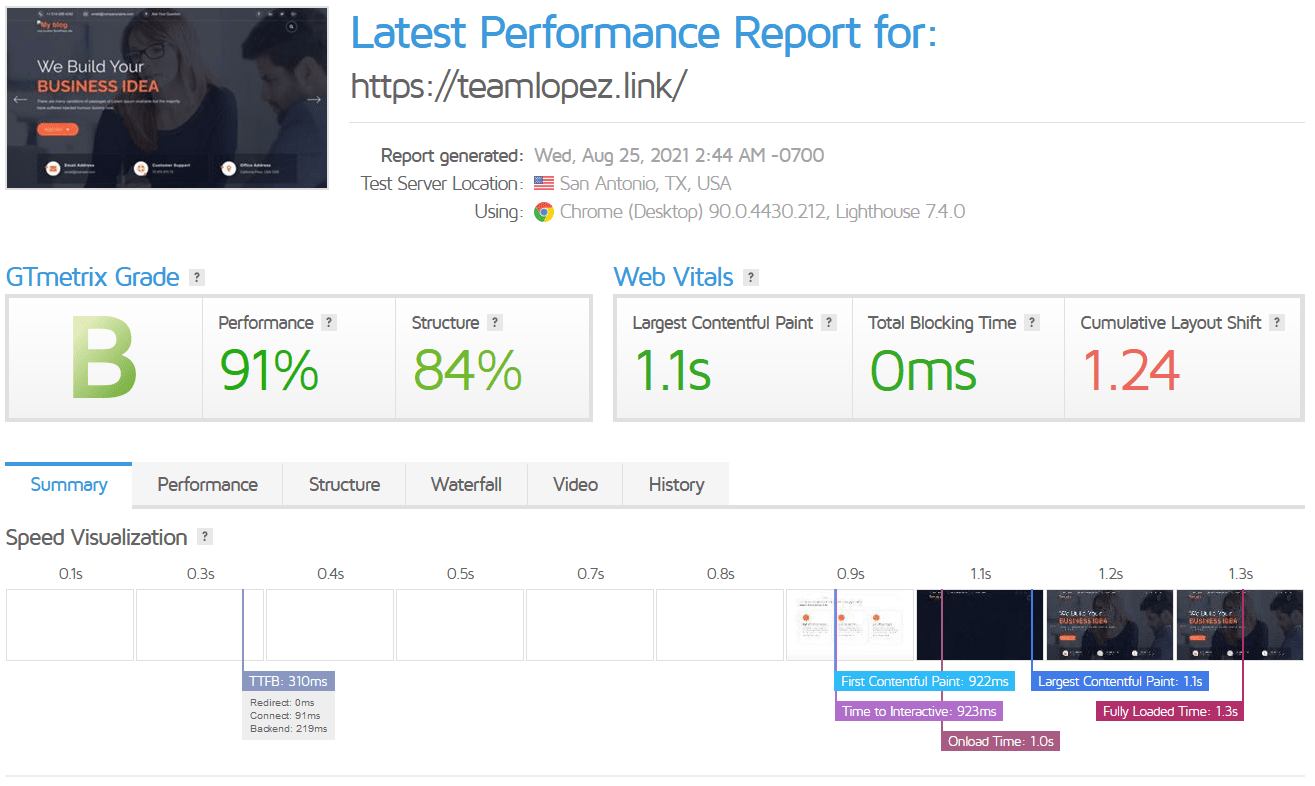 UptimeRobot
We use UptimeRobot to see how long our test sites can stay up without interruptions.
In this case, I didn't run the test for very long, but A2 Hosting's server delivered 100% uptime.
Which is obviously good. Also, the ping rate showed an… I'm going to say,
acceptable
amount of variance.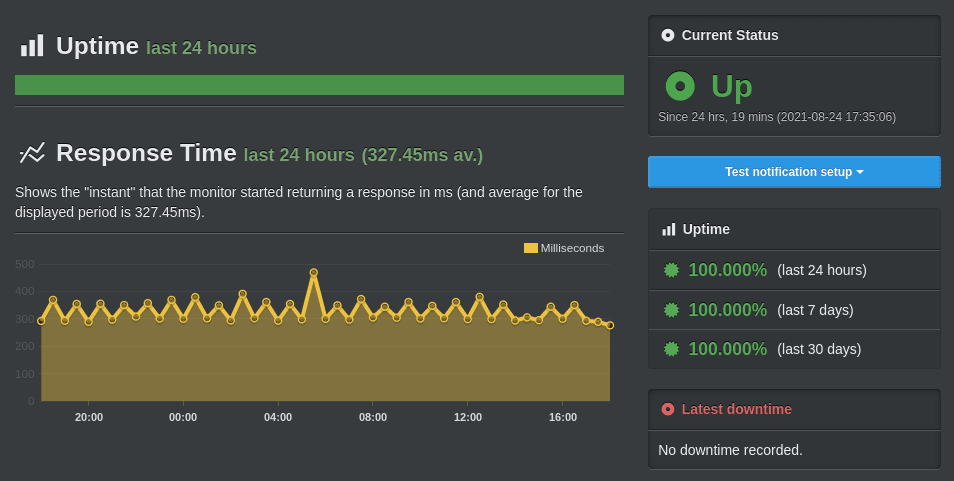 Support
The Support Team Was Prompt and Mostly Helpful
SUPPORT SCORE: 4.4 out of 5
I have to say, right now, that my problems with Webuzo were not the support teams' fault. These people were polite, helpful where they could be, and I generally had a good time with them. You can contact support in three main ways: live chat, phone, and via a ticket/email system. All support channels are available 24/7.
Live Chat
First, I tried out the live chat system. My question? "Can I install a NodeJS app to run alongside a PHP app like WordPress? Can Webuzo do that?"
I got my response in about 10 minutes, with a simple and clear answer:
nah, I'd have to install NodeJS manually.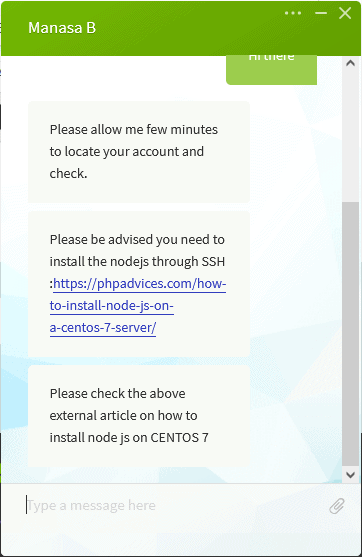 Phone
Next up, I called phone support. I wanted to ask if it was possible to move VPS hosting between A2 Hosting's various data centers.
It was 25 minutes before I reached a human being.
Having been on hold a lot longer with my bank in times past, I felt this was acceptable. Turns out it is possible.
Every migration costs money,
though. I also found out that
managed hosting covers some app installs (think WordPress, Druipal, etc).
Now, not long before this call, I realized that the Webuzo Control panel installation had gone sideways, so I asked for help with that. The agent did help me get it installed… just not, you know,
working.
To be fair, I didn't realize the extent of the problem until after I'd hung up. Otherwise, I was quite happy with my call.
Email/Ticket
I asked for help with a problem I had on the first server I purchased, the one with the Webuzo control panel. Specifically, I wanted to know if they could help me get the built-in SSL functionality sorted, because it was blocking access to my actual WordPress site.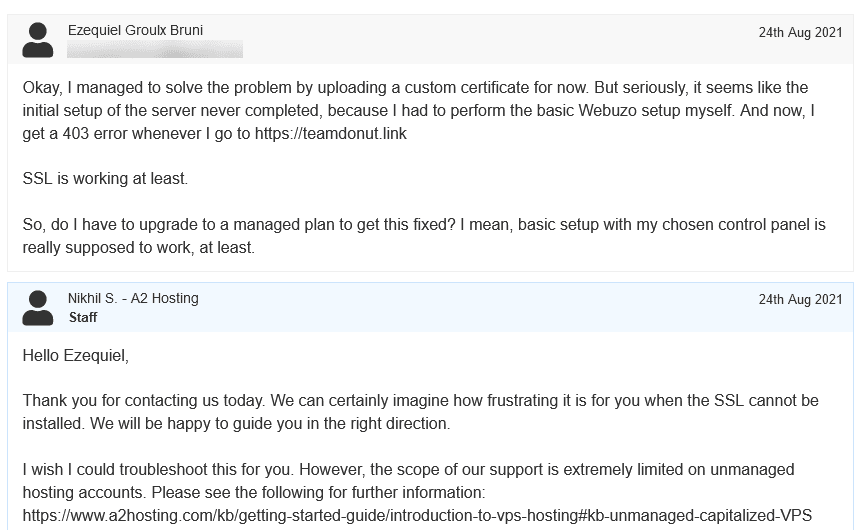 In about 6 minutes, I had a response saying that they couldn't help me unless I was on a managed plan.
A prompt, but disappointing response to be sure. This is about when I got sick of Webuzo, bought another VPS plan, and switched to cPanel.
Pricing
A2 Hosting Is Fairly Cheap for What You Get
PRICING SCORE: 4.5 out of 5
The prices are quite decent for the unmanaged plans.
You can get the entry-level unmanaged plan for as little as

$

2.99

 per month
if you pay monthly, and even less if you pay for one or more years in advance.
The cheapest plan is actually powerful enough to run a medium-sized site
for a while. You can always upgrade when you need to. The prices for the managed plans are also quite decent, and the extra help might well be worth the time you save not configuring everything yourself. You can pay for your VPS package with:
PayPal
Bank transfer
PayU Latam (in Argentina, Brazil, Colombia, Mexico, and Peru)
Skrill
UnionPay (through Stripe)
All major credit cards: Visa, Mastercard, American Express, and Discover
Check or money order
Cancellations & Refunds
You can get a full refund on any service, and any plan, for the first 30 days.
After that, you can still get a pro-rata refund for whatever time you haven't used. This is actually a pretty decent refund policy.
The Bottom Line
OVERALL SCORE: 4.4 out of 5
A2 Hosting provides decent VPS hosting plans at decent prices, with a feature set that's honestly just okay.
I was disappointed that the initial setup of a VPS could go so wrong, though I do wonder if it was a problem with Webuzo, or with A2 Hosting's implementation.
The lack of backup features could be a real deal-breaker,
though. Anyway, the bare-bones VPS plans work, as do the cPanel plans. Server performance is acceptable, and something close to stable. But honestly? You could get the same service or better from
InterServer
or
GreenGeeks
, depending on what you need.
FAQ
Do I need VPS hosting?
That depends on whether you want to build a site with complex functionality, or if you anticipate your site will get heavy traffic, or some combination of both. Do you value server stability above all else? Do you want room to expand your online operations? Do you need to customize your hosting setup extensively? Then yeah, a VPS hosting plan is a pretty good foundation for all of the above. For a smaller business site, there are plenty of shared hosting options that are more user- and budget-friendly. It all depends on how big you expect your online operations to be. If you decide VPS hosting isn't for you, have a look at our list of the best hosting providers for 2023 to find less expensive types of hosting options.
Does A2 Hosting have managed VPS hosting?
Yes it does! It costs a lot more than the unmanaged hosting, of course, but the prices are competitive, and comparable to other great managed VPS services like GreenGeeks. The peace of mind you get from having someone else manage your server is usually worth the price. And frankly, if you want the support team to do more than send you to some guides and tutorials (in the admittedly useful knowledge base), then you'll really want to shell out for the managed plans.
Is A2 Hosting's VPS service worth it?
My personal frustrations aside (see article above), I think it can be, depending on what you need. If you don't mind configuring everything yourself from scratch, A2 Hosting's servers will do just fine. cPanel also works well if you want to use a hosting dashboard. However, you may want to check out some other options on our list of the best VPS hosts for 2023. A2 Hosting made this list alongside several other solid hosting providers.
Why is VPS hosting so expensive?
Because, generally speaking, it's more expensive for companies to provide. A shared hosting server that has tons of websites on it is, in theory, easier to manage. You update the server's software once, and every customer's software is updated. You apply one security patch to the server, and every website on it becomes more secure. Also, individual VPS instances take up more dedicated storage space, more processing power, and more of the computer's resources in general than the kinds of small individual websites you'll find on a shared server. The tradeoff, of course, is that shared hosting tends to be a bit less stable. And if one website gets hacked or hit with a ton of traffic, the rest can be affected. That's less of a problem with VPS hosting. Besides, VPS hosting can be cheap, too. You can get great entry-level pricing from Hostinger, and great long-term pricing from InterServer. But if you want to find even better prices, check out our coupon page with the latest web hosting deals for 2023.