Overview
An Effective & Simple Way to Professional Looking Websites
If you are on the lookout for a website builder that can help kick-start your business online, then Squarespace.com has all the tools and features available to give you a sleek and professional website. The beauty of using Squarespace is that you don't need to be a seasoned coder, you can be the most basic of users and still get a cutting edge site by making the most of its user-friendly tools such as the Drag-and-Drop feature which allows you to easily drag in any images or videos to your sites layout.
Squarespace also offer a 14-day free trial which will allow you to really delve deep into the what they offer, to see if it's right for you.
Why choose SquareSpace?

Professional and Elegant Websites with visual impacting designs
All-in-One Platform – Pages, Blog and Galleries
14-day Free Trial
Sound good? Let's see if SquareSpace is just what you need ….
Templates & Designs
SquareSpace templates are intricacy of design and professional appearance.
Template Selection – Currently their SaaS-based CMS only offers 20 templates but the design and layout of each one is beyond belief. Each looks and performs like a work of art offering a visual display of colors, images and patterns. These static templates are so appealing and stunning that you forget about anything else. Here's what a few look like:
Customization – The possibilities are limited only by your imagination. SquareSpace is completely customizable and can be changed easily over and over again. The blog and galleries platforms are filled with cutting-edge tools that allow you to create a myriad of designs and images with ease.
Multimedia – The ability to change, enhance and alter your photos and images was never easier. The integration of importing from web-based sites, sending out publishing to all your social media contacts, and easy access share buttons enable you and your readers to get the word out fast!
Check Out SquareSpace's Beautiful Website Templates
Visit Site
Features
Great Features To Boost Your Business/Personal Website
Social Media Integration
You can easily make your website the center of your online identity and social life. Import, sync and publish to Twitter, Facebook, Instagram, Pinterest, LinkedIn, Google+ and more.
Widgets + Apps
Create and add any widgets you like. It's all right there under Domain setup and Website Structure. The apps are just as many creating a powerful network of tools to add to your site.
SEO Friendly
all websites have clean article links, proper tagging and valid XHTML code.
E-commerce/Online Store
There is no embedded shopping cart feature, but you can easily embed payment buttons like PayPal.
Mobile
– Each template includes a unique mobile design. There are apps for iPad, iPhone and Android allowing you to handle all your content management and access website statistics wherever you are.
Monetization
Google AdSense is supported as well as other Pay-Per-Click programs like Google AdWords and Overture. Pay-Per-Impression programs (banner ads) are also supported.
Custom Domain + Email
You can use your own, purchase one through SquareSpace or even get a free one when you choose a 1 or 2 year subscription plan. No email hosting.
Templates
They are static but highly changeable and visually appealing.
Visitor Statistics
Real time statistics for viewer information and response.
Visit Site
User Friendly
It Doesn't Really Get Any Easier Than That...
Although navigation may seem overwhelming at first, the dashboard and layout of the design system for SquareSpace is very easy to learn and utilize to its full potential. Your ability or skill at web design is not required, only your imagination and written voice.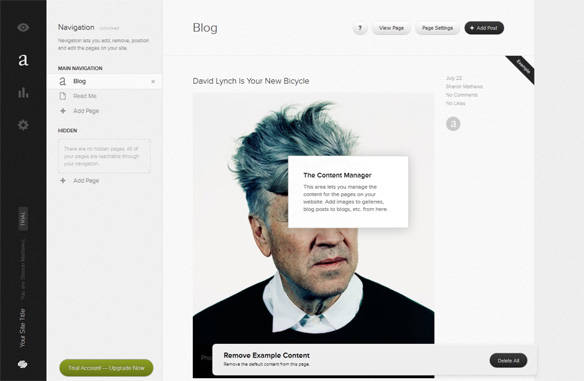 The templates are easy to set up and you can quickly change from one to another and preview the site before making it permanent. SquareSpace uses drop-down menus to facilitate all the design implementations thus making it a joy to operate.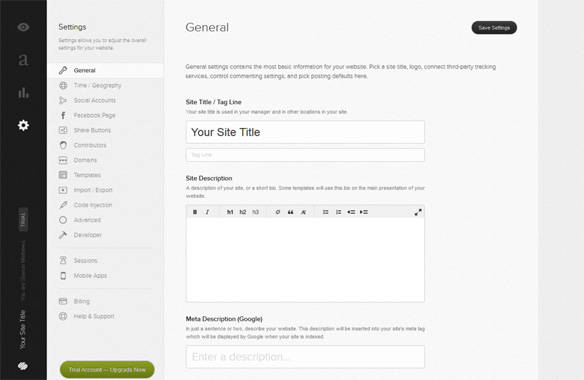 The ability to change the look or content or images without altering or destroying the overall form and layout is attributed to SquareSpace's Layout engine Technology which keeps the page, content and images in perfect sync all the time. No more spending hours on end trying to move that picture to the point you want only to have it disappear or jump back to its original location.
Visit Site
Pricing
So How Much Does It Cost To Build Your Own Website?
Yes, there is a charge eventually for their services. However the pricing structure is pretty good and the value for the price is great.
Your Own Domain
Premium support
Google Analytics
Shopping Cart
The prices are taken from squarespace.com
Visit Site
Support
SquareSpace Supports You All The Way!
Email Support
Video Tutorials
Forum
Support Center
SEO Help
Blog
Phone Support
Workshops
Live Chat
The support at SquareSpace is superb with 24/7 availability and remarkably fast response time making this another one of their strong points. Their support staff is extremely well gifted and knowledgeable on the product and can quickly guide you through any issues or problems that might arise. Their site offers a wide array of video tutorials as well as having uploaded many of them on Youtube.com.
Visit Site
Summary
Pros

Cons

Professional High Quality Designs
Ease of use
Great for anyone
Tons of Widgets & Apps
Advertisement-free
Complete mobile integration
14-day Free trial
Custom Domain Name availability

Only 20 Templates
No Embedded Shopping Cart
No Email Hosting
If you are interested in a visually stimulating experience for viewers of your website or blog then you won't go wrong with SquareSpace.com. Your website, blog and galleries will dazzle and shine brighter and easily attract more and more visitors.
Like SquareSpace Review? Click here to build your website for free.
Visit Site
Did you try
Squarespace

? Write a review
Squarespace doesn't suit your needs?
Check the Highest Rated Website Builders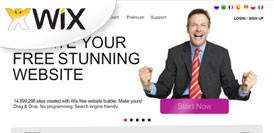 Wix Review Score: 9.8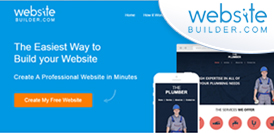 WebsiteBuilder.Com Review Score: 9.3


Web.com Review Score: 8.9