Agency-Level Support at Do-It-Yourself Prices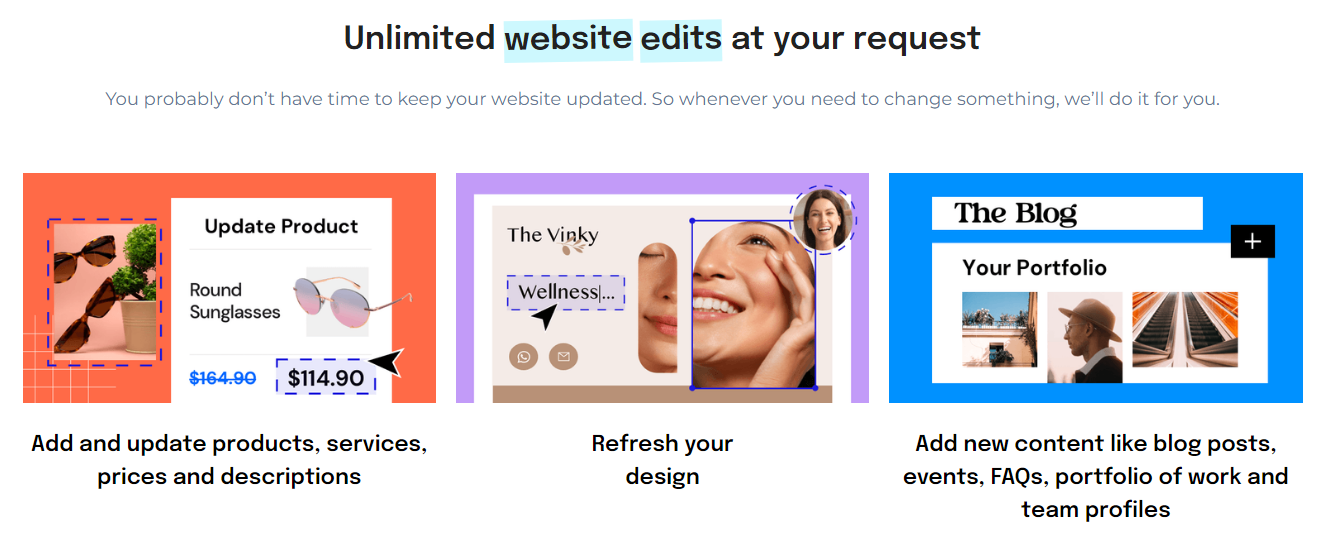 UENI will build a custom website for your business in 7 days – and, depending on your plan, you'll be able to request as many edits to your website as you need.
If you need to make any urgent edits (or you're not paying for the concierge service), you'll be able to use UENI's beginner-friendly editor to manage your website yourself. You won't get the same extensive set of features you get from a fully-featured DIY builder like Wix, but you'll get enough tools to make basic changes and content updates.
So, is UENI's done-for-you website solution the right choice for your business? Let's take a closer look.
Features and Ease of Use
The thing that sets UENI apart from other website builders is its built-for-you service. When you sign up for a UENI account, you'll only need to complete a simple questionnaire about your business, website needs, and design preferences. From there, UENI's team of professional designers and developers will build you a custom website within 7 days. UENI will also set up a Google My Business account for you and, if you're on the Plus plan or above, additional business listings across 25+ platforms including Apple Maps and Facebook.
No matter which plan you choose, you'll get a one-to-one consultation with a web design expert to teach you how to use the editor and maintain your website. On top of that, the Growth plan includes monthly one-to-one calls to help you to continually optimize your business's online presence. Given that DIY website builders leave you to manage your website on your own – unless you can afford a costly enterprise-level plan – UNEI's growth plan is a great option for first-time business owners.
Another plus is that all UENI websites are hosted on Amazon's super-fast servers, so your visitors won't be stuck with lengthy loading times. Optimizing your loading speed is one of the best ways to improve your search engine optimization (SEO), so it's great to see this included in every plan.
If you need to tweak your site's design once it's been built, you can either do this yourself or, depending on your plan, request edits to be made for you. UENI's website editor isn't the most advanced I've seen, but it's intuitive and easy to use, making it ideal for beginners. You'll be able to choose between 8 templates (or themes) to change your site's overall look. You'll also get access to some limited customization options and basic website features like blogs, social media feeds, and checkout pages.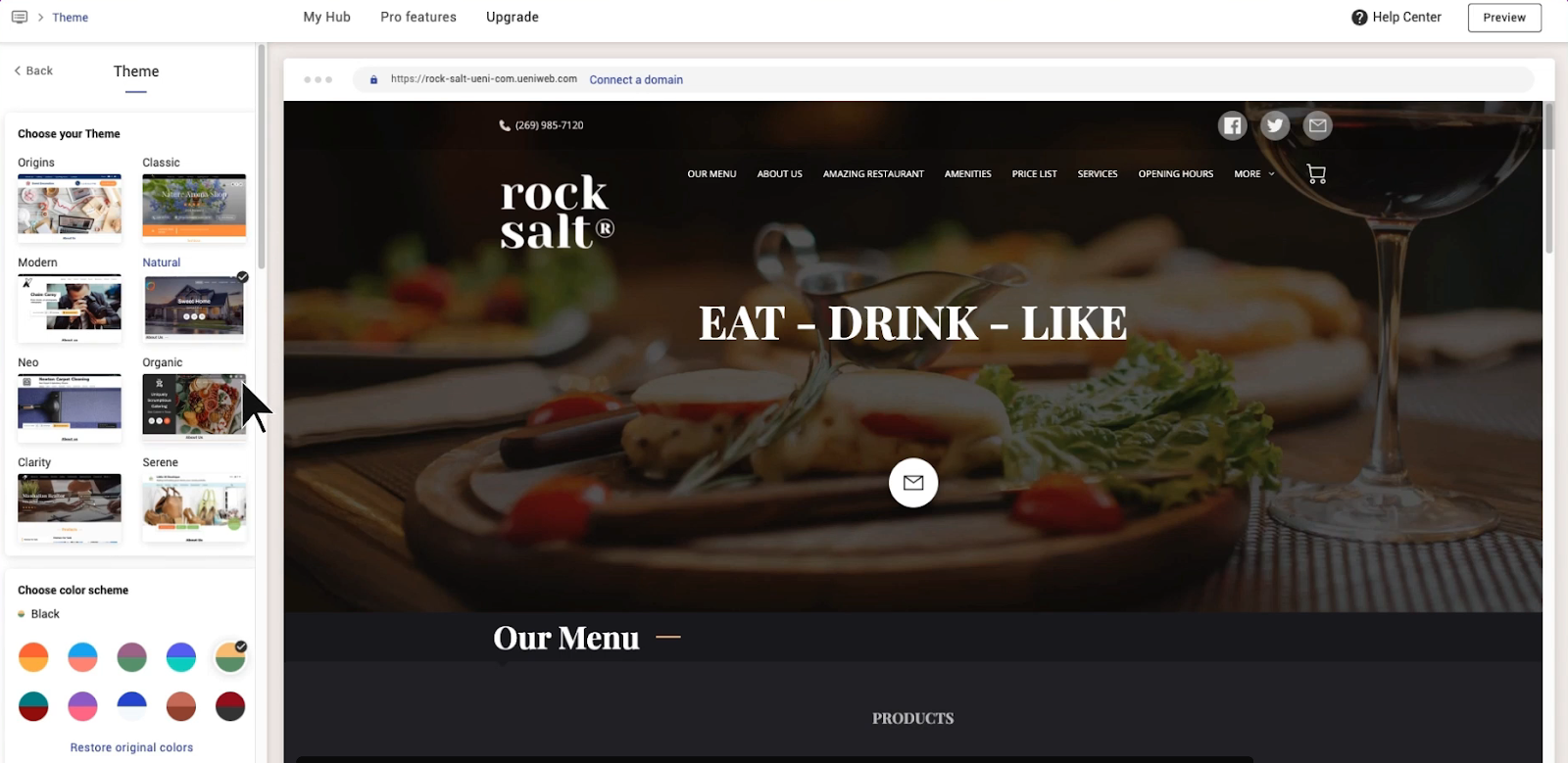 It's clear that UNEI expects you to be using its concierge service instead of doing it yourself. While you'll get a great website from the get-go, the DIY features are unfortunately lacking. It's not so bad if you have a portfolio website that only requires the occasional edit, but if you run an e-commerce business or anything that requires integrations, you'll be much more limited.
If you want access to vastly more customization options, payment methods, and third-party integrations (including dropshipping support), you can get all this and more for a similar price with Wix.
Pricing and Support
UENI's cost model is pretty easy to understand. You can pick from three yearly plans or a single payment of $199.00 with the Lifetime Deal. The Lifetime Deal works well for new businesses looking to cut down costs. Sadly, they don't offer a no-cost trial, but you can take advantage of the 30-day money-back guarantee to test the service without any risk.
If you need help maintaining your website, you'll want to go with the Plus or Growth plan. The Plus plan costs $349.00/year, which is a typical price for a mid-tier website builder plan, and you'll be able to request an unlimited number of edits to your website. On top of this, the Growth plan ($499.00/year) also comes with a customized marketing plan, one-to-one training calls, and a dedicated account manager. Both of these plans offer a lot more value than the Basic plan, which in my opinion is too limited to be worth considering.
While these plans seem to offer a good deal, bear in mind you'll have to pay a $199.00 setup fee regardless of the plan you choose. That's not to say it isn't good value – after all, it covers having a complete website made for you, and it still works out cheaper than hiring a freelancer yourself. But it's also not the most budget-friendly option out there.
Compared to many of the top DIY website builders, UENI's customer support options are fairly limited. It offers support via email, ticket, and live chat, but none of these are available 24/7. Depending on your plan, you can expect an answer anywhere within 2 working days. If you need support outside of standard working hours, you'll need to use the knowledge base, which is at least pretty comprehensive.

When I reached out to UENI's customer support, they replied to my email within 12 hours. Although the response I received wasn't terrible, it seemed like they were more focused on persuading me to sign up rather than helping me determine if UENI was the right choice for my needs.