Introduction

ZZZ.com.ua started its journey in 2005 as ABC Hosting Ltd. The company started its partnership with LeaseWeb in 2009 and uses its Amsterdam-based datacenter. You can get free and paid shared hosting services, VPS, dedicated servers, domain registration, and SSL certificates along with web design and development services from ZZZ.com.ua. The company's international team provides services across several countries including Ukraine, Russia, Poland, and the Arab nations. As of 2016, ZZZ.com.ua had served 600,000+ users. Its website supports Russian, Ukrainian, and English
Features and Ease of Use
ZZZ.com.ua offers 3 shared hosting plans including a free plan for a year from the date of account registration though it comes with certain feature restrictions. The company also offers 3 VPS plans and 2 dedicated servers. With the two paid shared hosting plans (PRO and VIP), you'll get
99.9% uptime guarantee
1GB-unlimited disk space
1 GB/s bandwidth
5 GB/month-unlimited transfer
1-unlimited email accounts
Support for different versions of PHP (v5.5-7.1)
phpMyAdmin and MySQL
Anti-spam, antivirus, and DDoS protection
These plans offer free domains with extensions .zzz.com.ua, adr.com.ua, and kl.com.ua, which are available for all types of accounts. While Pro account owners can register 10 domains, those with VIP accounts can register unlimited domains.
With the use of SSDs, these plans offer enhanced data security together with faster hosting speeds. These two plans even let you opt for multiple paid upgrades for additional disk space, transfer, email accounts, FTP accounts, etc. along with website maintenance, IT services (to enhance data safety, solve problems with apps, etc.), and virus removal.
On the company's VPS server, you can create DNS server, MasterNode hosting, SHOUTcast server, IRC client, VPN server, proxy server, or even voice/streaming server. With root access, you'll also be able to control your VPS server resources completely.
Pricing and Support
Paid shared hosting plans of ZZZ.com.ua are cheap. Though the prices of these plans are shown in UAH (Ukrainian Hryvnia), the company's "Terms of Service" page mentions that payments can be done only in Polish Zloty (PLN). ZZZ.com.ua mentions traditional bank transfer, internet banking, PayPal, Paymentwall, and SMS payment method (available for all Polish mobile operators like Plus, Orange, Play, and T-Mobile) as the accepted modes of payment. However, I found the only available options to be PayPal, Paymentwall, and InterKassa as you can see in the screenshot below. Available billing periods are from monthly to annual for the Pro plan and annual, sesquiennial (18-month period), biennial, and triennial for the VIP plan.

As far as I can see, ZZZ.com.ua doesn't offer any money-back guarantee on its hosting plans.
You can reach the company's customer support via an online form (if you're a guest) or through your logged-in customer panel (if you're a registered user). Phone, email, and Facebook Messenger are other options to reach ZZZ.com.ua's support (you'll find the details on its Facebook page). I sent an email to seek answers to some generic questions and got a reply after more than five hours.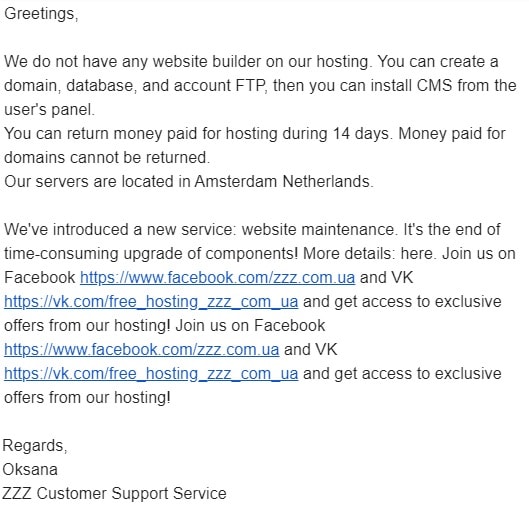 If you need self-help, you can check the company's Help section that has an FAQ section and several tutorials and helpful articles related to its main services, popular CMSes, and troubleshooting. You may even head to ZZZ.com.ua's forum where you'll find answers to several questions posted by users.