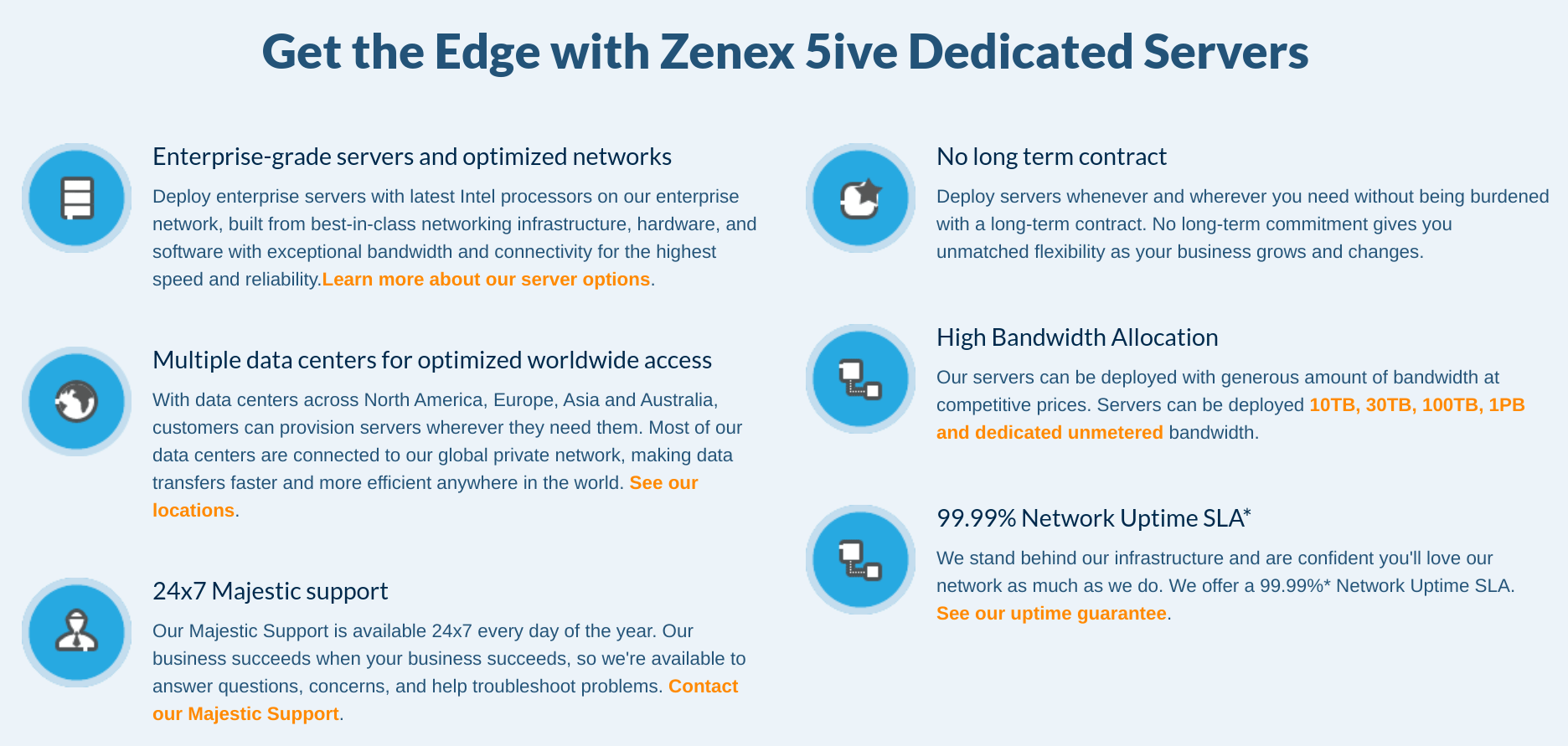 To compare the best web hosts, we hosted the same WordPress website on each one and tested performance, customer service, and value for money.
Check out the results here.
Since it started operating in 2007, Zenex 5ive has offered competitive web solutions to a wide range of businesses, backed by world-class 24/7 support. Whether you want enterprise-grade dedicated servers, server management, server monitoring, or backup solutions, you can get it all here, and cloud services are coming soon.
Zenex 5ive addresses its global client base from an English-language website.
Features and Ease of Use
Zenex 5ive offers an extensive range of dedicated servers (also called bare metal servers) across five continents to meet the needs of different businesses with different budgets. Its enterprise-grade servers come equipped with the latest Intel processors and are deployed on its enterprise network that boasts the best-in-class software, hardware, and networking infrastructure to ensure outstanding connectivity and bandwidth with the highest speed and reliability. Some of the notable features of Zenex 5ive's dedicated servers are:
10 TB to unmetered dedicated bandwidth
1 x dual-core to 2 x dodeca-core processor
2 GB to 128 GB RAM
250 GB SATA to 1 TB SSD drive
If you don't find the specifications or upgrades you need, you can request a custom configuration.
Some of the servers are virtualization-ready and IPMI/KVM-ready, and some use hardware RAID for resilience. And since most of the company's data centers are linked to its global private network, you get faster and more efficient data transfers anywhere in the world. The SLA-backed 99.99% network uptime guarantee pays back 3% to 50% credit, subject to certain conditions.
As the company enables you to deploy servers on-demand, you can experience unmatched flexibility as your business evolves and expands, all without being tied down by a fixed long-term contract.
Pricing and Support
Zenex 5ive's dedicated server plans are competitively priced, and you can pay for them monthly in U.S. dollars via PayPal or credit/debit card. There is no money-back guarantee as far as I know, but this is not unusual for a dedicated server provider.
24/7 support can be accessed by telephone, ticket (existing customers), live chat, or online form. Although the support promises a lot, it failed to deliver for me as a pre-sales prospect customer. The live chat was unavailable when I wanted to try it, and my offline message went unanswered. Although the support page mentions a knowledge base, this seems to be inaccessible, so maybe it's only available to signed-up customers.