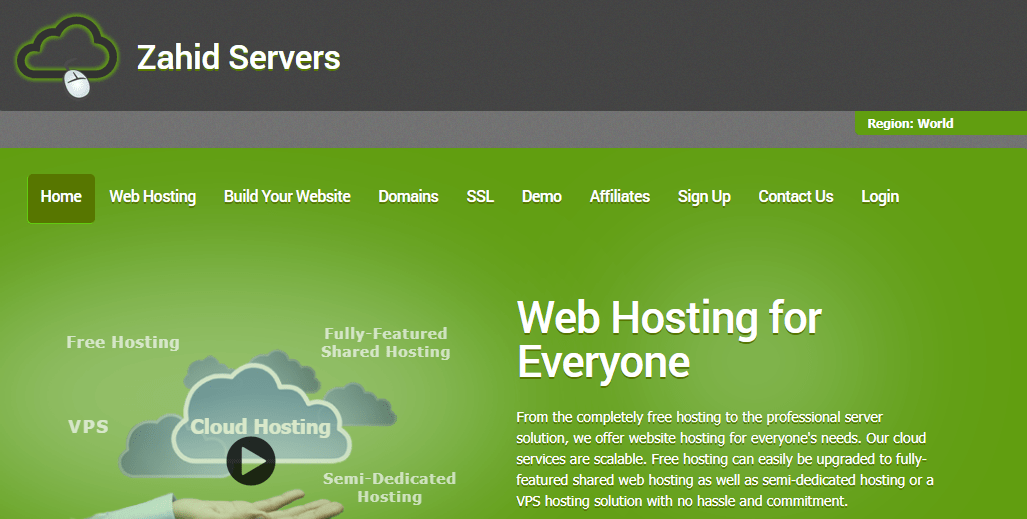 Zahid Servers offers shared hosting, semi-dedicated hosting, VPS hosting, domain registration, and SSL certificates. It has over 500,000 websites hosted on its servers. These servers are housed in a data center in Germany and its website is in English.
Features and Ease of Use
With Zahid Servers' shared hosting service, users have an option to choose between two plans; the Personal Hosting Plan and the Business Hosting Plan. With both of these, you will enjoy the following:
99.9% uptime guarantee
Daily automatic backups
Unlimited disk space
Unlimited bandwidth
Free SSL certificate
From two to unlimited add-on domains
Its servers run on Linux Debian and support PHP, Perl, Python, CGI, and Ruby programming languages. It also uses a type of emulation, called MonoDevelop, for ASP.NET functionality. As you develop your dynamic website, you'll need databases. Zahid Servers offers both MySQL and PostgreSQL databases coupled with phpMyAdmin and phpPgAdmin tools.
Zahid Servers uses the Apache webserver, which is quite stable. Also, its shared hosting is boosted with RAID on its servers. This improves server efficiency and reliability.
The company also offers a "custom-built control panel", which is no different from many other panels out there. You can customize each section in the control panel to set up your dashboard for easy control over your account.
In the control panel, there's the Zacky website builder and Zacky App installer tools. With the website builder, you can click on any of its numerous themes and customize it to create your own website, while the App installer gives you access to numerous scripts like WordPress and Joomla that can be installed with just a click.
An advanced feature Zahid Servers offers is SSH access, which isn't provided by many shared hosting companies. However, it is only enabled on the business plan.
All plans come with SpamAssassin and ClamAV that scan your email account in order to detect and remove spam and viruses.
Pricing and Support
Zahid Servers' initial fee for both plans is cheap, however, it employs a tactic to draw customers in through those rates. By the time you are renewing, you'll be paying twice the initial fees.
It offers billing cycles for three months, six months, one year, two years, three years, four years, and five years. For most people, three months and a year are enough. On the annual cycle and above, its Personal plan comes with free domain registration for one year only, while the business plan has a lifetime free domain registration.
This hosting provider also offers completely free hosting for an unlimited period. All you have to pay for is your domain name. However, this might not be enough to test your website (depending on how heavy it is). There's no free trial on the paid plans, but they come with a 30-day money-back guarantee window. You can pay through PayPal, WorldPay, and bank transfer.
I used the live chat platform and the agent available was nice and professional. You can also get through to its customer support through the contact form, live chat, phone number, ticketing system, and frequently asked questions with tutorials.