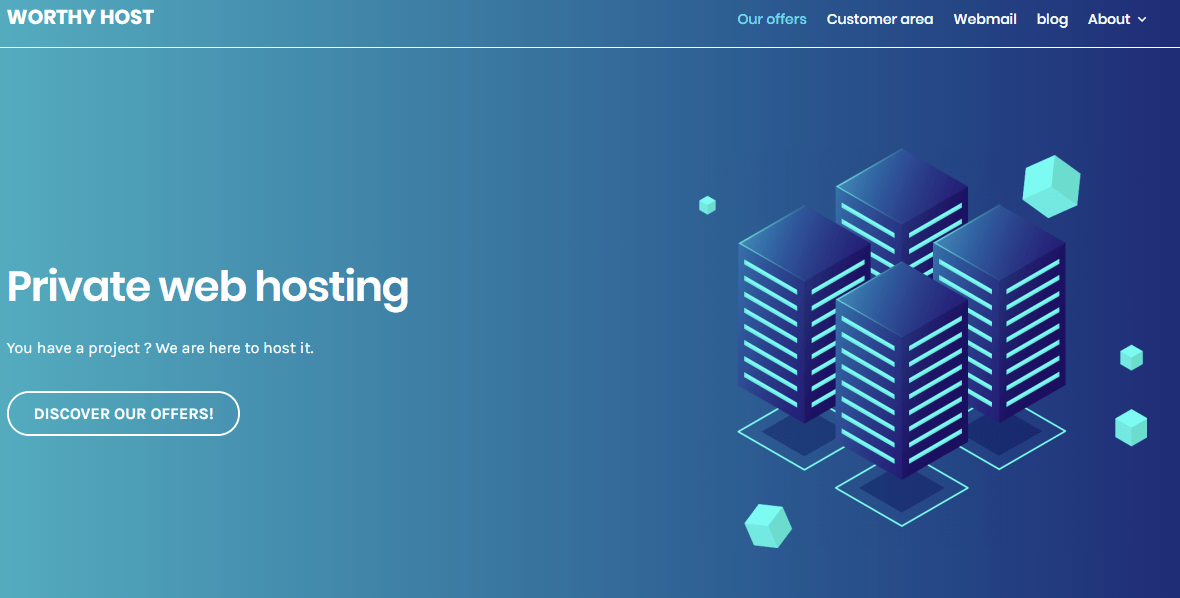 WORTHY HOST is a web hosting company that only offers shared servers. If you need better security than you can get on Virtual Private Servers (VPS) or cloud hosting, you won't get that here. This company doesn't also provide domain registration services like most web hosting companies.
Its website is only available in French.
Features and Ease of Use
WORTHY HOST offers three shared hosting plans with varying features. Shared hosting customers get to enjoy the following features:
Automatic backups
Free SSL
One, five, or ten websites on one plan
Anywhere from 10GB to 200GB storage space
If you're a freelancer or you don't have an employees in your business, you can take the Personal Offer (base plan) and not have to bother about purchasing an email address from another provider. Slightly bigger businesses can take either the Premium or Business offer with 10 and 20 email addresses respectively. Medium-sized organizations and above will find this too small, though.
The storage space is ample and even digital product E-commerce stores will be able to run on what's offered.
The vendor provides dedicated IP addresses on the top two plans, which has a lot of benefits. For example, you can view your website faster during periods of high traffic. Also, you might want to finish developing your website before pointing it to your domain, and you can use your IP address for that. It's also beneficial for online stores that don't use their own gateways as well as for email reputation.
You can connect to your server through secured shell if you're on any one of the top two plans, though SSH isn't allowed on the base plan. Another thing that is restricted is cron jobs. While you can't create any on the base plan, you can create five or ten on the other plans.
WORTHY HOST provides Softaculous applications installer for beginners who don't understand how to create or manage databases and want to handle hosting and website development by themselves. With it, you can install more than 300 web applications, including WordPress.
Pricing and Support
WORTHY HOST offers low-cost hosting. Its prices are one of the lowest in the industry for the features offered.
Even with that, it provides a free SSL certificate. You don't want your visitors to get a notification that your website isn't secure, which can increase your bounce rate. So, this free certificate is a great perk because it's a necessary feature that you don't have to spend additional money to purchase.
WORTHY HOST offers hosting for a fixed subscription period of one year and does not provide month-to-month hosting. If you are not satisfied with their service, they do honor refund requests, but you must request the refund within 14 days of paying for a plan.
Purchasing a hosting plan isn't straightforward. Unlike most other companies that have cart and checkout pages so that you can pay immediately, this one uses a long process. You'll have to fill a form on its website and then a sales agent will confirm your order based on the form and send you a payment page where you can either use PayPal or your credit/debit card to pay.
Customer support is another part of this web host that I was not impressed with. The support agents are only available through email. There's no live chat, phone, or ticket support, nor is there a knowledge base. I sent an email but never got a reply, even more than three weeks later.
Its blog section might help you solve a few hosting issues.