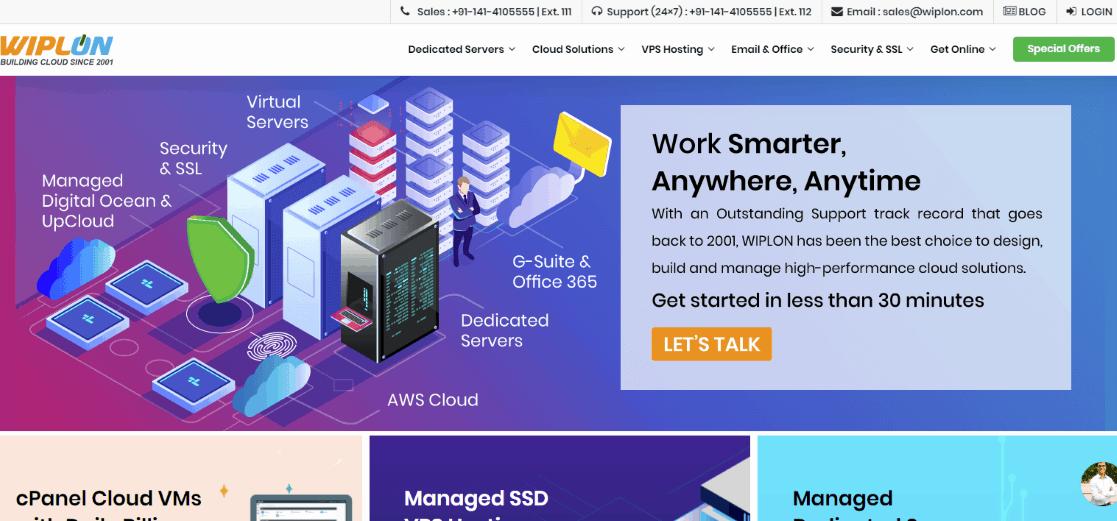 WIPLON is a product of WIPL, a cloud-based hosting company that was created in 2001. It's located in India and its servers are located in data centers in the United States, the United Kingdom, the Netherlands, Germany, Singapore, and India.
It has served over 46,000 customers and provides web hosting, domain registration, VPS, CDN solutions, dedicated servers, and more. Its website is in English only.
Features and Ease of Use
WIPLON offers various plans under its different service categories to suit different people, businesses, and needs. If your needs exceed what a shared server can provide, maybe you need the complete privacy or better security of a VPS or dedicated server, or the speed and reliability of cloud servers,which it has available.
Small to medium websites can take shared hosting plans. If you're in that category but you want to use WordPress, there are WordPress plans as well.
Shared hosting customers enjoy the following features and benefits:
99.5% Server Uptime & 99.9% Network Uptime
Periodic automatic backups
Free SSL certificate
One, two, or 15 websites on one hosting account
10GB, 50GB, or 100GB storage space
It has plans for a Linux operating system and Windows operating system. If you're looking to use ASP.Net, go for Windows, otherwise, Linux OS plans should do. For servers, there's anti-DDoS to keep you safe.
This company provides features that enhance website loading time, one of which is built-in page caching. Caching content helps accelerate how fast your website is served to visitors after their first visit.
It also provides JavaScript and CSS compression. Design codes like JavaScript are one of the biggest reasons (aside from media files) for slow loading time. When they are compressed, your website will load much faster.
As it provides support for a plethora of programming scripts like Python, PHP, and ASP.Net, it was really important for me to see what it has for beginners. WIPLON didn't disappoint. It provides Softaculous for easy installation of web applications. Installing CMSes takes only two clicks and less setting up of setting and databases than when done manually.
There's also a website builder with hundreds of website design templates so that you can design your simple company website in a short time and without needing the help of a developer. All hosting features are managed on cPanel.
Pricing and Support
WIPLON offers three pricing plans each in the Linux and Windows hosting categories. There are also the WordPress plans and Magento hosting. The prices are low-cost and are great for the features on offer.
You can pay for either a 12-month or 24-month subscription on shared hosting, while on WordPress hosting, you can pay month-to-month. There are even categories like the Managed cPanel Cloud VM that allow you to pay per day.
WIPLON allows visitors to pay with PayPal, credit and debit cards, check, and bank transfer. If you're not satisfied within 30 days after making your initial payment, you can request a full refund and receive it via the money-back guarantee.
The support agents at your service 24/7, even on India's national holidays. You can expect a response to your tickets within 10 to 60 minutes, and you have the option to reach out via live chat, phone, or email.
I needed clarification on a few things but it doesn't have a knowledge base that I could quickly read through to get answers. I had to use the live chat to inquire with an agent and I got to one quickly. The agent answered all of my questions politely.