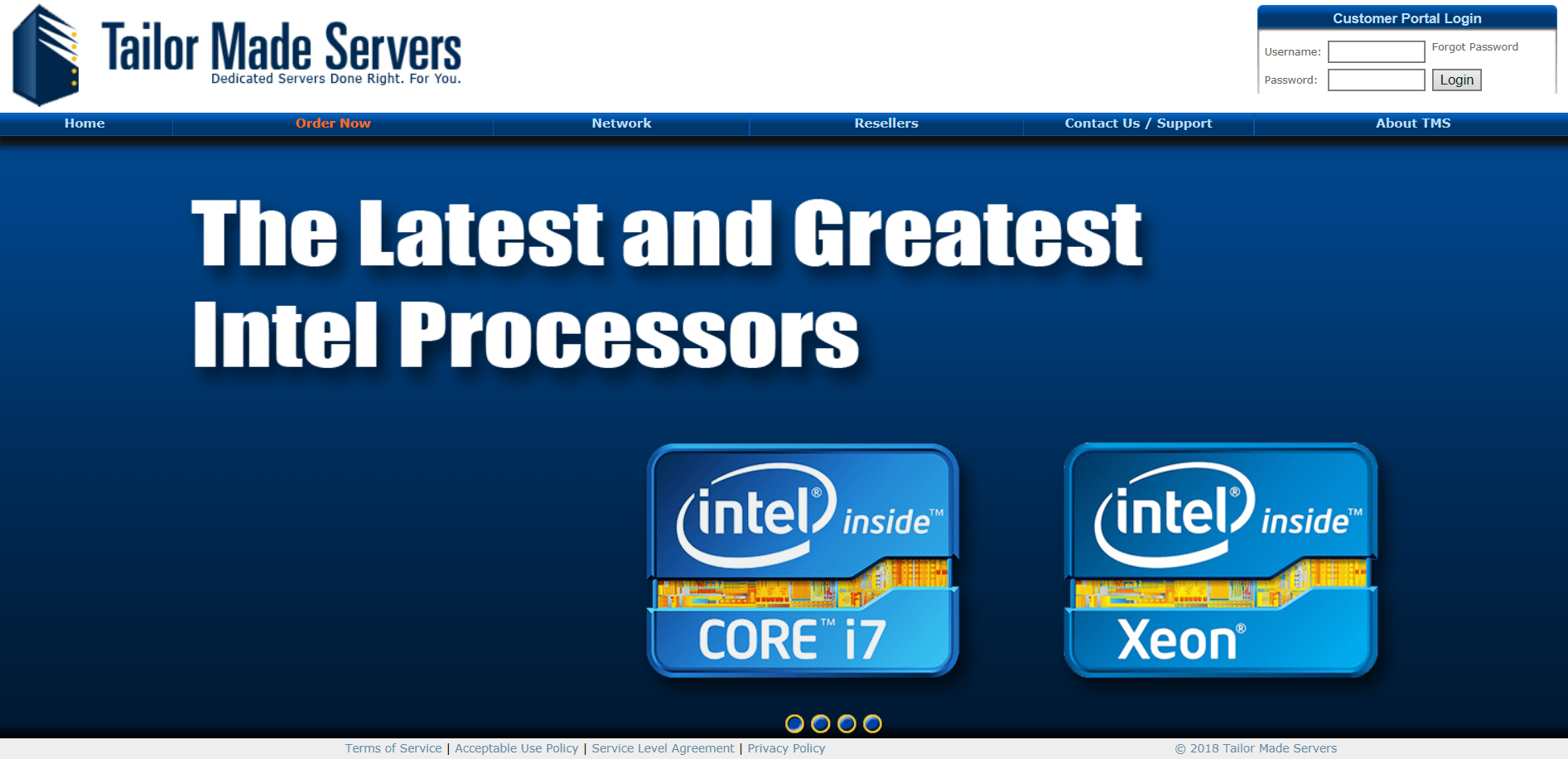 To compare the best web hosts, we hosted the same WordPress website on each one and tested performance, customer service, and value for money.
Check out the results here.
Tailor Made Servers has been offering dedicated server services since 2003. The Texas-based company focuses solely on dedicated servers and provides excellent customizable products with a 99.99% uptime guarantee. Their prices are reasonable, and upgrades will not bust your budget.
Features and Ease of Use
Tailor Made Servers offers dedicated server products with an excellent uptime guarantee and low latency connections from their hub in Dallas, Texas. Below are the primary features you can expect from their servers:
99.99% uptime SLA
100Mbps ports standard
Minimum 10TB bandwidth
Customizable servers
SATA HDD or SSD storage
Smart data routing
Remote rebooting
24/7 monitoring
Tailor Made Systems uses a combination of BGP and FCP to give you fast data transmissions based on smart routing technology. Couple that with 100Mbps ports and servers with at least 10TB of bandwidth or more, and you have plenty of speed for whatever website you need to host.
Tailor Made Systems only has unmanaged dedicated server packages available, so their products require you to have expert knowledge on servers and website administration. If you don't have this, then you need to move back down to shared or VPS hosting, or search for a fully-managed dedicated server provider. You will have root access to this server and can install your programs as needed through your control panel.
Pricing and Support
As the name suggests, you can order a dedicated server custom-made to your specifications. Servers come with Intel Core i7, Xeon, or Dual Xeon processors and customizable features that include the following:
Memory
Hard drive (SSD and SATA HDD)
Secondary hard drives (from two to four depending on machine)
Operating system
Control panel
Hardware RAID
IP addresses
KVM over IP
Each server offers a solid set of core features with reasonable pricing. Overall core pricing is better than you'll see with most dedicated server companies. Also, the upgrade options are not overly expensive, meaning you can deck out your machine and not break your budget.
You have multiple options for support including an online ticket system, email support, and chat support through ICQ, Skype, and Yahoo. Keep in mind that the website includes AOL IM as an option even though it's retired. They also provide round-the-clock monitoring of your system for emergencies. However, as Tailor Made Systems is an unmanaged service, they won't be able to assist you with any software configuration issues that may arise.