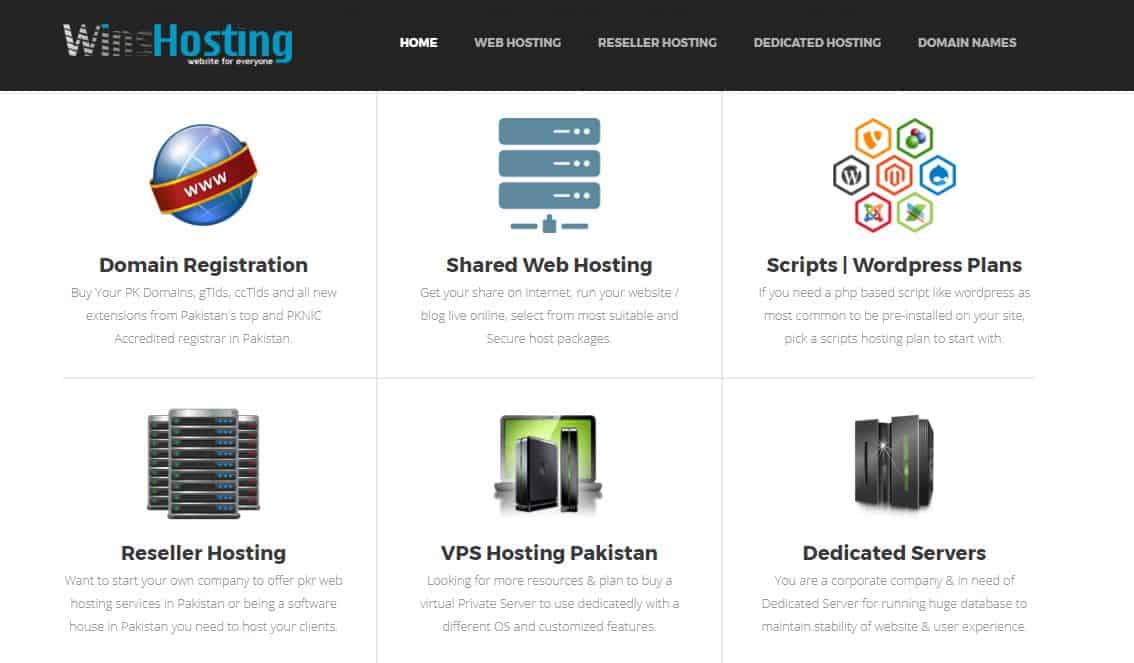 WinsHosting is a Lahore, Pakistan-based hosting company that's been providing a range of high-quality hosting products since 2003. Their impressive offering now includes a wide range of shared web hosting, VPS hosting, dedicated server, and reseller hosting packages as well as CMS-specific options and an array of other professional, hosting-related services. Their reach spans beyond the Indian subcontinent with facilities as far as the Netherlands. Their chief language of operation is English.
Features and Ease of Use
There are few Pakistani hosting providers that can boast such a complete catalog of products as well as such feature-rich offerings:
99.9% uptime guarantee for shared hosting and 99.99% for dedicated servers
100% network and uptime availability SLA for dedicated servers
Power backups available with VPS packages
Free domain registration
Add-on domains available with higher-tier plans
Free SSL certificates with WordPress plans; premium certs available for purchase
Auto-installers
Website builder
Their shared hosting products have almost too many features to cover. They support basically any scripting language from PHP to ASP.NET. Power Pack, Fantastico, and Softaculous are all available as auto-installers and WinsHosting has even included a website builder in all their shared hosting packages. You'll also have access to an email server with plenty of features like spam filtering, POP3/IMAP support, and a number of applications like RoundCube or Squirrelmail. CMS-specific hosting is available with a whole list of platforms like WordPress, Joomla, Drupal, and so on for a pre-setup solution.
Their VPS plans are equally as feature-rich. They come with KVM or OpenVZ virtualization for Windows and Linux hosting, respectively. Customers get access to IPv4 and IPv6 support, backend security, and server monitoring as well as semi-managed services. DDoS protection is also provided for free.
With almost all hosting packages at WinsHosting, you have full administrative and root access. The best part is that they offer a wide variety of options and pricing plans, allowing you to get exactly what you need without paying for unused resources. Moreover, they also provide beginner-friendly options with their CMS-specific hosting.
Pricing and Support
WinsHosting features four shared hosting packages with annual or biennial billing periods, but nothing shorter. You don't get a discount for the longer option, sadly. You can choose a plan with or without a domain. However, you'll save on the domain as it only costs between $4 and $8 extra. The price includes a cPanel license and pretty generous resources. The same applies to their WordPress hosting, but these packages all include a domain in the price. You also won't pay extra if you're going for a Windows option.
All their prices are very low by the standards of the international market. However, you'll pay quite a bit more if you pay your bills in Dollars than in Rupees.
Only WinsHosting's shared hosting products are backed by a 30-day refund policy. However, you'll need to provide a good justification for the cancellation and refund.
WinsHosting provides 24/7 support services with all of their products. You can also add on premium support to your dedicated server plans. Semi-managed services come for free with their VPS plans. You can contact support via Pakistani phone lines, email, or tickets. However, for most queries you'll be deferred to the ticketing system if it's going to take a long time to resolve. Unfortunately, their knowledge base is still completely empty for the time being.