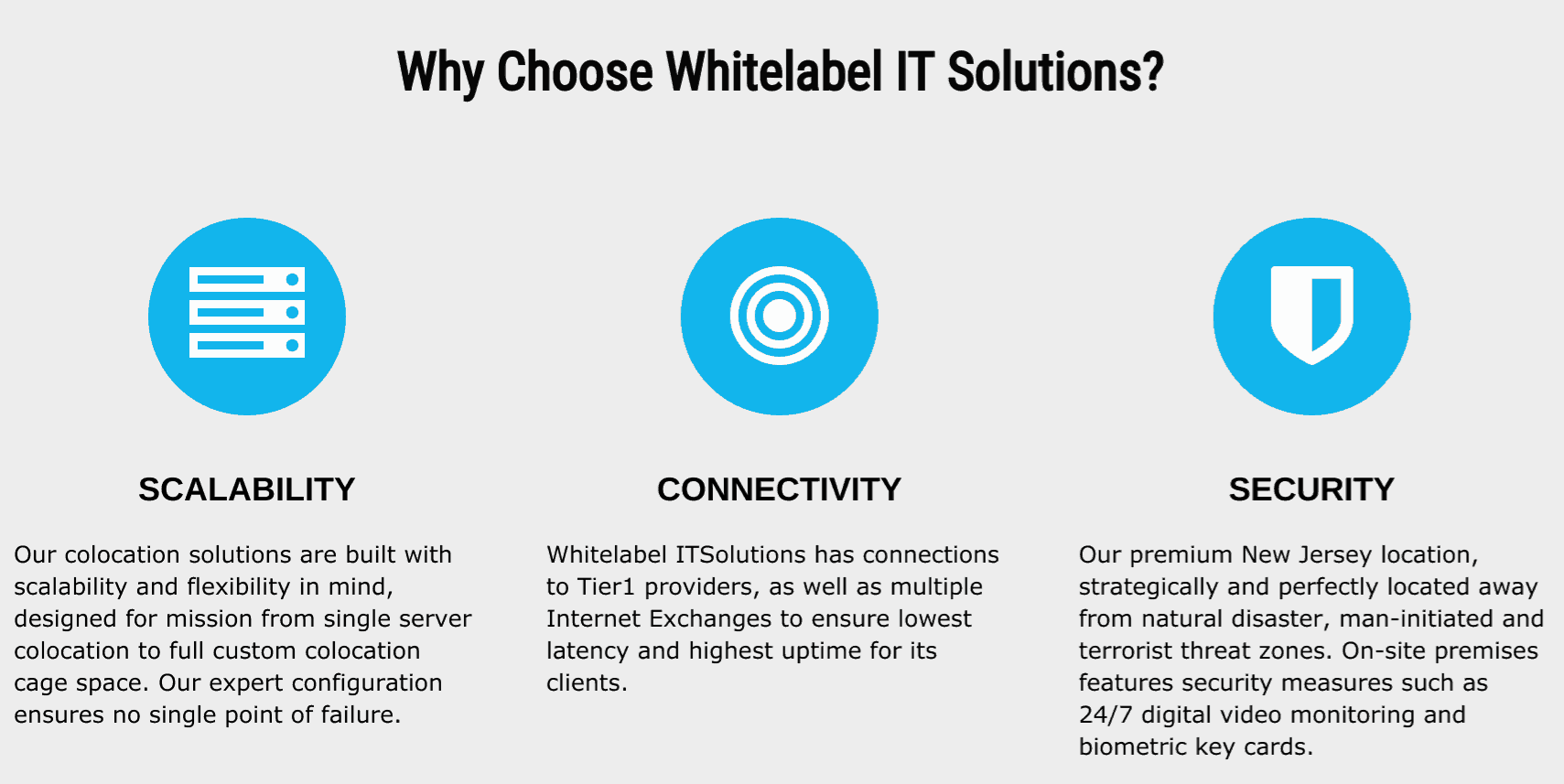 Whitelabel IT Solutions was founded in 2015, so it's quite a new company in the hosting industry. Hosting services are provided from
its own data center located in New Jersey
. This vendor's website and support are both in English.
Features and Ease of Use
Whitelabel IT Solutions offers a full range of hosting services, from managed servers to shared hosting. Here are some of the core features of the shared hosting plans:
999% uptime guarantee (without a service level agreement)
Compressed, uncompressed, and incremental backups configured manually in the control panel
Domain registration available at additional cost
Two, ten, or unlimited add-on domains
Free SSL set-up (SSL certificate purchase required)
Unlimited disk space and transfer
Whitelabel IT Solutions owns its own data center in New Jersey, U.S., which is good news for resolving technical issues quickly and for not overselling resources. I've seen this provider's uptime stated as both 99.999% and 100% on its website. Maybe they simply "rounded up" since the two numbers are near enough, but in the world of website uptime, every decimal digit counts.
All shared hosting plans come with many unlimited resources: storage space, transfer, email accounts, databases, FTP accounts, and subdomains. Those are generous resource allocations, but naturally, you need to be mindful that unlimited resources are usually limited to "fair usage" in practice.
Digging deeper into the features reveals some beginner-friendly tools such as website builder (not included in the base plan), a one-click installer for more than 175 programs, and shopping cart integration for e-commerce stores. All of these features make the hosting easy-to-use for new website owners.
If you're someone who knows their way around advanced features, I suggest checking out the Windows Plesk Hosting plans. These plans offer more features compared to the Linux cPanel plans. However, I understand that people can be quite loyal to their preferred operating systems. If you're interested in the Windows plans, I can assure you that they support unlimited MySQL, Microsoft SQL, PHP 5, Python, ASP, ASP.NET, and even the less popular CGI / Perl.
Pricing and Support
Monthly prices are pretty steep unless you are prepared to sign up for a three-year term. You also need to take into account the extra costs for SSL certificates and domain registration. For all I know, you may well be comfortable paying premium prices for a provider that owns its own data center, advertises a good uptime, and offers lots of unlimited resources.
Plans can be bought on a variety of term lengths from one month to three years. It's a shame that the short-term prices are so high, but you do get some deep discounts for buying a longer-term plan. I confirmed via live chat that there is a 7-day money-back guarantee, which gives you a small window of opportunity to get out quickly if you make a major commitment by mistake.
White Label's support is excellent. You can contact the support team 24/7/365 by live chat, telephone or ticket. When I tried the live chat, the operator picked up and solved my problem immediately. The only let-down is the knowledge base that contains just 14 documents.