To compare the best web hosts, we hosted the same WordPress website on each one and tested performance, customer service, and value for money.
Check out the results here.
In 2008, West-Hoster was trademarked as the web hosting wing of KerioBY, which itself was established in 2005. In 2009, it entered the Belarusian market with the offer of an individual mail server for small and medium organizations.
Today, West-Hoster provides virtual hosting, backup hosting, DNS hosting, and mail hosting services. It also offers SSL certificates and domain registration for the .com, .ru, .by, and other domains. You may even benefit from West-Hoster's partner services for the creation of websites, business cards, online stores, technical support, and contextual advertising.
West-Hoster targets mainly Russian-speaking customer from its Russian-language website.
Features and Ease of Use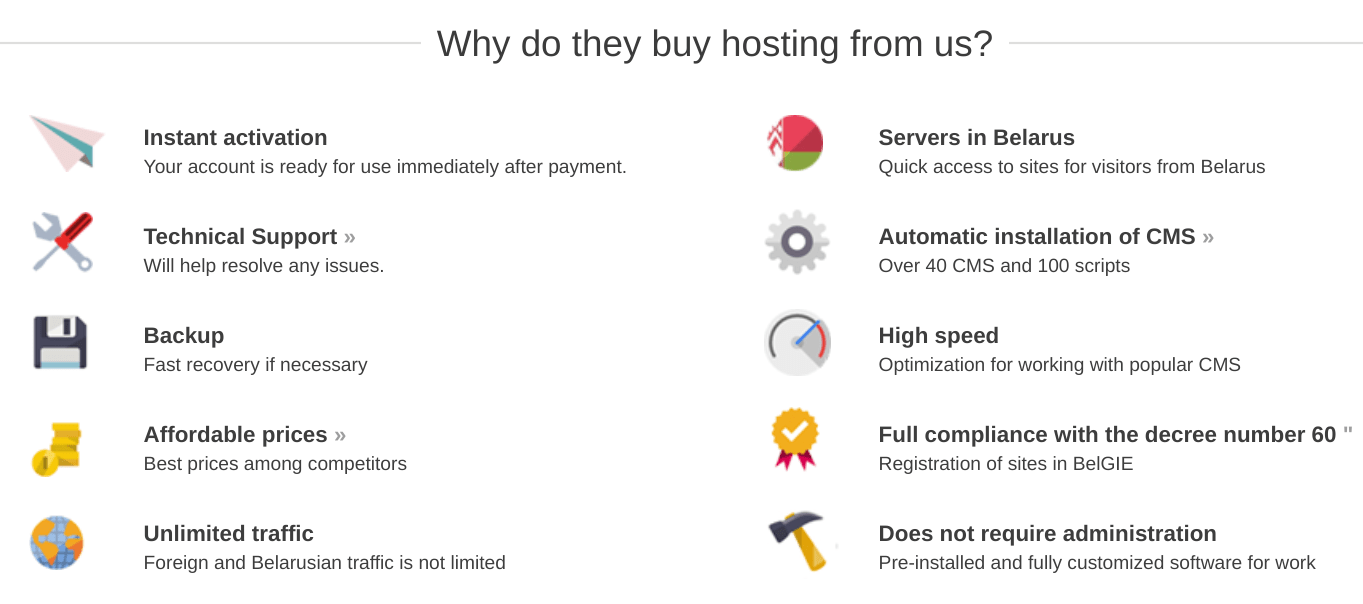 West-Hoster offers five shared hosting plans, two WordPress hosting plans, three limited VPS plans, three Bitrix hosting plans, one backup hosting plan, and one DNS plan. With West-Hoster's shared hosting plans, you'll get:
Hosting for 1 to 30 websites
RedHat ES Linux OS
Russian control panel
200 MB to 18,000 MB disk space
One to unlimited MySQL databases
10 to unlimited mailboxes
Free SSL certificates
PHP 5.2 to 7.3 support
Support for SSI, cURL, GD, Parser
CronTab scheduled tasks
You get to enjoy unlimited traffic since Wet-Hoster doesn't impose any limits on foreign or Belarusian traffic. You also get automatic script installation for several popular programs such as WordPress, Joomla, Drupal, OpenCart, PrestaShop, CubeCart, Magento, and more. WordPress plans provide thousands of different design templates and additional elements which will help you create a professional website without too much technical knowledge.
SSD storage for files and databases offers higher transfer rates, better reliability, and much lower latency than HDD storage. Web-Hoster also has fault-tolerant systems and adequate backups for if the worst should happen. Although there is no server uptime guarantee, a live chat agent told me that the servers enjoy 99.5% uptime.
Pricing and Support
West-Hoster's shared hosting plans are dirt cheap. Different payment methods are available for individuals and businesses, and you can get a 10% discount by paying yearly rather than monthly.
You can get a 10-day trial period by contacting the finance department after completing your order. This seems a little bit convoluted, and I think that ten days is too short a time to fully assess the services.
The technical support team is available from 9 am to 11 pm on weekdays and from 9.30 am to 11 pm on weekends. The sales and accounting teams work from 9.30 am to 5.30 pm on weekdays. You can reach the company through various channels, including telephone, support ticket (for hosted customers), Telegram Messenger, email, Skype, or live chat. I received rapid responses when I asked a couple of questions via the live chat channel: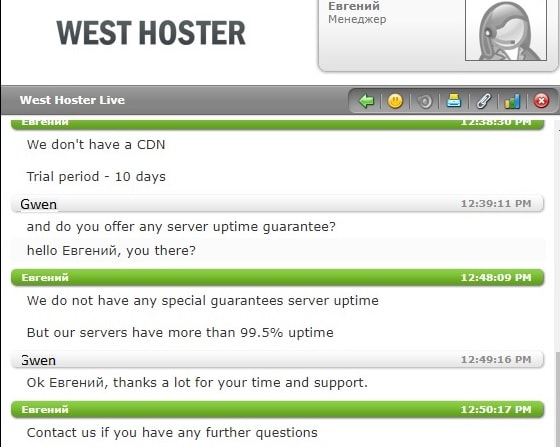 For self-help, you can head over to West-Hoster's Question-Answer page.