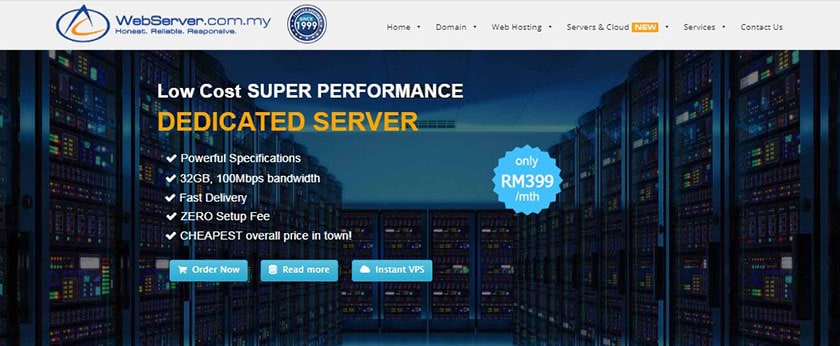 WebServer.com.my is a web hosting vendor based in Malaysia. They're one of the top ten biggest hosting companies in Malaysia by market share. The hosting solutions provider is one of the oldest hosting companies anywhere; they've been specializing in complex managed hosting services and mission-critical application hosting since 1999. WebServer.com.my also has a sizable presence in over 70 other countries, including the United States, Australia, Romania, and Thailand.
Features and Ease of Use

WebServer.com.my has nearly two decades of experience managing more than 1000 servers and 15,000 domains for clients in over 70 countries. This experience and unmatched hosting expertise has made it possible for the vendor to create one of the most reliable and robust hosting environments anywhere in the world. Some of the features you will find in most of their hosting plans include:
Free domain name registration
Unlimited email accounts
Unlimited add-on domains
Unlimited subdomains
Free web analytics
The most popular CMSes pre-installed
Helm, cPanel, Plesk, DirectAdmin control panels
99.9% network uptime and 99.5% server uptime
In addition to the above features, several other unique WebServer.com.my features caught my eye. These include:
Power management systems – WebServer.com.my has deployed triple power feeds with dedicated circuit breakers at every rack. This is meant to minimise power outages that isolated areas face on the rare occasion that faulty equipment is introduced within a rack. In addition, they've got a dedicated power substation with the capacity to run without recharging for 48 hours. This makes this vendor the perfect hosting company for businesses in isolated regions in Malaysia and elsewhere.
24/7 system monitoring – WebServer.com.my uses surveillance cameras and security guards to monitor their systems around the clock to guarantee their customers of secure and reliable hosting solutions.
99.5% time-tested uptime guarantee – WebServer.com.my proudly guarantees a time-tested uptime of 99.5%, which is supported by multiple data centers. Their system is designed to swiftly switch from your primary server to a backup server in less than 45 minutes whenever there is downtime.
One downside of WebServer.com.my's hosting solutions is the fact that the vendor limits the number of files you can host in their servers based on the package you have purchased. They also limit the number of accounts you can have in a single server to 300.
That said, the way that WebServer.com.my has designed their solutions makes them practical solutions for both small businesses and large corporations. Their interface is easy to use and includes many tools that streamline the whole process of web hosting. However, the company largely focuses on the upper bracket of the web hosting market.
Pricing and Support

One great benefit of working with WebServer.com.my is that they're an honest and transparent web hosting company. They're quite straightforward with the information about their web hosting solutions, allowing users to make a decision based on accurate, up-to-date information. There are no hidden costs and tricks. The hosting prices are quite reasonable and all packages come with a 30-days money back guarantee, no questions asked. Users making annual upfront payments for hosting plans get a discount. All prices on WebServer.com.my are listed in Malaysian Ringgit.
The vendor's support staff are extremely responsive. They're available 24/7 and promise that all customer queries will get a proper response within four hours. This is partly why the company has a customer satisfaction rate of 98% and an overwhelmingly number of their customers recommend this vendor's services to their friends.
WebServer.com.my has made available several channels through which customers can contact their support staff. These include social media, live chat, phone, fax, email, a contact form, and ticketing system. For the fastest resolution times, however, it's recommended that you submit a support ticket via your client portal, as this allows their team to easily acquire all relevant information about your account to more effectively serve you. In my experience, their support staff has extensive experience in this field. This was quite apparent when I contacted their technical team via email. Not only were they super responsive, but they sent me a detailed response that conclusively addressed every query I raised.