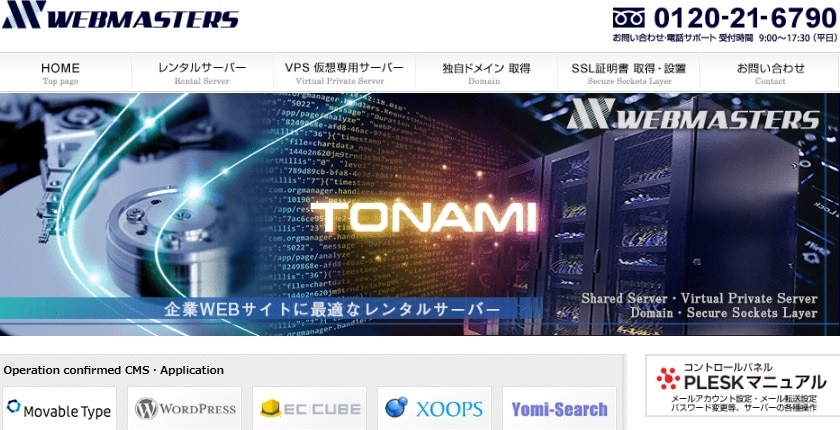 Besides registering domains and hosting websites under shared hosting accounts, WEBMASTERS has been providing individuals and small businesses in Japan with dedicated VPS and extras such as SSLs. Its website is in Japanese only.
Feature and Ease of Use
Under your Plesk-powered control panel, you will find the following features:
gTLD domain and .jp domains
FTP accounts
Webalizer website statistics
MySQL / PostgreSQL
PHP, Perl, Ruby, Python
Unlimited transfer bandwidth
CGI and SSI
Email accounts with autoresponders
With WEBMASTERS, you get all the resources you need to build, manage, and secure your websites. Popular CMS's such as MicroEngine Xoops, EC Cube, Movable Type and WordPress are just a few clicks away. Developers also have a range of scripting and programming tools such as PHP, Python, and Ruby, which they can use to create custom web apps.
It's also nice to see that WEBMASTERS gives its customers decent options for securing their websites and databases. Besides securing their emails with anti-spam and antivirus protection, they can also protect their website using Premium SSLs such as Rapid SSL, Comodo Instant SSL, and Verisign among others. Customers who sign up for the two higher level plans also get Static IPs.
Though WEBMASTERS doesn't support cPanel, it gives users familiar tools for managing their website, databases, and emails. Every shared hosting account runs on Plesk, a user-friendly control panel which comes with a web-based file manager, email accounts, FTP accounts, and PhpMyAdmin among other tools.
WEBMASTERS' dedicated VPS is an intermediate solution for customers who're looking for more customization options or more storage space and processing power for their websites or enterprise apps. Servers are scalable and not affected by other users. They're powered by CentOS and run on Plesk. New customers have the freedom to install an operating system of their choice.
Pricing and Support
WEBMASTERS offers four fairly-priced hosting packages with semi-annual and annual billing cycles. Pricing includes an initial setup fee, hosting contract fee, and domain registration fee. If you want to upgrade, you'll pay the difference between the current plan and the plan you want including tax. VPS customers are eligible for a 30-day trial, but first they must apply to get a pass.
When placing orders for shared hosting or VPS, customers can also add premium SSL and domains before checking out. Bank transfers and all major credit cards are accepted. Hosting packages are not geo-restricted, so customers from any part of the world are free to place their orders. It's also easy to cancel, though you'll need to notify support when you do so.
You can give us a call between 9:00 a.m. and 5:00 p.m. (GMT+9) to get live support in Japanese. If you prefer, you can also send us an email or use the contact form on our WEBMASTERS website to make inquiries. In addition to our local support, we have a comprehensive Plesk manual and FAQs that cover most basic problems.