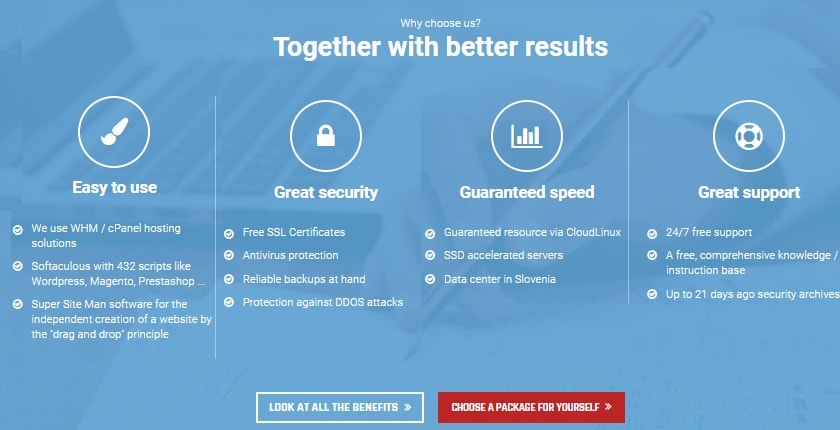 To compare the best web hosts, we hosted the same WordPress website on each one and tested performance, customer service, and value for money.
Check out the results here.
Founded in 2003, WebiCom is a Slovenia-based hosting service that provides affordable web hosting and IT services along with web design solutions and colocation services for businesses and individuals. The company's hosting packages are affordable and it's customer support fast and friendly.
Features and Ease of Use
WebiCom shared hosting packages have some really nice features and privileges. Some of the key ones include:
WHM/cPanel
Domain registration and transfer
Unlimited databases
Unlimited bandwidth
Free website migration
Unlimited emails
PHP, Perl
Unlimited domains
WebiCom operates a modern data center facility, which contains top-of-the-line servers powered by Intel Xeon and connected to SSD storage. The facility is backed by both UPS and diesel-powered standby generators to ensure maximum availability. Designed for speed and performance, its servers can handle a significant workload.
Building a website from scratch is a daunting task. WebiCom takes away the hassle by giving customers access to the Super Site Man builder, which comes with a user-friendly drag-and-drop interface. No coding knowledge or experience is required and on top of that, the tool comes with nice customization options.
Besides monitoring servers 24/7, WebiCom has gone a step further to provide DDoS protection to all its customers. Free SSL certificates and antivirus protection are available at the user level for customers who want to create the first line of defense, and daily remote backups ensure your business data remains safe and accessible. With all of these security measures in place, you have little to worry about cyber-attacks or espionage or data loss.
WebiCom's shared hosting packages are also CMS optimized for the most popular scripts such as WordPress, Drupal, and Joomla among many others. Using Softaculous app installer, you can deploy a CMS of your choice quickly and customize it. And since the packages are SEO optimized too, you don't have to worry about your page rankings because your website will top Google Search results.
Pricing and Support 
I couldn't be happier with WebiCom's hosting prices as they're not only affordable but they also come with many nice features including unlimited options. It's quite easy to upgrade from the starter Hosting WebiCom mini package to any of the higher level plans. When you order the annual, two-year, or three-year hosting plans, you can pay via PayPal, bank transfer, or credit card. Customers have 15 days to try out hosting services before they commit their money.
You can access support 24/7 with this hosting service, which is great because not all providers offer round-the-clock assistance. The customer service team is friendly and helpful, ready to assist you with domain transfers, server setup, and troubleshooting. Whether you prefer calling or opening a ticket online, help is always just a moment away. Additionally, they have a detailed knowledge base that can be beneficial for beginners or anyone who wants to try resolving hosting issues on their own.