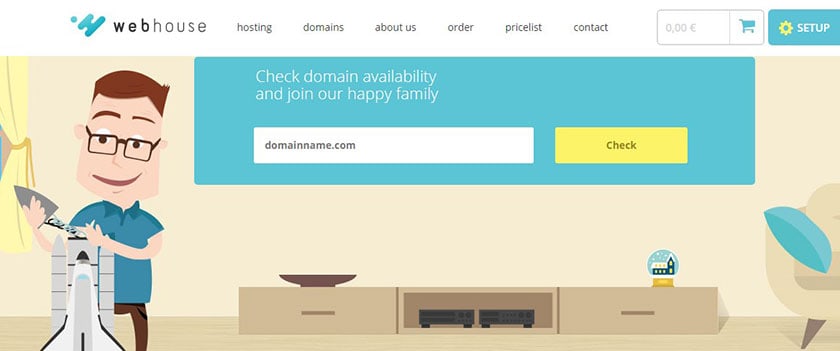 Founded in 2007, WebHouse is one of the leading hosting providers and domain registrars in Slovakia. They've served over 31,000 customers in Slovakia as well as 42 countries around the world, including America, Canada, the United Kingdom, Australia, and many more. Their website is available in Slovak and English; however, their live chat support is only available in Slovak.
Features and Ease of Use

WebHouse currently offers shared hosting and domain registration services, but they do not provide more advanced hosting solutions like VPS or dedicated servers.
All of their shared hosting plans come with the following features as standard:
100% guaranteed availability
Optional daily backups
Multi-domain hosting
Unlimited subdomains
Unlimited emails
Antivirus and antispam protection
What I really like is their WebMaker® Lite website builder. This comes free of charge when you purchase website hosting with WebHouse, albeit only for one year. That should be more than enough to get your website up and running smoothly, however.
Other than that, one of the best features of WebHouse is their commitment to 100% availability. While most companies promise slightly over 99% uptime, WebHouse has taken this further to offer an impressive 100% availability — which beats 100% uptime any day. In fact, they're so confident that they guarantee for every minute of server downtime, they will give you up to 1,000 minutes for free. My only slight issue is that I would've liked more information on how they achieve 100% availability.
Finally, I have to mention the amazing customizability of their packages. Once I'd decided to make a purchase, I began the process of setting up my web hosting package online. I was then allowed to specify my exact requirements using a sliding scale. For example, I could select disk space between 1GB and 12GB, the number of domains between one and ten, whether I needed an SSL certificate, and whether I needed features such as MySQL and PgSQL. It was a great user experience that effectively enabled me to build my own package to my exact specifications. This will appeal particularly to users who don't wish to pay for resources or features they won't need.
Pricing and Support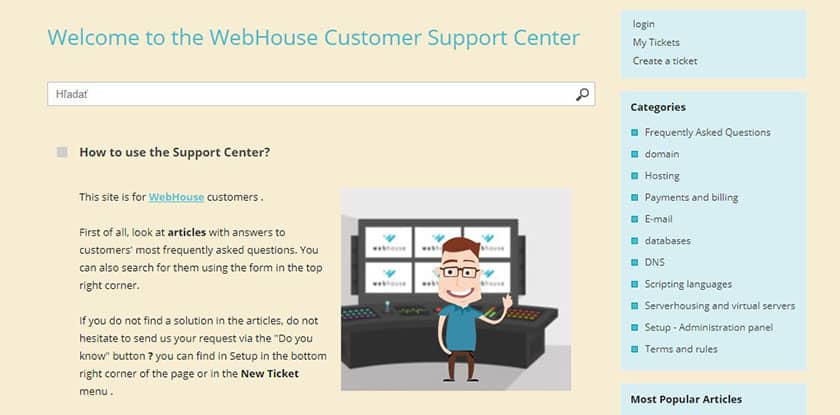 WebHouse is very well-priced compared to other Slovakian providers. However, WebHouse offers services worldwide, so it's important to see how they stack up against bigger competitors. Their prices are comparable to larger companies such as Bluehost, but they offer fewer features for the same price point.
Unusually, WebHouse does not employ any promotional tricks to get users to purchase longer terms. In fact, their pricing structure is refreshingly simple. You choose your desired specs, evaluate the monthly price they quote you, then make payment. You can cancel anytime and there is no lengthy contract to tie you down.
What's really nice is that they even throw in a 30-day free trial, so when you check out it's actually free! This is a nice touch and really enables you to give their service a try with no obligation. The plans are really flexible and it's easy to move between hosting plans once you are live.
The main gripe I have with WebHouse is their customer service. While they do have live chat and the operator picked up promptly, they were unable to answer my questions in English. They advised me that to get English support I would need to email or call a Slovakian number. Their support hotline is available from 7:30AM to 10PM daily.