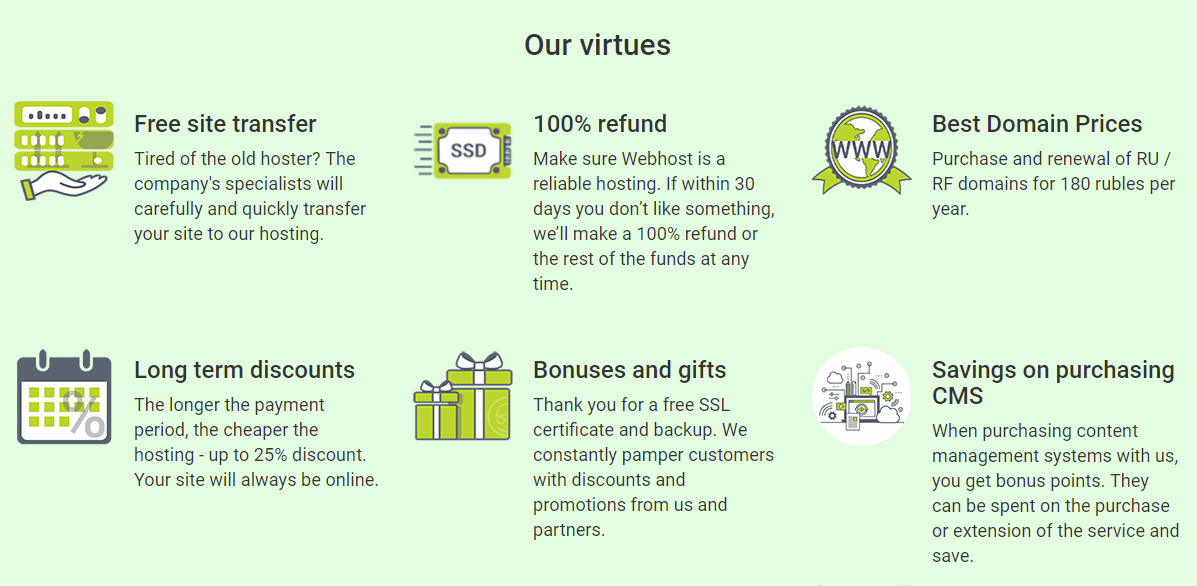 Since 2008, Webhost1 has been offering web hosting solutions and has so far handled more than 150,000 projects with over 100,000 customers with 137,000+ domains.
Its services include shared hosting, VPS/VDS, dedicated servers, SSL certificates, and domain names. Its servers are located in Moscow, Russia, and its website is available in Russian only.
Features and Ease of Use
For shared hosting, Webhost1 offers SSD hosting plans and premium hosting (with more features than SSD hosting). It also offers optimized hosting plans for Content Management Systems (CMS). These are the features that customers enjoy on web hosting:
99.9% uptime
Daily automatic backups
Free SSL from Let's Encrypt
Unlimited add-on domains
Unlimited traffic
Its use of SSDs provides fantastic performance and speed with up to 10X faster read/write speeds and allows more concurrent I/O operation on the server. Webhost1 does it better by placing the SSDs on a RAID system, mirroring the disks and allowing for easy replacement if anything was to happen to one of the disks.
Go for the premium hosting plans if you have a website that needs more storage and processing power than what the SSD plans offer. On the premium hosting servers, there are fewer accounts. Also, you get a dedicated IP address for free on the premium hosting plans.
Webhost1 understands that DDoS attacks can happen to any website, not only the big ones. So, it provides protection against DDoS attacks to all shared hosting customers.
It supports PHP programming and you can change your PHP version in the settings on your control panel. The company also supports Python. Webhost1 provides a CMS installer for WordPress, Joomla, Drupal, MODx, Adcms, Hostcms, and a few other applications.
For hosting management, it provides WebServ24 management panel. Settings are labeled accordingly to enable beginners to understand how to use the control panel. Through it, you can schedule cron jobs, manage databases, domains, and email accounts, easily set up your website, and use SSH.
Pricing and Support
Webhost1's features are great, but its prices aren't. They are quite expensive for the features on offer. The subscription periods on offer are one month, six months, 12 months, and 24 months. One month hosting is less risky, but if you're willing to go for longer, you could get as much as a 25% discount.
If you're thinking of transferring to this provider, they'll handle the transfer of your website for free. Plus, considering its features, you might not find the price to be a hitch. And if you end up unsatisfied, you've got a 30-day money-back guarantee to fall back on.
There's a knowledge base with tutorials, and if you'd rather be in touch with an agent, the company provides 24/7 support. You can reach its agents through live chat, tickets, phone (toll-free for Russia), Telegram, and email. I used the live chat and immediately connected with an agent that answered my questions.