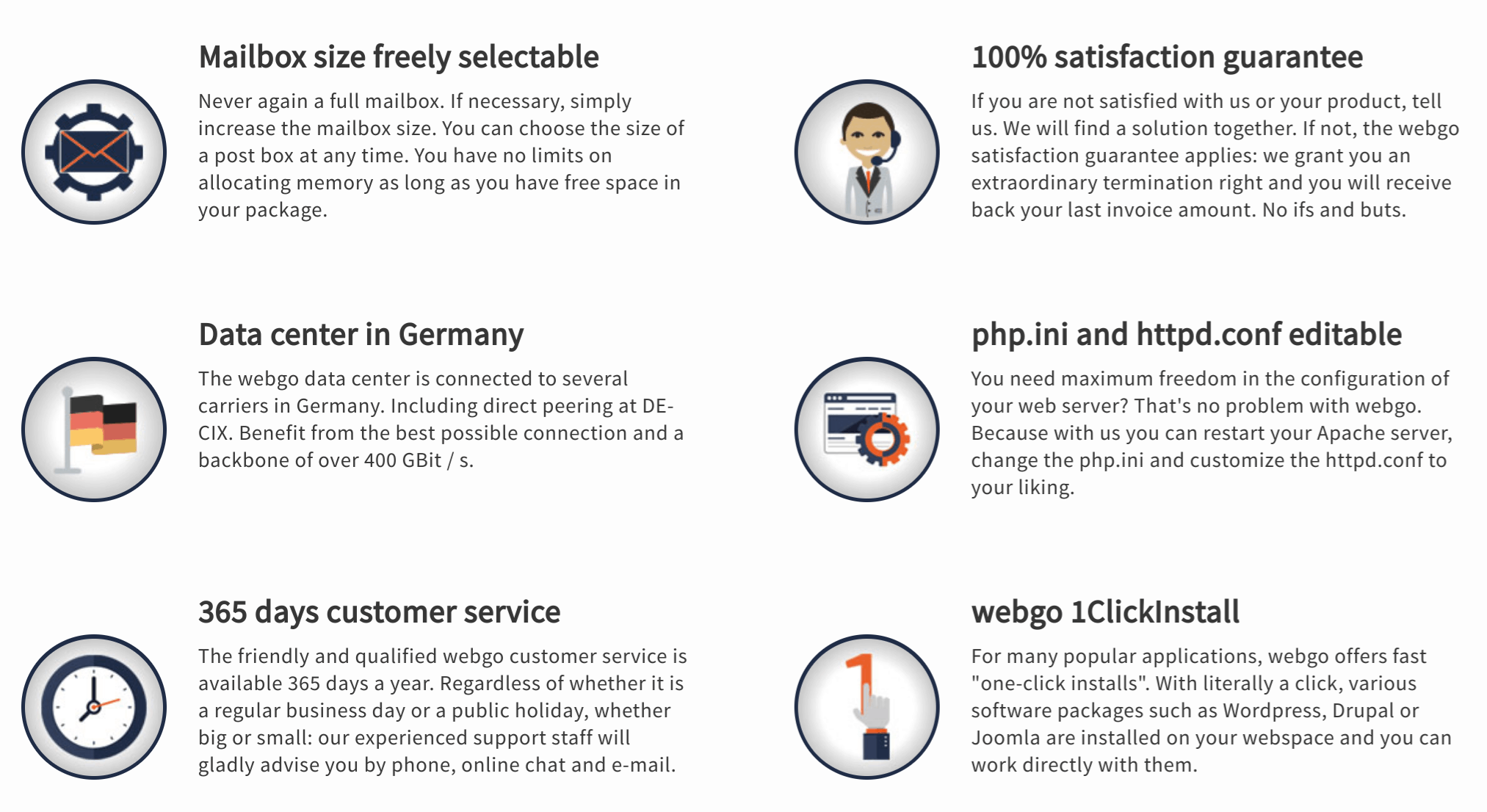 To compare the best web hosts, we hosted the same WordPress website on each one and tested performance, customer service, and value for money. Check out the results here.
Webgo was founded in Hamburg, Germany in 2004. This award-winning company uses 100% green energy and works with 350 internet providers in 40 countries. Its comprehensive (even overwhelming) website is in German.
Features and Ease of Use
Webgo offers a full suite of hosting services, from shared hosting and website building tools to dedicated servers. The shared hosting plans come with these main features:
99.99% guaranteed accessibility
Free domains available
Up to 20 add-on domains
Free Let's Encrypt SSL certificate
Up to 1000 GB webspace
Unlimited free traffic per month
Beginner webmasters will be pleased to see a one-click installer, but only for a small selection of programs such as Drupal, Joomla, Magento, MediaWiki, osCommerce, and WordPress.
Expert users will be pleased to see support for PHP (versions 5.6 through 7.2), Python, and CGI/Perl in addition to the usual FTP, MySQL, and phpMyAdmin. Also, SSH, SFTP, and Cron jobs.
For shared hosting, you can choose either an SSD RAID 10 configuration (faster and more expensive) or HDD (slower and cheaper). In either case, your feature-packed plan will use the Linux operating system.
Webgo uses a German data center with redundant fiber connections and routing equipment, and a 400 Gbps+ backbone to ensure that your content is delivered quickly. This center has 24/7 monitoring and security, and it uses 100% clean power. It offers an 99.9% annual uptime average.
Pricing and Support
You automatically get six months free when you sign up for a hosting plan, but beware the high price hike once to reach the seventh month. Personally, I'm not sure it's worth the high price, so be sure that you're sure about amortizing the total cost over the course of a year. You needn't worry too much about your initial commitment, though, since there is a 100% money-back guarantee.
This vendor's website, including its checkout flow, is quite overwhelming, making the sign-up process confusing. You'll need to fill out several lengthy forms before you can activate your hosting plan, and along the way, you'll have to navigate through various other products and free trials before making your final purchase.
Support is available every day, but it's not 24/7. You can contact the team from 9.00am to 8.00pm on Mondays through Fridays, and from 11.00am to 6.00pm on Saturdays and Sundays. Contact can be made via email, phone, or live chat, but English support is only available by email, which I learned when I tried the live chat: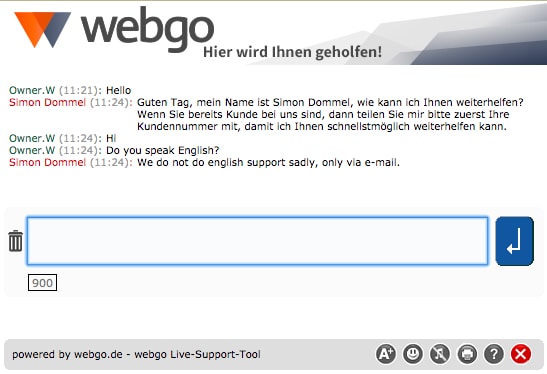 Since Webgo's website includes so much information, I'm surprised to find only an FAQ page and no additional self-support documentation.
How much does Webgo cost?
Webgo offers multiple plans priced highest to lowest. The price depends on which type of hosting plan you choose. You can see the updated pricing table (updated weekly) below.

Which Webgo plan should I get?
My recommendation is to start with a cheaper plan. You can always upgrade later on. Webgo can help you with the migration to a more expensive plan. The increase in visitors many times takes longer than expected and you shouldn't pay a lot of money until the need arises. Of course, your needs may vary, and you can consult with a hosting expert from Webgo here.

How good is Webgo's customer support?
Webgo is not ranked as one of our top web hosts. But that can also be a result of Webgo being a small, under the radar, hosting provider. There are advantages to a small hosting company – as a customer, you are more important to them. You can also check out our comparison of the most popular web hosting services here.