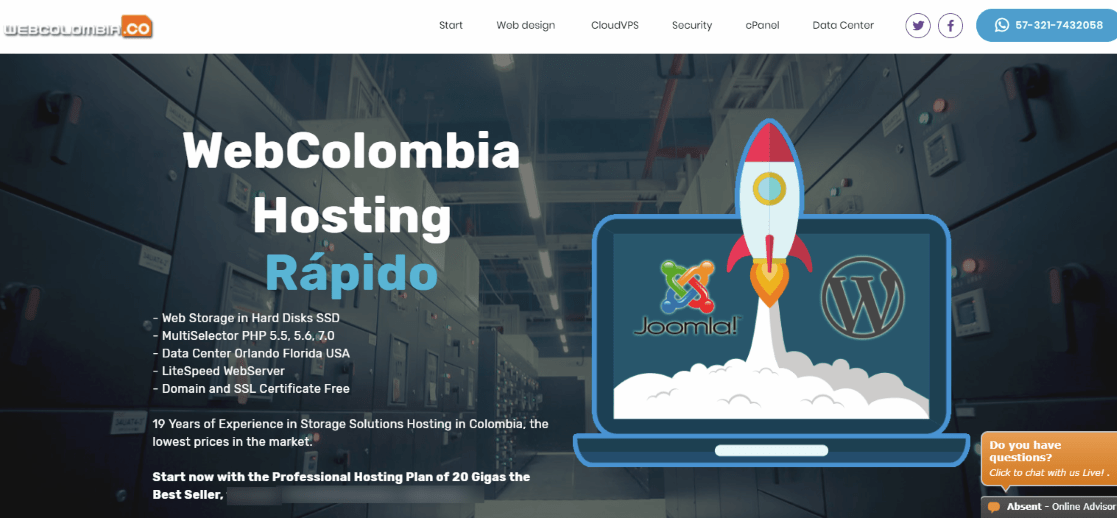 Founded in 2000, WebColombia offers web hosting, Virtual Private Server, and website building services. It's the same company that runs WEBColombia.co and HostingEnColombia.co. Its servers are housed in a data center in Orlando, Florida in the United States. The website is available in Spanish only.
Features and Ease of Use
WebColombia offers four shared hosting plans for small websites with substantial traffic to medium-sized websites with high traffic. Customers on the shared servers enjoy the following:
99.99% uptime guarantee
Free domain registration
One free SSL certificate
Anywhere from 300GB to 800GB traffic
Up to 50GB SSD Disk
WebColombia has configured the Solid State Disks (SSDs) on RAID 10 mirroring and stripping. That provides security by mirroring your data on secondary drives to ensure that if something goes wrong with one of the disks in the total configuration, it can quickly rebuild the system and copy your data from the other surviving drive. The stripping speeds up data transfers, and SSDs are fast on their own.
Enhancing performance up to 67% more than similar solutions is LiteSpeed WebServer. It also has a bunch of security features, including DDoS protection. That, combined with the other DDoS measures in place by WebColombia, ensures that suspicious traffic is filtered to check for malicious active with little/no latency.
Customers can manage their accounts through cPanel and program with their preffered version of PHP. Other tools that experienced users can manage are MySQL databases with PHPMyAdmin and cron.
A large percentage of websites are on Content Management Systems and that might increase with the years, so the one-click installer is an essential feature. WebColombia provides the cPanel module so that you can install WordPress, Drupal, OpenCart, Magento, Joomla!, etc. in a few seconds. The company doesn't provide a website builder, which isn't surprising, given that it provides website building services.
Pricing and Support
WebColombia prices are quoted in Colombian Peso. All of the shared hosting plans are low-cost and there is no difference between introductory and renewal rates. Also, the quoted monthly prices are the actual prices, unlike some web hosts that quote monthly prices that only apply when you pay for 36 months or more.
Although the prices are pretty clear, you can't pay for subscriptions on a monthly basis. On checkout, I noticed that only the one year option applied. You can pay with your credit card, debit card, bank debit PSE, offline cash payment through different voucher services, and direct bank deposit.
The cloud VPS is expensive, but then again, cloud hosting solutions were never cheap. For them, you'll have to contact customer support to apply.
Customer support is available through email, phone, live chat, and WhatsApp but there's no knowledge base. I sent an email but to my surprise, didn't get a reply despite waiting for over a week.