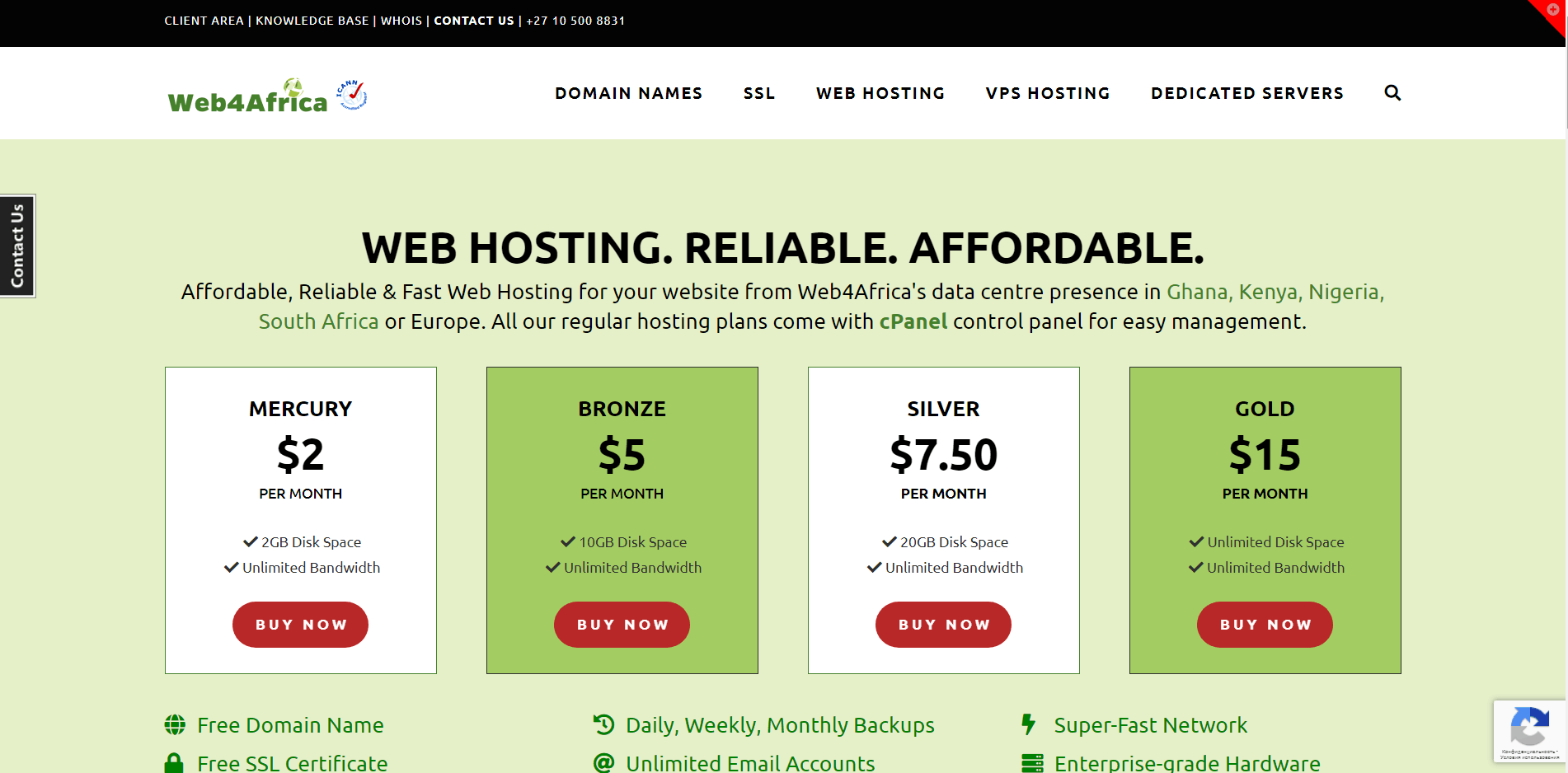 To compare the best web hosts, we hosted the same WordPress website on each one and tested performance, customer service, and value for money.
Check out the results here.
Web4Africa was founded in 2002 to serve African companies with affordable web hosting solutions. They have a significant presence in Africa, but their reach has also extended to North America. Over the years, Web4Africa has served over 40,000 customers from more than 120 countries. They operate out of four data centers located in Ghana, South Africa, and Nigeria.
Features and Ease of Use
Web4Africa offers several solutions, including shared hosting, VPS hosting, dedicated servers, and colocation services. The company's web hosting solutions include the following features:
Enterprise-grade hardware
Free domain name
Basic website builder
Super-fast network
Free SSL certificate
Unlimited email accounts
Daily, weekly, and monthly backups
Unlimited databases
24/7 monitoring
300+ pre-installed applications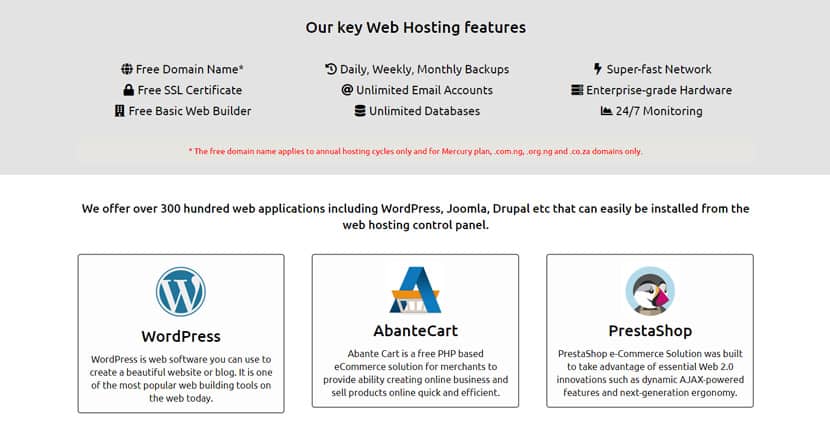 Note that the free domain name is only available when users subscribe to annual plans. What's more, customers who buy the vendor's most basic annual plan are limited to free domains with these extensions: .com.ng, .org.ng and .co.za.
Web4Africa's dedicated server solutions are powered by Cisco network equipment and Dell server hardware with hardware RAID configuration. These are available from data centers based in Ghana, Kenya, Nigeria, and South Africa. As is typical of dedicated servers, you can choose your preferred operating system from several options: CentOS, Debian, Ubuntu, and Windows Server.
Perhaps because of their large size, many Web4Africa customers complain about the company's failure to alert customers about changes in the user interface or the expiration of their services. These changes can frustrate webmasters, especially those that are not very familiar with hosting and the various interfaces available. Plus, when these alerts do happen, they are extremely irregular and often unhelpful.
What's more, it's not uncommon for customer websites to disappear altogether with no explanation. Web4Africa doesn't seem to take responsibility for these mishaps. In addition, while this vendor boasts of powerful servers in several African countries, many users complain of slow servers, sometimes having to wait as long as 30 minutes for a page to load. The vendor has also yet to put enough resources into securing their system, making their customers' websites vulnerable to hackers.
Pricing and Support
Web4Africa has very affordable hosting plans, especially compared to their competitors in the region. The basic plans, however, have notable restrictions and might force you to upgrade to a more expensive plan later on.
For numerous businesses, the significant advantage of choosing this vendor is that they have data centers situated in multiple cities across Africa. This aspect directly impacts website speeds and search engine rankings. However, it also implies that customers outside of Africa, particularly those in North America, may encounter difficulties with even slower loading speeds since the vendor doesn't have any servers on that continent.
Web4Africa encourages their customers to use email to contact their support team, but there are also several other ways you can get in touch with them, including their contact form, ticketing system, and telephone. Disappointingly, the company has no live chat and their knowledge base is not very comprehensive. To make things worse, Web4Africa's support team is extremely slow to respond to queries. I opened a ticket and seven days later I still hadn't received a response. What's more, they closed my ticket without ever communicating to me or resolving the issue I'd raised. When I sent them an email to follow up, they sent me back what looked like a copy-and-paste response, suggesting that their support team doesn't have the expertise or the experience necessary to resolve technical issues.
How much does Web4Africa cost?
Web4Africa offers plans from $15 to $150. The price depends on which type of hosting plan you choose. You can see the updated pricing table (updated weekly) below.

Which Web4Africa plan should I get?
My recommendation is to start with a cheaper plan. You can always upgrade later on. Web4Africa can help you with the migration to a more expensive plan. The increase in visitors many times takes longer than expected and you shouldn't pay a lot of money until the need arises. Of course, your needs may vary, and you can consult with a hosting expert from Web4Africa here.

How good is Web4Africa's customer support?
Web4Africa is not ranked as one of our top web hosts. But that can also be a result of Web4Africa being a small, under the radar, hosting provider. There are advantages to a small hosting company – as a customer, you are more important to them. You can also check out our comparison of the most popular web hosting services here.