Web Werks is an
Indian hosting company
that was founded in 1996 and is one of India's top IT and hosting solutions provider. They offer a range of solutions such as VPS, dedicated hosting, and Cloud solutions. With data centers in the USA and India, the company serves over 5,000 clients around the world.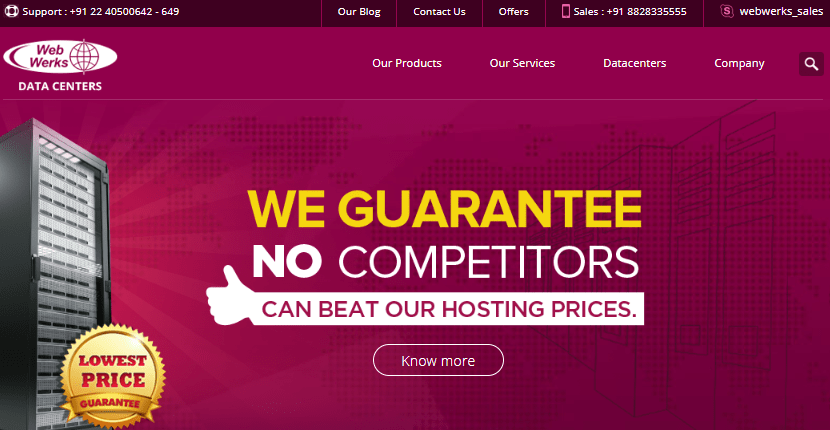 Features and Ease of Use
Starting with dedicated servers, you can choose between servers with Linux distributions and Windows OS and which run on Dell and HP hardware. They have three plans; Budget, Power, and Enterprise with personalized storage space, bandwidth, RAM, and IPs. You can manage your server or request them to manage it for you. Scalable, their platform lets you install and configure open source software, third-party apps, and MySQL databases. Key features include:
Basic server installation
cPanel and Plesk control panels
Network and hardware maintenance
24/7 technical support
99.9% Guaranteed Uptime SLA
Redundant and stable
One thing that I like about Web Werks Data Centers is that you can fine-tune servers to deliver optimal performance. Their uptime is good thanks to redundant networks and reliable data centers. Cisco-layered, their dedicated servers provide reasonable security against potential threats. Periodic backups ensure business continuity. You can recover data quickly in the event of a disaster. Additional services include O/S design and implementation, performance management, service monitoring, and IAAS setup guidance.
With their VPS hosting, you have full control over your web space at a fraction of the cost of dedicated servers.  This is a good option for any business that is growing rapidly and requires scalable resources including on-demand CPUs. Three plans with incremental features are available; Basic VPS, Standard VPS, and Advanced VPS. Setup is instant. Within minutes, you can deploy multiple websites or run resource-intensive apps on your server.
Cloud hosting is available on RapidV Cloud, Microsoft Azure, and Cloud VPS. With their Public or Private Cloud, you get a range of options. Their servers are located in secure data centers.  With flawless server and network uptime, their facility ensures availability for all basic and mission-critical websites and applications. On-demand resources are available. So you can scale up your rapidly growing business in no time.
I appreciate the fact that they offer a decent selection of web hosting administration tools. With cPanel or Plesk, you should find it straightforward to navigate the backend and effectively manage your resources.
Pricing and Support
Web Werks Data Centers offers affordable hosting solutions and flexible methods of payments to suit any budget. Thanks to their Pay-as-you-go model, you pay only for the resources that you use. Their lower CapEx also means you will save more without compromising on the quality of services. Setup and deployment are fast and free. I like the fact that they don't cap resource usage whether you run high usage apps or multiple websites.

Web Werks Data Centers has a rapid action support team that provides 24/7 support to customers. They professionally handle installations, server configurations, troubleshooting, security updates, and maintenance. You can reach them on Skype, email, and phone, and live chat. Technical sales reps are also available to answer all your sales-related queries.