As its name implies, Web Farm Italia is based in Italy. Its registered office is in Sicily and its servers are located in Milan. This is a web hosting company that offers virtual servers, reseller hosting, dedicated servers, colocation, and remote backup solutions. Its website is available in Italian only.
Features and Ease of Use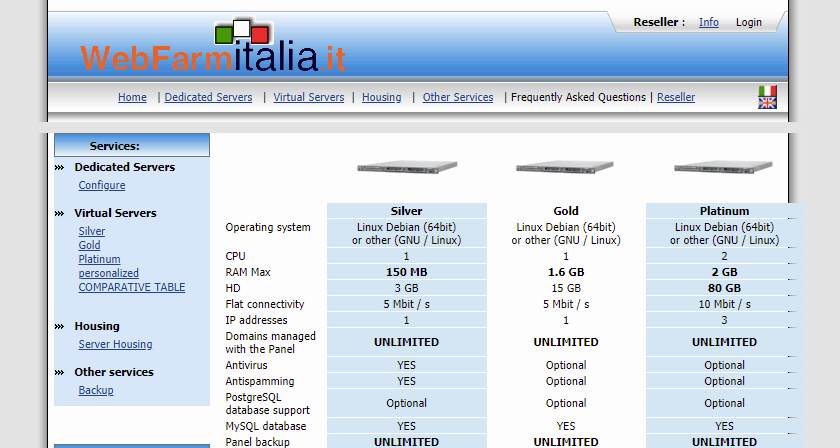 Web Farm Italia offers three web hosting plans that run on Linux operating system and are suitable for small business websites. These are some of the features that customers on any of the three plans enjoy:
Daily / weekly automatic backups
Unlimited hosted domains
5GB, 15GB, or 80GB storage space
5 or 10 Mbit/s connection
The company doesn't provide much in the way of features. For uptime, it mentions in its terms and conditions that it will ensure that all services will be available 24 hours a day, but that's face value when we can't see an exact percentage or warranty backing this up if it doesn't meet its promises.
Web Farm Italia offers guaranteed RAM of 150MB, 1.6GB, or 2GB depending on your plan. The first is too little for even simple websites but the other two work for most small websites that don't get so much traffic.
It provides MySQL databases with the option of PostgreSQL for a fee, for those who want it. Some other features that most web hosting companies offer for free, Web Farm Italia attaches a cost to, such as antivirus and spam protection.
On the plus side, though, it provides dedicated IP addresses. On the first two plans, you get one while on the third plan, you get three dedicated IP addresses.
Pricing and Support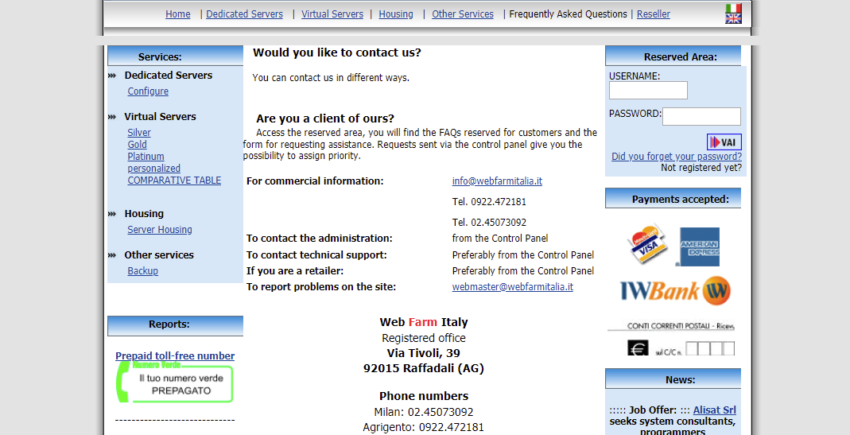 Web Farm Italia offers prices that are expensive for the features that it provides. You'll find similar features at lower prices from many other web hosting providers. You can pay with your credit/debit card, bank transfer, or postal order.
Keep in mind that the company doesn't provide a free domain and SSL certificate. Also, don't forget that some features like antivirus and spam protection come at an extra cost.
Also, it doesn't provide options to pay for one month of hosting at a time. You'll have to pay for one year if you choose the base plan or three months if you choose any of the other two plans.
This wouldn't have been much of a problem if the company provided a money-back guarantee. Unfortunately, it doesn't, and there's no free trial either.
You can reach customer support through email or phone, but what bugs me is that there's no live chat. I even shot them an email, but no response, and I've been waiting for over three weeks.