Founded in 1997, Web Drive's vision is to be New Zealand's best web host, and its entire team works to ensure this. It currently supports more than 25,000 customers with 100,000 domains. It offers web hosting, cloud servers and dedicated servers.
With its main data center in Auckland, it currently houses more than 1,000 servers. Its website is in English.
Features and Ease of Use
Web Drive offers four plans – Starter, Lite, Reseller, and Enterprise – offering one free website hosting, for any other website you want to host on your plan (all but the Starter plan), you'll have to pay an extra fee.
Web hosting customers are provided with the following:
99.9% uptime guarantee
5GB to 10GB traffic per website
1GB or 5GB storage space per website
Despite the fact that it sells SSL, it doesn't offer a free certificate, even on its premium plans. I also found it interesting that aside from the purchase fee, it also charges an installation fee to have it connected to your domain. This is a downside because Google has made HTTPS a key ranking factor. It's necessary and having to pay more to have it installed is not favorable. Many top hosts have a tool that settles that for free.
Concerning other hosting features, what it offers is basic at best. There's no application installer, nor is there a website builder. As such, you'll have to write your own HTML.
It offers Plesk control panel which you can use to set up the necessary hosting settings such as your website files, cron jobs, subdomains, and emails. Be aware that it only supports PHP programming. If you want to use any language outside PHP, like Python, you'll have to look elsewhere.
Pricing and Support
Web Drive's web hosting prices are pricey, with monthly prices too high for the features on offer. Also, if you want to add another domain to your hosting account, you'll have to pay an additional fee. In addition to the price of the SSL, setup, and domain, you'll spend more than you might have to with many other providers.
They don't offer a free trial or money-back guarantee, so you can't test the service without committing financially. If they do agree to refund your remaining balance, they will charge a refund fee.
Server support comes at an hourly rate that depends on the necessary technician if it deems the error not to be its fault, and is not available 24/7. They work from 8:30 AM to 5:30 PM from Monday to Friday (GMT+12) and a few hours during the weekend. If you need help outside these hours, you'll pay more.
The available options for contact are ticket, phone, and email. I sent an email and received a response a few hours later.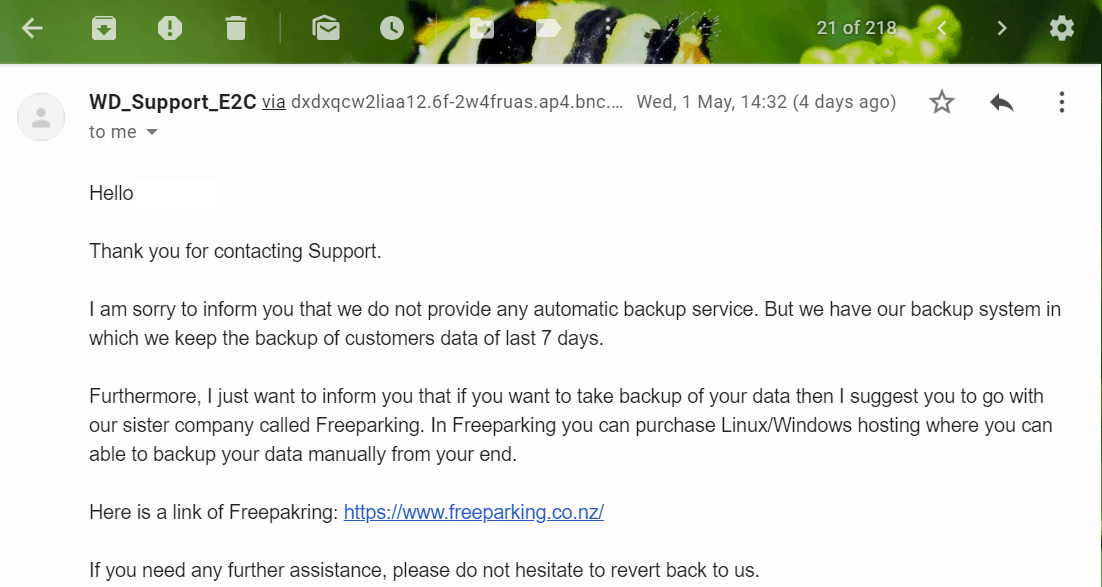 There is also a knowledge base with a few tutorials.