VTX Telecom (VTX) is backed by thirty years of experience in the telecommunications sector. In the domain of VoIP, it has more than twelve years of experience. The company has seven branches in Switzerland and boasts of 29,997 customers. The company has been providing web hosting services in Switzerland for more than twenty years. At present, it manages over 20,000 domain names. The website is accessible in German and French.
Features and Ease of Use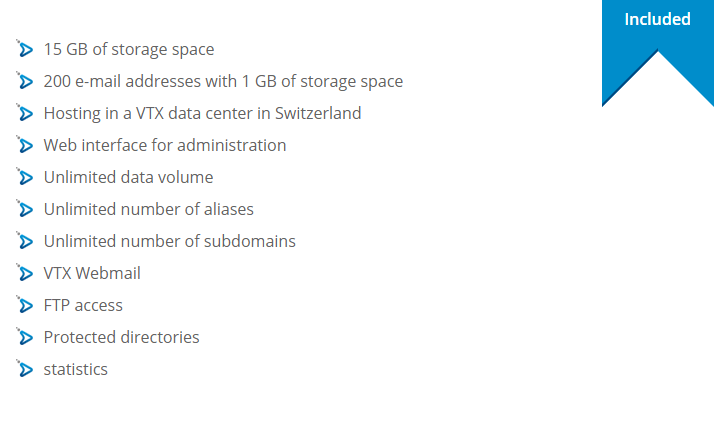 For its residential and corporate users (beginners), VTX offers two plans – Webpack Linux and Webpack Windows. These plans come with:
Hosting in a Switzerland-based data center
15GB of storage space
Unlimited data volume
Unlimited number of subdomains and aliases
200 email addresses with 1GB of storage space
VTX webmail
Web interface for administration
Protected directories
FTP access
Web statistics
The Linux plan comes with 20 MySQL databases; CGI, PHP, Perl scripts; and one-click installation of Joomla, WordPress, PrestaShop, and Magento. The Windows plan comes with Access database; offers an option of MSSQL database; and supports ASP and ASP.NET scripts. These plans come with a web interface that has more than 200 pre-installed applications, which you can use to design your website easily. You can even use the same interface for easy management of your emails and website.
The company also offers three corporate cloud server plans, six corporate housing plans for your servers and equipment, four dedicated server plans, customized managed cloud server, hosted-exchange (collaborative mailing solution), and five Easy Share plans for sharing, saving, and syncing documents. The company's SLAs guarantee 99.9% availability of network, hardware, and infrastructure, thus ensuring an optimal internet presence for its clients. However, it's lower than the industry average.
Thanks to VTX Easy Website (website builder) that lets you customize a hundred expert-generated web templates and choose from hundreds of royalty-free images, you can design your website without programming or coding skills.
With the company's Easy Share plans, you can share, sync, modify, and create documents online and keep them secure, thanks to heavy encryption and daily backups. With Easy Share, you can even synchronize your documents and data between your smartphone, computer, and tablet, and access them easily on the go.
Thanks to its partnership with Cloudflare, VTX offers a CDN (Content Delivery Network), thus ensuring faster content delivery to your website visitors, irrespective of their location.
VTX also offers you root access, which means you'll have unlimited access to the server, and thus, complete control of your hosting.
Pricing and Support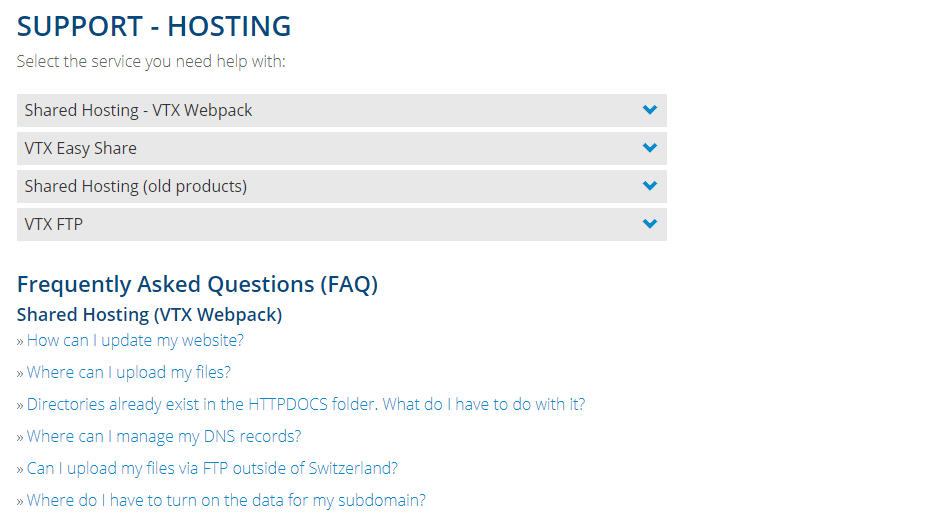 VTX's entry-level hosting plans are cheap. You can pay for these yearly plans in CHF (Swiss Franc) via MasterCard, Visa, and PostFinance.
VTX's customer support can be reached via phone (Monday-Friday: 8:00 AM to 6:00 PM), email, live help, an online form, and a ticketing system. The company also offers remote support via TeamViewer. Though I couldn't reach their live help, I was able to submit my queries via their online form. However, my questions went unanswered.
If you prefer managing support on your own, you can visit the Support-Hosting section of VTX. There, you will find various user manuals, video tutorials, and an FAQ section to assist you.