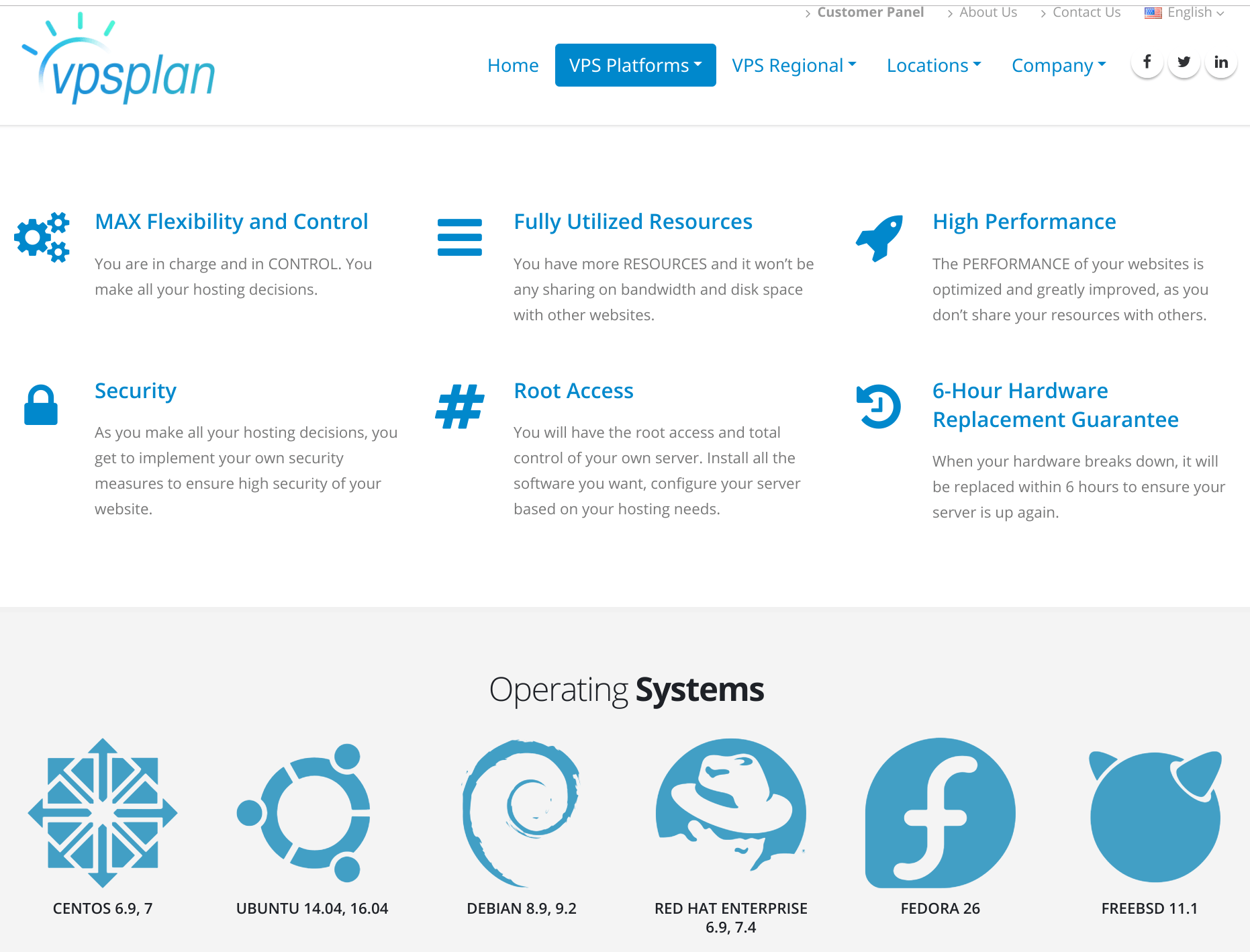 As its name suggests, VPSPlan is a provider of virtual private servers. This Delaware-based company offers an extensive range of KVM VPS, VMware VPS, and other types of VPS to global clients. Its website is in English.
Features and Ease of Use
VPSPlan offers a total of 75 KVM and VMware packages in a large number of locations all around the world. These VPS packages provide you with:
1 to 8 vCore
1 GB to 64 GB RAM
20 GB to 480 GB SSD
2 to 15 TB of traffic
You can choose your operating system and see your VPS set up within 30 minutes. The virtual servers are scalable according to your changing requirements, and you can easily upgrade to a higher plan (with more resources) without suffering any data loss.
These plans provide root access for complete flexibility and control. You can even improve your website's security by implementing your own security measures.
Unlike shared hosting, our virtual servers provide you with full access to your resources, ensuring optimal performance for your website. We take pride in guaranteeing superior performance for our virtual servers, and we back it up with a six-hour hardware replacement guarantee. While we don't specify any particular uptime, rest assured that we are committed to delivering top-notch hosting services to meet your needs.
Pricing and Support
VPSPlan's VPS plans start cheap and go up to competitive prices. You can pay in U.S. dollars via PayPal on monthly or annual terms, but there are no refunds.
Reach out to the company's customer support team (24/7 on weekdays and up to midnight at weekends) via live chat, email, ticket, or an online contact form. The bad news is that live chat was unavailable when I wanted to try it, and my offline message elicited no response. There is no knowledge base or other self-support resources as far as I know.