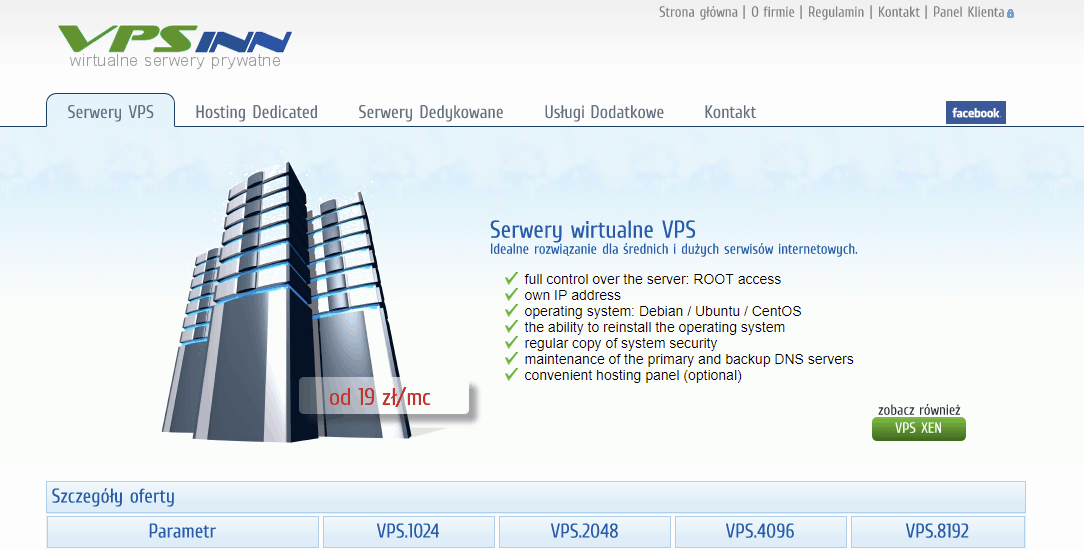 VPSINN is operated by STATNET, an IT solutions provider. VPSINN's administrative office is located in Bydgoszcz, Poland. It offers Virtual Private Servers (VPS) and dedicated servers. The company's data centers are located in Germany and its webpage is available in Polish only.
Features and Ease of Use
Small businesses that are looking to host simple websites need fewer resources than international brands. Shared hosting servers are better suited for simple websites, but VPSINN doesn't offer shared hosting. If you're in the market for a VPS or dedicated server, you can consider this company.
It offers four VPS plans. These are some of the features:
99.9% uptime
Automatic backups every three days
Anywhere from 200GB to unlimited monthly transfer
Up to 100GB disk space
1GB, 2GB, 4GB, or 8GB RAM
VPSINN supports Debian, Ubuntu, and CentOS. You get to choose a version of any of the three operating system distributions that you want on your server before checkout. Unfortunately, it doesn't support Windows and BSD options.
VPS is virtualized on OpenVZ, which provides better CPU performance in most instances than KVM. You get your dedicated resources, but it only supports the Linux operating system. Hence, the lack of support for Windows and BSD as mentioned above.
You are in total control of your VPS. You can restart your system at whatever point you want, and you get root access to control your VPS instance. As such, you can install any custom software you want.
VPSINN provides ISPmanager, DirectAdmin, and Webmin control panels. You can choose which you're comfortable with before checkout. Alternatively, you can choose the "no panel" option.
The company's services weren't built for beginners to web hosting. You need a bit of server administration and web development knowledge/experience to be able to manage your server and set up your website.
Pricing and Support
VPSINN offers four VPS plans with varying RAM, disk space, and monthly transfer. Also, there are two categories of dedicated server on offer – dedicated hosting, which is managed and dedicated servers that are unmanaged. Features like software installation and regular updates come with the dedicated hosting plans.
The prices of its plans are not "cheap" as expected for shared hosting. However, the VPS plans are low-priced for the features on offer. Also, the dedicated server plans provide an affordable dedicated server option for customers.
Its lowest subscription period is one month, but if you're willing to pay for a longer duration (three months, six months, or a year ), you'll get a discount of between 2% to 10%. The company accepts payments through the dotpay processor, which accepts PayPal, vouchers, bank transfer, and cash transfer methods.
Keep in mind that there's no money-back guarantee for customers, and refunds are only provided if the company violates its terms of service.
Customer support is available through email, phone, and ticket. As there was no live chat to use to contact support immediately, I opened a ticket and received a response in less than ten minutes.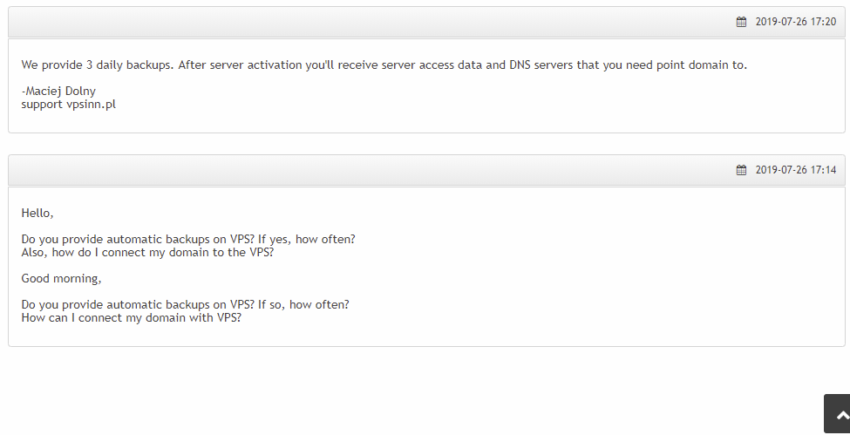 Unfortunately, the company doesn't have a knowledge base to help customers with self-support.