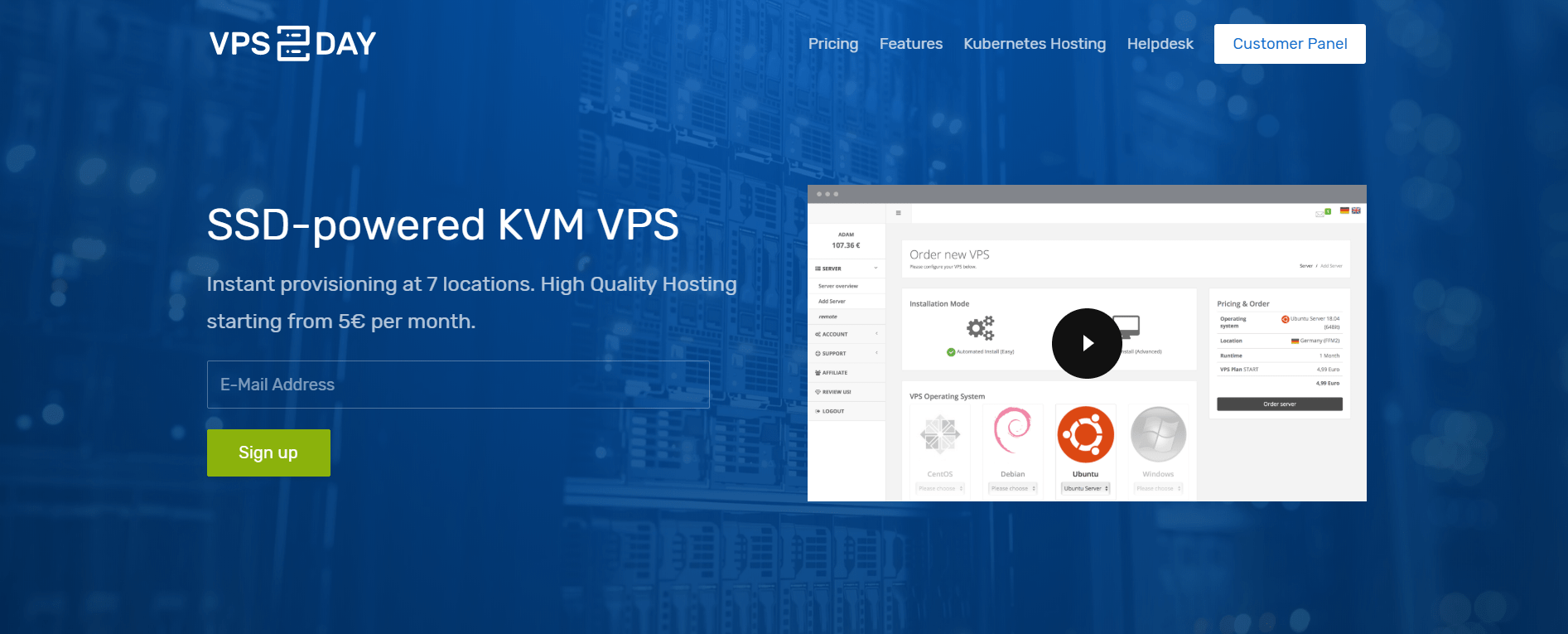 To compare the best web hosts, we hosted the same WordPress website on each one and tested performance, customer service, and value for money.
Check out the results here.
They may be a new web hosting agency, but VPS2DAY are no strangers to the web hosting scene. Their small team has over a decade of experience in the industry and have made it their mission to provide customers with high-performance, low-cost alternatives to dedicated servers. Founded in 2014, VPS2DAY focuses on providing stable and reliable VPS hosting services in Europe.
Clients can choose from seven available points of presence (PoP) globally: Germany, the United Kingdom, the Netherlands, Romania, Sweden, Switzerland, and the United States. They're headquartered in Germany and their website is available in both German and English. They serve over 2,500 customers from 50 countries around the world.
Features and Ease of Use
VPS2DAY has narrowed their portfolio of services to a single core offering: high-quality VPS hosting. These come with your choice of Windows or Linux as an operating system. Almost immediately after you make payment, your VPS will be deployed and ready to go. If you've opted for Linux, your OS will be installed automatically, but if you're going for Windows, you'll have to install this OS on your own.
VPS packages come with a minimum of 1vCPU core, 1024MB of RAM, 25GB lightning-fast SSD storage, and a single IPv4 and IPv6 address. The cheapest VPS package is only available for Linux, but thereafter all packages are available for either Windows or Linux.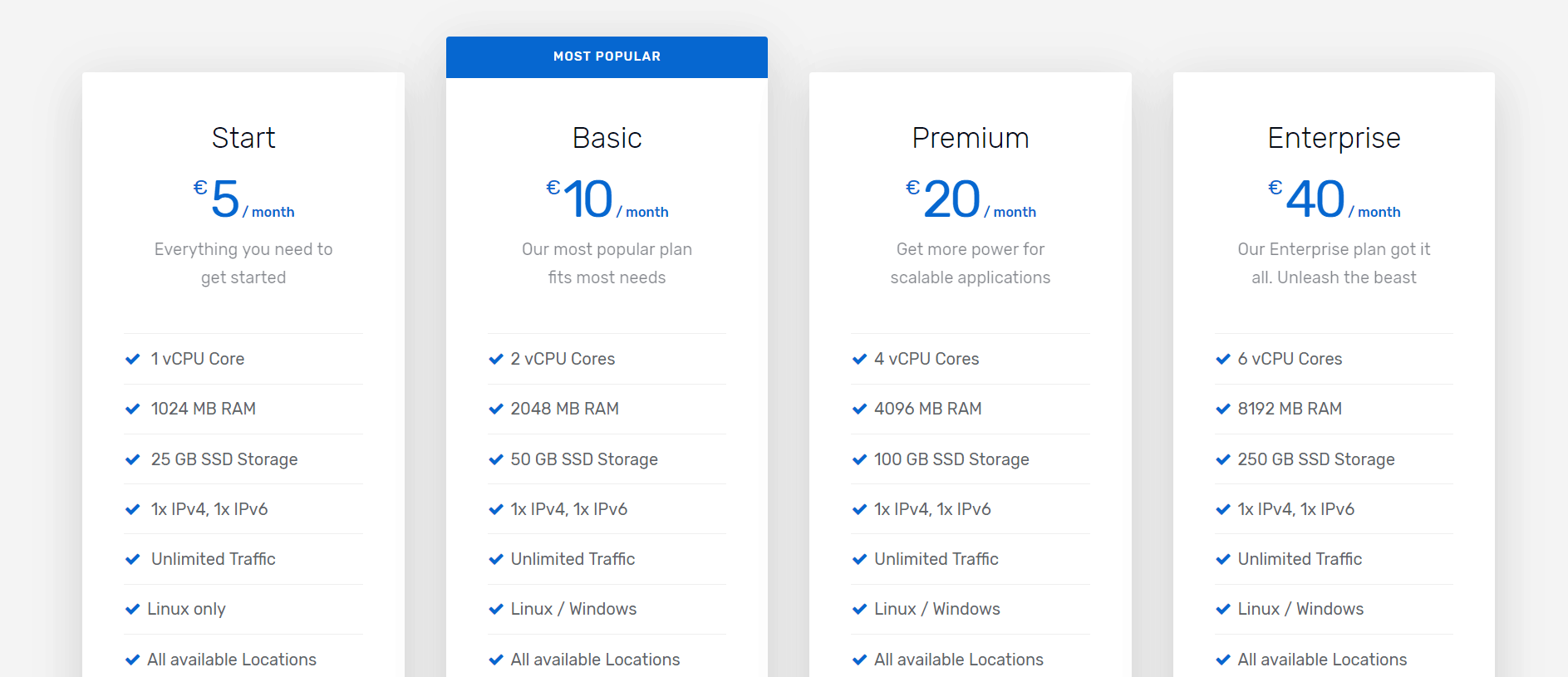 By default, you'll have a bandwidth of 100Mbps. This comes with a fair use policy. If you feel like you'd rather have more, you can raise this to 1Gbps in your customer control panel with a single click – though of course, additional fees apply. The same goes for their backup or monitoring systems: you'll have to add this on separately because they won't come included in your standard VPS packages.
The VPS2DAY website cites a 99% uptime SLA, which is low by VPS hosting standards – most solid web hosting providers will offer at least a 99.9% uptime guarantee.
Pricing and Support
Pricing-wise, VPS2DAY is definitely one of the most affordable VPS hosts on the market. This is a benefit that comes from specialization: you can cut operating costs and focus on streamlining your systems to promote quality and affordability at the same time.
An additional perk of going with VPS2DAY is that they don't tie you down with any contracts. You pay month-to-month and can cancel, adjust, or even move your plan to a different PoP location at any time. You get up to 30 days of free hosting if you're willing to prepay for at least three months on your contract, however.
There's no free VPS hosting plan available, but they do have a 48-hour money back guarantee. While you may find this refund period extremely short, keep in mind that most hosts don't offer any kind of refund on VPS plans. In comparison, VPS2DAY actually performs fairly well in this aspect.
One thing I didn't like about VPS2DAY though: their support channels seem very limited. All they have right now is a contact form on their website – and not even a ticketing system at that. They have a helpdesk as well, but this only has about two dozen articles available. Also, bear in mind that VPS2DAY, by default, is an unmanaged VPS hosting service – you can always request for additional help, but they'll likely charge you for any customizations or configurations.
How much does VPS2DAY cost?
VPS2DAY offers multiple plans priced highest to lowest. The price depends on which type of hosting plan you choose. You can see the updated pricing table (updated weekly) below.

Which VPS2DAY plan should I get?
My recommendation is to start with a cheaper plan. You can always upgrade later on. VPS2DAY can help you with the migration to a more expensive plan. The increase in visitors many times takes longer than expected and you shouldn't pay a lot of money until the need arises. Of course, your needs may vary, and you can consult with a hosting expert from VPS2DAY here.

How good is VPS2DAY's customer support?
VPS2DAY is not ranked as one of our top web hosts. But that can also be a result of VPS2DAY being a small, under the radar, hosting provider. There are advantages to a small hosting company – as a customer, you are more important to them. You can also check out our comparison of the most popular web hosting services here.