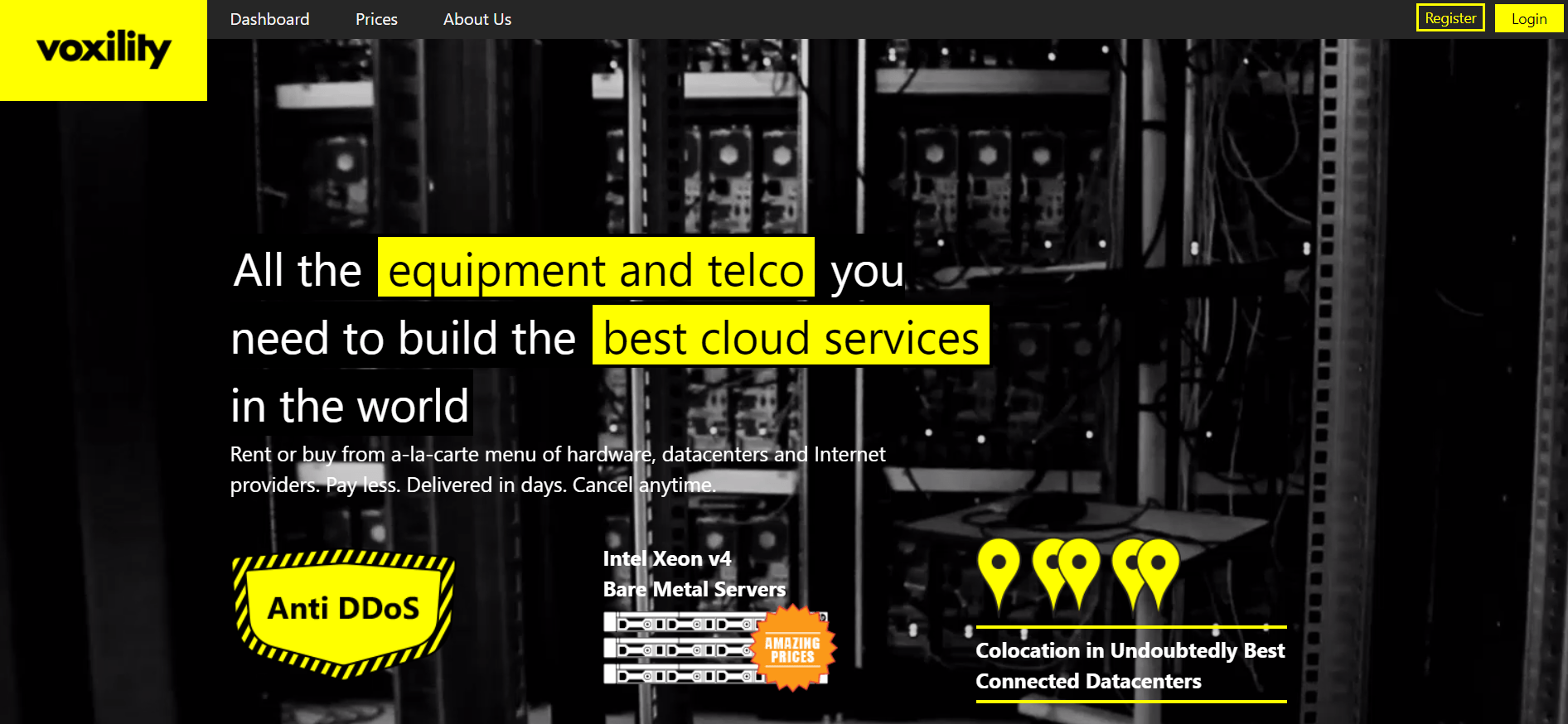 To compare the best web hosts, we hosted the same WordPress website on each one and tested performance, customer service, and value for money.
Check out the results here.
Voxility serves the online business community by providing hardware, internet access, and security. It features state-of-the-art data centers and serves large enterprises, hosting providers, cloud service providers, and integrators.
Features and Ease of Use
At Voxility, you can expect high performing Intel systems on your servers. Some of these include:
22nm Intel Haswell-EP platform
22nm Intel Ivy Bridge-EP platform
14nm Intel Skylake-DT platform
32nm Intel Sandy Bridge platform
The standard SLA provided by Voxility includes an infinite number of requests for support regarding any problems encountered in the initial setup. Problems, such as packet loss, routing issues, link down, and even troubleshooting are easily covered by the SLA.
As for the remaining specifications, you can have anywhere from four up to 28 cores and twice the number of corresponding threads. Similarly, RAM is available from 32GB up to 768GB. Other features include an OS storage controller, data NVMe storage, data external storage, and SSD/HDD storage. All these features can easily be configured from the configuration page of your package.
Security is one of the most important features of any server and at Voxility, the security is a vital part of the service. There are separate packages available for DDoS protection. You can either opt for the anti-DDoS tunnel for networks or the secure uplink with free download IP transit. In this way, you have your online data, DNS websites, and TCP services all well-protected from any DDoS attacks.
Pricing and Support
Voxility offers servers for 'general purposes', 'storage', or 'compute and storage'. For all the packages, you have to pay both a monthly fee and a onetime setup fee. The packages are relatively expensive if you want to be flexible and be able to terminate your contract any month. However, if you buy for a longer period, such as a year or two, you can get a decent discount on the price. The prices mentioned on the website include taxes.
The Network Operations Center at Voxility is on the job 24/7 and will usually answer your emails within a quarter of an hour. If that isn't quick enough for you, you can call their support in four different countries that include U.S., U.K., Germany, and Romania. These are also the four locations where their offices are located.
How much does Voxility cost?Voxility offers multiple plans priced highest to lowest. The price depends on which type of hosting plan you choose. You can see the updated pricing table (updated weekly) below.
Which Voxility plan should I get?My recommendation is to start with a cheaper plan. You can always upgrade later on. Voxility can help you with the migration to a more expensive plan. The increase in visitors many times takes longer than expected and you shouldn't pay a lot of money until the need arises. Of course, your needs may vary, and you can consult with a hosting expert from Voxility here.
How good is Voxility's customer support?Voxility is not ranked as one of our top web hosts. But that can also be a result of Voxility being a small, under the radar, hosting provider. There are advantages to a small hosting company – as a customer, you are more important to them. You can also check out our comparison of the most popular web hosting services here.