Vox is a South African telecommunications company that offers
enterprise web hosting
and IT services at affordable rates. With a range of hosting plans and a fantastic support time, Vox is a good choice for businesses that want to kickstart operations in Africa.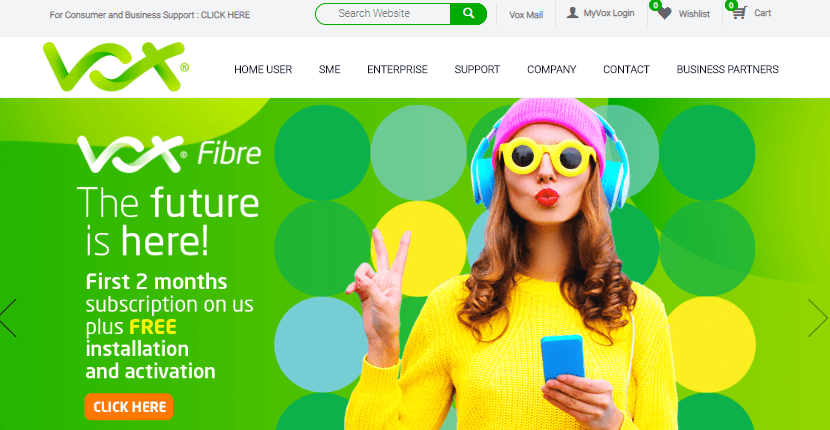 Features and Ease of Use
Vox can help your business go online quickly with their affordable and simplified hosting plans. They offer shared hosting on both Linux and Windows platforms that run on load-balanced servers. Armed with their tools, you can easily build a good website with no outside help at all. With their shared hosting, you get the following:
One click CMS installer
Free site builder
MySQL databases
Website statistics manager
Daily file and database backups
Virus management and updates
365 days support
Starting with Linux hosting, they have three plans; Linux Basic, Linux Standard, and Linux Advanced all of which come with a free site builder. With their Basic plan, you get 1GB storage space, four FTP accounts, 25 emails, and one database.  Their Standard package comes with 4GB storage, eight FTP accounts, 75 emails, and five databases. If these don't work for you, you can choose the Advanced package includes 20GB of storage, 20 FTP accounts, 200 email accounts, and 20 databases.
If you want to build or deploy ASP.NET apps, you can go for their Windows hosting that supports ASP with MS-SQL.  Their package comes with 550MB disk space, 1 MySQL database, and 2GB bandwidth. If you're not building a database-driven website the best option would be the HTML hosting with 550 MB disk space and 2GB monthly traffic.
But that's not all. Vox also offers customizable Virtual Hosting that runs on stable, secure, and high-availability machines. With uncapped bandwidth and load-balanced environment, their virtual servers guarantee you good performance. Choose from three plans backed by SLA and round-the-clock support. The best part is that VMs can be configured instantly and scaled to meet your memory, processing, and storage speeds.
Hiring a developer to build your website is not only expensive but sometimes frustrating, especially when you hire a poor one. Having a site builder is really great if you don't require lots of resources. This not only saves you the money but also gets you the website that you really want. And if you feel you are overwhelmed, Vox includes a wonderful feature called Do It For Me site-builder. This is a premium option that allows you to have your website built by the Vox team.
With any of the Vox plans, you get a user-friendly control panel that lets you configure domains and manage your website, emails, and databases. Both Linux and Windows hosting are accessible from a single control panel. Setting up a website or blog shouldn't be a problem for you as their plans come with a range of pre-installed apps for blogs, e-commerce, galleries, forums, and calendars that you can install with a few clicks.
Pricing and support
Vox offers cheap and shallow hosting plans compared to most hosting services. Prices are inclusive of VAT and hosting plans are billed monthly. If you're looking for barebones hosting or just entry-level plans, Vox will give you that. But if you're looking for a hosting service with powerful servers and a load of features, I'd advise you to look elsewhere.
With Vox hosting, you'll never be stuck in a rut.  They offer 24/7 support in English. Their technical support team will promptly attend to any hosting issue you may have, regardless of your hosting package or service. You can simply call their telephone number or initiate a live chat between 8:00 am and 5:00 pm (+2GMT) during working hours, or send them an email at any time.