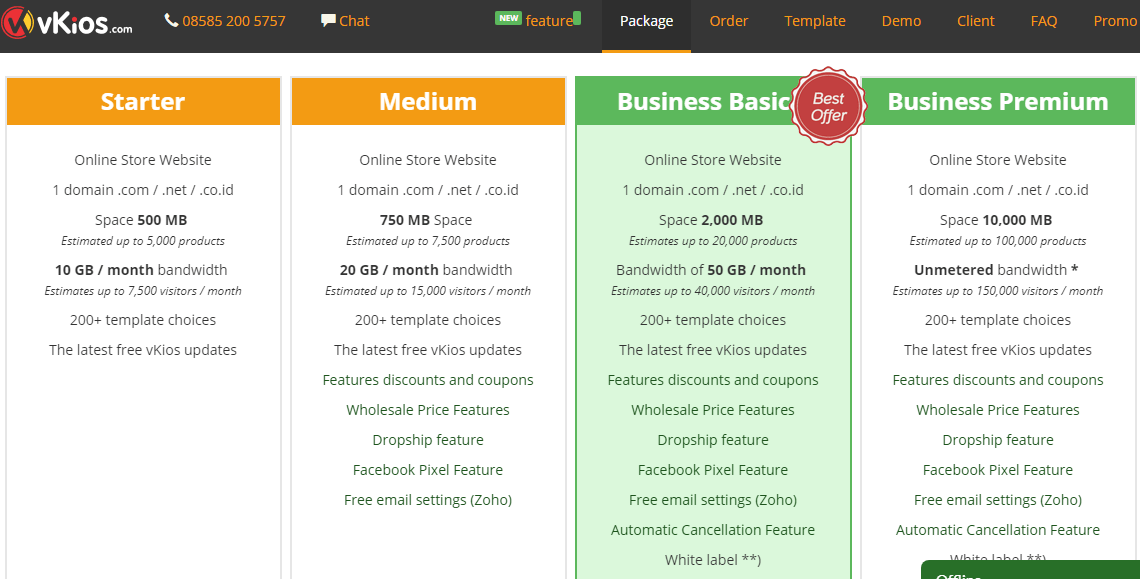 vKios is an E-commerce platform. Much like Shopify and BigCommerce, it offers hosting and E-commerce features. This company was founded in 2005 to bridge the E-commerce website development gap in Indonesia.
Its goals include providing an affordable online shopping solution to Indonesian E-commerce entrepreneurs. It has supported some high-ranking E-commerce stores and proudly displays them and their rank on SERP on its website. The website is in Indonesian only.
Features and Ease of Use
Given that vKios is a hosted E-commerce shopping cart, it doesn't offer cPanel or shell access. Its features are geared toward E-commerce functionalities for those with little to no technical experience. These are few of its features:
Free domain registration
Free SSL certificate on the two top plans
Anywhere from 500MB to 10,000MB storage space
Up to unmetered bandwidth
Unlike most of the popular E-commerce platforms that only have 10-14 free templates, vKios offers 200 free templates. They may not be as modern as those on WordPress or Magento, but they are functional.
From the Medium plan, you can offer discounts, vouchers, and coupons to your customers and expand your store. The marketing features extend to upselling and cross-selling. It provides a related products sections that's much like Amazon's "people that bought this also bought…" section. You can use this to increase single order value for your customers.
I also like its wholesale price feature which enables you to give discounts based on bulk purchases. This can encourage more orders on your website. You can also register invoices and process payments from drop shippers of your goods as well as your end customers.
If you don't want to spend extra on graphics design, you can take one of the top two plans; Business Basic and Business Premium. With it, you get two hero sliders and three website banners as free add-ons.
Pricing and Support
vKios offers low-cost pricing considering its features. While it may not be as robust as E-commerce hosted solutions like Volusion or Shopify, it is still a suitable option for users in Indonesia, given its competitive prices. Moreover, being a native solution, it focuses on payment gateways, taxes, and legal duties specific to Indonesia, unlike many other leading solutions that cater primarily to the Western market.
It has a 10-day money-back guarantee available which is unfortunately, not enough time to really access the service. Also, most hosted E-commerce solutions offer a free trial, but vKios doesn't.
Customer support is not available 24/7. You can contact them on Monday through Saturday from 8:00 AM to 5:00 PM. You can reach them by phone, send a message on WhatsApp, by using live chat, or sending an email.