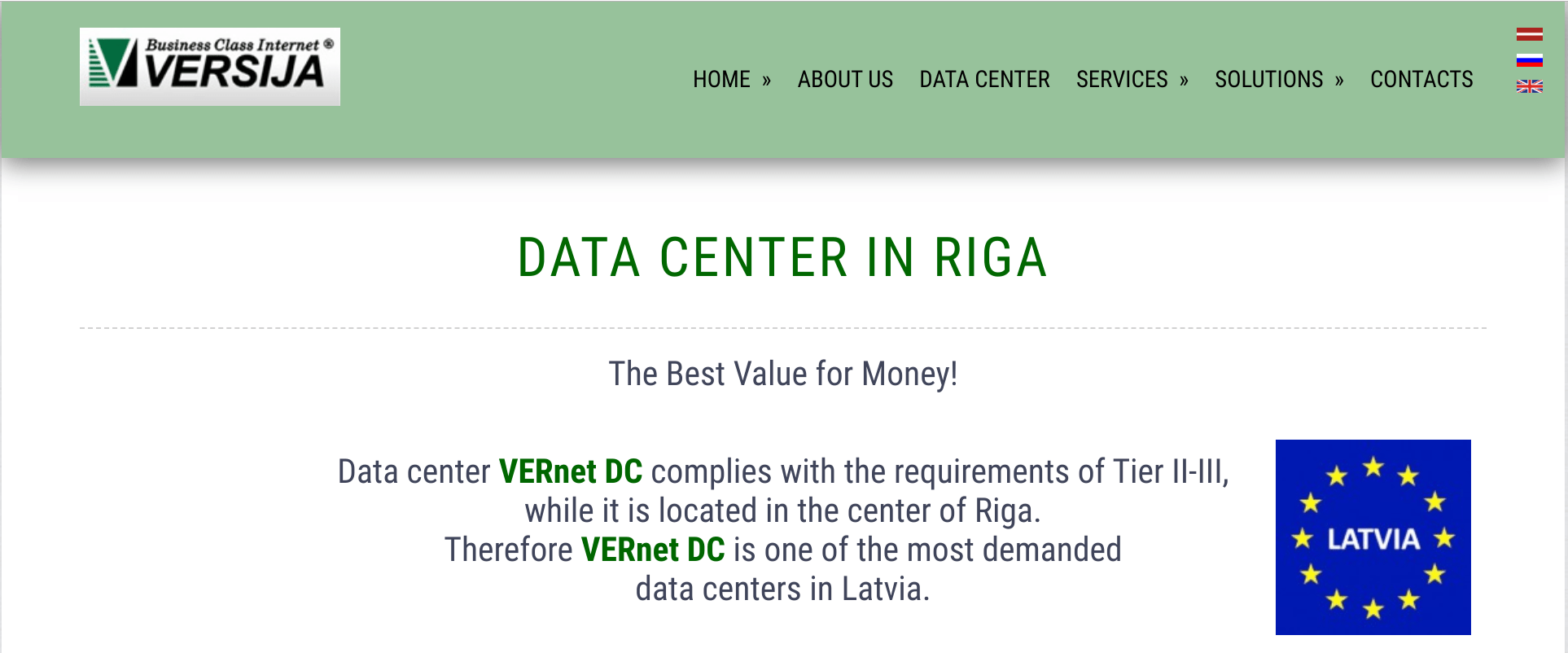 Although the VERnet DC data center was set up in 2011, parent company VERSIJA was founded in 1991. This Latvian internet service provider claims to offer the best value-for-money solutions from the data center that offers virtual servers, dedicated servers, colocation, rack rental, and associated services.
VERnet DC's website supports the English, Russian, and Latvian languages.
Features and Ease of Use

VERnet DC offers five virtual-server and five dedicated-server packages. The VPS packages provide you with:
30 GB to 160 GB HDD
Unlimited traffic
1 GB to 8 GB RAM
FreeBSD, Linux, and Windows operating systems
2-core to 8-cores processors
DNS zone records
VERnet DC's VMware virtual servers have server accessibility monitoring services with immediate notification of issues, and they're administered via the reliable vSphere control panel.
The data center itself supports Tier 2 and Tier 3 requirements, which means you are assured a certain level of service.
Pricing and Support
VERnet DC charges VPS prices that are considerably higher than the industry average. You have the option to make payments in euros or U.S. dollars on monthly, quarterly, semi-annual, or annual billing cycles, and this can be done through PayPal or credit/debit card, and possibly by bank transfer as well. While the 7-day free trial might seem a bit brief to fully evaluate the services, it aligns with the norm for virtual server solutions.
I don't like the fact that you can't purchase plans online, so you have to contact the company first. You can make contact by telephone, fax, email, or online contact form. My contact form submission received a reply after about four hours to confirm that there is no uptime guarantee (but an SLA can be offered if required):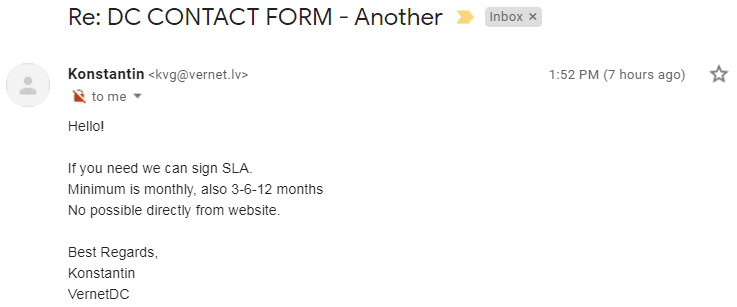 No self-support resources are evident, but — again — this is not all that unusual for virtual and dedicated server providers.