To compare the best web hosts, we hosted the same WordPress website on each one and tested performance, customer service, and value for money.
Check out the results here.
Founded in 1998, UnitedHosting is a U.K.-based hosting service that powers over 150,000 websites. It offers basic shared hosting plans, optimized VPS, cloud-based solutions, and dedicated servers. From September 2018 onwards, UnitedHosting started offering its shared hosting services through a sister company, Hosting UK.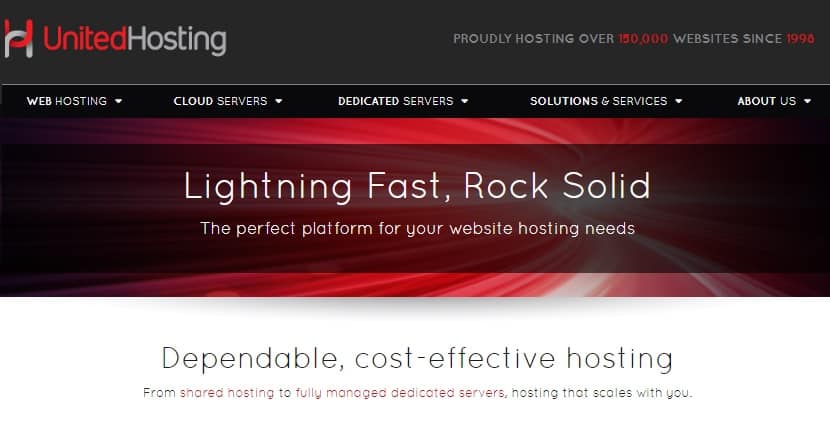 Features and Ease of Use
With a 99.999% uptime record, UnitedHosting's shared and dedicated hosting services offer excellent reliability. This is in part thanks to high-grade servers from Dell and the company's comprehensive monitoring services. On top of that, you'll get daily off-site backups and high levels of support, so there's no question about the security or performance here.
One thing you'll notice, however, is that the shared hosting packages here don't offer much storage. For instance, the entry-level Bronze plan offers just 200MB disk space and 5GB traffic bandwidth. Even the highest-tier Platinum package only goes up to 2GB disk space and 20GB data transfer. This means that you won't be able to host media-heavy websites on the shared hosting plans here.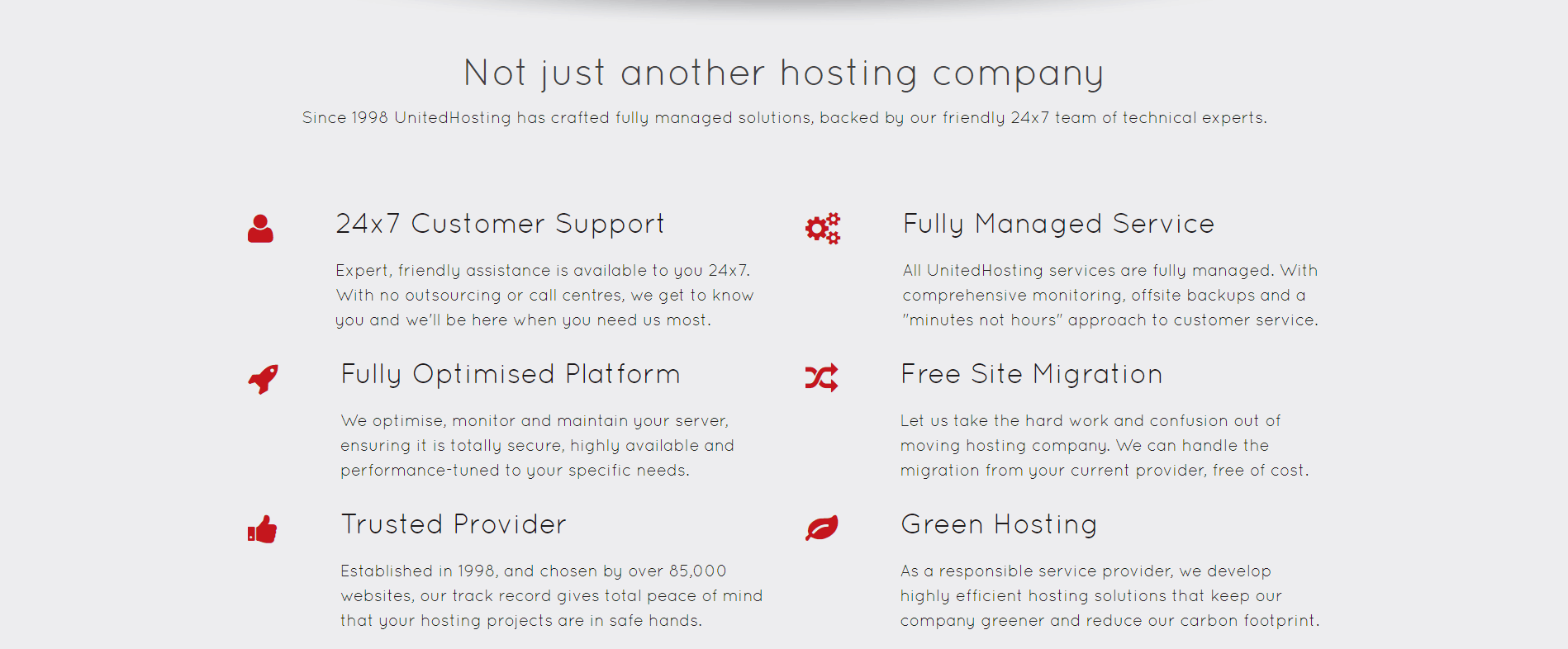 You'll get the following features as standard with the shared hosting plans here:
100% uptime SLA
PHP 5 support
Instant backups
FTP and SSH access
Unlimited subdomains and MySQL 5 databases
Dedicated IP addresses
Signing up is easy. Your account becomes active the moment you place an order and pay. With every plan, you get access to a cPanel installation with a one-click installer that allows you to set up your blog or website using open-source CMSes, such as WordPress and Drupal among others. To top it off, UnitedHosting backs up your website files and emails several times a day.
If you own mission-critical websites that require dedicated RAM, storage, and flawless uptime, then consider the high-performance dedicated servers here.  Stable and secure, these servers are built on powerful hardware and include licensed software. You can choose between servers that run on Dual Intel Xeon E5 or Intel Xeon E3 processors. With your server, you also get extras such as MySQL DBs, unlimited mailboxes, and parked domains.
Pricing and Support
When it comes to pricing, UnitedHosting matches its cost with a full suite of features. You don't get a ton of resources with shared hosting, but at least you do get great perks like unlimited subdomains, MySQL databases, and dedicated IP addresses.
UnitedHosting doesn't have any hidden charges, though they do charge setup fees for dedicated servers. VAT is not included in the listed prices, so you may end up paying quite a bit more when you order a package.
I appreciate the fact that this company doesn't lure customers with initial offers and then pull a bait-and-switch on prices later (like many other hosting providers do). Although I'm not a fan of the resource limits imposed here, at least they have a "no overselling" policy for shared servers. In the long term, this policy should result in improved website performance for you.
With a 15-minute average response time, UnitedHosting has one of the most responsive support teams I've seen. The company's in-house technical team is available 24/7 via email, live chat, and telephone.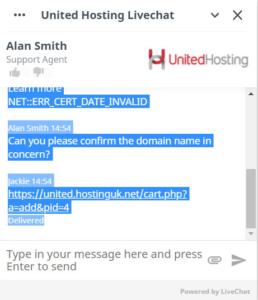 One caveat, however: when I tried to purchase shared hosting through UnitedHosting, I hit a security warning indicating that the company's SSL certificate was expired. I contacted customer support about this. While the live chat agent picked up almost immediately, he merely told me to bypass the security warning and continue the purchase anyway.
This is a huge cause for concern: if the company doesn't keep its website's security up-to-date, what about the servers its customers are hosted on? For this reason, I'd proceed with caution until — at bare minimum — the company renews its SSL certificate.
How much does UnitedHosting cost?
UnitedHosting offers plans from $8 to $22. The price depends on which type of hosting plan you choose. You can see the updated pricing table (updated weekly) below.

Which UnitedHosting plan should I get?
My recommendation is to start with a cheaper plan. You can always upgrade later on. UnitedHosting can help you with the migration to a more expensive plan. The increase in visitors many times takes longer than expected and you shouldn't pay a lot of money until the need arises. Of course, your needs may vary, and you can consult with a hosting expert from UnitedHosting here.

How good is UnitedHosting's customer support?
UnitedHosting is not ranked as one of our top web hosts. But that can also be a result of UnitedHosting being a small, under the radar, hosting provider. There are advantages to a small hosting company – as a customer, you are more important to them. You can also check out our comparison of the most popular web hosting services here.