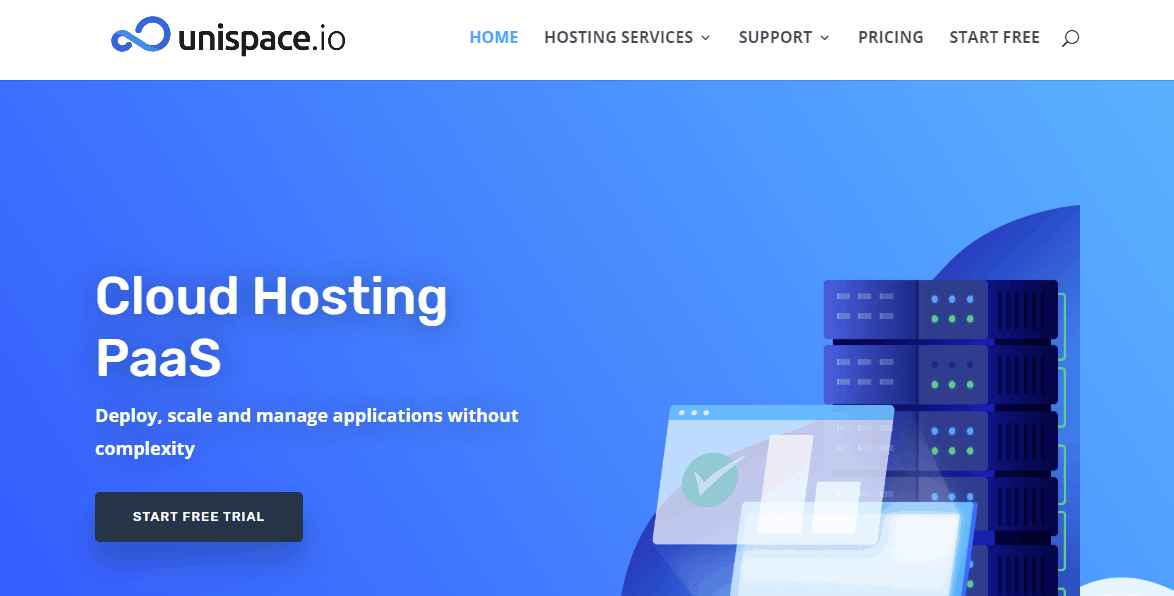 Founded in 2017, Unispace is a managed hosting provider with servers located in the Czech Republic and Germany. With a website in English, the company states its offerings, which include cloud VPS and platform as a service for Java, PHP, Python, Node.js, and Docker applications. It deals with developers, enterprises, and service providers.
Features and Ease of Use
Unispace doesn't offer shared hosting or any traditional web hosting solution. Its cloud hosting is made for applications and high-end websites. Here are a few of its features:
99.982% uptime guarantee
Daily automated backup
Autoscaling up to 32GB RAM
Anywhere from 50GB storage
Although the cloud platform isn't easy to understand for newcomers to cloud hosting, Unispace does a bit to alleviate that aspect with one-click installs. The pre-configured applications are WordPress, Magento, Joomla!, and Drupal.
Unispace's cloud platform grows with customers. It automates the scaling of resources based on the current load and trigger alerts to meet demand as and when you need it. That guarantees that you never overpay for unused resources and saves you time.
It automates the creation, clustering, and security updates of both cloud-native and traditional applications.
Unispace provides load balancers to customers. This takes the incoming traffic and distributes it across a cluster of servers to ensure that one server doesn't get overwhelmed. Plus, it caches static content with Varnish to provide the website/application faster. There's also Redis cache to improve the response time.
Unispace uses containerized hosting, which has many benefits, including simplifying the management of IT infrastructure, faster boot speeds, the ability to test faster and reduce time to market – on the hosting side. In one click, you can make your application (and updates) available.
The company's system provides customers with a global footprint, enhanced load time, and clouds. Everything is managed from one single panel; with a user-friendly UI, SSH access, cloud scripting, and more, server managers can control their workload.
Pricing and Support
Unispace operates a pay-as-you-go model. You don't need to input credit card details at the start, nor do you pay beforehand. During onboarding, you choose the resources that you want to start out with and the system presents the hourly rate to you. You can also check the daily and monthly estimates to see if it fits your budget.
There's also a free 14-day trial so that you can test and move on if it's not for you. Due to its pay-as-you-use model, refunds are not provided.
Customer support here is adequate. There's in-depth documentation with guides and details on its features, and its community on Stack Overflow is active; you should be able to fix most issues without contacting the support team and if you need to contact them, there is a phone number and email address for that.
I sent an email to customer support and got a response in less than 20 minutes.