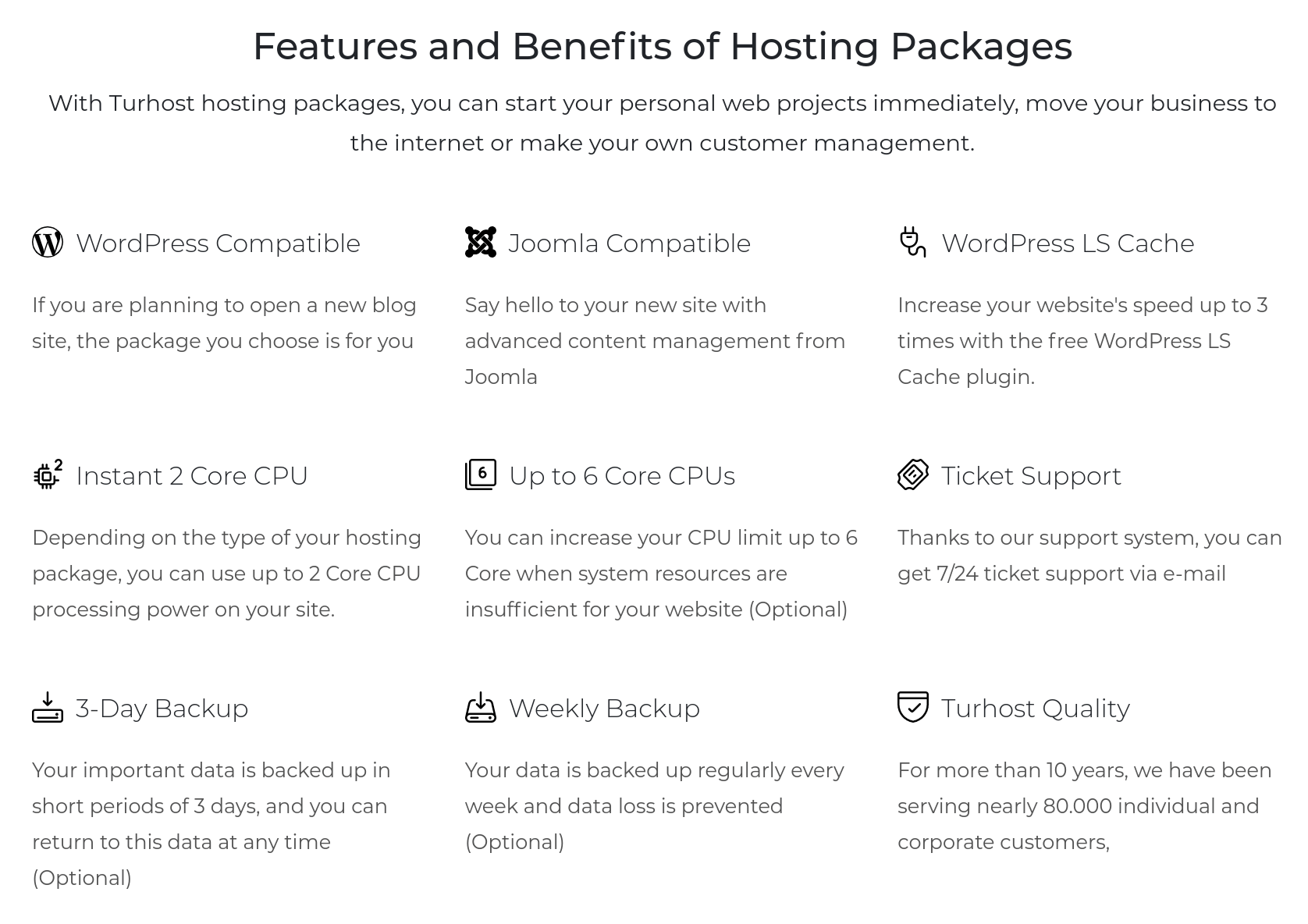 Turhost was founded in 2004 as a brand of Aerotek Information Industry and Trade Inc. For several years it has provided high-quality, reliable internet services to both individuals and corporate customers. Its currently published statistics suggest more than 80,000 hosted websites, 22,500 individual customers, and 10,000 corporate clients.
This hosting vendor has servers located in Turkey, and its website is published in Turkish.
Features and Ease of Use
Turhost's hosting solutions are categorized as WordPress, Linux, Windows, Enterprise, Reseller, and cPanel. This fundamentally distills down to Windows and Linux shared hosting.
The Linux hosting starts you off with 1 GB RAM, 10 GB traffic, one MySQL database, and 10 email accounts. The Windows entry-level package gives you 3 GB disk space, 15 GB traffic, one MSSQL database,  and 10 email accounts. Both plans are ideal for personal websites, and you can scale them up to higher tier plans with unlimited resources.
Turhost also offers entirely separate Linux Enterprise Hosting and Windows Enterprise Hosting packages that are designed specifically to cater to business hosting needs. The lowest level Corporate 1 plan for Linux or Windows provides 30 GB disk space, 500 GB traffic, 20 MySQL databases, and 20 x 2 GB email accounts. There are five more corporate plans for each operating system.
Upon signing up with Turhost, you will be provided with a choice of control panels including Plesk Onyx (for Windows), cPanel (for Linux), and Turhost's own panel. These also feature one-click application installation.
New customers also get free website transfers and flexible backup options.
All hosting is done using performance-enhanced infrastructure featuring CloudLinux, LiteSpeed, Intel Xeon processors, and enterprise SSD drives.
Pricing and Support
Turhost offers reasonably priced hosting plans considering the high resource quotas and free domains. And you can get some good discounts. Unusually, there is no significant price disparity between the basic Linux and Windows plans.
SSL certificates can be bought separately, and you can choose from the likes of Comodo, AlphaSSL, and GlobalSign SSL with free installation. You can pay for SSL certificates and hosting plans by bank transfer, credit card, or Garanti Bank quick payment.
The Windows hosting packages are billed on a two-year cycle, while the Linux plans offer a wider range of billing cycles (depending on the level you choose). If you're unsure about signing up, you can make use of the 15-day money-back guarantee, which gives you a two-week period to change your mind.
For self-support, you can refer to the surprisingly comprehensive Quick Support pages. You can also interact with support agents via tickets (contact form), telephone, or email. Or, take advantage of the live chat, just as I did: