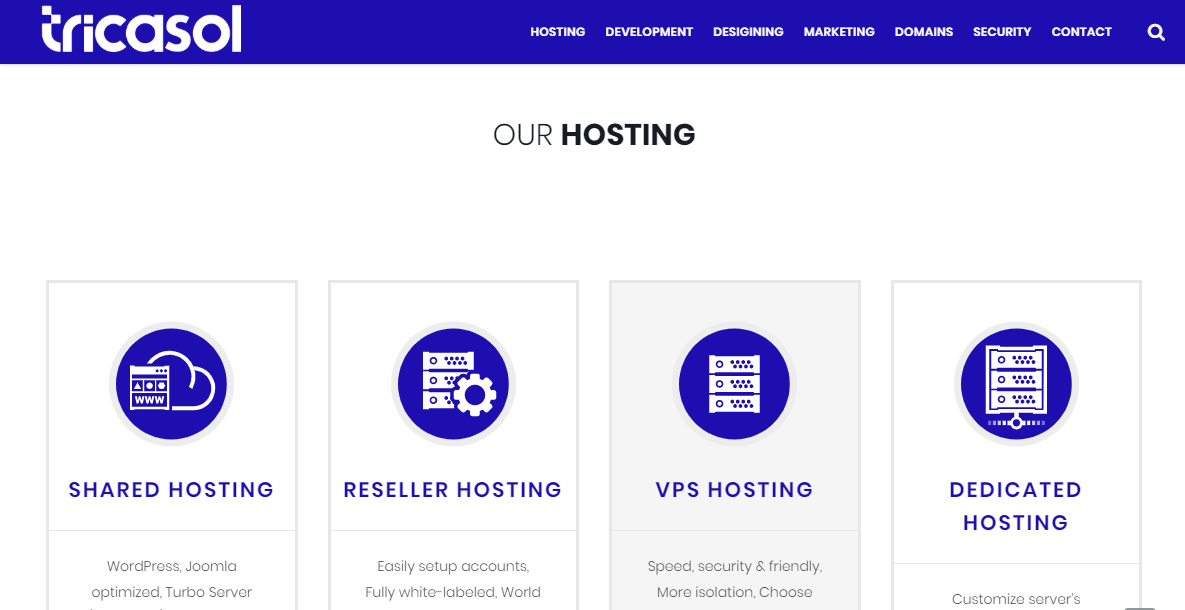 According to its Facebook page, Tricasol was founded in September 2016. It offers web hosting, web development, marketing, branding and designing, domain registration, and website security services. It has registered over 2,730 domains with is servers in Los Angeles in the United States, and its website is available in English only.
Features and Ease of Use
Tricasol offers four shared hosting plans. The storage space, which starts at 1GB, is only suitable for small business websites. These are the features of Tricasol's shared hosting:
99.9% uptime guarantee
Lets Encrypt SSL certificate
Daily automatic backups
Anywhere from 10GB to 100GB bandwidth
Free domain
Tricasol supports both Linux and Windows. For Linux customers, cPanel is provided. cPanel provides tools and the means to manage your website, including emails, databases, domains, and files. It's really easy to use and you can do a lot in just a few clicks.
Given that cPanel only supports Linux, Tricasol provides Plesk to Windows customers. Plesk is just as easy to use as cPanel, if not even easier. On both panels, there's a tool that customers can use to install software in one-click.
Tricasol provide solid state disks. These high performance disks are kept in RAID 10 arrays speeding up write speeds even more and ensuring data redundancy if there is a hardware failure.
For VPS customers, there's DDoS protection, and customers can set their own firewalls and designate the rules they want for protection. The vendor also features live and on-request backups of all of your content. You can control the backups from the control panel.
Pricing and Support
Many web hosting companies tend to attract customers through low pricing and indeed, Tricasol's prices for shared hosting are pretty low, as expected for the resources that it provides.
The prices that are surprising are for the VPS. They are some of the cheapest VPS prices you'll find online. Also, you can easily scale your SSD when you need to from your control panel.
The lowest subscription period offered for shared hosting is one year, while VPS and dedicated servers come with monthly billing. Be aware, though, that there's no free trial or version.
If you are convinced that this is the hosting company for you and you want to transfer out of your current host, Tricasol will handle the transfer for you for free.
Tricasol's 24/7 support team is accessible through phone and a ticketing system. There is also a live chat option available, though it appears to be operational only during official work hours, as I experienced it being offline when I tried. Consequently, I opted to open a ticket and received a concise response after two days.