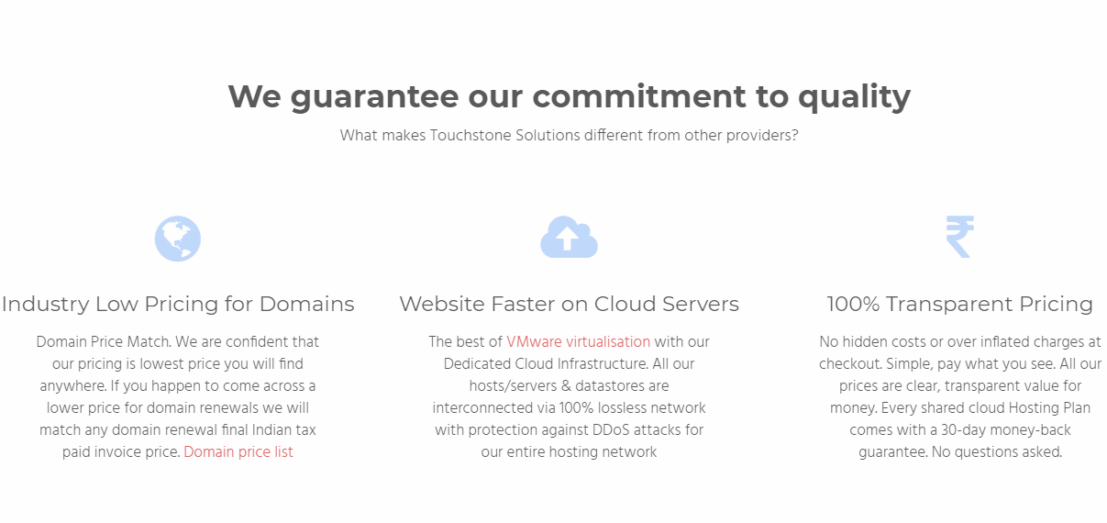 To compare the best web hosts, we hosted the same WordPress website on each one and tested performance, customer service, and value for money.
Check out the results here.
Based in India, Touchstone Solutions offers cloud hosting and servers, web hosting, and VPS. It has been in business for more than 13 years and offers solutions with the promise of transparent prices and using a scalable network infrastructure that prioritizes based on usage requirements.
Its website is in English only, and its servers are located in London, in the United Kingdom.
Features and Ease of Use
Touchstone offers three plans on shared hosting – Personal Hosting, Business Hosting, and Ultimate Hosting. If you subscribe to any of these plans, you'll enjoy the following:
99.9% uptime guarantee
Daily automatic backups
One, three, or unlimited websites on one plan
Either 10GB SSD or unlimited SSD
From 100GB traffic to unlimited traffic
It offers RAID 10 mirroring and striping to keep customers' data safer. RAID 10 boosts the performance of servers, redundancy, and speed. It ensures that your data can be restored quickly if anything goes wrong with one of the disks. It's also a great solution if you are looking to host your application because it writes your data to multiple disks and improves read speed.
Touchstone supports a plethora of programming languages, including Python, Perl, and PHP. It doesn't offer Windows hosting though, so no support for ASP.Net. Beginners can use the Softaculous application installer to set up WordPress, Joomla, Drupal, and 350+ more scripts on their server.
It also uses CloudLinux, which has many benefits for shared servers. One of those is higher server stability because each user on a server is placed in a lightweight virtualized environment or a cage. This ensures that the user's overuse of resources doesn't slow down the other domains on that server. It also prevents some security vulnerabilities.
This vendor also provides anti-DDoS protection. DDoS protection is needed now more than ever with the increase in the weight of attacks. Even small companies get attacked and you can't be safe 100% of the time, but having a prepared host with DDoS mitigation in place helps keep your website online for as long as possible, safe, and gives you peace of mind.
That's not where it ends for security on Touchstone. It also offers firewall & intrusion protection, and malware detection.
Pricing and Support
Touchstone doesn't offer monthly contracts despite advertising per month prices. You can only pay annually or triennially. The prices are low cost though, especially for the features that it offers, and it backs those with a 99.9% availability guarantee.
While the service does not offer a free trial for testing before making a commitment, customers are granted a 30-day money-back guarantee, with no questions asked, to ensure their satisfaction.
You can get through to customer support 24/7 via support ticket and email. That's limiting because most companies have live chat or phone support in place to handle issues as they happen. Email and ticket responses might not be immediate.
If that's the case, you can search the knowledge base for a solution as there are some tutorials in there.
I sent an email and received a relevant reply in less than one hour.