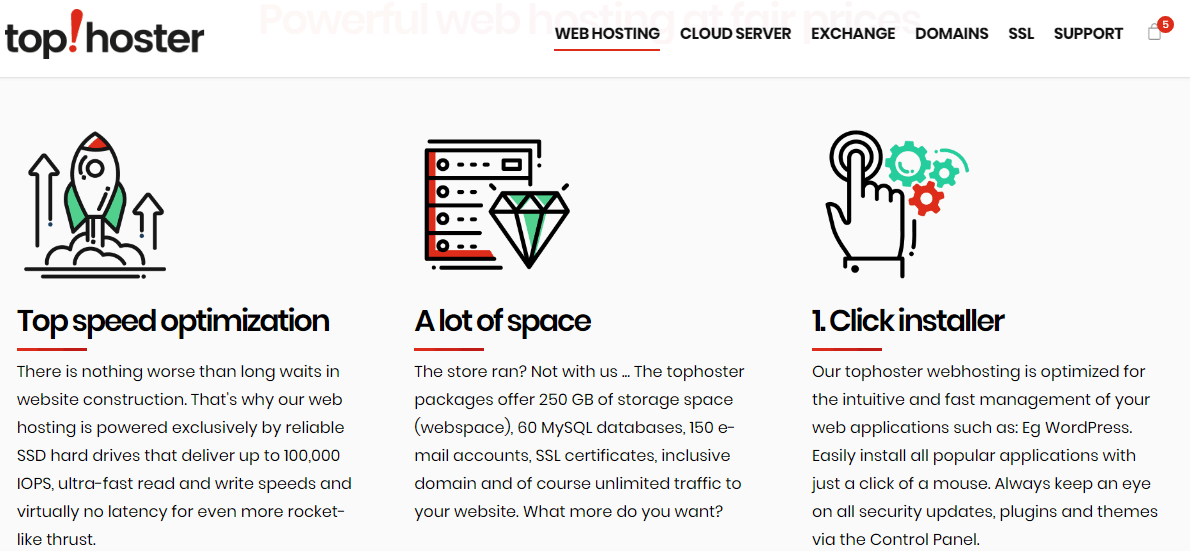 Tophoster.de is a brand of Dogado GmbH and has been providing web hosting services for more than 15 years. It offers shared hosting and cloud servers. Its services can cater to both MSMEs and large e-commerce businesses. Its servers are located in Germany, and the website is in German only.
Features and Ease of Use
Tophoster.de offers regular shared web hosting and cloud server services. Some of the features you will enjoy on shared web hosting include:
99.95% uptime SLA
Free SSL on the top two plans
From 25GB SSD on the base plan to 250GB SSD on top plan
Up to 15 free .de domain registration
Automated daily backups
One thing you should be looking out for if you're trying to host a website is whether your web host provides backups. This is definitely a plus with tophoster.de. It provides daily automated backups and keeps them for seven days, so you can restore your files from any of the past seven days. However, you can't restore it from your control panel. You'll have to contact customer support if you need to restore a backup.
Tophoster.de has its own data center infrastructure in Germany which includes redundant internet connection, uninterruptible power supply, room air conditioning, biometric access control, video surveillance, and early fire detection – all to ensure the highest safety standards.
It also offers a firewall and virtualization of shared hosting accounts. That's quite similar to CageFS, and it ensures that your account is not affected by other customers.
With tophoster.de, you can easily install some web applications like WordPress with a single click. However, it doesn't offer any website builder. You will have to contact someone to build your website if you don't have the technical skills.
The speed of your website is also optimized with reliable SSD that delivers up to 100,000 input and output operations per second – ultra-fast read and write speeds.
Pricing and Support
Tophoster.de's prices are fair. The payments are monthly and do not include set up fees or any hidden charges. More surprising is the number of free domain registrations that you can get. Depending on your plan, it goes from one to 15 .de domains. From my checkout, I also noticed that it added a free .com domain to my list of domains. That's much more than most web hosts will provide.
There's a 30-day money-back guarantee, giving you enough time to decide if tophoster.de provides what you want with less risk.
You can reach tophoster.de's customer support via phone, ticket, and email. There is an emergency 24/7 support number. Other options aren't 24/7 – they work from Monday through Friday from 7:00 a.m. to 10:00 p.m., and Saturday from 9:30 a.m. to 6:00 p.m.
I emailed them, but I got a reply from the "parent-brand." The support agent confirmed that the support for both companies is the same. They also share the same knowledge base.